With last year's finalists and scorching hot High Five all together in Pool D, some great games are on the horizon.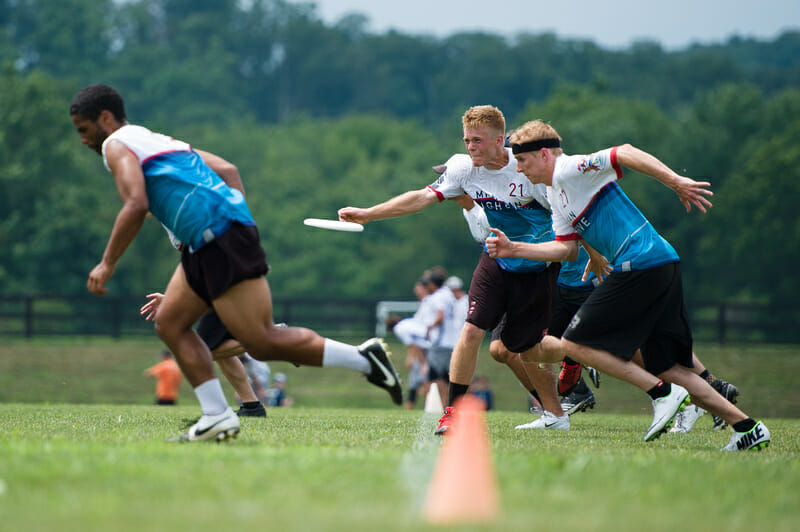 Pool D features 2014's finalists, a strong upstart as the top seed, and a young team out of one of the deepest regions. While the top finisher is important, avoiding the bottom spot may be the most essential piece of this pool. If Prairie Fire is able to notch an upset they'll avoid Revolver in the pre-quarters, and that's worth going all out for pool play.
The 2014 Semifinalists
Johnny Bravo should be very familiar with this placement. The reigning champs were in the same spot at the start of last year's tournament, but most would argue that a few departures make them a less likely contender. Even still, they return some of the best players in the division: Jimmy Mickle and Nick Lance.
The main concern here is that they haven't peaked yet. At the windy Pro Flight Finale in August, they lost to three Nationals-bound teams. Two of those were fellow Pool D members Ironside and High Five, adding some intrigue to those upcoming matchups. Could the late season additions of Bart Watson and Eric Johnson turn the tables this time around?
Ironside opened its season with a one point loss to the favorite for the championship: Revolver. Since then it's been an up and down year for the boys from Boston. But some may have expected worse from a squad with such massive roster attrition. Over the course of the season, though, Ironside showed they still had plenty of talent with veterans like Josh Markette and Danny Clark playing alongside talented newcomers like Tyler Chan.
Ironside did beat both Bravo and High Five earlier this year, but Nationals will be a much tougher test if they want to find a way back to the final. The 2 v. 3 game of Pool D could be one of the more pivotal match ups, with the winner getting a clear advantage in bracket play.
The Big Stage For High Five
After an entire season of hype for High Five, they finally get to prove what they're made of. Plenty of teams show up big for the regular season but fade out when it counts. Will High Five be 2014's Machine or 2013's GOAT? We'll know very quickly. The Michigan squad has two teams in the pool that play perfectly against their weakness: Nationals experience. Both Bravo and Ironside are more than comfortable playing for the title, and they seem poised to challenge the pool one seed early.
After a rough Colorado Cup in early August, High Five entered true form. Through the Pro Flight Finale and the series, they won multiple close games against tough opponents while blowing out the lower competition. Their only loss? Ironside. Their regional final against Machine wasn't even close, giving them strong momentum coming into Nationals.
Former college stars like Johnny Bansfield, James Highsmith, and Mitch Cihon dot the roster, but many of the team's contributions come from less known names like John Michael Guest, a ferocious defender. The team's defense is its calling card, and it's how they've won quite a few games this season by big margins.
The offense, however, is a bit more shaky. You do wonder how it will hold up in the pressure cooker at Nationals.
Prairie Fire Looking For Room
With such big talent at the top of the pool, Prairie Fire will have to capitalize on any chance for an upset. A lackluster season for the Nationals returners only saw a few signature wins. They seemed to have Sub Zero's number all season, but otherwise have struggled against the field.
The loss of Brett Matzuka to Machine leaves U-23 standout Abe Coffin with a majority of the playmaking responsibilities. With everyone making the championship bracket, Prairie Fire will hope that one of the favorites is slacking on Thursday.
Matchups
The game of this pool has to be Johnny Bravo v. High Five (be sure to watch the livestream!). The defending champs against the semis hopefuls should be a terrific game that can only be made better by putting Johnny Bansfield on Jimmy Mickle. Bansfield has quickly elevated himself to one of the game's elite throwers which pairs nicely with his insane athleticism. Only now do we get the chance to see how he stacks up against the best competition in the division.
I'ts difficult to guess who will be taking which matchup, but there might be a particular player that could be important. High Five's Mitch Cihon is a very similar player to Bravo's Nick Lance, and they'll both be called upon to make some plays this week. Cihon will be an offensive rock for the top seed in Pool D.
Ironside v. Bravo — a rematch of last year's  Championship game — will also be a must-watch game. Ironside got the best of Johnny Bravo earlier this year, but Bravo now has to be considered the slight favorite. Boston's offense will need to stay in a groove all game long if they want to have a shot against a potent Bravo. Bravo won't likely be rattled by Boston's pressure defense; Ironside will need to make some individual plays to generate turnovers.
Looking Ahead
It's obvious at this point: Clinching a top three spot in Pool D is crucial. Beyond that, most matchups seem favorable against Pool A.
If Ironside is able to notch an upset over the defending champs, there could be quite a battle in prequarters. Johnny Bravo was able to beat Chicago Machine at Colorado Cup, but it was no walk in the park. Machine kept it close, eventually falling short on double game point. If Bravo can lock in the two spot to get a rest, Machine will have a hard time making a good game out of their tough draw.
Besides Revolver, Ironside has had no experience against a Pool A squad. But with experience and a semifinals streak to keep intact, it's hard to see any one of them slowing them down. Machine is obviously the toughest possible test for the boat, but even then most would consider Boston the favorite.
High Five has beaten every Pool A team except Revolver, so barring a massive collapse from the top seed, you would expect them to comfortably advance to quarters. Their closest contest actually came against Philadelphia Patrol at the Elite-Select Challenge in July, where they won 10-8. But as it stands right now, they would face a Madison squad that they bested 13-7 at the same tournament.
Even if Prairie Fire managed to get one upset in Pool D, it could be hard to find a winnable bracket game. In-region opponent Madison has been the better team this year. Patrol would be the other team in question, yet an even worse matchup. In their only matchup of the year, Patrol trounced Prairie Fire 13-4. That said, it's Prairie Fire's second year straight at the big show, so it will be interesting to see the improvements made against big time competition.
Even with Pool C being coined as the "pool of death," Pool D is a close second. The big names of the division are facing off in the 2v3, with High Five looking to keep form until the final game. And with a tough pre-quarter draw for the last seed, winning truly matters on Thursday for these teams.