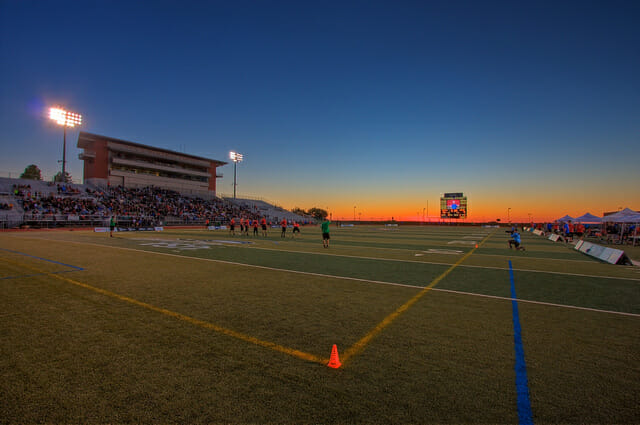 Ultiworld is thrilled to announce that, in partnership with USA Ultimate, we will be streaming seven games LIVE from the 2015 National Championships in Frisco, TX, on Thursday Oct. 1st and Friday Oct. 2nd. We will also be filming one Mixed and one Women's semifinal game for tape-delayed release as ESPN3 takes over coverage on Saturday afternoon.
Here is the livestreaming schedule. All games will be available for free on our YouTube channel and easily accessed on our Live page along side our extensive reporting from the tournament.
Commentary will be provided by Bryan Jones, Keith Raynor, and Charlie Eisenhood.
All times Central.
Thursday, Oct. 1st
11:15 AM: Seattle Sockeye v. Toronto GOAT (Men's Pool Play)
1:30 PM: Denver Molly Brown v. Vancouver Traffic (Women's Pool Play)
3:45 PM: Michigan High Five v. Denver Johnny Bravo (Men's Pool Play)
6:00 PM: Minneapolis Drag'N Thrust v. Seattle Mixtape (Mixed Pool Play)
Friday, Oct. 2nd
9:00 AM: Men's/Women's Prequarter
11:15 AM: Mixed Prequarter
1:30 PM: Men's/Women's Quarterfinal1
Saturday, Oct. 3rd
1:00 PM: Mixed Semifinal (Tape Delay only)
3:30 PM: Women's Semifinal (Tape Delay only)
---
The opposite gender of the selected prequarter ↩