Can Pitt make a great program into a dynastic one?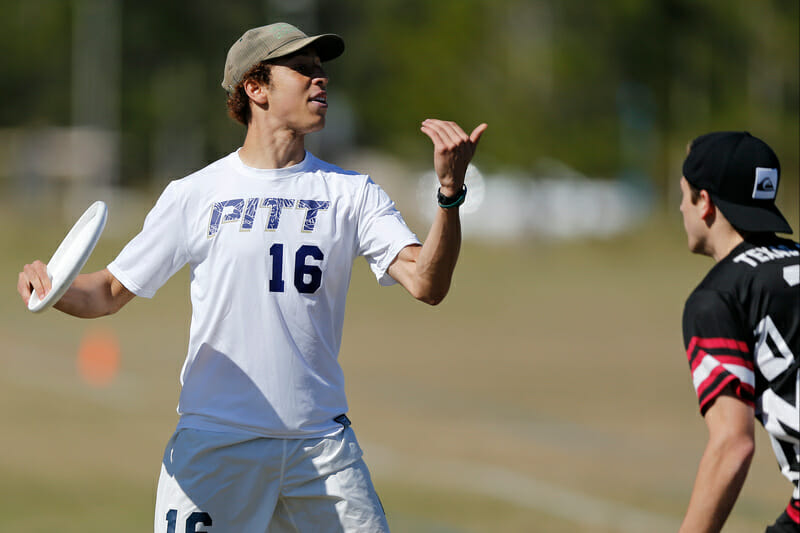 As famed Pittsburgh broadcaster and sportswriter Myron Cope once said, "It takes three championships to become a dynasty."
There's something to that. Three is just so much bigger than two. More than the math, even. When the numbers are applied to first place finishes in sport, three is a whole other level of dominance. Great teams have one or two titles, but three is truly dynastic.
And, make no mistake, the University of Pittsburgh En Sabah Nur has been great. Since 2010, they have not been seeded lower than fourth at Nationals. In that time, Pitt has had four different Callahan finalists.  
But the program is now a few years removed from winning back-to-back in '12 and '13. The roster is loaded with talent and big game experience — as well as fifth year seniors. 2016 may be the last great chance for a title that gives Pitt dynastic ownership over their own era of college ultimate.
The Basics
Coaches: Nick Kaczmarek, David Hogan, Aaron Watson, Dan O'Conner
Captains: Trent Dillon, Pat Earles, Christian Pitts
2015 Results: Eliminated in quarterfinals; Ohio Valley Champions
A Slightly Different Approach
The fall was a little off script for Pitt this year. Due to some scheduling and circumstance, the familiar faces of coaches Nick Kaczmarek and David Hogan were not on the sidelines of tournaments or at practice for Pittsburgh until the spring semester.1 That's a little different; a lot more falls on the captains and veterans to lead practices, but it's not a bad recipe for building team chemistry.
"I think stuff became more genuine and became more of a team culture," said fifth year captain Christian Pitts about the different fall strategy. "I think it helped bring the team together and help everyone understand what's going on."
Pitt was also without 2015 Callahan finalist Max Thorne and lefty assist king Pat Earles, who was sidelined with a hip injury this fall. Thorne and Earles are known quantities. They would excel on any team. Players like that are easy to add to the mix, but tough to take away. En Sabah Nur had the luxury of playing their roster and learning exactly what they had in their depth and young players.
"[We] learned that it's going to be a grind," Pitts reflected. "Last year we won all the regular season tournaments and we kind of burned ourselves out, so this year we kind of want to put less of an emphasis on winning itself and more on the process of building toward Nationals. This fall was part of that."
That process and approach of "building toward Nationals" seem to have indeed changed.
At Florida Warm Up in 2015, we saw Pitt run out stacked line after stacked line to put tight games away. This year in Tampa, they never used a "kill" line — even in the face of some major early adversity. The coaching staff simply stayed the course and played the roster.
It's tougher to seal victory that way, but this is a new process and, with that, there seems to a be a different energy around Pitt this year: an organic, unforced sideline presence and atmosphere that hasn't quite been there in recent memory.
"It's so positive right now," said coach David Hogan. "There's so much trust in the entire roster that we're confident in the players that are on the field. We're supporting them. We do lose energy [at times] and I don't feel it right now… It's huge for us."
Hogan is well-read in sports psychology and praised the sustained sideline energy of North Carolina's towel squad in Milwaukee in 2015. Creating that kind of effect isn't as simple as getting two dozen towels screenprinted. Putting your money where your mouth is and playing your full compliment of players is a nice start.
Even at Stanford, Pittsburgh was playing close to 20 deep in bracket play — on a roster of 24, with a few guys uncleated due to injury. That's helped to create buy-in when the positivity that hasn't always been there for this team.
Disappointment In Milwaukee

What Pitt did last year was nothing short of remarkable.
They won three major regular season tournaments in 2015: Warm Up, Stanford, and Easterns. Then Pitt fulfilled their obligation to USA Ultimate and rolled through a weak Ohio Valley region.
At Nationals in Milwaukee they got thumped by Central Florida in quarterfinals and that was the end of an otherwise incredible season.
There were lots of factors you could point to in that loss. Max Thorne getting banged up in a pool play game against Texas. The inherent difficulty of staying on top for that long.
Whatever the reason, Pitt didn't have it when it counted (like they had all year) and there's your season.
Shrug. College ultimate.
Ridiculously Deep

Aside from Marcus Ranii-Dropcho and Tyler Kunsa — both U23 Open National team players, whose departures would be devastating for most programs — all the usual suspects are back on the field for this ridiculously deep 2016 version of Pittsburgh.
Max Thorne will anchor the offense with Christian Pitts and Pat Earles, who played well in his first outing since surgery at Stanford Invite. Oregon transfer and Pittsburgh native Jack Slevin — who has no shortage of big game experience, having started for Ego in the 2014 national semifinal — will handle. Speedy sophomore Andrew Lehmberg seems to have settled in as a versatile utility guy.
The biggest "change" will be the full-time move of the team's Callahan nominee Trent Dillon to the offensive side of the disc. It's probably a safe bet that Dillon, who was the only college player selected to the US men's national team for this summer's WUGC, will have played the most points in Raleigh when all is said and done at Nationals. He remains Pitt's best defender.
Expect the offense to hum along the way the rest of the field has come to recognize: clearing plays use great overall team speed in space to get the disc to skilled guys. Pitt's offense will be formidable come May.
But when people talk about barometers for Pitt's success, the conversation always seems to settle on defense.
Pitt isn't known for getting the type of blocks people make sweet gifs out of. But they do create pressure and force their opponents to throw lots of throws or pick tight windows. The defense will generate their fair share of turns.
Will they be able to consistently convert throughout the season without ransacking their O line?
"They're so athletic right now," coach David Hogan said of the defensive team. "They have the capability to run good offense without those [O line] guys on the field. They have really good skilled players like Saul [Graves] and Kevin Tang and Sam Van Dusen… The pieces are there."
Saul Graves has really cemented himself and been point guard with the disc for the D line's offense, which has done a lot to ease the need to bring guys over to pick up extra points. Sam Van Dusen pulls, can take big matchups, and has the throws to give his line a chance to score from anywhere on the field. Rock-steady Carl Morgenstern has been a contributor on this line for a few seasons.
Some of the bigger surprises — perhaps the benefactors of Pitt's different look this fall — are sophomore Kyle Hartley and rookie Mike Ing. Hartley had a bit of a coming out party at Stanford and tallied a couple huge layout blocks in finals. It's hard to think of a rookie who has seen as many defensive points in his rookie season as Ing, who Pitt's coaching staff felt comfortable enough with to put on some critical "kill" lines in the second half of the Stanford final. Trent Dillion, maybe. Either way, Ing is in good company. Young defenders like this — defenders that can take the disc away — are something Pitt has been lacking outside of their Callahan nominee.
Obstacles
There is no safer bet to make Nationals in the Men's Division than Pittsburgh. The story of the Ohio Valley region will be about a miracle run by the six seed to the finals — not Dillon, Thorne, and Earles getting shocked in semis. Pitt is a lock. That's good and bad. Coaches Kaczmarek and Hogan get the opportunity to continue to tinker with their defensive line and play their full squad. If they need to, they can rest stars. They'll likely try to recreate quality competition with scrimmages against alumni and western Pennsylvania club players, but the last real test against college players should come on Sunday of Easterns.
When you look at the teams that have ended Pitt's season the last two years, Wilmington and Central Florida, there is a pattern. Not a huge sample size, but both gritty, physical units that like to play the deep game. UNCW and UCF were also elite top eight teams.
Speaking of teams that give Pitt trouble, Wisconsin has now hung two wins on them this year. One in a showcase game to decide who makes the bracket at Warm Up and the other in the finals of Stanford. Hopefully college ultimate gets to see a third meeting on a Sunday in late May.
If so, Pitt will hope the third time is the charm — both in beating the Hodags, and in cementing their dynasty.
Likely Ceiling: A National Championship
The talent is there. The combination of specialists and workhorse studs when called upon is there. For the first time in a long time, something else seems to be there too. This is a revitalized, upbeat Pitt in a field with no standout team. If there was ever a year to take home the crown since the back-to-back titles, this would be it.
Likely Floor: Quarterfinals of Nationals
Though there may not be a hands down favorite in college ultimate right now, there are still plenty of sharks in the tank. Top to bottom, the field will be as dangerous as ever, leaving no margin for error.
---
Dan O'Conner, former Pitt player in his fifth year, did travel with the team ↩