We break down the Stanford results.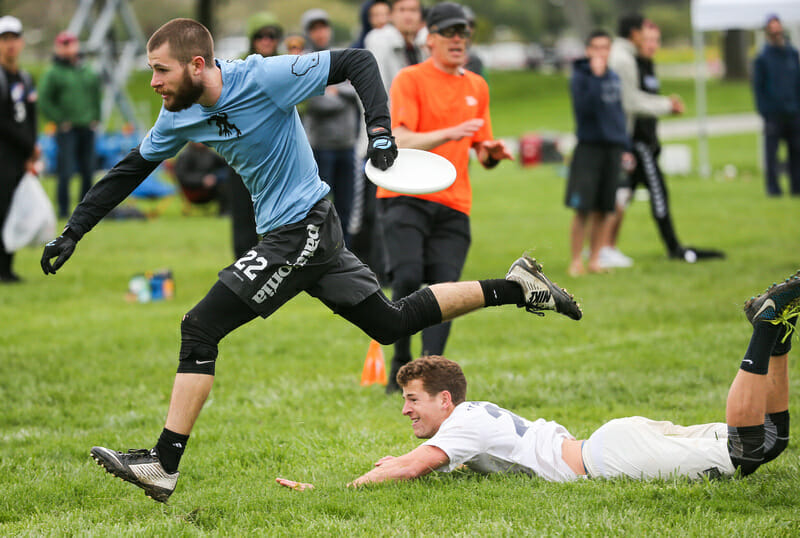 FREMONT, CA — The entire weekend in the Bay Area was supposed to be a rain-soaked, more-questions-than-answers type of tournament. Saturday did not disappoint in the slightest, as conditions worsened steadily into a turnover-heavy downpour for prequarters. On Sunday, however, the rain held off, the sun blessed the field site through semis, and the Wisconsin Hodags capped a statement weekend with a finals win over Pittsburgh En Sabah Nur that was nothing short of impressive.
This first real chance for east and west coast teams to clash ended an undefeated run, allowed an elite offensive unit to take the place of one that had missing pieces at Warm Up, and gave a handful of teams a gut-check after sheltered early season success.
And the conversation about the top of the division or Nationals favorite? Well, it's more wide open than before.
A Hodag State of Mind
There was no question about the bench-mob of a defense that Wisconsin brought to Fremont, but the offense's last outing in Tampa two weeks earlier showed major holes. Could they lock in their system? Trust themselves? Put together clean holds? Craig Cox was back in the lineup this past weekend, but the team had also brought a sunny disposition that never faded, even in the windiest and rainiest of moments.
The result? The defense walloped opponents on the way to their finals, with their average win margin nearing six points. They smothered Harvard in the second half of an impressive finals performance 15-8.
The real story for the Hodags this weekend was the offense. In the entire weekend, the O-line gave up only six breaks: "one by Colorado, one by Western Washington, one by Stanford, and three by Pitt in the finals" confirmed coach Eric Alexander.
They did it all with smiles on their faces. When the semi with Harvard was still far from over, the Hodag sideline was cheering for In 'n Out Burger. Alexander said he saw trust in the system, but attributed much of the offensive success to a change in focus. "Part of it is just people getting more comfortable playing together as the season goes on, but there was a mentality shift that we made coming into this weekend that we were going to make sure we were staying positive and not getting down on each other."
The team has also been outside throwing, in cold, snowy weather. Alexander said they might have been outside more than was advisable. But it paid off.
Ross Barker, Aaron Speiss, and Nicholas Vogt made many appearances on the scoring end of hucks from Cox and others. Barker showed an elite-level calm when the deep shots left him just outside the end zone — he likely had more easy flips for scores than anyone else on the offense. The team was unafraid to take its big shots, regardless of conditions, but when the moment called for lateral movement and points won on grinding under cuts, the offense's improvements shown through.
Meanwhile, Sterling Knoche's return to an already supercharged defense was an added bonus. Chris Wilen was a standout defender taking opposing top players with Knoche, and handler defenders David Yu and Eric Von Kampen were instrumental in keeping the pressure on Pittsburgh throughout the final.
It wasn't the weather that gave the Hodags the edge this weekend — although that certainly didn't hurt the North Central institution. As Alexander gave his closing thoughts on the weekend to Ultiworld, his team gathered round and dialed up another silly cheer. A winning mentality isn't always defined by grit and grind.
What We Know & Don't Know About The Semifinalists
It's fair to say that Pittsburgh may have been a timeout away from their second Stanford Invite title in as many years. Pat Earles wasn't just back in a tentative, limited-minutes sort of way. He was his wily and talented self behind the disc, allowing Max Thorne to get open where he pleased downfield and jibing well with Jack Slevin in the backfield.
Somehow, Saturday's performance did little to foretell Sunday's excellence. A four-point loss to a previously reeling Washington team capped pool play for Pitt, while they eked out wins over Harvard and UC Santa Barbara in the first and second rounds. After slogging through those wins, it may have been hard for the players to stay focused in the worsening weather, especially on defense. That played to what was known about this team already. Relying on pressure defense and coverage sacks to generate turns, Pittsburgh has been open about the need for more defensive intensity in the form of blocks and big plays.
In the Sunday morning sunshine, Pitt put down Western Washington in quarters 15-7, blowing the game wide open well before halftime. In their semifinal, they notched an impressive win over Massachusetts (who played without Jeff Babbitt for most of the game due to a possible concussion), staving off a late comeback from the New England powerhouse in a game where both teams had big breaks against the excellent opposing offense.
Pittsburgh played their top seven to get breaks and scores this weekend and went home ready to work on improving their ability to make in-game adjustments with a big win at Nationals never quite out of mind. Without the emotional rollercoaster of the Dillon turnover, this could have just as easily been Pitt's weekend. Their younger players have filled in well around the well-known stars, and this team is primed to beat just about anyone with a healthy roster.
"We agree we look like a different team when the disc is up in the air, when we have a chance to lay out," Dillon said as the weekend came to a close. "It's been a focus of ours and we're more comfortable and we're building. We're going to be even better at that at Nationals. Those big plays from our entire team aren't going to stop."
*
Massachusetts Zoodisc and Harvard Red Line rounded out the last two top spots, with both teams showing impressive progress, having built depth into their slimmer rosters from last year.
"This was an informational tournament for us and we got a lot of information in that [semifinal]," said UMass coach Tiina Booth after their loss to Pitt. It was Zoodisc's second loss of the season. They stand at 11-2, and the total deficit of those two losses (to UNC Wilmington and Pitt) is a mere three points.
For Booth, it's too early in the season to criticize her team for what was amounted to an emotional performance in semifinals, especially after Babbitt was sidelined. "[The team was] just down because we were up 4-2 and we had a chance to go up 5-2 and we turned it. And so they were just carrying that, all of that, around them. If it were later in the season, I would have the words to say that would get us back into right away, but it's still very early in the season and they carried it with them for longer than they needed to do that," Booth said.
The rest of the weekend largely supported the notion that this team belongs on the shortlist for title contenders in the postseason. Other than a jittery opener on Saturday against Texas with the offense lacking polish, UMass made it clear in the rest of their bouts that they were the stronger team — defensively, offensively, and mentally. Ben Tseytlin and Ben Sadok were rock solid in the backfield, Babbitt made a number of characteristic bulldog-like catches down field, and while the hucks to Conor Kline may not have flown as easily in the Saturday conditions, the speedy cutter was still breaking free of coverage and opening up the field. Jeff Dreyfus remains a strong deep in the team's well-known zone.
Easterns will give this group another opportunity to get better, including the chance to earn back wins against the two teams to defeat them so far this season.
Their New England regional rival, Harvard, had a banner weekend. They scored a newsworthy win over Oregon, riding high on unmatched plays from John Stubbs. Their youth from last year is coming into its own, while Stubbs, Mark Vanderburg, Alexander Hem, and David Reshef were all veteran standouts. Stubbs himself went ballistic in a comeback win against Carleton in prequarters, muscling his team into the bracket with big plays.
While that veteran group got the scores and kept the team pointed towards a big weekend, Harvard's promise is almost better summed up in a play from Milan Ravenell, who logged a monstrous block on an in cut during the team's quarterfinal upset of Oregon Ego.
"We won the Oregon game because of huge plays from sophomores Milan Ravenell and Adam Ehrenberg. Both have improved immensely since joining Red Line last year and really show our depth and ability to develop young players through the Harvard system," said Stubbs at the end of the weekend.
This team has the athleticism and skill to stay in just about any game — the question is about bringing that strength all the way to the last game on Sunday. When Wisconsin got the better of them in the semifinal, they team seemed to be running out of gas.
No team is particularly safe against these Cambridge competitors. With access to a varsity trainer this season keeping their training on schedule, Red Line will make sure to have their fitness in line for a deep run in the postseason, and certainly won't be an easy out for UMass at Regionals.
Nobody from the Southwest Cracks the Top Five, But That's Okay?
Stanford Bloodthirsty held seed at #7 on the weekend and UC Santa Barbara jumped five spots to finish in the #8 spot.
The host team made a good case for keeping the title of top Southwest team, winning all of their games against lower-ranked competitors and losing only to teams in the top four. Freshman Nick Hirning continued to lead an impressive defense with his speedy movements and extra-calm throwing after the turn, and the offense did what it needed to do to hold teams at arms-length until the D-line returned to the field. They couldn't close gaps against Wisconsin, Oregon, and Massachusetts, though, and that leaves questions about speed and depth for this team.
Black Tide's finish just behind Stanford and smack dab in the middle of the pack is the brightest spot for the storied program so far this season. According to coach Tyler Bacon, the team has its sights trained on winning Regionals, regardless of the Southwest bid situation.
Santa Barbara plays with palpable, and at times nearly out-of-control, emotion. That could be why the team marked its third-straight quaterfinals exit so far this season. On other other hand, that very same intensity likely manifested itself as the grit needed to win an abysmal prequarters game against Texas that was truly a slog through the mud featuring rain and 30mph+ gusts of wind.
Does UCSB have the talent to be discussed with the best in the country? Maybe. But it's the chip on their shoulder that should leave no team resting easy.
Even without a top five finisher, it was a solid weekend for the Southwest.
Oregon Slips, Western Washington Finds Traction, & Washington Stumbles
The definition of the yips — uncharacteristic and thoughtless mistakes — cost Oregon Ego a semifinals berth against Wisconsin. Harvard's discipline made hay on Ego's mistakes, particularly later in the game as the grinding New England man defense put the pressure on this highly-touted offense.
"Our O-line got nervous and saw the first real man defense we've seen all season and just panicked a little bit, tried to force a lot of deep shots, and we weren't calm after the turn and their D-line was really good at converting," Ego captain Chris Strub explained before heading off to the fifth-place bracket.
This weekend was also the first tournament where Strub and his fellow O-line veterans started to cross over to defense with greater frequency, perhaps expending some extra energy to make sure that elite-level players on opposing teams were limited. Strub took the matchup against Dalton Smith on Saturday.
It's worth noting that the conditions didn't exactly lend themselves to perfect offense, even on Sunday, and that's unfortunately the kind of ultimate that most often brings this Eugene team their wins. Colton Clark threw more than one late-stall huck from a standstill this weekend, a number of which were too much for Connor Matthews or Will Lohre to secure.
The team still rallied and slipped only two seeds on the weekend, finishing with a dominant 15-7 win over Western Washington in consolation. Was the loss to Harvard a gut check?
"I hope so," Strub said. "I don't know if [the team] will take it that way. I'm personally quite pissed off. I don't think we should lose to Harvard ever."
*
Where the Washington Sundodgers were marred by injury, illness, and just a lackadaisical pool play performance that got them bumped from contention on Sunday, Western Washington Dirt took care of business whenever they had the opportunity this weekend.
Dirt did just enough on Saturday to draw a fortuitous prequarters game with Texas A&M Dozen that set them up for their seed-breaking weekend. It shouldn't surprise anyone that the conditions were nothing like College Station and a lot more like Bellingham, which made productive play difficult for Dozen all weekend. By the time game four was being played on Saturday, Dalton Smith was gassed along with his team, and Dirt walked away with a blowout 15-6 win — their biggest margin of the weekend.
The Sundodgers faltered mentally at the weekend's kickoff. They lost to UCSB, a matchup they owned just a month ago, 13-6. A strong Harvard team edged them out by one. By the time they showed up to beat Pittsburgh in a win much more characteristic of the team's skill, Washington had already done themselves enough damage.
This team needs a breather before the Northwest Challenge. Their West Coast wins have been impressive, and when the team is at their best mentally, they hang onto the disc very well, play frustrating defense, and let Khalif El-Salaam show up wherever he feels he needs to in order to make the big play.
That said, El-Salaam couldn't carry the team this weekend — not that he should have had to. The Sundodgers have excellent handlers in Steven Benaloh and Tomás Delgado. Cooper Schumacher is making a name for himself as one of the best deep threats in the region. Besides getting healthy, the key for Washington could be slotting into El-Salaam into a more rigid role in most games to conserve his energy early, and let him work his acrobatic magic in bracket play.
A Brief Opinion
Tournament management was like the weather on Saturday. At least one field was double-scheduled, TDs were busy playing, horns went unattended to later in the day, and reseeding for prequarters was mismanaged.
Also reflecting the weather, Sunday's management was markedly improved, although the men's fifth place semifinalists couldn't figure out who was playing who where for twenty minutes or so. Horns blew on time, no team suffered from an unclear hard cap, and the bracket ran smoothly.
The Stanford Invite is a banner event in the college regular season, attracting one of the most competitive fields in both divisions. Teams looking to prove themselves against rivals on the opposite coast fly for the test. That should necessitate an autonomous tournament management staff. Players should be able to focus on playing, and not be held responsible for the many critical duties of a tournament director. It makes sense that things were disjointed, the captains' packets were sent out late, and the bracket went unsettled until late on Saturday — that's a ton of work for Stanford players (who are already buried in academic rigor) to take on alongside playing. This tournament needs a dedicated staff to keep things moving and the inclement weather this weekend only served to highlight that more.
Notes
…Big thanks to Julia Johnson for filling in as our camera operator on late notice and withstanding some truly abysmal conditions to shoot film…Thanks as well to the equipment rental company, Cresco Rentals, for swapping out the improper lift for the correct one…Shoutout to the closet Trump supporter who served the Ultiworld staff at local Fremont brew pub. We might have been asking for it with the jokes we were cracking audibly in the restaurant. Instead of ice cream, dessert was a refreshing take on what's wrong with the United States, and a proposed solution that would remove all security — and the White House — from the Executive branch and leave the president to defend him or herself "in a shack"…