Minnesota and Harvard are both surprises to have made the title game.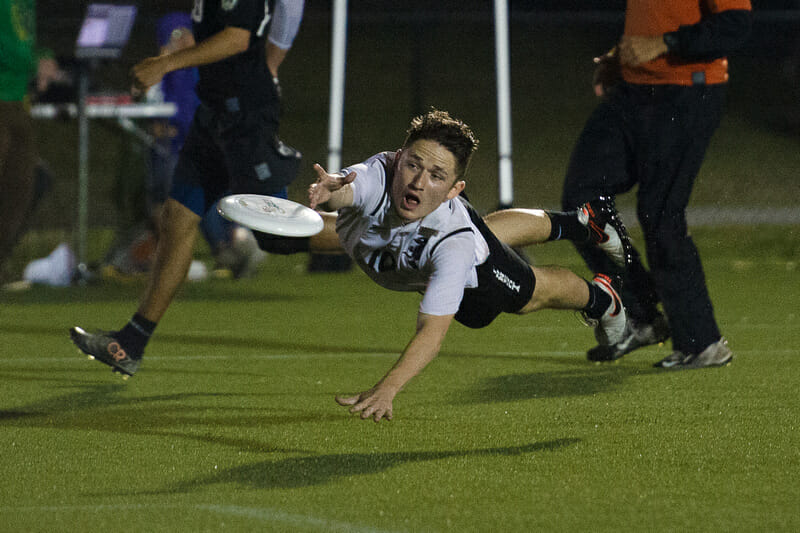 This article is presented by Spin Ultimate; all opinions are those of the author. Please support the brands that make Ultiworld possible and shop at Spin Ultimate!
A pair of thrilling semifinals that stretched into the wee hours of Monday morning will be a hard act to follow today, but the championship game coming this afternoon between Harvard and Minnesota has a chance to be an all-timer in terms of narrative and drama. Two incredible storylines culminating in a winner-take-all showdown between two teams that have survived incredible adversity and one of the wildest Nationals in memory, to reach the final hurdle that separates them from immortality.
Harvard reaches this game after three straight scores and a legendary performance from John Stubbs sealed the win over UNC Darkside and the program's first ever finals appearance. The 10th seed at the tournament coming into the weekend, Harvard knocked off 2nd-seeded Oregon and 3rd-seeded UNC-Wilmington on their way to the championship game.
Arguably the most surprising team to ever make a National final in the modern era, Harvard's performance has been driven all weekend by their two superstars, John Stubbs and Mark Vandenberg. The caliber of play from these two Ironside players is astonishing, and the fact that they have played at such a high level while playing almost every point for Harvard in the punishing heat and weather this weekend is awe-inspiring. Fans and pundits alike have doubted Stubbs and Vandenberg's ability to keep up their pace, but so far they have demonstrated superhuman endurance and determination, and are two hours away from completing a historic performance.
It's been the opposite story for Minnesota, as they have lost several outstanding individual players to injury on the weekend but have continued to churn out terrific team performances. After standout freshman Cole Wallin had a gruesome elbow dislocation in Grey Duck's prequarter victory over top-ranked UMass, it seemed Minnesota had some Kevin Ware potential, particularly after the team tweeted a video of Wallin's emotional reaction from the hospital to the news that Minnesota had upset UMass. 
The following game, the team's best defender Sam Bumstead went down with an injury. Shortly thereafter, Callahan nominee Ryan Osgar's recurring knee injury caught up with him, which ruled him out for the semifinal against Pittsburgh. And if that weren't enough, speedster Tristian Van De Moortele pulled his hamstring halfway through the semifinal, interrupting what had been a dominant three-goal performance in the early going. All told, with four of their best players in triage, Grey Duck dug deep and beat the highly touted En Sabah Nur on double game point to earn their first ever bid to a national championship.
It's tough to tell who will emerge from this clash, because so much is unknown about how the teams will respond to the draining affairs that were last night's games. Stubbs and Vandenberg must be exhausted after the massive number of points they have played already this weekend, and all of Minnesota's roster should be pretty understandably worn out after their rain-delayed game didn't conclude until early Monday morning. It's anyone's guess how these teams will react to playing with so little rest, but both are fighting for their first ever national title and both will need to give one final push if they want to end their season on a win. 
The obvious tactical question going into the final is what Minnesota will do to stifle John Stubbs. It's a hard one to answer, especially with all of the injuries that have shuffled Grey Duck's defensive assignments. Minnesota runs some junk looks, but largely rely on their person defense to get the job done. Connor Anderson did a great job guarding Trent Dillon last night so it's likely he'll see some time on Stubbs, but Minnesota will probably rotate fresh legs onto Harvard's star cutter all game in an effort to wear him down.
Harvard will have their hands full defensively as well. This game could be won or lost on their ability to neutralize the Minnesota deep threats without having to run Stubbs on the harder matchups. It's likely that Milan Ravenell will be called upon for these matchups, after the game-changing play he made late in last night's semifinal. Despite that play, Ravenell had his hands full with UNC Darkside's Aaron Warshauer. Warshauer was a dynamic deep threat for Darkside, but Minnesota's Ben Jagt will be much more difficult to cover. As much as Grey Duck will struggle with Stubbs, Red Line could struggle with Jagt even more. 
If past results mean anything — and after the madness of this weekend, they might not — it's worth noting that Minnesota manhandled Harvard 15-8 at Easterns in March. There are some caveats to that score line however, as Harvard had just come off of an incredible comeback against Georgia in which Stubbs and Vandenberg played almost every point and as a result did not get their usual allotment in the Minnesota game. Additionally, with all of the injuries to Grey Duck and the improvement Harvard as shown this year, that 15-8 score probably shouldn't mean too much in this game.
Harvard are dealing with some injuries of their own, most notably to their big deep cutter Alex Hem. After looking very impressive this weekend, Hem suffered a concussion scare in the semifinal against UNC that forced him off the rest of the game. His status for the championship game is unconfirmed, but based on his condition last night, it's doubtful he will have a meaningful impact.
With Hem out, the narrative is even more focused on Stubbs and Vandenberg against the world, or in this case against Minnesota and their walking wounded. It's a classic matchup: transcendent individual talent against a team that has truly played their entire depth. Can Harvard's big stars pitch one more gem? Can Minnesota keep getting heroic performances from their deep bench? We'll find out very soon.