Red Line have found a way to get their full roster to buy into their roles, propelling them to the National final.

This article is presented by Spin Ultimate; all opinions are those of the author. Please support the brands that make Ultiworld possible and shop at Spin Ultimate!
After one of the wildest nights of ultimate in recent memory, we face the surprising reality that Harvard may very well be the National Champions by the end of the day. How has a 10th seed that didn't make it past the semifinals of any regular season tournaments made the finals at Nationals? It's impossible to point to anything other than the historically transcendent performance of Mark Vandenberg and John Stubbs. The duo have carried the team all weekend long, combining for a stupefying stat-line for 30 goals and 51 assists on Harvard's 91 scores — good for 45% of the team's offensive stats.
As astonishing as those numbers are, they don't fully encapsulate the effect these two players have on their team. No other team is so reliant on their top players to do everything on the field when the time calls for it. In the biggest moments of last night's semifinal win over UNC, the two seemed to be playing two on seven, with total trust and confidence in each other to make the play Harvard would need.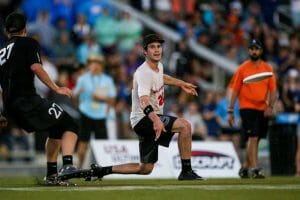 This was never more apparent than when Vandenberg had the disc just outside an attacking cone with Stubbs iso'd in front of him, scrambling to get open. With the stall count creeping higher, Stubbs slipped and fell to the turf, but Vandenberg never looked away from his favorite target. He eventually hit Stubbs on stall nine after Stubbs had regained his footing and found an inch — just one inch — of daylight on the side of the endzone for one of his six goals on the night. At no point was Vandenberg going to do anything other than throw that disc to Stubbs — and last night, there was nothing else he needed to do.
But can a team that relies so heavily on two players win a title? After years of seeing ultra-deep teams win at Nationals, we are programmed to believe that it's not possible for one or two players to carry a team through an entire tournament; eventually they have to have an off game.
This reasoning would lead one to think that Harvard doesn't have the juice to get across the finish line, that they can't possibly keep up this level of success. Stubbs's performance last night doesn't seem replicable, particularly his first half when he either scored or assisted on all eight Harvard goals. But then again, it doesn't seem like Harvard should have even been in the semifinals in the first place. In a wild tournament in which no one seeds or pool winners1 made semifinals, Stubbs and Vandenberg's performances have made what seemed impossible before the weekend begin to look like reality.
There is historical precedent for what Harvard is doing this weekend, as the 2010 champions Florida were a similarly top heavy team that was able to ride the transcendent performance of a superstar to a title. Harvard's run is even more surprising however, as Florida in 2010 were highly seeded coming off of a very successful regular season, while this Harvard team failed to make the quarterfinals at QCTU or Easterns.
So if a team like Harvard can win a title, how do they do it? The short answer is that it's tricky. In order for a team to ride two stars to glory, the rest of the team needs to create a platform upon which the stars can express their immense talent.
One difficulty with relying so heavily on top players is that members of the supporting cast don't make plays that they are capable of because they are conditioned to defer to their stars. Why make an upfield throw when you can just dump it to Mark or John and let him make all the meaningful throws? While in a vacuum you want your best players making as many of your throws as possible, when role players are overly deferential, it makes the plays that your stars have to make all the more difficult.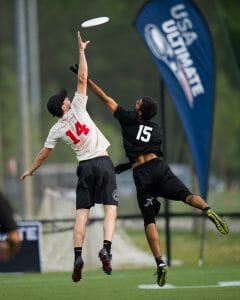 For Harvard, with Stubbs and Vandenberg filling up the stat sheet and making so many amazing plays, it's tempting for other players on the team to defer to them, but that isn't in Harvard's best interest. It's not that someone has to step up and be a third superstar, but the rest of Harvard's players must have the confidence to fill their role and make things easy enough for the stars to succeed. When they don't, it puts Harvard in a tough position.
This was made clear in their loss to Michigan in pool play on Friday. The team's role players seemed afraid to even cut, making tentative jabs out of the stack, and ultimately just looking to Stubbs to do almost everything required to move the disc. There were points in that game that looked almost farcical, with four cutters milling around downfield while Stubbs tried to get open for nine stall counts against his man and a poach. Because Stubbs is an incredible player, this worked to an extent, but it took a toll, and in the brutal Carolina heat it left him doubled up and vomiting from exhaustion before the end of the game.
With players like Stubbs and Vandenberg, a big part of their success comes from their teammates putting them in a position to succeed. In Harvard's best moments, the attention placed on their two superstars creates space for the five other players on the field to work. It can be hard to tell from just looking at the stats since John Legend and MVB take over whenever the disc gets near the endzone, but it's noticeable on the scoreboard, as almost all of Harvard's wins have come in games where the team's play allowed the two stars to shine.
Harvard coach Mike MacKenzie says that the team works on this by putting every player in the mindset of "what can I do to contribute positively to the team when I'm on the field." This allows the team's role players to concentrate on their assets and not their limitations, and to get the most out of their talent. By having role players focus on specific skills, it also takes some of the pressure off of them in big games, so if a player's job is to catch in-cuts and then dump the disc, they don't have to worry about anything other than what they have practiced doing all season, and when it works out, you have a player who is ready to go out and help work the disc up the field in big games.
It is also incumbent upon Stubbs and Vandenberg to set an emotional example for the team to follow. Harvard didn't even make Nationals last season, and getting players who have never been on a stage like this before to perform this weekend is a tall ask for the team's leadership. In Harvard's favor is the fact that both Stubbs and Vandenberg have played in the semifinals of Club Nationals and felt the bright lights of ESPN before. How your top players compete and comport themselves trickles down to the rest of your team; seeing Stubbs and Vandenberg play with such confidence and composure is essential to calming the team's nerves and steeling their resolve.
Whether or not Harvard get their Cinderella story all the way to the finish line, what Stubbs and Vandenberg have done this weekend will live long in the memory of ultimate fans. But if this Harvard team is to be remembered forever as champions, the rest of the team will have to earn it by doing all of the little things that let their best players dominate the game. While it seems at times like Stubbs and Vandenberg are the only two players on the field, it takes seven players to lift the weight of a trophy.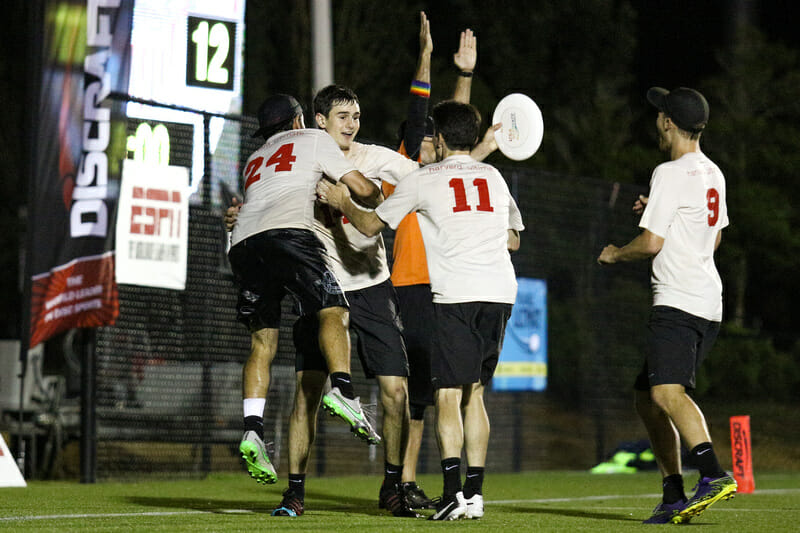 ---
or Regional champions ↩