Our 2016 Club Championships coverage kicks off with a look at the respective title chances for the nation's top teams.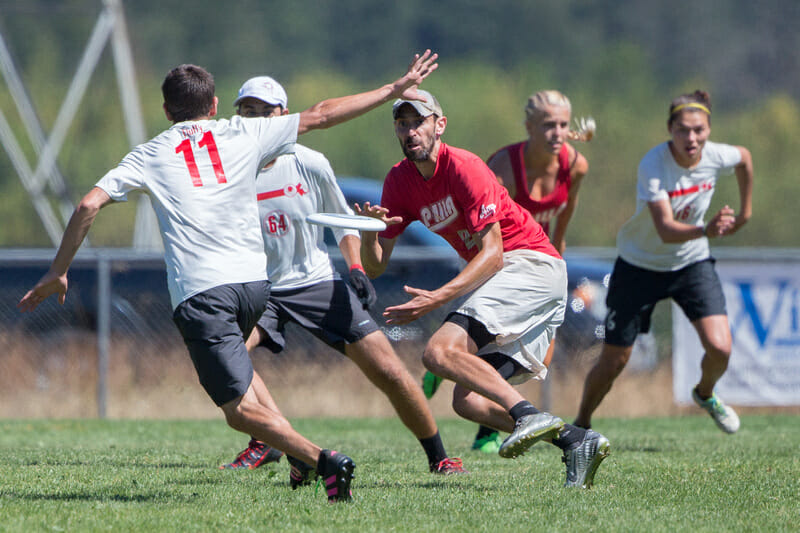 Ultiworld's coverage of the 2016 Club Championships is presented by Spin Ultimate; all opinions are those of the authors. Please support the brands that make Ultiworld possible and shop at Spin Ultimate!
Based on the chaotic history within the division, every mixed team headed to Rockford will believe they have a plausible chance to be competitive and stay alive beyond pool play. And perhaps more than in any other division, anything seems possible in any single elimination game. But even in the most wide open division, how many teams have a realistic chance to navigate the minefield of the four-day tournament and take home the title?
We asked our writers to make the case for why they believe each contender will win the 2016 Club Championships — and under what circumstances they will come up short.
Philadelphia AMP
Why They Will Win
AMP has long been known as a team that prefers to be a faceless army rather than ride on the backs of superstars. In the Pro Flight Finale semifinal against Drag'n Thrust, there were 15 different players with either a goal or an assist for Philadelphia; there were 16 in the final against Slow White. So when AMP scores, more often than not, one of the contributing players is doing so for the first time that game. Opponents will have to plan for a system rather than for individuals, which will be tough to do given the relative scarcity of game footage on them.
In addition to most of AMP's players seeing action over the course of each game, many of them also play multiple roles on the field. Tightly-guarded handlers aren't afraid to cut deep and receivers given a big cushion will get the disc every other throw. But their diversity is most maddening when they are on defense. Although they seem to lack the height to cover opposing deep threats, they more than make up for it with speed and hops up and down the roster, making it rare for opponents to get a mismatch in their favor.
Philadelphia returned an impressive 20 players from their 2015 roster, but their seven rookies have been playing huge roles for them. David Koch and Michael Ing bring firepower to the backfield and are among the assist leaders on the team. Luke Ryan, Sarah Johnson, and Linda Morse, along with Ing, have given handlers tall athletic targets to shoot for. AMP's veterans have developed strong chemistry over the years, but the new kids will definitely turn some heads at Nationals.
Riding these strengths to multiple TCT tournament wins, AMP put together the most impressive regular season in program history, finishing at the #1 spot in both USAU and Ultiworld rankings. With head-to-head victories over each of the other pool one-seeds, it's relatively easy to envision Philly continuing their strong results with a march all the way through the bracket in Rockford, no matter who they come up against.
Why They Won't Win
You can't say this often about the #1 seed, but there's no denying AMP got the short end of the seedings. They face three Pro Flight teams in pool play; the other top seeds will face zero teams from the Pro Flight and only two from the Elite flight. Blackbird gave AMP their toughest game at the Pro Flight Finale and are dangerously underseeded at #13. Reports are that neither Metro North nor Ambiguous Grey were playing with their full roster at any point before the Series, belying their potential strengths as well. It would not be a shock to many if all four teams from pool A earn Pro Flight status for next year, but unfortunately one of them will be eliminated from championship contention before prequarters — and there's no guarantee it won't be Philadelphia.
Perhaps this seeding misfortune is at least partially earned, as AMP suffered two losses at Regionals — one of them in a game-to-go semifinal — in a historically weak region. While there have been instances of National Champions who did not win their region, especially in the Mixed division (2013 Drag'n Thrust, 2011-2012 Blackbird), these losses can't inspire confidence in a team who had only three weeks earlier earned sound victories over the best competition in the country.
AMP only has five losses on the year, and the two that came in the biggest moments — a Regional semifinals loss to Alloy and the US Open loss to Drag'n Thrust — were both upwind/downwind games. AMP enjoyed significant leads in both games (5-2 against Alloy, 7-1 against Drag'n), but in both instances their offense got broken in runs to let the opponents back in. They were able to put things together in a windy game-to-go against a depleted West Chester Bang!, but there won't be many, if any, second chances in Rockford. AMP fans will be praying for calm conditions in Rockford.
By Kevin McCormick
Boston Slow White
Why They Will Win
The simple answer here is talent. Slow White is loaded with athleticism and experience from the top to the bottom of their roster. The northeast powerhouse has now qualified for Nationals in 12 consecutive seasons, the longest active streak in the Mixed division, and the bulk of their starting lines have multiple seasons with the team under their belt. All but a few faces were on a 2015 roster that took third at the Club Championships and their new additions — including three Ironside and two Brute Squad transfers — are no slouches either.
Based on the roster they constructed, Boston Slow White was among the favorites entering the season and lived up to expectations during the regular season, going 25-2 and finishing #2 in both USAU and Ultiworld rankings. Their 2016 regular season was relatively flawless: they were perfect at two local tournaments in June and took first and second at their two Triple Crown Tour tournaments, the US Open and Pro Flight Finale, respectively. Outside of a loss in their only game against AMP, Slow White has already beaten — often soundly — each of their chief title rivals this season and will not fear any team they see in Rockford.
Boston's depth gives them both balance and versatility that they've utilized to attack different opponents in different ways. Both O and D lines on this squad will not hesitate to put up difficult throws to their talented receiving core. Whether it's a full field huck or a cross-field hammer in the red zone, defenders can't afford to take off a beat and assess the situation, because when they do, Slow White is already capitalizing on the opportunity. The only way to win is by scoring, and the only way to score is by throwing into the end zone — a fact that Boston readily embraces. When they get into a groove — playing loose and with confidence — they are nearly impossible to stop.
Why They Won't Win
You can't relentlessly attack on offense without expecting a few turnovers. In windy or other high-turnover games, Slow White's eye for the endzone will keep them ahead in the field possession game, but if opponents are able to grind out scores, those turnovers can cost them. In the final of the Pro Flight Finale against AMP, their O-line got broken six times on nine turnovers, while their D-line only generated a total of six turnovers all game — and zero on the last three points they played. If there is a weakness with this Boston squad, it's that their defense may not generate enough blocks against teams willing to play conservatively on offense. If they run into a team that refuses to tempt fate by testing the athletes on Slow's D-line, they will get sucked into a tight match and run an offense that hasn't played under much duress this season through the pressure-cooker.
Additional pressure may be heaped onto the team's shoulders as they try to escape their history of underachieving at Nationals. The flip side of their very experienced roster is that, like their crosstown friends Ironside, much of their core has suffered a litany of high profile disappointments together at the season's biggest tournament. While last year's semifinals breakthrough — the program's first since 2007 — was a good step, it's not unreasonable to wonder if they'll once again buckle under the weight of their own lofty expectations.
Slow White has recent experience against nearly all of their title rivals, but with how the seeding shook out, have had almost no exposure to the foes they'll face on Thursday. That lack of familiarity has cost Boston in the past — they were the top seed in their pool last year, only to fall 15-10 to unknown #16 seed Chicago UPA. With the added incentive of a bye to quarters for pool winners this year, you can bet the other teams in Pool B will be gunning to unseat Boston. Although Slow White is 1-0 against Madison NOISE, they have yet to face — or even attend a common tournament with — their other pool play opponents, Alloy and Public Enemy. Even with their roster depth, in a division where every game has the potential for upset, Boston will hope to avoid the additional hazard of prequarters.
By Kevin McCormick
Minneapolis Drag'n Thrust
Why They Will Win
It seems strange to even have to justify the championship credentials of a team that has won the last three national titles, but it's pretty to easy to explain why Drag'n Thrust remain among the favorites to collect a fourth in Rockford next week. Minneapolis has an incredible amount of talent and experience up and down their roster, from the standout exploits of Sarah Anciaux and Sarah Meckstroth to the consistent, veteran leadership of Josh Hemmesch and Austin Lien. They have absorbed the losses of Mike Peterson and Carlos Wolle by replacing them with equally talented Greg Arenson and Dan Collom, while also adding Alicia Carr and Chip Chang. They have perhaps the fiercest D-line in the division with Jay Drescher and Emily Regan smothering opponents and generating plenty of blocks to provide break opportunities. Minneapolis also has a history of improving over the course of the year and playing their very best when all the chips are on the table in the postseason.
But most of all, Drag'n is one of the mentally toughest teams in the game — they never get too high or too low, they operate with the same mindset no matter what the score or the situation. That's the primary reason they have had the recent success they have, why they've won nearly every meaningful mixed club competition both nationally and internationally since 2013. As other teams wilt under the pressure of the bright lights during Nationals bracket play, the composed Drag'n Thrust mentality allows them to keep playing like it's any other game. As long as coach Jake Henderson is there to provide steady leadership and imbue the squad with that tremendous focus, poise, and self-confidence, there's no reason to think their reign atop mixed is anywhere close to over.
Why They Won't Win
While they've had a habit of peaking at Nationals, Drag'n has still traditionally produced very strong results throughout the season. This year, without a single significant regular season tournament victory or even appearance in a TCT event final, they may finally be showing cracks in the armor. Yes, they mopped up at Regionals, but their efforts so far this year could be evidence that they may not quite have the same will and desire to win as in recent years. Winning almost always breeds contentment and complacency eventually and it's hard to argue that Drag'n look like they want it quite as much as some other programs hot on their heels who are desperately chasing their first taste of Nationals glory.
Heading into Rockford seeded third is the lowest on the totem pole Drag'n have entered the Club Chamionships since the start of their reign. They have just a single 2016 victory over any team seeded in the top seven (a game where they went down 7-1 before AMP completely collapsed at the US Open) and were beaten relatively soundly at the recent Pro Flight Finale by both squads seeded above them in Rockford.
With perhaps more footage available from the past few years than any other mixed team, perhaps their opponents have finally found weaknesses to exploit. Even if not, the talent on their fellow title contenders' rosters certainly looks stronger than it has in the past, shrinking Minneapolis' margin for error. If they can't find the extra gear that they've been missing for much of the season so far, their quest for a fourth straight title may be extinguished early.
By Steve Sullivan
Seattle Mixtape
Why They Will Win
When it comes to raw talent, there is certainly a case to be made that Seattle Mixtape eclipses the rest of the division. The laundry list of elite players on their roster starts with US National Team representative Khalif El-Salaam, but certainly does not end there. Lucy Williams, Jesse Bolton, Cam Bailey, and Lexi Garrity have been huge contributors for Mixtape all season long, as they would be for any team in the country.
If there's one place Mixtape has excelled this season, it has been smothering teams defensively by dominating one-on-one matchups. Mixtape's defensive stalwarts are some of the division's most exciting players to watch. The ability to generate blocks in person defense means Mixtape is never out of any game and has pulled them out of the fire multiple times this season. Even with a short roster in Rhode Island, Seattle dug deep to overcome major deficits multiple times at the US Open, including perhaps the most fiery game of the season in mixed, when they knocked off Drag'n Thrust in the semifinals. Mixtape again had to rely on their defense to keep their season alive in their Regional final against BFG; Henry Phan's work on Adam Simon and Drew Johnson's duel with Kate Kingery served as further proof of the team's defensive prowess.
Mixtape has proven throughout the season that they are prepared to propel themselves off the play-making abilities of their roster. El-Salaam is a natural X-factor for any team he plays for; he has made in publicly known that he loves high-octane ultimate on a big stage and they don't come much bigger than Nationals. Claire Revere has developed a commanding presence as both a receiver and a very capable thrower. When Mixtape is running hot, they are more than capable of beating any team in the country.
Why They Won't Win
Sustaining the kind of high-energy play that Mixtape is known for can be tough over the course of a full tournament. Perhaps that's why Seattle runs hot and cold more than just about any team in the country. As mentioned above, when their playmakers are in a groove, Mixtape is hard to contain. But when energy lulls or their gun-slinging style isn't connecting –like when their deep game was stifled by Slow White at the US Open — they can get down big in a hurry. That hasn't cost them very frequently this season thanks to their punishing D-line, but margins are always smaller against top competition with a title on the line.
Mixtape should know. After being thoroughly beaten by Drag'n Thrust in the 2014 finals, they were inches away from a title last year but failed to close out the game against Minneapolis. As talented as their individual players are, Seattle may not want to rely so heavily on having to continually win one-on-one matchups if they intend to break their streak of coming up short in big games. It's hard for any D-line at an elite level to carry the weight of a comeback, even harder for a D-line to sustain that level of performance over the course of an entire weekend at Nationals.
Mixtape have proven that they can play exciting ultimate and blow teams away or they can grind out tough victories, even against quality opposition. But if they fail to find a balanced approach between having their playmakers play big and methodically working the disc on offense, they can kiss their title hopes goodbye.
By Hugo Sowder
Connecticut Metro North
Why They Will Win
While many teams don't bring together a complete roster until the Series approaches, Metro North still has yet to do so. In addition to not bringing close to a full squad to most of their regular season events, Connecticut just played their best game of the year in the Regional final without being at full strength. Cutter John Korber has been nursing a back injury for much of the season and didn't cleat up in Devens. Main handler Chris Mazur didn't leave the hotel on Saturday as he dealt with a stomach bug, but with him on the field against top-seeded Slow White on Sunday, the Metro North O-line had just two turnovers en route to a Regional title. The ailing Mazur tallied six assists.
While Korber is often touted for his goal-scoring prowess, he's also an excellent strategist. Along with District 5 teammate and now team coach, Rafe Steinhauer, he will manage Metro to run deep lines during pool play with the weekend in mind. It's easy to talk about Metro's bigger names, but their depth across positions and over both genders will be their ticket to spreading out points and winning in the bracket.
Adrienne Altobelli, Allison Yum, and Erin Ivers will put pressure on opposing defenses while Vinny Fiacco and Lucas Murphy should help convert blocks into breaks with quick motion behind the disc. Dave Tedeyan and Kendra Frederick aren't household names, but opposing teams in the region are more than familiar with the two do-it-all cutters.
Quite simply, Metro North is a team of skilled veterans who have plenty of experience playing together and can comfortably go deep into their roster every game. If they can use the momentum from Regionals to grind and survive in Pool A, the sky's the limit for team that has already beaten the tournament's top three seeds.
Why They Won't Win
While Metro can gameplan for late-in-tournament success, some teams just can't find ways to win the ones that count the most. The squad is an impressive 19-2 on the first day of tournaments this season, but just 9-7 beyond that. Of course opponents get tougher on Sundays, but winning those late-in-tourney battles are an obvious prerequisite for bringing home a national championship.
Closing out games has been just as hard as closing out tournaments for Metro this season. At the Pro Flight Finale, they took halftime leads in their first two games only to squander them in the second half — Metro was outscored 7-2 and 7-4 by AMP and Mixtape respectively, starting the tournament 0-2. At Regionals, the team took an 8-4 lead on 7Express before needing a double-game-point hold to advance to the semifinals.
Primarily running a vertical stack on offense, their sets can become predictable as games advance. Metro North tries to initiate to the shallow break space early in the count and keep the disc off the force sideline. As teams adjust and push the disc to the open space, the Metro cutters are forced to grind up the open-side and throw tougher around-resets to handlers like Seth Canetti and Andy Bosco — as was the case in their Pro-Elite loss to Love Tractor.
The elite talent at the top and across-the-roster contributions give Metro North the ability to hang with anyone in the country, but all it takes is one bad half to find yourself out of contention in Rockford.
By Jesse Moskowitz
The Field
Why They Will Win
Because this is mixed and any team has the ability to get hot.
While no other team appears to be on the same level as the top-line favorites heading into the tournament, that doesn't mean none could play up in Rockford. Mischief and Blackbird are both former National champs and escaped the gauntlet that is Southwest Regionals; neither has passed the eye test so far this season, but both have serious top end talent and veteran-laden rosters that know how to win together. Pittsburgh Alloy is sauntering in after a Regionals upset over #1 ranked AMP; although this is Alloy's first Nationals experience, they have both the talent and chemistry to pull off some upsets. Love Tractor made a case to be among the division's elite earlier this season with a win at the Pro-Elite Challenge and could re-enter the championship conversation if they can recapture their magic from Denver. Fort Collins Shame is a virtual unknown beyond the South Central, but knocked off that same Love Tractor side and ran away with a Regional victory. Cincinnati's Steamboat enter the Club Championships with the best record of any team that qualified across any division!
Even beyond those squads, it'd be imprudent not to expect some upsets. You don't have to dig too deep to find double-digit seeds who have excelled at mixed Nationals. Blackbird won a title as an 11-seed in 2012. Mixtape, the reigning two-time runners up, burst into the spotlight as a 12-seed in 2014. Last season, Chicago UPA won their pool as a 16-seed, knocking off a powerhouse Slow White program that started their own Nationals legacy by going from 14-seed to power pool winners in 2005. With that kind of track record, most prognosticators have learned not to rule out any squad from making a run deep into bracket play in the mixed division.
Why They Won't Win
Despite the recent success of double-digit seeds, the top teams in the division keep improving and have consolidated enough talent not to be completely upended. While any number of the teams from the field could knock off a goliath, it's hard to envision any of them surviving three or four straight battles against the more established powers. Flawed though the algorithm may be, the top-ranked and top-seeded teams have tended to do well in recent years.
While it's unlikely we see all four pool one-seeds advance to the semifinals, one of those programs should be able to claw their way to the top of the pile.