Some early fireworks in the Mixed Division's most compelling matchup.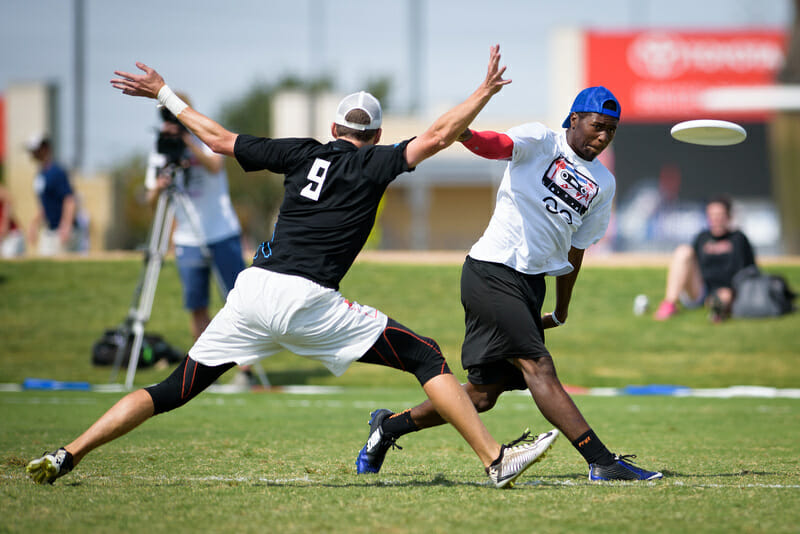 This post is presented by Disc Store. All opinions are those of the author; please support the brands that make Ultiworld possible and shop at Disc Store!
KINGSTON, RI — Another slow start for Seattle Mixtape, another late comeback.
Three breaks for Seattle in the final five points, including one on double game point, carried the team to their second straight US Open final over three-time defending National champion Minneapolis Drag'N Thrust in the semifinals, 15-14.
Mixtape's Khalif El-Salaam was clearly the game's best player, finishing with six goals, three assists, and two blocks on just four turnovers to lead Mixtape to a hard-fought win in what may be the Mixed Division's hottest rivalry.
"It feels amazing [to win]," said El-Salaam. "But at the same time it feels kinda bad, because this is, what, our fourth game in a row we've gotten half taken on us? And it's really, really tough. It puts a lot of pressure on our D-line to go out and have to get breaks."
Indeed, Drag'N Thrust looked in full control early in the first half, cashing in two early breaks after turfed throws from El-Salaam and Daniel Walton to go up 5-2. The Drag'N O-line looked strong against a sluggish Seattle defense in the morning sun and did not turn the disc over on their first five possessions.
The Drag'N offense looked poised to walk one in at halftime on a huck to a wide open Greg Arenson at the back of the endzone, but the disc bounced off of his hands. Henry Phan bombed one downfield to Jesse Bolton before going upline for the break to pull within one at 7-6.
It ultimately became a three point swing after Mike Clark couldn't handle a blading forehand from Sarah Anciaux and Phan got into the endzone again to tie it up.
Drag'N Thrust managed to stem the tide and take half after one of Sarah Meckstroth's beautiful backhand hucks connected with Jaime Glader for the score.
Meckstroth and Glader were among the many Minneapolis women that dominated their matchups in the game. Sarah Anciaux was excellent as well, as was Erika Baken. Throughout the game, Drag'N women were getting big separation downfield and hauling in hucks.
"I think we have an advantage with our women against a lot of teams," said Anciaux.
That advantage helped Drag'N reclaim a lead in the second half as they got two more breaks after a pair of reset turnovers from Dominic Cavalero, Mixtape's assist leader (4). A Jacob Lien forehand blade to Arenson made it 11-9 and, three points later, an inside break from Alicia Carr to Danny Collom made it 13-10.
But Mixtape would not quit. El-Salaam got a vicious sky over Brian Schoenrock for an offensive hold before a long point with multiple turnovers ended up falling Mixtape's way as El-Salaam bombed a huck to Phan who hit Cam Bailey1 for the break.
Phan continued his strong game by getting a poach block and leading a fast break to tie it up at 13.
A pair of offensive holds set up a 14-14 game and double game point.
Drag'N's Pat Niles took a risky outside-in backhand huck that hugged the sideline before Mixtape's Jen Cogburn sprinted to catch up and knock it away. Mixtape worked it up the field before Bert Abbott aired out a backhand to Brad Houser for the win. A travel call briefly halted the celebration, but an observer overrule confirmed the score and the come-from-behind victory.
While both teams were missing players and clearly developing chemistry in the early part of the season, intensity was high throughout after some early fireworks. At the beginning of the first half, El-Salaam hauled in one of his four Cavalero-delivered scores. Minneapolis' Jay Drescher laid out on defense, making heavy contact with El-Salaam.
El-Salaam threw a soft spike at Drescher and the two exchanged words, bumping shoulders as they headed back to their respective lines.
"He thought that it was a dangerous play by me," said Drescher. "And I didn't say a word. And he vocalized his opinion that he thought it was a poor spirited play and thought it was a bad bid. I just walked away and he decided to spike it."
El-Salaam was clearly unhappy about the contact and proceeded to light up Drescher for most of the first half, forcing Drag'N to switch Brian Schoenrock onto the defensive assignment in the second half.
"I thought that it was [a bad bid]," said El-Salaam. "I thought that he was sealed. He said that he touched it, but he also got a lot of the back. If he wants to bid like that, I'm going to treat him like he's making dangerous plays. I'm not going to say 'great bid' and turn around and give him a high five. Brian [Schoenrock] makes spectacular bids and he doesn't lay out into anybody's back. And he gets way more blocks than Jay does in a very safe way. And I can respect that. I can respect that a lot."
The two players tangled again later in the game when El-Salaam laid out through Drescher on a play that injured Drescher's shoulder.
"I thought the body contact was a little aggressive," Drescher said after the game while getting ice taped to his shoulder. "I mean, I'm wrapped up right now. That's the way she goes. It's a physical game. You gotta play through it. But the ground's hard and it always wins."
Anciaux said that the fiery play between Drescher and El-Salaam has become expected and that the game on the whole was spirited and fair. "They're both super athletic dudes, they like to use their bodies, and they like to get stuff in the air," she said. "And with that — they're both similar players — they're going to butt heads a little bit."
Although Drag'N comes away with a loss — their second US Open semis loss in a row against Mixtape — they are optimistic about their prospects for another title run in 2016. "We know how to keep training so we keep building throughout the season," said Anciaux. "Our goal is not to win the US Open, it's not to win Pro Flight, it's to win Nationals."
Mixtape knows that well. The two teams faced off in the last two National Championship finals, where Drag'N is 2-0. So why does Seattle win early in the season against Minneapolis but fall short at Nationals?
"We don't know," said El-Salaam. "We really don't know. It's going to take an entire season to figure it out."
---
Don't miss Bailey's halftime interview ↩