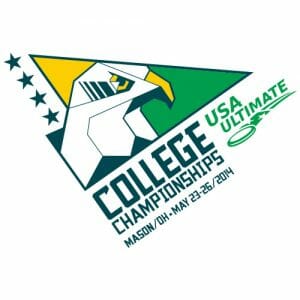 The highly anticipated seeding for the College Championships is out, so let's begin the speculation about what it all means.
First thing to note is that our prediction of the men's seeding was pretty far off from what actually played out in the middle of the pack. We made some fairly bold choices, like Harvard at #4 and a relatively high seed for Michigan. USAU's choices were much more "safe" and more rooted in history and the final end-of-season rankings than head-to-head. That's why you see Oregon at #4 (generous!). UNC Wilmington got a nice bump for their win over UNC at Regionals and landed at #5.
Pittsburgh got the nod for #2 over Texas, which has to be a welcome sight for North Carolina, who landed in Pool C behind Texas with the #6 seed, right behind UNC-Wilmington (as expected). Pitt is 2-2 against UNC, a team that has only lost four games, this season. 
Let's dive into each of these pools.
POOL A (Colorado, Harvard, Wisconsin, UC San Diego, Eastern Michigan)
Of course Colorado and Wisconsin are in the same pool. One of the classic rivalries in college ultimate will play out for the third time this season, and expect a better game than what we've seen so far this year (two wins for Colorado, 13-8 at Stanford and 15-7 at Centex). Still, though, #1 overall Colorado is the class of this pool and is the clear favorite to advance as the pool's top finisher.
Harvard, despite doing enough this season to warrant consideration for the #4 overall seed, gets knocked all the way down to #8 because of the UNC-Wilmington upset. And now they're sandwiched by two of college's best programs. Yikes. They are more than capable of competing, but they will have their work cut out for them.
I'm very interested to see how UC San Diego fares in this pool. They lost handily to both Colorado and Wisconsin (twice) at the Stanford Invite, but this is not a team that fares well in the wind. They have the athleticism to give any team a challenge in the right conditions, and you can expect them to be a fairly tough four seed.
Eastern Michigan has to be licking their chops. They've already done the hard work of qualifying, and now they can try to pull of an upset or two over some of the most prestigious and storied programs in the country. They lack the depth to really make a serious run, but if James Highsmith and Johnny Bansfield catch fire, they will be a tough out.
Of note: this pool's top four seeds all won their region. It is very deep compared to the typical Pool A.
POOL B (Pittsburgh, Texas A&M, Michigan, Central Florida, Dartmouth)
Let's start with this: Pittsburgh, the pool's top seed and the back-to-back defending National Champion, has lost to three of the four teams in their pools this season. They fell to Texas A&M and Central Florida back in February at Warm Up, and to Michigan in the finals of Easterns in mid-March.
Of course, the team is a different beast in the postseason. But there are some bubbling storylines in an already-fun pool.
Last year's finalists — Pitt and UCF — will face off again as Michigan looks to prove that they belong in the top echelon after their brilliant Easterns performance. Texas A&M has the qualifying for Nationals monkey off of their back and should be a serious challenger (assuming Dalton Smith, who injured his hamstring at Regionals, is back at 100%).
After watching the regular season unfold, it's hard to see Pittsburgh failing to advance out of the pool as the top finisher. They are just too disciplined and too skilled top to bottom.
Central Florida is a real wild card. They've no doubt had some bumps along the road during the regular season, but since day one, coach Andrew Roca has preached a focus on preparation for Nationals and winning a title, regardless of what happens during the regular season. A third place finish in the Southeast does not exactly bode well for title contention, but they are undeniably talented and have shown the ability — like in last year's semifinals and in the 2nd half of the game-to-go at Regionals — of hitting a higher gear.
Dartmouth is not as talented as they were last season, when they made a surprise run to the quarterfinals. It would be impressive if they qualified for prequarters out of this pool.
POOL C (Texas, North Carolina, Florida State, Tufts, Massachusetts)
This is a strange pool that simply pales in comparison to the intrigue of Pools A and B. UNC is the nominal favorite after dominating most of the regular season and only slipping to the #6 overall seed because of a surprise loss to UNC Wilmington at Regionals.
They haven't faced Texas this season, but did beat them last year in the consolation bracket finals of the Stanford Invite, 13-8. Both teams had similar personnel to what they have this season, and both teams have to be eying this season as their best chance in years.
We'll get more into detail about the individual matchups of Texas and UNC in a later article, but it will be fun to see what UNC does to try to slow down Will Driscoll. UNC's defense has had trouble stopping deep cuts, so they'll also need to find a solution for Texas' Callahan nominee, Mitchell Bennett, whose speed could cause problems.
Florida State has put up a pair of great games on UNC this year — first at CCC in the fall, and later at Stanford Invite in the semifinals. They didn't fare as well against Texas at Warm Up, falling 13-8. They've played streaky, but don't count them out of an outside shot at winning the pool. I guarantee both of the teams above them will be watching video and prepping extensively to face them.
The bottom two seeds — Tufts and Massachusetts — seem like wild cards. They are clearly a step below the teams seeded above them in terms of results and buzz, but both have some solid wins and potential to notch an upset or two. Tufts has a 1-1 record against Florida State (loss came at Warm Up; win came at Stanford Invite in a very windy game). Tufts also played very well at Regionals and seems to be building towards Nationals — they really lack the athletes of the three teams above them, though.
Massachusetts will need their stars to be healthy if they want to have a shot at any wins in this pool. Jeff Babbitt has really been the life force for the team, but both UNC and Texas have elite one-on-one deep defenders (Charlie Schaffner for UNC; Driscoll for Texas) that may neutralize his ability to get things going. We've seen what they can do when healthy (wins over UNC Wilmington, Carleton, and Michigan) but can they raise their level at Nationals?
POOL D (Oregon, UNC Wilmington, Florida, Carleton, Rutgers)
What is often considered the scariest pool seems a bit less so this year with the one seed, Oregon, being perhaps an underdog to teams like Carleton and Florida. UNC Wilmington certainly is reaping the benefits of upsetting UNC at Regionals and has to be eying this pool with thoughts of winning it.
Oregon comes in with a shaky regular season — we had predicted a #6 seed for them — as opposed the iron-clad grip they had on the overall #1 seed the past two years. But Nationals is Nationals, and good programs always seem to rise to the occasion. Indeed, earlier this year, I picked Oregon to make semis.
I think what is clear about this pool is that almost every team has a realistic claim that they could win the pool. Oregon and Carleton are legacy programs that always show up and have been there many times before, but both had weak regular seasons.
Florida and UNC Wilmington have gotten stronger as the year has gone along; both were extremely impressive at Regionals.
Rutgers is an obvious underdog and probably doesn't stand much of a chance. It's really hard to play low level competition all year and then step into the big leagues. They aren't phased, however, and were more than confident in an interview with Ultiworld this week.
***
Lots more to come on all things College Championships, including matchup analyses, team and player profiles, and pool previews in the next week as we prepare for a very exciting weekend in Cincinnati.