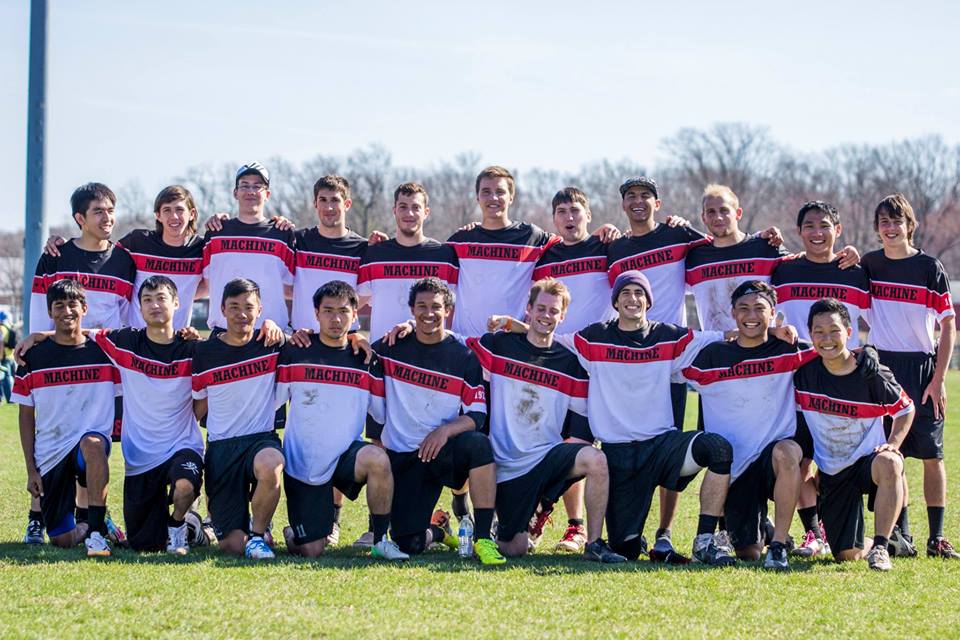 Trailing 5-1 in the Metro East Regional finals, Rutgers looked poised to play the part that so many had played before them: reach the finals with an inspired run through the bracket only to watch their Nationals dreams dashed by Cornell. Connecticut, Princeton, and NYU had all had their shot in the past three years, but each crumbled under the pressure of the moment and watched Cornell celebrate another trip to the show.
Rutgers coach Ari Weitzman was aware of the urgency of that moment, down 5-1, having just given up another break in a windy game. One more, and Cornell might just run away with it. His players might have every reason to throw in the towel, accept a quiet defeat after one of the team's best seasons in a decade.
Weitzman loaded up the offensive line with defensive players and walked out to address the team.
"I asked the guys on the line, 'Do you want to fold?' he said. "And they all stood up straighter and said, 'No. No, not at all.' And there was not even a hint of anybody wanting to fold."
Rutgers would score that point and start to gather some belief after getting a break before halftime, when they trailed 8-5.
At the half, Weitzman told his team that the score was five, and that they had ten more steps to take to reach Nationals. The team shifted out of its zone, which Cornell was ripping through, and back into a predominantly man defense. They started to generate some pressure. And then the moment that stood out in a whirlwind second half.
"When the score was 9-6, we were going upwind," said Weitzman. "And we got a turn on the sideline. And, very quickly, [Josh Alorro] ran to the disc, picked it up, and threw a perfect 45 yard flick to the endzone and Scottie [Xu] ran it down. And right after that the sun came out."
The team knew it was a sign. "It was a cloudy, rainy, dismal day. And the sun comes out," said standout cutter Albert Alarcon. "Almost like a movie," added Matt Weintraub.
The team smelled blood, and put together a 4-0 run to take a 10-9 lead. The game came down to double game point; Rutgers received. After a drop from Alarcon, who played the entire tournament with his off hand due to a broken throwing wrist, Jibran Meiser, one of the team's most impressive athletes, came up with a "picture perfect" layout block on an in-cut.
Another turn.
Then Alarcon made a huge layout that tipped the disc up for Scott Xu to come down with. After a few throws, Alarcon stepped around with his right foot, and threw a backhand into the endzone to seal a 12-11 victory over Cornell and a berth at Nationals.
***
How does a team that got blown out 15-8 in the quarterfinals at Regionals one year ago end up at Nationals? Some will no doubt point and laugh at the Metro East, the country's weakest region. But that sells this team short. So much has changed in the past four years.
"Over the past few years, we've always had raw talent," said captain Scott Xu. "We've had some players play for some big club teams. Individually, we had a lot of talent. And, last year, because of that, people were saying that we looked really good, and that we had a shot at it."
Indeed, Rutgers may have been the early season Metro East favorite, with a roster packed with quality players. Albert Alarcon and Mike Sender had just come off a season with New York PoNY, Jibran Meiser played for Philadelphia Southpaw, and a number of others were on New Jersey based club teams.
But injuries and an admitted lack of system prevented Rutgers from getting anywhere close to maximizing their talent. They underperformed all season, and didn't even believe that they could bring it together.
I asked the Rutgers captains last year before Regionals about whether or not the team could make Nationals. "If I had to guess, I'd say no, but we'll see," said former captain Tim Naumovitz.*
The team had done some things well: develop their players through offseason club play, focus on conditioning and working hard. But they lacked belief.
The captains credited Weitzman, who used to coach in the Pittsburgh program and was an assistant coach for Rutgers last year before becoming the full time coach this season, for providing some.
"It's like a disease," said Weitzman." You kind of plant the seed in people. One at a time people have to see individually that they are capable, and then they have to work on their own game and build that trust in each other. And I think it took two years to build that trust in people individually and eventually in each other.
"And when the score was five, with ten steps to go, that came out. All that mental change that happened gradually just came to a head."
The team had already installed offensive and defensive schemes, they had built out a focus on fundamentals (they switched one of their conditioning practices to a pure throwing practice), and they worked harder than ever to be prepared. Matt Weintraub put it simply: "We've been more committed to succeeding this year."
But it was that shared belief that helped Rutgers push past a Cornell team that talked all season about peaking at Nationals this year instead of peaking at Regionals. It was the team's third double game point win of the season.
Contributions came from all across the roster, but it was the senior leadership that really drove the team's success. Josh Alorro (PoNY) was stellar all weekend long, as were all of the captains and players mentioned above.
Now the team is ready for their chance in Cincinatti. They will almost certainly come in as the tournament's last seed, but they aren't intimidated. The team has defined itself around "composure under pressure" — they thrive in tough situations. They are happy to be the underdog.
"We're out to shock some people in Ohio," said Xu, and the team made clear they are out to win games, not just enjoy the experience.
"This isn't a one and done thing," said Weitzman. "This is our first consecutive regional title. And it starts with that, and it continues with a good showing at Nationals. This is just the beginning."
*This quote was attributed to incorrectly attributed to Scott Xu in an earlier version of this article.