Many of the top East Coast squads will get their 2015 season started this weekend.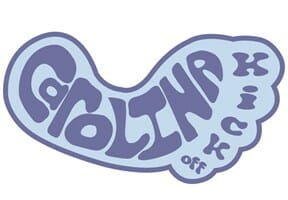 The fall tournaments were just the hors d'oeuvres. The 2015 College Season has been plated and is on its way to your table. Here on the East Coast, we'll get our first Men's Division competition at the Carolina Kickoff (formerly known as ACCUC).
Sure, it's an early season tournament, but take note of the ingredients:
– 10 teams attending, two pools
– Five teams that played at Nationals in 2014
– Four teams that made it to quarters in 2014
– Two semifinalists
– And one two-time national champion (Pitt in '12 & '13)
The other five teams aren't chopped liver either. They're all regional competitors, most of them lurking just below the tier of Nationals quality. Some of these programs have even been there before. One might go so far as to say the abysmal winter that knocked out a few major tournaments last year may have cost some of these competitors the big-game and out-of-region experience they needed to stay sharp at Regionals. For a number of these teams, it'll be the first chance to square off with top regional contenders.
To the main course.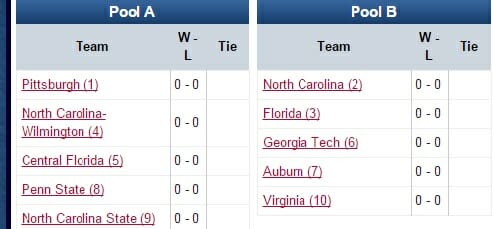 Two Potential National Champions, Two Separate Pools
You don't have to scroll very far down the D-I Men's Rankings to find Pittsburgh En Sabah Nur and UNC Darkside. At #2 and #3, respectively, these two perennial powerhouses have a bevy of battle-tested players returning to their roster, including one who announced a return just before the semester began.
Beyond the return of Marcus Ranii-Dropcho, Pitt brings back nearly everyone from a squad that exited all-too early last year. Many of the starters we'll see on the field this weekend spent the summer on a re-branded and revitalized Pittsburgh club team, Temper, a team which ditched the mentality of training its college stars during the club season and has decided to seek national relevance. They have a two-time national champion in coach Nick Kaczmarek, a budding phenom in Max Thorne, and skilled leadership on defense from Trent Dillon. 
This year's class of seniors were all present for those title runs and now they've got their sights set on claiming another one for themselves. The offense that results from a group of players that have been playing this long and this often at such a high level is downright frightening. It'll be hard to not look at this weekend and gun for UNC Darkside, 2014's early favorites to win it all.
Darkside will also come into the weekend with something to prove. Even without the expert defense and backfield leadership from Ben Snell, who suffered a season-ending injury at Easterns 2014, UNC corralled its talent into a finals berth, falling just short of a national title at the hands of Colorado Mamabird.
Snell returns this weekend as a captain and O-line contributor, alongside sensational thrower Jon Nethercutt and veteran leader Justin Moore. Darkside will also have key contributors Jimmy Zuraw, Tim McAllister, and Aaron Warshauer back on the field, with a number of other players who saw field time during big games last year. Even with the departure of cutting threats Christian Johnson and Charlie Shaffner, we can expect to see some new and different talents add wrinkles to Darkside's lines, including standout rookie Nathan Kwon.
Expect head coach Mike Denardis to be fully aware that he's lost some of the height he had downfield in 2014 — he's a crafty coach who designs sets that hone in on the talent available. Kwon may not be an analog trade for Johnson, but he brings a lightning-fast first step that make him a primary cutting option.
It's a matchup we wanted to see last year at Nationals and, if seeds hold, we'll see it on Sunday.
Can Lightning Strike Twice?
I have something to confess. I wrote all about Pittsburgh in that last section without more than a link's mention of UNC Wilmington. I was saving it.
The men of UNC-W stunned us twice last year. Once with a 15-10 dismantling of regional rival and then-#1 UNC Darkside at Atlantic Coast Regionals. That a was a big enough story. Then, after barely scraping their way out of prequarters at Nationals, the Seamen went point for point in a nail-biting game with Pittsburgh. Pulling on double-game point, the Seamen secured a turnover after an errant swing pass from Pittsburgh in the redzone and — to the surprise, dismay, and sheer joy of the sidelines — put the game away with a smooth flick from Xavier Maxstadt.
Against a team that many fans and players would have picked for the semifinals or better, UNC-W locked down on offense and proved they belonged in the game. The question is whether or not they can put all the pieces together again.
Maxstadt returns this year, along with his backfield partner-in-crime Luke Hancock. They'll look to get Jack Williams started early this year downfield. Williams was a breakout star at Nationals in 2014. Charlie Lian returns as well, adding to the veteran experience that UNC Wilmington will need to play from in front. Head Coach Greg Vassar will be looking to build out his new talent this year as well. With the departure of Truman Nottingham and Nick Jackson, Vassar will look to harness some raw rookie athleticism and arm his defensive lines with some confusing looks for oncoming competitors.
We'll what promises to be a very interesting quarterfinal rematch in the last round of pool play, Saturday at 4pm. Expect both offenses to come out with big, gun-slinging hucks.
Has the Window for UCF and Florida Closed?
Even as we drill down into both pools, there are two more nationals-caliber teams: University of Central Florida and Florida. This weekend will give each of these southern teams critical playing time against teams expected to go far in Milwaukee this year –both will need to use this time wisely to see how their teams stack up.
Some may say that last year was UCF's year for a chance at a deep season run, but nobody in Orlando is saying that. They still have a top-class coach in Andrew Roca and an early candidate for Southeast player of the year in Brawley Adams. Jeremy Langdon returns as one of the best defenders in the region. UCF is now in an elite class of a "re-tooling" type program, so expect some young guys to look seasoned early on. True, the loss of Mike Ogren and John Best won't be easy to deal with. But Adams has a skill set that hasn't yet made waves on the national stage. Look for him to shine.
For Florida, a team that is led by the efforts of Bobby Ley, the loss of Jason Silverman will still be felt. They hold the third seed heading into the weekend. When the chips were down last season, Coach Cyle Van Auken — in the Florida way — relied almost exclusively on Ley, Silverman, and veteran returner James Dahl to move the disc. That's not to discount the key contributions from other role players, but Florida rides their stars more than most elite programs. Ley is all-in-one kind of player for this team and he'll rely on some serious chemistry with Dahl to continue to move the disc. The question is whether or not this team is deep enough to handle teams as skilled as Pittsburgh and UNC.
Who's Lurking Just Below the Top Five? 
Georgia Tech lost their depth from 2014 with a massive roster turnover. With some young guns at the helm, the team looked poised to be a low regionals finisher. But a program that attracted current Chain Lightning stud Jay Clark now has a new face in Nathan White. That is, a new face to the Southeast region. White, a Revolver player during the club season, brings world championship experience to Tech, and a wide range of skills that make him a perfect piece for any system they choose to run him in. He led Tech to a well-above-expectation weekend at CCC in November. We'll see what they can do in the Spring.
The rest of the field is rounded out by Auburn, Penn State, NC State, and Virginia. They all will bring back batches of players with club experience and they've all got something to prove against the teams seeded above them. Auburn, in particular, has already seen and nearly beaten a shorthanded Florida back at CCC.
Ryan Landry will return as a top handler for Auburn, with a big target to look for in Blake Galloway. The capacity of a program like this to start working its way into the regional conversation starts a tournaments like this weekend, where Auburn will get a good look at UNC and have another shot a Florida on day one.
Penn State, who took second place in the Ohio Valley in 2014, have been unable to get over the hump presented by Pittsburgh in recent years. Much the same that Virginia will benefit from seeing UNC at this early season meeting, Penn State will get a look at Pitt later in the day. That's scouting they'll need to prepare their squad for the rest of the season. The Ohio Valley would realistically need two bids to reward Penn State with a trip to Milwaukee this year, so they'll look to get as many big out-of-region wins as possible to build strength early.
Virginia may also provide some surprises. Fourth place in the Mid-Atlantic Region in 2014 is no small accomplishment, but they've struggled recently to push their programs to the next level. UNC and UNC-W dominated all of their competitors during the Series last year, so this weekend will be just the sort of opportunity that Virginia needs to get experience early and start building preparing for playoffs.
NC State, finishing just behind Virginia in the Mid-Atlantic last year, will also need to muster the full talent of their roster to make waves this weekend and throughout the season.