Songs For The Unsung: Celebrating Stars Putting Smaller Ultimate Communities On The Map
Every ultimate community — no matter how small — has top players worth celebrating.
BY KELSEY HAYDEN
We all know the big names in women's ultimate — the stars on the top teams who make headlines and highlight reels year after year. But those are not the only players who deserve acknowledgement. All across the club ultimate scene, there are women who are incredibly talented, fiercely dedicated, and largely unknown on the national stage, yet are the pillars of their communities both on and off the field.
This article celebrates several of those women. The wider ultimate community may not know them, but they are praised by their teammates, competitors, coaches, and fans, and they certainly deserve recognition. I spoke with five of these women and those who know them, to dig into why they are so important to their community — and why we all should learn their names.
Colleen Callaghan Wright
NASHVILLE, TN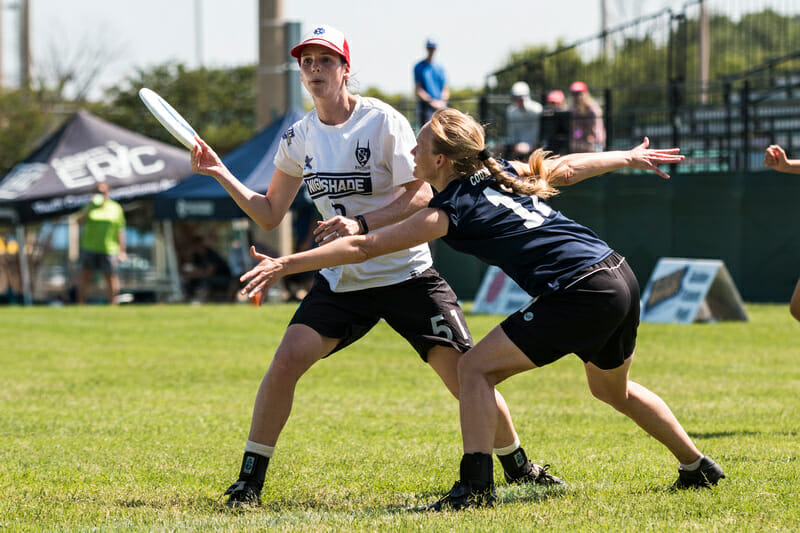 "She works the break side well, she can huck it, and she is a great defender. AND a great leader to boot. She just does it all… and does it well." – Maddy Frey on Wright
When you ask people in Nashville who is the best ambassador for the sport of ultimate is or who comes to mind when you hear the phrase "this person deserves more recognition," an overwhelming number of people say Colleen Wright (nee Callaghan). On top of being a fierce competitor and everyone's favorite opponent, she has invested so much into the Nashville ultimate community that it is hard to imagine what womxn's ultimate would look like without her in the region.
Wright's older brother played ultimate at Georgia Tech and taught Colleen on his breaks from school. Having played soccer and basketball to that point, the transition to ultimate was seamless. "I owe a lot of my field awareness, hand-eye coordination, and defensive strategy to my years of sport training," says Wright. "After college soccer ended, I was looking for my next athletic and competitive outlet. Ultimate was the perfect substitute. It offered the camaraderie, competition, physical test, and team atmosphere that I yearned for."
When Wright finished college, there wasn't a playing opportunity in the women's division that matched the competitive level she hoped to achieve. While some players may have opted to relocate, commute, or settle for recreational leagues, Wright decided to fill the gap and create Nashville's first1 high-level women's club team in 2010, DeSoto (which was later renamed Encore). In no small part due to Wright's influence, DeSoto enjoyed early success across many tournaments in the Southeast and in just their second year of existence became the first Nashville women's team to qualify for Club Nationals. For five of the eight years that she was involved with the club, Wright was a captain, then she handed the reigns over so she could focus on her next project: Nightshade, a Nashville-based semiprofessional womxn's ultimate team.
And that's the thing about Wright: when she sees a problem, she tackles it head-on. "Instead [of leaving], I chose to invest in my hometown and build up the women's program here. I wanted to provide opportunities for women to develop and play at an elite level in a division that showcased their talents," says Wright.
"I think I can safely say that without players like Colleen, womxn's ultimate simply would not exist in a lot of parts of the US."Maddy Frey
This choice and her dedication to seeing it through, has had a profound effect on ultimate in the region. Maddy Frey, a member of the Premier Ultimate League (PUL) Board of Directors, speaks to Wright's commitment and impact. "I think I can safely say that without players like Colleen, womxn's ultimate simply would not exist in a lot of parts of the US. She has worked so tirelessly to mentor players, invest in teams, and create opportunities for womxn players. She was a huge part of Nashville Nightshade forming last year, which truly started the movement toward the PUL and womxn's pro in the US," said Frey.
Of course, choosing to stay in a community that had a small women's ultimate scene, meant that a competitor like Wright needed to find her own way to develop and improve. "I developed as a player by taking on whatever role my team needed me to serve," says Wright. That willingness to be versatile means that Wright has a diverse range of skills, making her an all-around threat. "Colleen is so athletic — tall, fast, and smart. She sees the field so well, moving the disc and then pushing her entire offense forward. [She] reminds me a little of Julia Schmaltz with Austin Torch — super athletic and uses her height well, can handle and cut, and is a huge threat anywhere on the field," says Frey.
In true Wright fashion, if you ask what she is proud of, it is not her skills or personal successes, but rather her work to improve the opportunities for womxn in ultimate. As an incredibly humble individual, she quickly offers credit to others as well. "I've accomplished a lot and not by myself. My proudest accomplishments are the programs, teams, and leagues I have created for others in my community," says Wright. And when asked what drives her, her answer is so fitting of such an inspiring and modest role model: "My family, my friends, competition, being my best self. Doing something that matters for other people."
Molly Wedge
HALIFAX, NOVA SCOTIA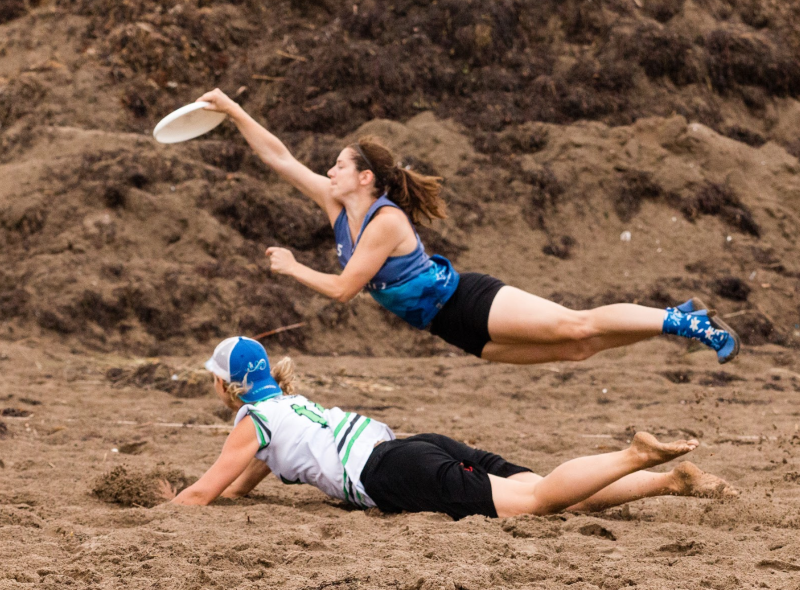 "Molly has proven through her tough work ethic that it doesn't take years to become an elite ultimate player if you want it badly enough." – Jennie Korus on Wedge
Molly Wedge was always a competitor, but for most of her life, her preferred venue was a swimming pool. In 2015, when she retired from competitive swimming, a friend introduced her to ultimate. Like so many others, from almost the moment she started playing, she was hooked. "I started playing with the local university team DKUT.*1 Once I could finally catch a disc, I went on to play with Salty Ultimate and Anchor Ultimate, Halifax's women's and mixed club teams, respectively," says Wedge.
Jennie Korus, current captain of Salty and previous captain of Anchor, remembers Wedge's humble beginnings well. "She was such a fast learner and so keen to improve. She played one season of Salty and never looked back."
In the offseason following her first year of club, Wedge decided to truly commit herself to becoming a student of the game. She began to watch a lot of ultimate online, and because she's naturally analytical — she recently graduated from law school — she would break down what elite players were doing and apply those strategies to her own game. She improved rapidly by constantly making adjustments and trying new things. "I tried to figure out the strengths of each player so I could watch them when I was trying to learn a new skill," says Wedge.
For her third year of club, Wedge not only played with Salty, but also with the Halifax mixed team, Anchor, who had just earned themselves a bid to the 2018 World Ultimate Club Championships. Korus was a captain of Anchor at that time and, from her vantage point, Wedge's development was undeniable. "She was easily our best defender," says Korus. "There's not a ton of players who go from complete rookie in their first year to the number one defender on a team competing on the world stage shortly after."
"There's not a ton of players who go from complete rookie in their first year to the number one defender on a team competing on the world stage shortly after."Jennie Korus
Of course, like many competitive athletes, though Wedge is proud of her accomplishments so far, she is always wanting more. Halifax is geographically isolated — it's almost an 8-hour drive to get to Sectionals with little competition anywhere in between, so club teams from the province don't get to regularly play against elite teams. But Wedge doesn't use that as an excuse, and she certainly doesn't feel satisfied just because she is one of the best players in Atlantic Canada. "I think being satisfied with where you're at is what leads to plateauing as an athlete. I want to be the best at everything I do, and I'm willing to do whatever it takes to get there," says Wedge.
Watching Molly Wedge play is like watching the personified version of dedication. She never gives up on a disc, even if that means laying out on hardwood court — as many Halifax leagues are played in gymnasiums during the winter months. She is a competitor in every sense of the word, and both teammates and opponents are better off when she's there. Her commitment to growth is palpable, and she uses that commitment to help more than just her own personal game. She is a leader in the Halifax ultimate community and strives to improve the entire scene.
"I frequently have team members on Salty, DKUT, or league players come up to me and tell me how much they love my captaining. I work really hard to push players to be better and to find things that people can improve on, so it makes me really happy to hear that players are responding well to that, and that's something I'm really proud of," Wedge says. According to Korus, Wedge is even more impactful than she likely realizes. "[Molly] is someone that her team looks up to and she's someone that everyone strives to impress. She has all the qualities of a great leader."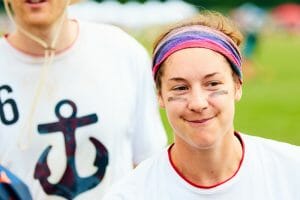 Perhaps when you give everything you have to something, the universe makes sure to give a little back. Beyond satisfying her competitive nature and pushing her to be an elite athlete, ultimate has offered Wedge things that will last far beyond her ultimate career. She met her number one supporter – her husband, Sam Cameron – during her first year playing DKUT, and she says she's "met most of my closest (and weirdest) friends through ultimate in Halifax."
Unfortunately for Halifax, Wedge's time on the east coast of Canada is ending, as life is taking her across the pond to Bristol, England. Soon she will have to navigate through a new ultimate scene, but like any great competitor, she's excited for a new test. "I think I'm most excited to play against new people. I've played against the same group of players for the last three years, so it'll be nice to get some new challenges." As always, Wedge is ready to work.
Kendra Miller
SALT LAKE CITY, UT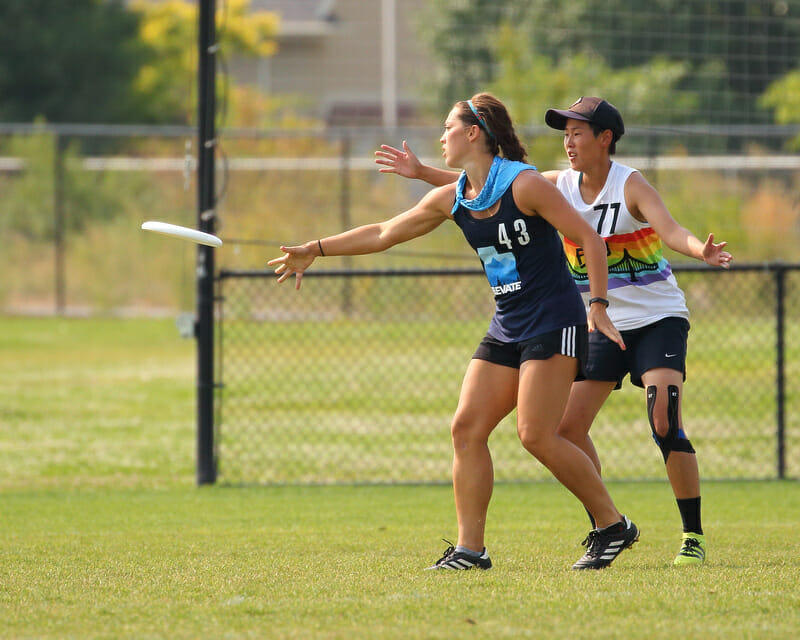 "Kendra exudes confidence and purpose. Kendra makes it cool to work hard, to lift, to study, to take things seriously." – Bryce Merrill on Miller
When Kendra Miller started playing with Salt Lake City Elevate, from Day One she simply could not be ignored on the field. Though she only had a year of playing experience under her belt when she joined Utah's top club team, her athleticism — specifically her top-end speed, having come from a collegiate track background — blew everyone away.
Nowadays, Miller is a player that people are drawn to watch, for both her dominance and style on the field. On top of her athletic prowess, she frequently shows up to practice covered in paint thanks to her job as a painter with a family business. She often wears dangly earrings while playing, adding to her undeniable field presence.
Miller's beginning in the sport started as many do: a friend tried to convince her to play while she was still focusing on another more mainstream sport, and she simply didn't believe that ultimate was legitimate. After about a year of convincing from a best friend who played for the Boise State men's ultimate team, she finally attended a BYU CHI practice and was immediately persuaded. "All it took was one practice with the team and I was hooked," says Miller.
As a seasoned competitive athlete, Miller immediately became addicted to improvement. She already had a lot of the physical tools that are difficult to teach and a strong desire to learn, so all she needed was coaching on the game's finer points. Luckily, she had that in abundance as well. "Being coached by Bryce Merrill really jump-started my frisbee career," says Miller. "His frisbee IQ is so high that it was like drinking from the fire hose that first club season."
By the end of her first season of club, that thirst for ultimate knowledge only amplified, and Miller turned to film to emulate the elites. "Film has definitely had a huge impact on me as a player as well. I'm pretty sure I've watched every single women's game there is on YouTube multiple times. I love watching and analyzing how the elite play — the cuts they make, their timing, how they position themselves on defense, throwing mechanics, etc."
"I realized she had the opportunity to be a game-changing player for our team — she had become a student of the game and was watching film of the best players in the game, applying these high-level fundamentals to her own."Bryce Merrill
Merrill, the most successful coach in the Utah ultimate scene, recognized the incredible potential in Miller during her second year on Elevate: "I realized she had the opportunity to be a game-changing player for our team — she had become a student of the game and was watching film of the best players in the game, applying these high-level fundamentals to her own," Merrill explains. "Since then we've been able to just put her in good positions on the field and give her a little bit of freedom. She helped drive our team's success on both sides of the disc this year."
But a truly great player does not just play well as an individual — they also understand how to be a good teammate and how to be an effective part of something bigger than themselves. Merrill sees these intangible qualities in Miller. "She inspires greatness in her teammates. We were down 10-6 to [Minneapolis] Pop at ESC this past season and Kendra snagged a D and threw an assist to make it 10-7. Her confidence became contagious for her teammates and she helped rattle off another four in a row, Kendra playing every point, to steal the game 11-10," says Merrill. "She was in her element — playing a talented team, embracing the underdog role, and enjoying that it was late in the game and late in the day where her legs would help her set the tone and pace."
While Miller loves the Utah women's ultimate community and is grateful for all that it has given to her, she is not yet satisfied with her ultimate career. "I hate being mediocre at things, so if it's in my control to make myself better, then I'm going to do everything I can," says Miller. In many ways, she feels that she is still at the beginning, as she still has so much she wants to learn and do, and she has the ambition and drive she needs to get there. "My main goal is to eventually play for an elite women's team. My two dream teams are Molly Brown and Brute Squad, but I've also been really hyped on Phoenix lately. I love this sport. It's easy to stay driven when you're doing what you love."
Courtney Walbe
KANSAS CITY, MO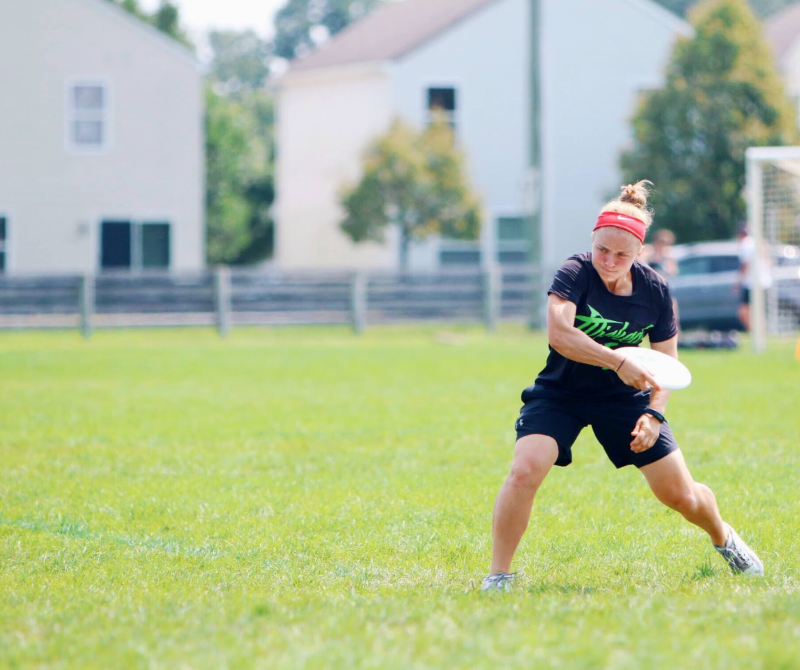 "Basically, I — to this day — cannot think of a situation in which I don't trust Courtney, and cannot think of any big holes/hindrances in her game. I think any team in the country would be lucky to have her, to be honest." – Clare Frantz on Walbe
Courtney Walbe started playing ultimate with church groups, of a variety that featured too many people per side and very few completions. But even that recreational, chaotic version of frisbee hooked her and when she went to the University of Arkansas, she knew she needed to find the opportunity to play. That's when she found SoCo — the women's team at the university — and her true passion for frisbee really ignited.
She went from SoCo in college to playing mixed in Fayetteville. Courtney still speaks very highly of the community that nurtured her in Arkansas. "I would say I've developed as a player by having people around me that push me and also invest in teaching me and building my skills. I've been so lucky to have had so many people in Fayetteville that I recall really encouraging me, pushing me to be better, and were willing to teach me and help me grow," says Walbe.
After moving to Kansas City, Walbe began playing with the women's team Wicked. Over the past few years of her career, Kansas City has proven to be equally helpful and inspiring as her time in Arkansas. "I would say my local community is truly just that — a community. We are supportive, we cheer each other on, we compete, and we heckle — of course — but at the end of the day, this community loves and supports each other."
"She challenges me to be better when we guard each other, but it's never been weird or overly competitive between us because Courtney just doesn't let things like that happen."Clare Frantz
As much as Walbe loves Kansas City, the community has loved her back. Clare Frantz, former Wicked captain, and current Chicago Nemesis player, met Walbe when she first tried out for Wicked and sees the value in having a player and person like Courtney in Kansas City. "It's obviously awesome to have Courtney in KC. Not only is her skillset that of an elite level player, but her whole attitude, personality, commitment, and leadership skills are as well," says Frantz. "KC will always appreciate having great ultimate players, but we really appreciate great people even more and Courtney is one of the best people I know."
Great people and her community are two things that drive Walbe to continue to work hard and improve. That, and the desire to attend Nationals with Wicked. "My primary goal at this point for ultimate is to make Nationals — and not just get to Nationals and call it good, but to make it and compete and win some games. The past couple seasons with Wicked we made it to the game-to-go, so I've been close, but I haven't quite made it yet," says Walbe.
Walbe did compete with Wicked at this fall's Pan American Ultimate Championships in Sarasota. While the international tournament may not have provided top-tier competition every round, it did give Kansas City the opportunity to match up against some solid teams throughout the hemisphere, from Canada to Columbia. Wicked made a run to the semis, with Walbe one of the stars of the women's division at the event.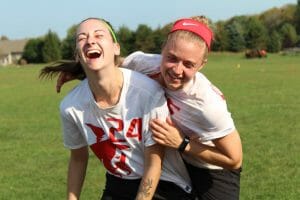 While she is happy with her career so far, Walbe remains humble and hungry. "I've been able to continually grow year after year, I've been to so many fun and highly competitive tournaments, made so many lasting friendships, and have had a ton of fun along the way. In KC and on Wicked, I am surrounded by people who you can tell are always looking to get better, are always looking to develop new skills or strengthen skills, and are constantly pushing themselves and each other to get better and compete; it makes me want to push and constantly get better for them."
Walbe's presence both on the field and on the sideline fuels other players to work harder and improve. "Courtney is one of the only players in the KC community that I consistently compare myself to — in a good way," says Frantz. "I try to be like her in a lot of different ways, on and off the field. She challenges me to be better when we guard each other, but it's never been weird or overly competitive between us because Courtney just doesn't let things like that happen." Finding the balance between being competitive and spirited is not always easy, but Walbe manages to do it with ease. "She prioritizes relationships with her teammates and friends in a way that makes everyone feel really valued and loved," states Frantz simply. "I'm very glad that she moved to Kansas City."
Laura Prelsnik
TUCSON, AZ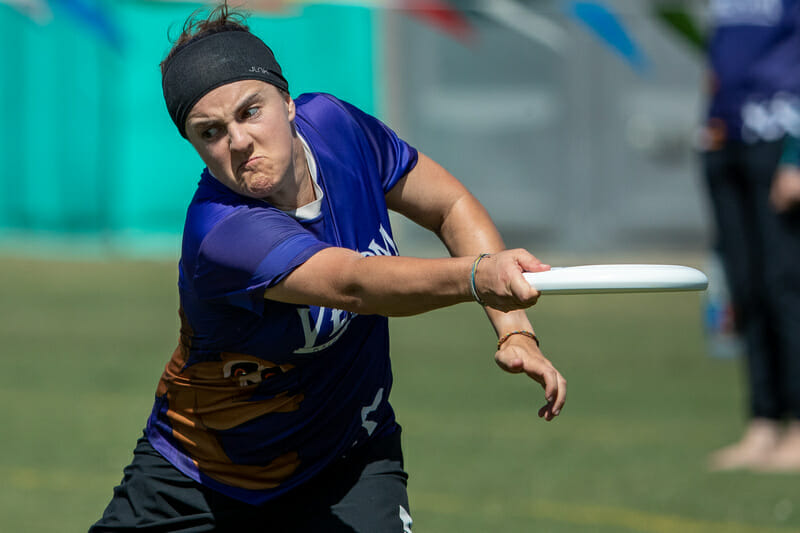 "LP's enthusiasm is infectious. You love playing with LP because her ability is going to make you a better player AND because her enthusiasm brings more joy to the game for everyone." – Jeff Grobe on Prelsnik
In some cities, the odds are stacked against you if you're trying to become an elite player. Tucson is one such city — not because there is any absence in enthusiasm, but rather because there are some uncontrollable factors that make it difficult to groom someone to stardom. It's incredibly hot in the summer, making practice conditions difficult unless they are after the sun sets. It's also mostly a college town, meaning that even when people do develop into promising players during college, they often leave once they graduate. Laura Prelsnik however, is the exception — and the jewel of the Tucson ultimate scene.
Prelsnik grew up in California and made her way to Arizona for college. She was focused on other sports until serendipity led her to find ultimate, when she wanted to stay involved in athletics and intramurals weren't enough. She was immediately drawn to ultimate because of the similarities it held to the sports she had played previously: playing defense was similar in basketball and reading the disc in the air was like tracking a ball in softball. But what really drew her into ultimate was the community. "The ladies were incredibly friendly, encouraging, and dedicated, which made me fall in love with the sport even more," says Prelsnik, reflecting on that time.
During college, Prelsnik looked for every opportunity to play ultimate. During the summer of 2009, she played with a mixed club team, Barrio, who finished sixth at Club Nationals. The following summer, thanks to connections that some of her teammates had developed with players from New Zealand, she was offered the chance to go to WUCC 2010 in Prague with a New Zealand mixed team, Duke of Wellington, and jumped at the opportunity.
Lucky for Tucson, when college ended, Prelsnik did not leave and go back to California. "Upon graduating from college, I had dreams of playing at Club Nationals again, but with a women's team this time. However, the chance of attaining that would probably mean leaving Tucson to play in a more competitive city. Instead, I shifted my focus to coaching the players on [University of Arizona] Scorch for the last eight years, helping develop a strong women's club program with Venom, and continuing to grow the ultimate scene here. I absolutely love Tucson and I'm so glad I stayed because the experiences I've had since have completely shaped me into who I am today. Additionally, had I left, I never would have met my husband, Rey."
"I knew how good she would become when I saw how critical she is of her own play. She is her harshest critic, but not in a bad way."Jeff Grobe
Though she chose to stay in a smaller community, Prelsnik never chose to plateau as an athlete. As someone who came from an athletic background and a competitive family, she has always strived to improve and put in the work to make it happen. Prelsnik has always been her own worst critic. "When the game was over, I immediately focused on what I did wrong and was very hard on myself," says Prelsnik. "While I definitely don't think it's my best quality, it did drive me as a young athlete to get better."
Her college coach, Jeff Grobe, noticed this quality in Prelsnik right away and believes it has actually been the key to her development. "I knew how good she would become when I saw how critical she is of her own play," he says. "She is her harshest critic, but not in a bad way. You see some people get down on themselves when things aren't going their way or when they make bad plays and that's the end of the story. With Laura, she is critical of her own play but she consistently turns that into motivation to work hard, to become better, to learn and perfect new skills."
To develop as a player, Prelsnik always focused on teammates who excelled in the areas she was working on and made sure she was coachable and open to feedback. "I started as a downfield cutter, loving to sneak past players on a deep cut into the end zone… The next year, I started handling, which was where I found my strengths. We would always be out between classes throwing the disc and I learned a lot from throwing with guys from Sunburn, our men's team. I would study their mechanics and just try to throw as far as them, not really caring about where it landed, but just trying to get the distance.."
Grobe notes just how impactful her decision to stay has been on the Tucson community. "Of course, there's part of me that wished she had that opportunity to take her game to the highest level, but the fact that she has stayed in Tucson has meant we have a real opportunity to build on something special," says Grobe. "She probably doesn't even realize this, but LP is the most recognizable player in Tucson; she's a role model for just about every college woman hoping to play ultimate at their highest level. LP found friends and family and community in Tucson, and the Tucson ultimate community will likely always be indebted to her."
Faces in the Crowd
Though the women in this article are unique, they are not alone. Stories like these ones can be found throughout smaller ultimate communities and there are many more women who could have been highlighted. Strong ultimate communities are built on the shoulders of dedicated and fierce competitors such as Wright, Wedge, Miller, Walbe, and Prelsnik.
When Ultiworld reached out to the broader ultimate community for ideas at the start of this project, we were overwhelmed by the number of women nominated for this article. While we couldn't write profiles of each, let's mention a few more women that were nominated by their teammates, coaches, and fans: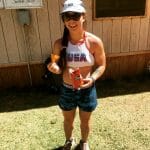 JUSTINE CHERWINK (Tulsa, OK)
"Justine is hands down the absolute best female player in Tulsa …and it's not even close. The term 'Rockstar' comes to mind except it doesn't do justice to her humble nature. She's 5'2", has wheels for days, executes ankle-breaking cuts with ease, can sky with any guy even remotely close to her hight and can flat rip a disc. She will likely never get the opportunity to showcase her stellar disc skills and represent at the highest levels of our sport …but if she ever got that chance, she would absolutely crush it!"
– Terrell Hoagland, board member of Tulsa Ultimate Federation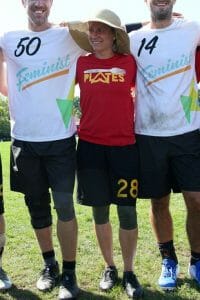 ANGELA DANA (Rochester, NY)
"Ang is a force to be reckoned with whether we're in league or playing Wild Card at Regionals. She can run circles around anyone and if she's on the field, you know she's one you can count on. She's intelligent and knows when to go get the disc or when to set up a cut for someone else. To top it all off, she's a leader in the community and brought together the average men's and women's teams of Rochester to create a successful mixed program. She's the whole package — fierce, strong, and smart."
– Chelsea and Micky Ryback, teammates on Garbage Plates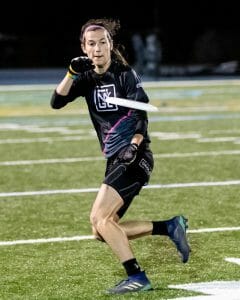 VERONICA KOLEGUE SPALARIS (Albany, NY)
"Veronica's so talented as a player — she's one of those teammates that gets more and more useful the more talented her team is. But she's also had an incredible impact on the women's community in Albany. Before KSpa, Albany didn't have a women's college team. She is constantly organizing things in the community and getting new players involved."
– Karoline Hart, teammate on Rebel Rebel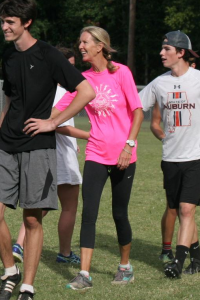 LEE LAVETTE (Birmingham, AL)
"Lee Lavette is a badass woman who is a force in the Birmingham ultimate community. In addition to having been a Nationals caliber player in her day, she's a coach and mentor to the youth of Birmingham, focusing on teaching the sport with an emphasis on Spirit of the Game. Coaching Steel, she's a strategist and leader who pushes her players to win every point, every game. As with all ultimate communities, many people contribute to the overall success of the sport in our city, but when you think about it, Lee is the heart of ultimate for Birmingham."
– Paul Dorsey, board member of Birmingham Ultimate Youth Association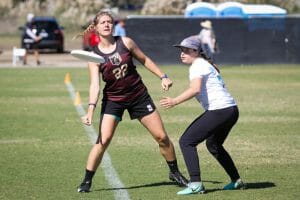 LIBBY LEHMAN (Cleveland, OH)
"Libby is an incredibly talented and hard-working player… Her pulling transforms the field for the defense, while her throws and cutting versatility make her a matchup nightmare. Whether it's playing, coaching, or organizing events, you can always rely on Libby to work hard and fight for the community she cares so much about."
– Joe Marmerstein, member of the Cleveland ultimate community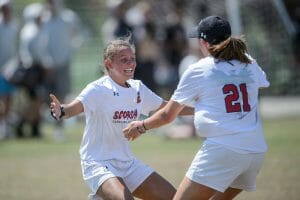 KAYLA MCCLARY (Columbia, SC)
"Kayla went from being an athletic freshman to being a 'we must throw to her' sophomore. Her play on the field is such a great example for the rest of Scorch to see the excellence we strive for every day. She has a perfect balance of competitiveness and joy. She has never played a single game without laughing but also was the only girl who refused to smile for our team picture after a loss at Sectionals."
– Andrell Caldwell, the coach of USC Scorch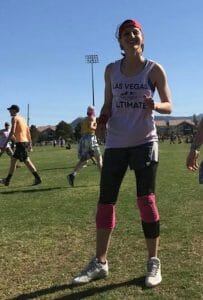 STEVIE MCLAUGHLIN (Las Vegas, NV)
"Stevie would be playing elite women's ultimate if she was in a city that had it. She has lived in Vegas for the last several years. During that time, she's wowed us with her ability to out-sky, out-break, and out-hustle women — and men — in the Southwest mixed division."
– Dara Khan, Director of the board of Las Vegas Ultimate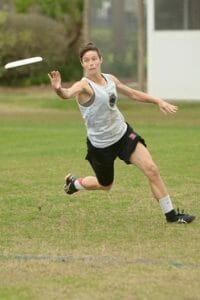 REBECCA POZNANSKY (Orlando, FL)
"Having been at different points a teammate, co-captain, and training partner, Becca, in my opinion, is not only exceptionally talented and explosive, she is one of the hardest working athletes I've been around. She is the best-kept cheat code in ultimate."
– Tim Vo, former co-captain with Poznansky on Miami KOD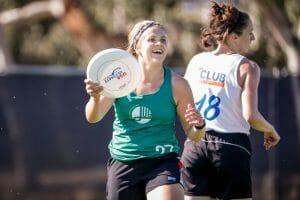 CARA SILVESTRI (Trenton, NJ)
"Cara is definitely one of those players that goes all-in off the field as well as on the field. Working out under the radar in order to be able to perform during the season. She also is one of those players who has committed to her team — she could try to move up to better-performing teams but decides year in, year out that Jughandle is the place she wants to be and Jughandle is the team she wants to help succeed."
– Drew Rasmussen, teammate on Jughandle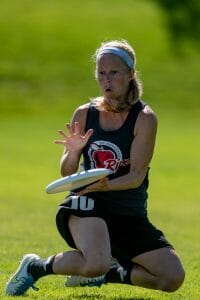 ANN SITLER (Asheville, NC)
"Watching [Ann] play is awe-inspiring, because she is so tiny — like 5'1" — but plays double her size. She is aggressive, tirelessly hard-working, and unguardably fast. She's the person on the field the other team looks at and says 'I don't want to guard her.' Not only is she an amazing player on the field but a fantastic person off the field… Everyone should know her name."
– Allison Bashford, teammate on Asheville Superlame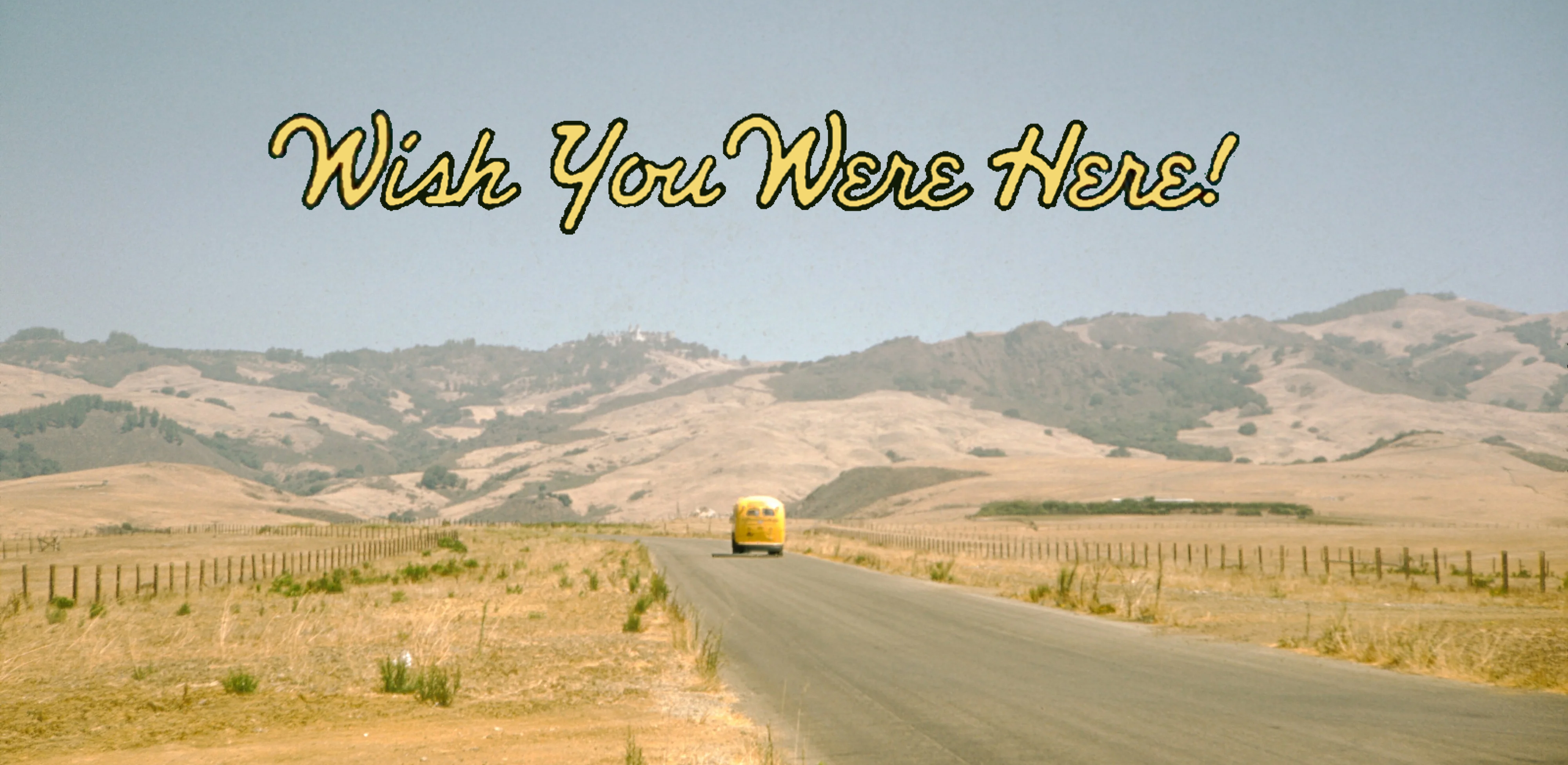 ---
Editor: A previous version of this article indicated DeSoto was the first women's club team in the area. There was a predecessor, FLO, that had ceased to exist by 2010. ↩