The Ultiworld Holiday Gift Guide 2019
Every holiday season, there are several events you can't wait for: the Rockefeller Center Christmas tree lighting, the first snowfall, the ball drop in Times Square, and most of all, the Ultiworld Holiday Gift Guide! As always, we have a collection of apparel and other items that the ultimate player in your life will love.
You can look back at our previous editions (2018, 2017, 2016, 2015, 2014, 2013, 2012) for even more suggestions.
Disclosure: We have affiliate deals with some of the merchants below. When you buy certain products via Ultiworld, we receive financial compensation at no additional cost to you.
Discraft Ultrastar Misprint 10-Pack

The best way to improve as an ultimate player is to simply get out and throw. If you're a new player, that's probably the clearest path to improvement.
If you really want to get the most out of your throwing sessions, the best thing to do is to maximize your number of reps. For those of you Milhouses throwing alone, a ton of time can be wasted chasing after discs if you have just one or two – and maybe that's good cardio, but we aren't here for that! The best way to maximize your throwing sessions is to go out with a big stack of discs, and throw over and over. The 10-pack is the most efficient way to increase your disc collection and get that done.
PS – you can also go big and opt for the 30-pack of misprint discs, and become your team's hero.

Layout Gloves
Layout Gloves are the perfect gift to help you or a loved one improve your ultimate game! Throw farther, catch every pass with Layout Gloves. Use code "Holidays" to save 15% site wide. 1
Walkie Talkies

Tired of choosing between games to watch at a big tournament? Want to save on cellular data so you don't have to stream games to keep up? Walkie talkies connect you and your friends to get quick live updates on games without having to keep running back and forth. Or it helps you keep in touch with your SO that's across a large field complex in a different division. Or bring it to Sunbreak to help your friends scout the best party spot in camp! Looking to up your coaching game? Try this set on Amazon for $25 and step into the future of tournament communication.
Greatest Bag

We all bring something to the sidelines, and some of us bring a lot of stuff. Among those items are cleats, jerseys, our personal effects, and in less ideal scenarios, our casual wear for those horrible moments where we must join the regular world.
All of that stuff doesn't mix well. The Greatest Bag lets to keep your belongings organized in a sturdy and stylish package. A cleat pocket keeps your boots separate, an in-pocket slot is a nice spot for your phone, and the included rain flap helps keep the bag dry in rough conditions.
REI Sleeping Pad

Are you a rookie that always gets relegated to the floor? Tired of the cold treatment from your veteran teammates, as well as the literal cold from being shoved in the corner of the hotel room next to the AC unit? Try one of these camping sleeping pads. They are insulated to keep you cozy, and pack down to the size of a water bottle, so you can easily fit it in your tournament bag. This Big Agnes pad inflates to 3.5 inches of thickness and is currently on sale for $52. For an extra quiet model, you can splurge for this Nemo Tensor Insulated pad for $120.
Lifepack: The Solar Powered and Anti-Theft Backpack

Listen – this may be an expensive option, and out of your price range. But Christmas is the time to throw your price range out of the window, and hope that a generous world can come through for you. You get to bank on the budget of others instead of your own and that's a beautiful thing.
The Lifepack backpack might be the greatest backpack imaginable and is perfect for anything you can do with ultimate. At tournaments, the charger (which is charges from both solar power and outlets), with loads of power, keeps your phone charged throughout a weekend; this is especially handy if you're cramming 10 people into a hotel room and outlets are at a premium. A lock keeps your gear safe on the sideline, and a number of compartments to keep your clothes, cleats, and valuables all separated goes a long way. Plus, there's a water resistant bottom and even a packable rainproof cover!
Spikeball Pro Kit

Tired: Spikeball
Wired: Spikeball Pro
Somewhat steep at $99, but the pro kit is significantly improved from the original Spikeball set. The new rim keeps tighter and makes for fewer pesky pockets. The new ball texture is designed to give better control with your shots and setups, but it also retains air better so you don't have to pump it up before every game. Stop settling for the basic model when the advanced edition is what you and your sick kills deserve.
Friction Warms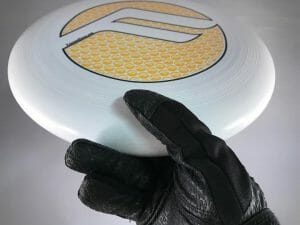 Tis the season for keeping those hands warms. Your opponent probably isn't taking these few months off, so why should you? But while they are freezing their fingertips off and settling for throwing in the living room, you can give laugh at nature and keep bettering your game with next-level comfort, even in the cold, with Friction Warms.
In our video review, James Kline loves the softness of the gloves, and called the grip "spectacular." Get them for your cold-handed ultimate relationship (or for youself, we won't tell), and save 15% with promo code WarmUp
"First thing I notice about these gloves is the softness of the inside of the gloves."James Kline
Games: A Short List

We all need some fun and portable games. Here are a few card based games that you can easily take on the go to a tournament or play at game night with your friends.
Spot It
Code Names
The Voting Game
Hanabi
Gubs
Clif Blok Energy Chews

If you're like us, you have a hard time eating while playing. These little gummy blocks are delicious and go down easy. They give you quick calories and electrolytes to keep you going throughout the day. The best part? They also have flavors like black cherry, with caffeine added and margarita with extra sodium, depending on your cramping/energy needs. They taste like candy! Nothing like a delicious and functional gift for you or your athletically inclined friends.
---
Not valid with other discounts. ↩