Australia's Phillips sisters are two of the most important factors in the Firetails' success at WUGC, but are contributing in different ways. As usual.
BY CAMERON  ALBERT-DEITCH
THIS IS HOW Michelle Phillips introduces her sister Cat:
"Please meet Cat. We are not twins. Everyone calls us twins. I'm not sure why, because we are four years apart and we actually don't look that similar. And also, Cat loves offense and I play as much defense as possible. People are so silly."
Alright, so they're not twins. Michelle, 28, captains the Australian national women's ultimate team (known as the Firetails). Cat, 24, helped select the team — and plays on it, as well. They do share a family resemblance — tall, lanky, dirty blonde hair framing angular features — but certainly aren't identical. Michelle speaks deliberately, pausing for emphasis. When Cat speaks, one sentence flows right into the next.
"We are not twins. Everyone calls us twins. I'm not sure why… People are so silly."Michelle Phillips
So why does everyone call them twins? In the context of ultimate, they've often seemed joined at the hip. Despite having no collegiate overlap, the sisters practiced together at Melbourne University for two years while Michelle attended — there was no high school team for Cat to play on.
They first donned Australia's green and yellow uniforms at the same tournament, the 2008 World Ultimate and Guts Championships in Vancouver — Michelle for the senior team and Cat, 15 years old at the time, for the U20 Juniors team.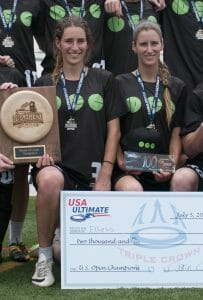 They played on the same women's club team for years, Bauhaus. A team of many names, the squad was formerly known as Sporting Team Box Athletico United, STBAU, or some other combination of these elements. Michelle, a founding member of the team, was a captain for five seasons before becoming a player/coach this past year.
They traveled together to the United States last summer with a mixed team called Ellipsis, and came away with a Triple Crown Tour tournament victory at the 2015 U.S. Open. Cat is a captain on that team, which now also competes in the women's division.
They've each won two club national championships in Australia. Michelle won with Bauhaus in 2010; Cat would have played, but her U20 coach insisted the Juniors team play as its own club at Australian Nationals. The two made up for it by winning the tournament together in 2014. Cat won again with Ellipsis earlier this year.
Now, together again playing for the Firetails in the 2016 WUGC tournament in London, they're posing a challenge to traditional powerhouses like the United States, Canada, Japan and Colombia: You might not be the only big dogs in town.
The Lamest Sport Ever
NEITHER SISTER WAS initially drawn to ultimate. They both played lots of sports growing up: netball, soccer, long-distance running, high jump, cross country, swimming, and water polo (just to name a few).
Michelle found ultimate the way a lot of people do: Her freshman year at Melbourne University, a former soccer teammate called her up two weeks before a tournament saying their team was short on girls, and would she like to play?
The rest of her family thought it was pretty lame. "The lamest thing ever," Michelle chuckles.
And just like that, ultimate was cool.
Just a few months later, following the 2006 World Ultimate Club Championships in Perth, Australia, a group of Americans decided to stick around for the Melbourne Hat tournament, the largest hat tournament in Australia. The Americans – Lauren Casey, Frank Fellone, Chris McTiernan, Megan Schoelhammer, and Steve Sullivan – ended up staying at the Phillips residence for a week.
And just like that, ultimate was cool. Discs appeared around the Phillips household. Cat started attending practices at Melbourne University. And Michelle? "I was just sort of sitting there being like, 'Oh, thanks guys.'"
When you get thrown into the deep end, you have to learn to swim — something Cat learned the hard way. In less than a year, she made the U-20 team that would play in Vancouver in 2008. She went on to captain that team, which defeated the United States en route to a second-place finish behind Japan. A USA Ultimate writeup of the Australia vs. U.S. game noted Cat's age — at 15, she was younger than any of her American counterparts, some of whom were already in college.


Leading In Different Ways
BEING ATHLETIC OBVIOUSLY helps. A Fox Sports article earlier this year, which highlighted the sisters' attempts to transfer their ultimate skills to Aussie rules football — both sisters say ultimate is their top priority — called them "tall, lean and muscular." Darren Flanigan, current manager of AFL Victoria's female team and a former Australian Football League player himself, raved about their rare combination of quickness and endurance.
On the ultimate field, Michelle — primarily a cutter — looks nearly effortless, gracefully rising up to sky her opponents. Every motion looks smooth and practiced. Cat, primarily a handler, is more frenetic. She thrives off give-and-gos, always looking to be around the disc.
Their playing styles eerily mirror their leadership styles.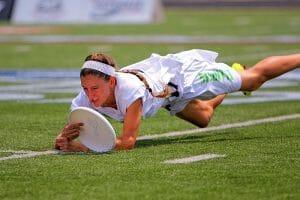 John Horan, the Firetails coach, describes Michelle as a very "deliberate and intentional" communicator — one who chooses her words and body language carefully while still coming across as genuine. She spends a lot of time thinking about how lessons from other ultimate cultures (or even other sports) can apply to her teams.
Playing with the Japanese club team Huck in 2013 helped Michelle understand how to overcome both on-field and off-field communication problems — she literally didn't speak the language. She trained with San Francisco's nine-time national club champion Fury for three months in 2015, in an attempt to understand how top teams consistently sustain success over long periods of time. Her takeaway: team character, work ethic and internal spirit.
"She's always thinking about the future, five years later or ten years later," says Moe Sameshima, a member of Japan's championship-winning 2012 Worlds team who will play with Australia in London this year (she's also Michelle's roommate).
Where Michelle focuses on the big picture, Cat focuses on the minutiae. She believes her athleticism has caused her to develop bad habits on defensive fundamentals — a common problem for Australian teams, she says, and a point of focus for this year's Firetails squad as a whole. She's constantly working on her throwing creativity, often working out with members of the Australian men's team to learn "throws that not many girls throw." Expect to see some cross-field blades and break throws that drift across the stack at Worlds this year.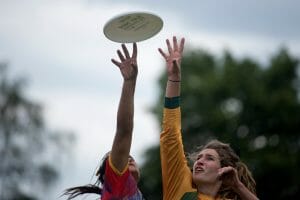 Her unique developmental experience put a chip on her shoulder, too. After Vancouver 2008, Michelle went back to play with her college team. Cat, with no ultimate program at her high school (or any other in the area), continued to practice with Melbourne University — and felt stifled by lack of in-game competition. Sure, teams and players get better with practice, but tournaments are where everyone really grows.
"I'll go and play against these really great American players, Colombian players, Japan," she laments, a tinge of frustration entering her voice. "And then you come back home, and you fall into what you were doing before."
Those kinds of lessons have been infused into the culture that Cat has helped build with Ellipsis, which became a fully competitive women's club team in September 2015 and promptly won the Australian national championship this past March. Playing Aussie rules football made Cat realize that there's no reason ultimate players can't train as seriously as athletes in other sports. There's also no reason women's ultimate can't be held to the same standard as men's ultimate.
"We're trying to not expect things that are — I don't know if this will sound bad — more accepted in the women's game," she says. "Like soft turnovers and not running as hard as you can. We're expecting the same in terms of effort and work rate and skill level, because really, none of those things should be dependent on whether you're a boy or a girl."


Earning Respect
THERE'S A REASON sports aren't played on paper. No matter how much hype and attention you get, you still have to prove yourself on the field. That's exponentially magnified for teams that only compete once every four years — victory once, twice, or even three times can't possibly guarantee future success. Success at Worlds is less dependent on past results and more dependent on the state of each country's respective ultimate foundations.
"Instead of relying on a top core of players, [the Firetails] now have a lot of depth. They've always been athletic, but now they're more skilled than ever before."Alex Snyder
Australia is going into Worlds with something to prove: that they're ready to earn the same amount of respect that powerhouse teams like the United States, Canada, Japan, and Colombia get.
In some people's minds, they've already earned it. United States star Alex Snyder, who met Michelle while doing a coaching tour in Australia in 2014 and helped facilitate Michelle's time with Fury, says the Firetails have come a long way in the past four years. When asked about the Phillips sisters' assessment that they still need to fight for respect, Snyder laughs. "They're probably just saying that because they don't want us to be thinking about them [as title contenders]," she says. Her scouting report: Instead of relying on a top core of players, they now have a lot of depth. They've always been athletic, but now they're more skilled than ever before. In other words, Snyder considers Australia to be a contender.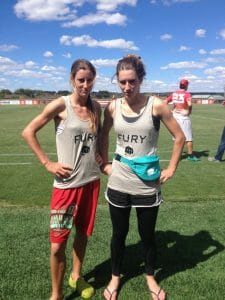 If you watch the Firetails in London, you're unlikely to see Michelle and Cat on the same line. Instead of running an offensive line and a defensive line, the Firetails plan to rotate three distinct lines in and out, regardless of which team is pulling — and in order to make each line even in talent, Horan has split the sisters up (foregoing any potential family chemistry).
That probably suits them just fine. Remember, they're not twins; woe unto the opponent who mixes up a defensive assignment and accidentally guards the wrong sister.
But maybe, if the team needs a defensive stop, you might see Michelle and Cat out there together. Horan says they're two of the best defenders on the team — Cat is a better one-on-one shutdown defender, while Michelle has an uncanny sense of anticipation and positioning.
"If I wanted to make sure someone never touched the disc, I'd put Cat on her," Horan says. "And if I wanted to get a block, I'd put Michelle on her."
If it's universe point, watch out. A sibling-to-sibling connection for a game-winning goal at the World Championships is certainly a possibility — and wouldn't be the lamest thing ever.
***
Michelle and Cat will lead the Firetails against Japan in Thursday's quarterfinal round at WUGC 2016 starting at 8:30 AM Eastern Time. You can watch the livestream here.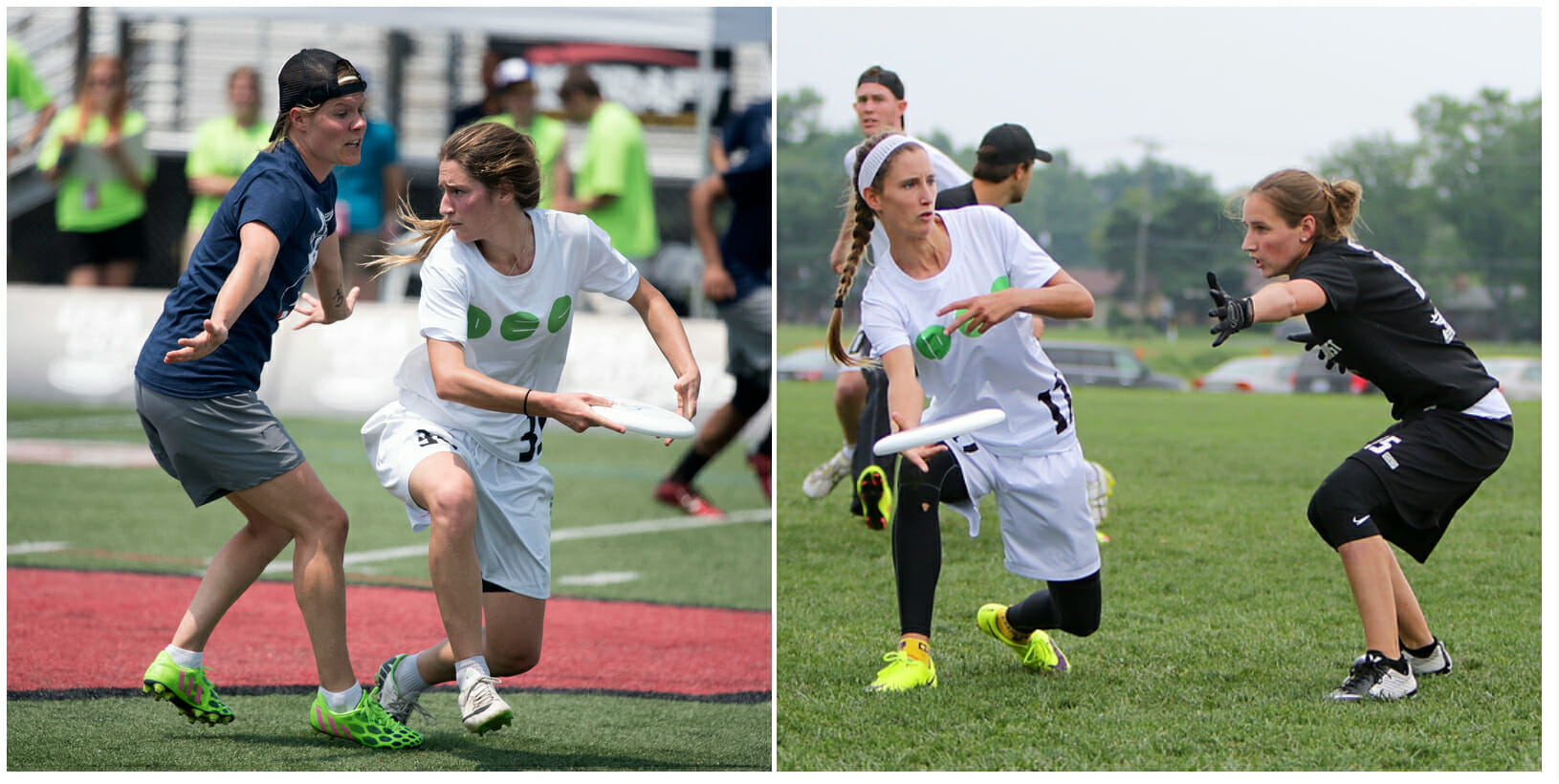 If you enjoyed this article, consider supporting all of Ultiworld's coverage by purchasing a video subscription or contributing to our tip jar.
We Are Not Twins is only available to Ultiworld Subscribers
Already have a subscription? Log in
Feature articles are long-form, in-depth reporting and storytelling in a whole new format. Your subscription helps directly fund these exceptional pieces and Ultiworld's coverage in general. Thank you for your support!