Australia's Phillips sisters are two of the most important factors in the Firetails' success at WUGC, but are contributing in different ways. As usual.
BY CAMERON  ALBERT-DEITCH
THIS IS HOW Michelle Phillips introduces her sister Cat:
"Please meet Cat. We are not twins. Everyone calls us twins. I'm not sure why, because we are four years apart and we actually don't look that similar. And also, Cat loves offense and I play as much defense as possible. People are so silly."
Alright, so they're not twins. Michelle, 28, captains the Australian national women's ultimate team (known as the Firetails). Cat, 24, helped select the team — and plays on it, as well. They do share a family resemblance — tall, lanky, dirty blonde hair framing angular features — but certainly aren't identical. Michelle speaks deliberately, pausing for emphasis. When Cat speaks, one sentence flows right into the next.
"We are not twins. Everyone calls us twins. I'm not sure why… People are so silly."Michelle Phillips
So why does everyone call them twins? In the context of ultimate, they've often seemed joined at the hip. Despite having no collegiate overlap, the sisters practiced together at Melbourne University for two years while Michelle attended — there was no high school team for Cat to play on.
They first donned Australia's green and yellow uniforms at the same tournament, the 2008 World Ultimate and Guts Championships in Vancouver — Michelle for the senior team and Cat, 15 years old at the time, for the U20 Juniors team.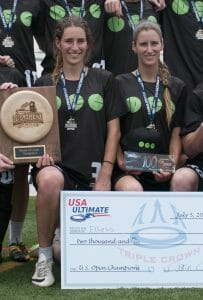 They played on the same women's club team for years, Bauhaus. A team of many names, the squad was formerly known as Sporting Team Box Athletico United, STBAU, or some other combination of these elements. Michelle, a founding member of the team, was a captain for five seasons before becoming a player/coach this past year.
They traveled together to the United States last summer with a mixed team called Ellipsis, and came away with a Triple Crown Tour tournament victory at the 2015 U.S. Open. Cat is a captain on that team, which now also competes in the women's division.
They've each won two club national championships in Australia. Michelle won with Bauhaus in 2010; Cat would have played, but her U20 coach insisted the Juniors team play as its own club at Australian Nationals. The two made up for it by winning the tournament together in 2014. Cat won again with Ellipsis earlier this year.
Now, together again playing for the Firetails in the 2016 WUGC tournament in London, they're posing a challenge to traditional powerhouses like the United States, Canada, Japan and Colombia: You might not be the only big dogs in town.
We Are Not Twins is only available to Ultiworld Subscribers
Already have a subscription? Log in
Feature articles are long-form, in-depth reporting and storytelling in a whole new format. Your subscription helps directly fund these exceptional pieces and Ultiworld's coverage in general. Thank you for your support!