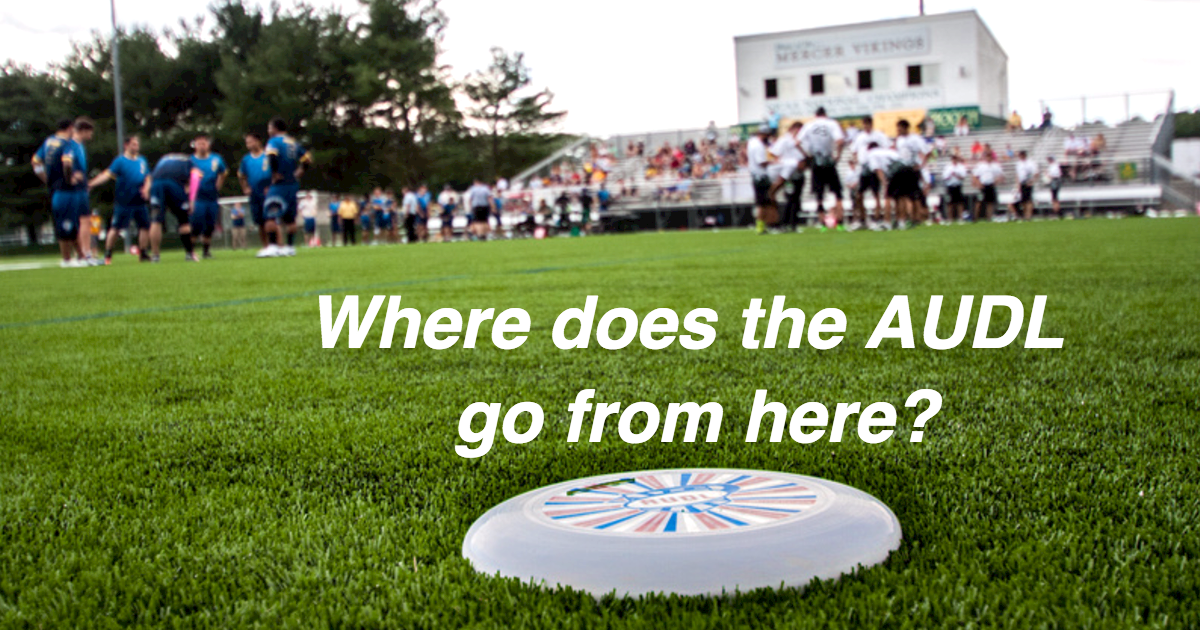 The American Ultimate Disc League has made it to five years. But can it withstand the increasing pressure on a niche sport trying to make it big?
BY NATHAN JESSON
When the American Ultimate Disc League launched in 2012, few expected it would make it this far. In April 2012, Brodie Smith told Slate, "The goal is just to complete a season. If that occurs, I think it's a success."
The league was riddled with lawsuits, owners frequently aired their grievances on Ultiworld, the quality of play was compared to second or third tier club, and the championship game between Indianapolis and Philadelphia took place in the cavernous confines of an empty Detroit Silverdome.
Five years later, the AUDL is in a very different place. Only two of the original eight franchises remain in the league. There are 24 teams spread across the country. A majority of the best men's players in the country participate. The league is coming off of an exciting Championship Weekend that drew solid crowds in Montreal. There are a number of model franchises, none more professional and successful than the Madison Radicals and Montreal Royal. They've shown teams in other markets that there is a viable path to success for their franchise.
In part, the growth of the league has led to increasing criticism, particularly for providing a platform only for men's ultimate. When the league was new and embroiled in controversy, there wasn't much reason to be concerned about the direction it was taking. Many expected the league to simply collapse. Now that it isn't showing signs of slowing down, the AUDL is being scrutinized for failing to provide playing opportunities for female athletes. It's a legitimate external threat to the success of the league.
There are internal threats as well. The most significant is that while there are some successful franchises, there are just as many, if not more, that still appear to be stuck at square one. Even as, for the first time in team history, the Madison Radicals averaged over 1,000 fans per game this season, there are still teams that would be happy to average one quarter of that.
With these opportunities and threats in front of them, the league is still evolving. The makeup of the league has never remained constant from one year to the next. One thing that hasn't changed is that the AUDL remains under a microscope.
Where Does The AUDL Go From Here? is only available to Ultiworld Subscribers
Already have a subscription? Log in
Feature articles are long-form, in-depth reporting and storytelling in a whole new format. Your subscription helps directly fund these exceptional pieces and Ultiworld's coverage in general. Thank you for your support!