Some of the biggest moments of 2014.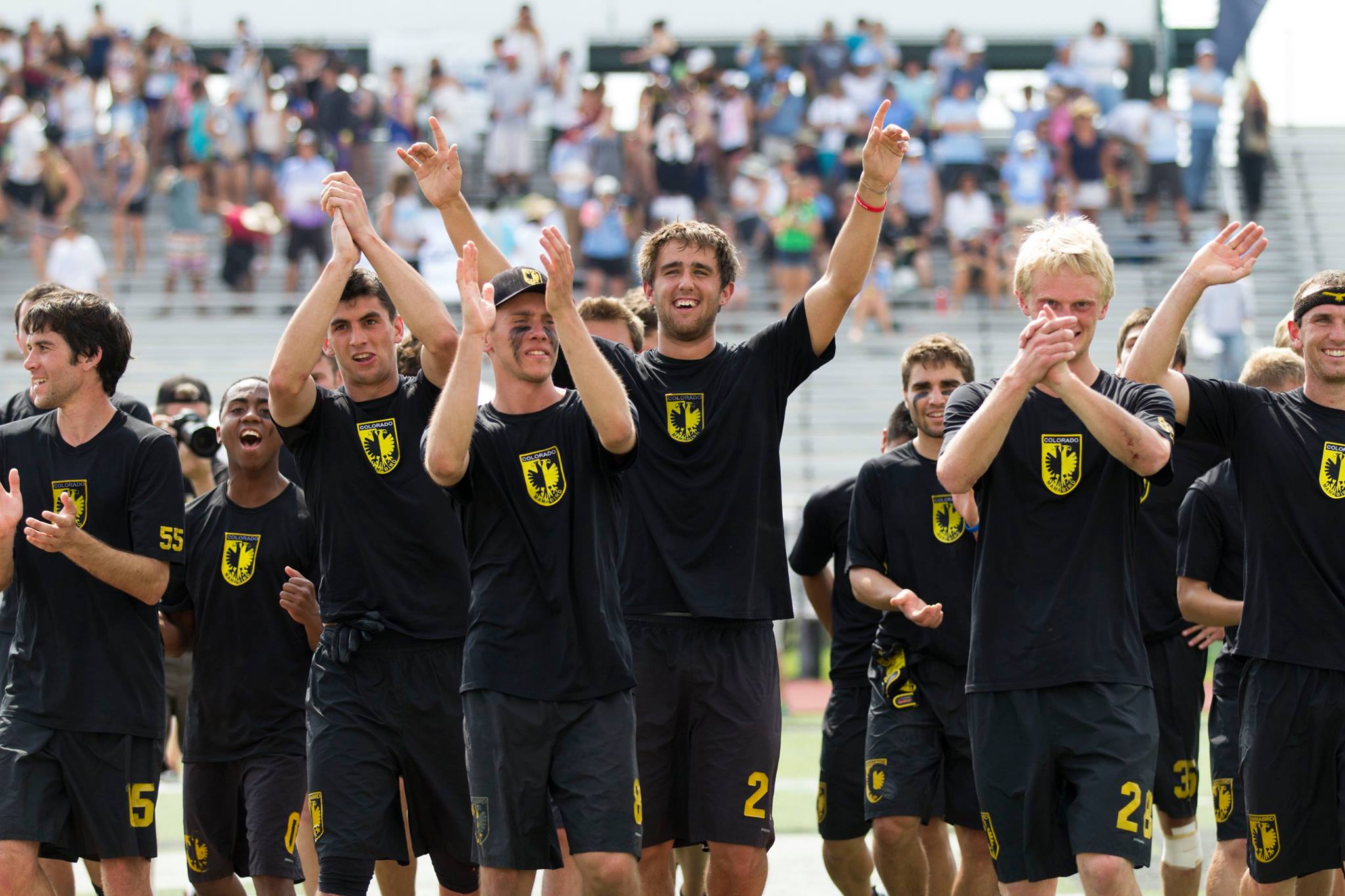 2014 was an amazing year for college ultimate, blending strong favorites, huge upsets, and poignant moments together for a great season. Here we look back at some of the biggest moments — both highs and lows — as we prepare to enter the 2015 season.
February 16th: Northwestern Surprises At Warm Up
The Great Lakes was supposed to be a one bid train wreck last season in a battle with the Metro East for the worst region in the country. Michigan would mop up at Regionals and nobody would pay any attention. Northwestern threw that all out the window.
With a quietly building program and a crop of experienced grad students, NUT played well in the fall and then burst onto the national stage with an impressive performance at Warm Up, the first major tournament of the spring, with wins over Minnesota, Central Florida, and Georgia.
Those results held up throughout the season to land the Great Lakes a second bid. Unfortunately for Northwestern, they couldn't quite get past Michigan in the finals, and again came up just short against Eastern Michigan in the game-to-go.
Still, their early season performance was the first sign that the Great Lakes was deeper than we thought. Michigan eventually made it to the quarterfinals in Cincinnati.
January, February, & March: Winter Weather Pounds The Eastern U.S.
Don't blame Northwestern for not going to another tournament. Winter storms were vicious across the eastern United States in the early tournament months, forcing teams into major reschedules and some wonky results. Northwestern held a sanctioned single-game "tournament" to get their 10th game in. Brown tried to get to President's Day in San Diego by driving 10 hours to Washington, D.C. after their flight from Providence was canceled (it didn't work out; the DC flight was canceled as well). Tournaments were postponed; others canceled.
Brown eventually traveled to Huck Finn, a tournament with diminished competition, and dominated until falling to Luther 15-8 in the finals. Those strong results, though, were enough to earn New England a fourth bid, raising howls from other regions about their weak schedule.
The wintry weather had a lasting impact come April and May.
March 1: Three Carleton Players Killed In Car Accident
On the day they were set to fly to San Francisco for the Stanford Invite, three Carleton players were killed in a terrible car accident, sending a shock of sadness through the ultimate community at Carleton and beyond. As the Carleton teams canceled their weekend tournament plans, the outpouring of emotion was immense on Twitter and other social media sites with love and support for those personally affected.
Players at the Stanford Invite held a moment of silence and played with a level of respect for each other that weekend that reflected how much people realized it was just a game.
Carleton eventually returned to the field at Easterns, and coach Phil Bowen penned a wonderful piece about what that support meant to the team in such a difficult time.
March 3: #1 UNC Defeats #2 Colorado At Stanford Invite
Although many anticipated a #1 v. #2 matchup in the finals, a pool play loss to Pittsburgh set top ranked UNC up against second ranked Colorado in the quarterfinals, perhaps the most anticipated regular season game of the year. UNC limited Jimmy Mickle and jumped out to an early lead in the first half after some execution mistakes by Colorado. They held on to win 14-13 and cement their position as the top dog in the regular season and a favorite to win the College Championships.
Jon Nethercutt and Ben Snell saw their stars rise as both became a part of the Callahan conversation — Nethercutt for his throws and offensive leadership; Snell for his stellar defense on Mickle and steady handling.
The match foreshadowed what many expected — a rematch in the National final.
March 23: Ben Snell Tears ACL At Easterns
Facing off again against Pittsburgh, UNC took their second loss of the 2014 season in the semifinals of Easterns. The loss to Pittsburgh didn't hurt nearly as bad as the loss of Snell, who had been arguably the best player on the roster for much of the season.
When Snell went down, screaming and clutching his knee, we feared the worst. Initial reports were that he had only dislocated his patella, a moderate injury with just a few weeks of recovery time. But after Snell tried to come back to practice before the Series, more pain led him back to the doctor's office, where an MRI confirmed that he had, in fact, torn his ACL. He was out for the season.
Whether the loss of Snell — who proved extremely effective against Mickle at Stanford — ultimately led to their loss to Colorado in the National final, we will never know. But it was a devastating injury for a team that had looked almost unbeatable.
March 23: Michigan Wins Easterns
As Pittsburgh dispatched UNC, the other Easterns semifinal delivered an even bigger surprise: a roaring comeback by Michigan to defeat Minnesota and advance to the Championship game.
Michigan was trailing 11-6 and had, like UNC, lost one of their best players, Matt Orr, to a knee injury. It looked over for them — and they should have been content with simply a semifinals appearance. But it wasn't enough. They used gritty zone defense and a grinding offensive style to chip away at the Minnesota lead and take the game.
They couldn't have been bigger underdogs against Pittsburgh. And, yet again, Michigan was the better team. Pitt looked overconfident and unable to create blocks against the Michigan offense. A back-and-forth game was sealed when Noah Backer made an amazing layout block right near the goal line; Michigan won 15-13.
'A fluke!' people said. 'Lucky!' But Michigan — despite a less-than-polished style — had the grit and determination to prove the doubters wrong at Nationals as they advanced to quarterfinals. Still, their Easterns win was one of the most unlikely in years and injected new drama into an already exciting college season.
May 4: Carleton Defeats Minnesota To Make Nationals
After a difficult regular season both emotionally and on the field, Carleton brought it all together at North Central Regionals and defeated Minnesota 15-13 in the second place game-to-go, an incredible achievement after such a year.
Minnesota had been the better team and for the second year in a row became the highest ranked team not to make Nationals.
While a successful Carleton would not normally be much of a story given the team's history, this win was special, as the team wore jerseys commemorating their three fallen teammates. They would go on to make the prequarters at Nationals, where they lost to regional rival Wisconsin.
May 11: Rutgers Ends Cornell's Metro East Dominance
It may have come in the most disrespected region in college ultimate, but Rutgers stole the show during Regionals with their stunning upset of Cornell, a team that had dominated the Metro East since the regional redraw. Rutgers was the fourth challenger in four years; Cornell had vanquished all comers. It looked like they were going to make quick work of Rutgers as well after jumping out to a 5-1 lead.
But a second half break to bring the score within two — followed immediately by the sun bursting through the clouds (what seemed to everyone as a sign) — gave Rutgers new belief. Their defense intensified, their focus sharpened. A 4-0 run put them ahead, and they held off Cornell late as Albert Alarcon — playing with a broken throwing hand — threw the game-winning assist.
It was a cathartic moment in the Metro East and a jolt for Cornell, who had spent time during the regular season talking about peaking at Nationals.
May 25: UNC Wilmington Upsets Pittsburgh In Quarterfinals
Pittsburgh, with two big wins over UNC during the regular season, had slowly amped up their play with Callahan nominee Marcus Ranii-Dropcho leading the way. Their pedigree had them looking like a lock for the semifinals. All they had to do was get past UNC Wilmington in the quarterfinals.
It wasn't to be. In what may have been the biggest upset of the season, UNC Wilmington delivered an unblemished offensive performance and got the game's only break on double game point to defeat Pitt 14-13. Listen to the final point:
With a packed sideline going absolutely nuts, Wilmington stormed the field in celebration. "I knew we had the heart," said coach Greg Vassar after the game. It was their third straight victory on double game point at Nationals.
The win set up an exciting rematch of the Atlantic Coast regional final between UNC Chapel Hill and UNC Wilmington.
May 25: Jon Nethercutt Goes Off In Second Half Of The Semifinals
While UNC had been the favorite against Wilmington all season long, it was Wilmington — perhaps foreshadowing their Nationals success — coming away with the Atlantic Coast regional title with a big win in the finals. Now it was rematch time, under the stadium lights in Cincinnati.
A tense first half saw UNC take a small lead into halftime, but it was the incredible, five assist performance from UNC captain Jon Nethercutt in the second half that led Darkside to a big win over Wilmington and into the National final.
There was no other individual performance that was as impressive at Nationals — the buzz in the stadium was palpable as Nethercutt's flicks kept connecting to streaking deep cutters. It was an amazing atmosphere with a big crowd looking on, and the win set up a rematch between UNC and Colorado, who had all year proven to be the best two teams in the country.
May 26: Colorado Takes Down UNC To Win The Championship
Jimmy Mickle and Colorado Mamabird put an exclamation point on their outstanding 2015 season with a wire-to-wire 15-10 victory over UNC in the National Championship game.
UNC had no answer for the crisp handling and beautiful flow from the Colorado offense, and a nervy start doomed the UNC offense as they gave up two quick breaks and could never recover.
Mickle, who had just been announced as the Callahan winner, was lights out, but his teammates were just as impressive; Colorado won as a team — something that took them time to build. They found their stride at Nationals, though, and looked in complete control during bracket play.