Colorado Mamabird jumped out to an early lead on North Carolina Darkside and never looked back en route to a 15-10 finish.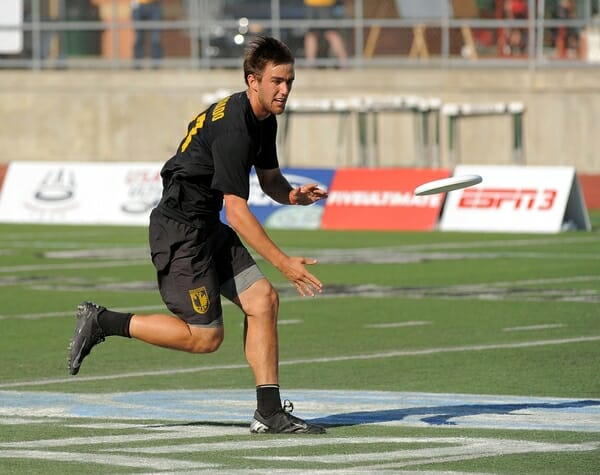 When maybe the best team at Nationals turns in what might have been their best performance of the tournament, it's tough to blame their opponent for not making smarter adjustments.
Colorado put together one of their best games of the College Championships when it mattered most, defeating North Carolina 15-10 in the title match to become champions of the 2014 season.
Since fall, Mamabird looked like the odds-on favorite to win it all. Somewhere along the line, however, between all the stories of the season from the rise of UNC to Michigan's out-of-nowhere Easterns victory, Colorado's early dominance and potential fell by the wayside.
They spent the whole weekend reminding people why they were the favorite. And why they deserve to be.
This reminder culminated in one of the more emphatic finals performances in recent history, harkening back to the days of Florida dominance in the early years of the new millennium.
A five-point margin may not seem like a chasm indicating unequivocal superiority, but one would be hard-pressed to find an unbiased viewer at that stadium in Mason who genuinely believed Darkside would pull out a miraculous comeback after the immediate tone set by Mamabird.
For their third game in a row, Colorado opened up the match with two breaks.
Think about that.
A squad at Nationals started each of their bracket games by pulling to their opponents and still going up 0-2. And in each of those games, Mamabird earned another bid before halftime and didn't let their opponents take any of them back until after the break.
At the elite level, during elimination play, under that pressure. "Impressive" would be an understatement.
The majority of the stats point to just what you'd expect: a great game from 2014 Callahan winner Jimmy Mickle, general offensive efficiency, and converted breaks.
Mickle threw four goals, caught another four, and drew a great deal of defensive attention, freeing up other cutters. The Mamabird O line had only one turn in the first half. Colorado went four-for-four on break opportunities in the first half, giving them an 8-4 lead going into halftime set to receive coming out of it.
Strong contributions also came from Tim Morrissy and Mark Rauls, who both had four goals and an assist, and Dennison Bechis chimed in four assists of his own.
But that really only tells part of the story, and maybe the less remarkable aspects of it.
Watching Colorado hit four break arounds in a row, then proceed to hit the next three inside breaks when the marks shift over was inspiring. Seeing Mickle streak deep, draw a double team, and witness the back of the stack punish the poach by immediately cutting in and getting open by 20 yards, all without hesitation, was like seeing a classic Malone and Stockton pick-and-roll.
Mamabird captain Pawel Janas said the team studied film of Darkside, recognized their deep poaches, and planned for such occurrences. It showed.
Janas attributed much of his team's success to preparation and putting on the pressure early. It worked, as two early unforced turnovers gave Colorado the upper hand right off the bat.
"We knew they had the jitters," Janas said. "So we knew that if we won the flip we wanted to start on defense. We wanted to make them score first."
UNC coach Mike DeNardis disagreed, saying that it was less about being nervous than fatigue and Colorado's level of play.
"I don't think it was as much nerves as it was us being at 80 percent," DeNardis said. "I think it's us not being accustomed to this different level."
Indeed, that may be true, as how might a squad go about stopping a team with no rookies, seemingly unstoppable break throws, aggressive man defense, and the kind of intuitive chemistry you can't really gameplan for, essentially developed over the course of three years?
If there was an answer, UNC didn't have it.
Even when Darkside were given chances to climb back in it, they couldn't punch it in. Despite only one turnover in the first half, the Mamabird O line slipped up a bit in the second and turned it another five times, but Darkside only took advantage of one.
Just two points later, Colorado got that break back.
"We built pressure through the game," DeNardis said, "and every time we took a breath because we got something we wanted, we made a mistake."
A lot of it came down to mentality.
Mamabird looked like a team that knew they were going to win and were practically foaming at the mouth with the hunger to prove it. They took what they were given and wasted no time attacking every aspect of their opponent, even when it took twenty passes to find the endzone.
Darkside looked like a team that struggled to figure out the best approach to making any headway. They hesitated on numerous simple throws, missed marks they hit right in the bulls-eye just a match before, and dropped routine catches.
Moreover, the deep game that decimated UNC Wilmington just wasn't there.
Some hucks were completed, sure. Jonathan Nethercutt had his five assists, many of them to Christian Johnson on deep shots, who got in his three goals as well.
It's worth noting, however, that Colorado, who thrived on their huge hucks from Mickle all season, were only one-for-five on deep shots and still thrashed UNC.
And maybe that's what it came down to. Mamabird was such a great team that when Darkside forced Colorado to beat them with what they thought was their weakness — flowing from a standstill with repeated unders and consistent discipline — it hardly seemed to matter. UNC threw a number of blading pulls that rolled out of bounds to try and stop their opponent's pull plays and massive hucks. Colorado didn't blink.
When a team wins by five points in the national title game despite being forced out of a key element from their offense, you know they're good.
Throughout 2014, Colorado indicated that it just might be the best team in the country. With their performance at Nationals, crowned by a truly dominant performance in the finals, they removed all doubt.