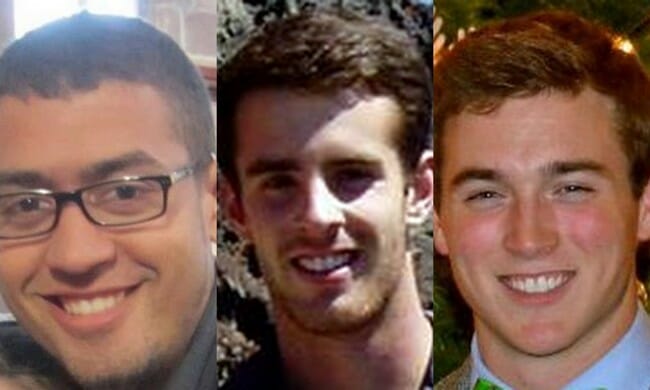 We are deeply saddened to report that three Carleton CUT players were killed in a car accident this afternoon, possibly on their way to the airport to fly to the Stanford Invite.
James Adams, 20, Michael Goodgame, 20, and Paxton Harvieux, 21, were killed when the SUV they were riding in spun out of control on an icy road and into an oncoming semi.
From Twin Cities.com:
Two other Carleton students were injured in the crash, including the SUV's driver, William Sparks, 20, of Evanston, Ill., and passenger Conor Eckert, 19, of Seattle. Both were in serious condition at Hennepin County Medical Center in Minneapolis on Friday evening.

No alcohol was detected in Sparks' system, the State Patrol said, adding that all five men were wearing seat belts. The sport utility vehicle's air bags had been deployed.

The driver of the semi, Terry Danny, 56, of Pioneer, Tenn., was not injured, the State Patrol said. No alcohol was detected in his system.

The broadside collision occurred shortly before 3 p.m. on Minnesota 3 at County Road 47 in far southern Dakota County. It had snowed during the day.
"We offer our most heartfelt thoughts and prayers to the families and friends of James, Michael and Paxton, and we hope and pray for the full recovery of Will and Conor," Carleton President Steven G. Poskanzer said in a statement. "The collective Carleton soul aches for the loss of these three young men. Right now, we need to focus all our love and compassion on supporting the families and friends of all these young men, along with everyone in our community who cares for them."
Carleton's men's and women's teams have canceled their flights and will not be attending the Stanford Invite this weekend.
The teams will be replaced by Las Positas on the men's side and UC Davis on the women's side, according to Stanford Invite tournament directors.
We will have more on this story as news becomes available. Our deepest condolences go out to the players' families, their teammates, and their friends.