Project-Manage Your Tournament To Success

Everyone's raring to get back on the field, and we need well-run tournaments to make it happen. With this adaptable planning spreadsheet and phase-by-phase guide, you too can manage a small- to medium-sized weekend event with flair!
I started playing ultimate in 1985 and have coached high school ultimate for 17 years. I am also a USA Ultimate-certified Tournament Director (TD), and strongly recommend that potential TDs consider getting this certification. In the past decade, the Cincinnati Ultimate Players Association (CUPA) has run local tournaments as well as large-scale USAU and WFDF events, including the 2014 and 2017 D-I College Championships and the 2018 World Ultimate Club Championships. I have assisted with many of these events and learned a lot — often from my mistakes! My kids also have played and coached in many WFDF and USAU tournaments, so I have some good learnings from attending tournaments outside of Ohio.
My non-ultimate job has been leading technical project teams as a certified Project Management Professional. Given my PM background, I run each tournament as a project organized into 5 phases (initiation, planning, execution, monitoring, and closure). Each phase has distinct deliverables and milestones which a TD should find useful.
From this experience, I've provided a multi-page, customizable planning spreadsheet that can be tailored to the needs of your event, which the rest of this article will complement.

Includes planning calendar, site checklist, sample materials list, budget template, and more
The master planning spreadsheet contains several pages detailing various parts of the tournament planning process that should work for most tournaments. Many can be copied for your own use as checklists or sample forms:
This article supports that spreadsheet with a friendly, conversational overview of the five phases and considerations for each. To help keep it interesting (and to further demonstrate I am a Great Grand Masters player), I added at least 10 R.E.M. and Sesame Street references — see how many you can find!
1. INITIATION PHASE
9–12 months before the event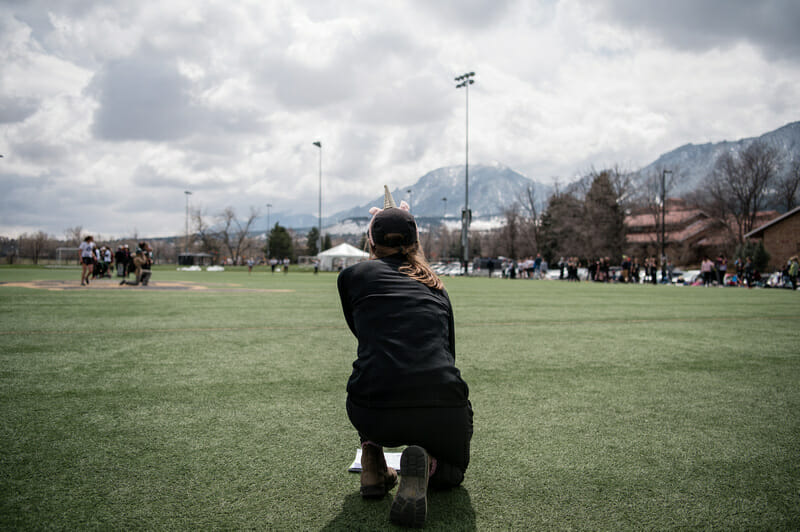 Begin the Begin
Determine why you are running your tournament. Is it to make money for your team or disc organization? To provide sanctioned playing opportunities for area club teams? To cap off a fun summer or youth league?
Your why piece will help you determine your financial scale, your target audience, and your pool of potential volunteers. It is the event's reason for being, and it is the foundation for answering all the questions that follow.
You can also use this first phase to identify your tournament director (TD) and ideally a few other key volunteer positions, such as assistant TD, facilities lead, or division coordinators.
2. PLANNING PHASE
2–9 months before the event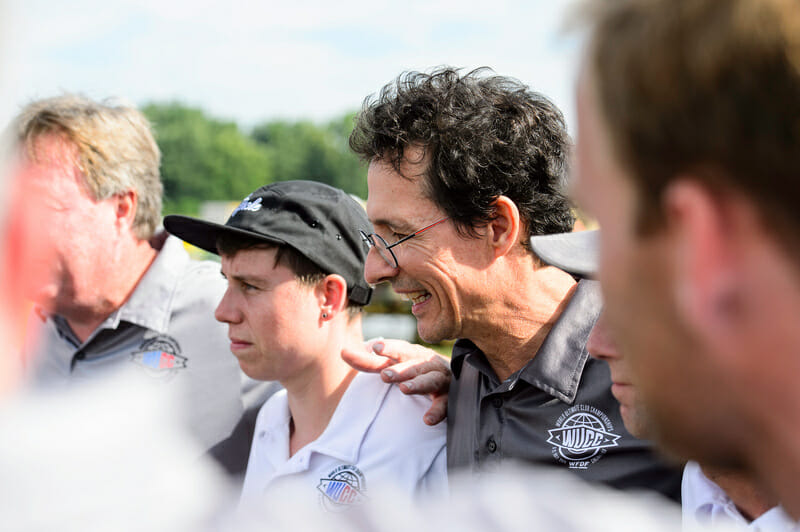 The Letter of the Day is "W"
Being TD is not an easy job, but if you lay a solid foundation in the planning phase, it can be fun. Planning is where you work out the high-level details and start to generate excitement for your event. You can browse the topic outlines and sample checklists in the planning spreadsheet for a fine-grained overview, but before you get overwhelmed, consider these four "w" items to focus your work in this phase:
WHERE you will hold it
WHEN you will hold it
WHAT type of event — sanctioned or unsanctioned?
WHO you will try to invite to play in it — men's? mixed? women's?
WHERE and WHEN: These two items are intertwined. Timing-wise, it is good to reserve your field nine to twelve months in advance (lots of competition with soccer!). Be optimistic and err on the side of booking more fields than you think you may need, as you can typically cancel a few fields without little penalty on sufficient notice.
Also, try to not to interfere with other ultimate events in the area. For instance, CUPA never schedules any tournaments on the same weekend of Poultry Days.
WHAT TYPE OF EVENT: You also need to determine whether the tournament will be USAU-sanctioned, and (in a summer club season) whether you will make it part of the club series events. Many club teams prefer a sanctioned club tournament as it helps them fulfill the minimum number of sanctioned games they need to play, and also helps the section get more invites to regionals.
From a TD's perspective, there is a bit more paperwork involved in sanctioning a tournament through USAU, but you also get to use USAU insurance for the event, as well as their score reporting interface for tracking pool play and bracket play results. (Plus, the staff at USAU is always willing to use their expertise to help you run a quality event!)
WHO TO INVITE: Once you understand if the tournament will be sanctioned or not, you can determine which divisions (men's, women's, or mixed) your tournament will host, as well as which teams in those divisions might attend. Good ways to get the word out about your tournament include social media platforms (such as Facebook, Twitter, Reddit, or Instagram), listing it on the USAU Tournament Calendar, or sending emails to the teams who've attended previous tournaments. Start this marketing as early as four to six months prior to the event — early enough to reach teams planning seasons — and follow up monthly.
3. EXECUTION PHASE
2 months before the event through the tournament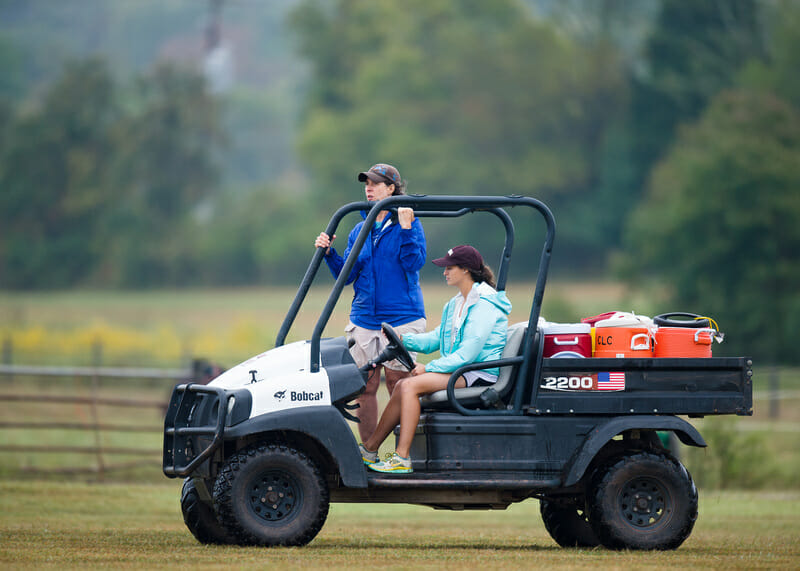 "C" is not just for Cookie
The execution phase is where the details really matter. This is where the tournament directors need to Communicate and Coordinate with the teams, Collaborate with the volunteers and the local organizations providing the fields and other services, Clarify any questions and get Commitment from everyone involved.
The secret for success in this phase is division of labor. Too many TDs try to do everything themselves — using volunteers to assist lessens the load and grows the ultimate community. A few suggested positions that will make a huge difference:
Division Coordinators: Recruit a division coordinator for each division, ideally in the initiation stage. The TD can run the overall event, but the division coordinators can set up the pools and manage communications with the teams. Note that division coordinators are good candidates for future TDs.
Time Keeper: Get someone who will religiously blow a horn for the start of games and caps. That keeps the TD from being glued to their watch throughout the tournament.
Field Manager. This person's sole responsibility is to ensure that the fields do not get destroyed, and they have the power to move fields or shut down the tournament to prevent field damage. Often the Parks & Rec organization that you are renting your fields from will provide one. If they do not, your disc organization should appoint someone, which can be the TD. Whoever assumes this role, however, they need to have the backbone to stop play if there is the potential for unacceptable field damage.
Water Patrol: Their goal? No water jug ever goes empty.
Setup/Cleanup: These are great jobs for volunteers who don't know ultimate well but want to help. Got a friend named Oscar who loves (picking up) trash? Put them on cleanup. My GGM team already has enough talent that throws it.
Media Coordinator: This is the person who generates awareness and excitement for the event via social media. They have a role before, during and after the tournament.
How to find these people? The best way is to approach potential volunteers directly, and with a role in mind for them. You'll be surprised at how many folks say yes. You may also need to advertise for the job. In that event, have good role descriptions available online and an accessible signup sheet that lists these roles along with times when help is needed. (And if you can afford volunteer swag, get it — discs and/or shirts are great volunteer magnets.)
Some items to highlight for the actual day(s) of the tournament:
Start and end on time. Your timekeeper is key for this, and starting the first round on time is step #1 to make this happen.
Make it fun for the players and the fans. We have music at tournament central, a speed pitch machine (90mph hammers!), and a disc golf hole. We also have handouts explaining ultimate for the parents and friends who have never seen it before.
Get at least one golf cart. This makes the water patrol's job easier and can be used by the trainer if needed. (Be sure to check the contract — often you have to be at least 18 to drive.)
Have at least one trainer. Have them ready to go one hour before games start, and have them available through the end of the day.
Have a separate board for field maps and a complete schedule at tournament central. Make it easy to find out who plays who, when, and where, and update the game results as you get them.
Buy reusable coroplast signs to mark the field numbers. This is an inexpensive way to make your tournament look more professional, and ensures your fans and players can easily find the right field.
Have great food and snacks. CUPA tries to have great food and snacks (fruit and veggie trays, watermelon, trail mix, apples, oranges, bananas, bagels…) throughout our tournaments, including a full meal after the final games on Saturday. This helps build a sense of community between teams and has always been well-received — who doesn't love free food?
4. MONITORING PHASE
Throughout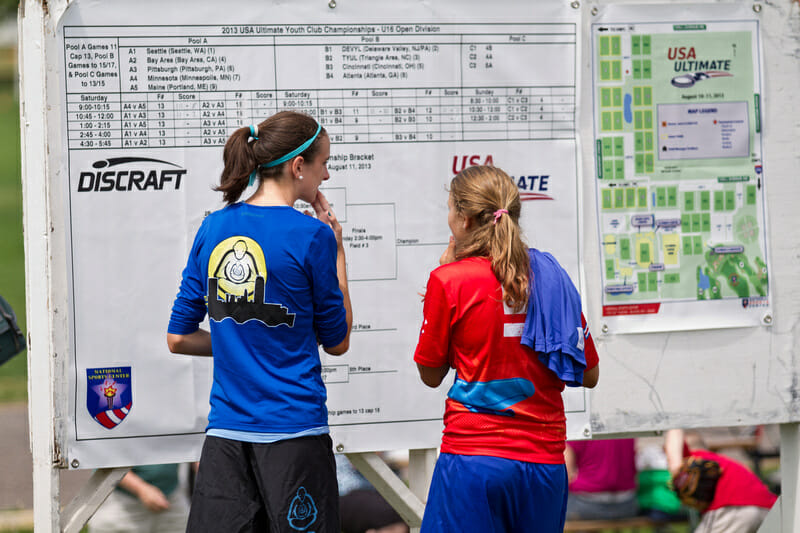 Make It Look Easy
Monitoring describes all the steps taken throughout the tournament lifecycle to ensure that the tasks and deliverables for that stage of the tournament are being completed. That feedback can also help you determine if changes need to be made to the tournament plan. Typically you would have monthly monitoring meetings in the initiation and planning phases, and then increase the frequency in the execution phase as you get closer to the event. A good place for monitoring meetings is a local restaurant or pub so that you can meet over a meal and drinks to exchange information and build working relationships.
As the overall leader for the tournament, the TD should run the Monitoring meetings and confirm things are moving along. The TD should never assume things are getting done; instead, they need to gently push, pull, and/or nag their leads to deliver and then be 100% certain that tasks are completed. Meeting notes should document progress measured, decisions made, issues uncovered, and next steps as well as their associated owners.
When the action items are clearly understood, assigned to owners, and moved along by a TD and their team working well together, the challenging task of running a tournament looks easy.
5. CLOSURE PHASE
Complete within 4 weeks after event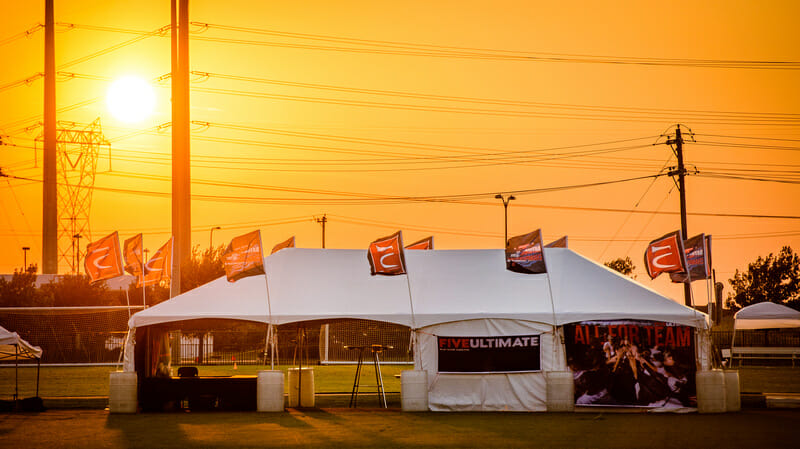 Shiny Happy Players
Hooray, hooray, hip hip hooray! The tournament has happened. However, your work as a TD is not done — there are several key items still ahead:
Ensure all results are entered on the website of the sanctioning body (for example, USAU if the tournament is a sanctioned club or college event).
Follow up with team captains to thank them specifically and congratulate the champions. Tell them you look forward to seeing them next year. Consider using a survey tool like SurveyMonkey or Google Forms to get their feedback on the event.
Follow up with volunteers to thank them, ideally both at the tournament and in an email afterwards. You might send this group a similar survey for targeted feedback. You might also consider holding a volunteer appreciation event.
Follow up with sponsors to thank them as well. Be sure to send a few pics from the event — ideally with their signage in them — and tell them you look forward to working with them in the future. Thank them in person if you can, and directly ask for feedback.
Thank everyone else who participated (and welcome their feedback, too).
Close out the finances. Pay outstanding bills, collect any late team fees and determine whether you made or lost money. Finalize the budget profit and loss.
Let the world know the results. Update social media with pics of the winners and links to the results. Consider sending a brief writeup of the tournament to Ultiworld to get your champions (and your tournament) some recognition.
Create a summary of your process for your disc organization. Update the project plan for the next TD who runs the tournament, and send a tournament summary to your disc organization. The tournament summary should cover the finances, list the teams involved, what you learned (what experiments went well? what could be done better next time?), and recommendations for future events. The size of this document should be scaled to your organization's needs and the scope of the tournament: the WUCC 2018 tournament recap was over 117 pages long, while my SCINNY recaps are typically one to two pages. Either way, the next TD for the event will thank you!
Conclusion
It's the end of the article and you know it — do you feel fine? Running a quality tournament is challenging but fulfilling, and a great way to make money for your organization.
Sunny days are ahead of us — help make it possible to come and play!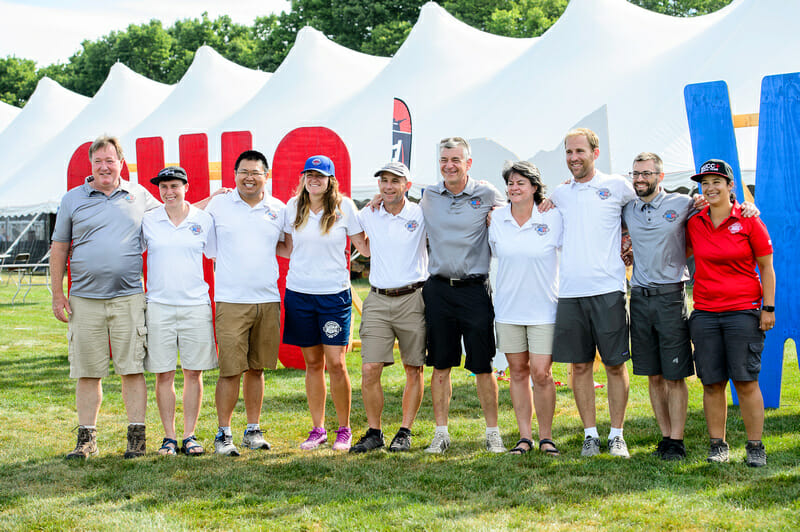 Additional Resources
If you enjoyed this article, consider supporting all of Ultiworld's coverage by purchasing a subscription.