Not all tournaments are created equal -- and it has everything to do with the effort put in by those running the show.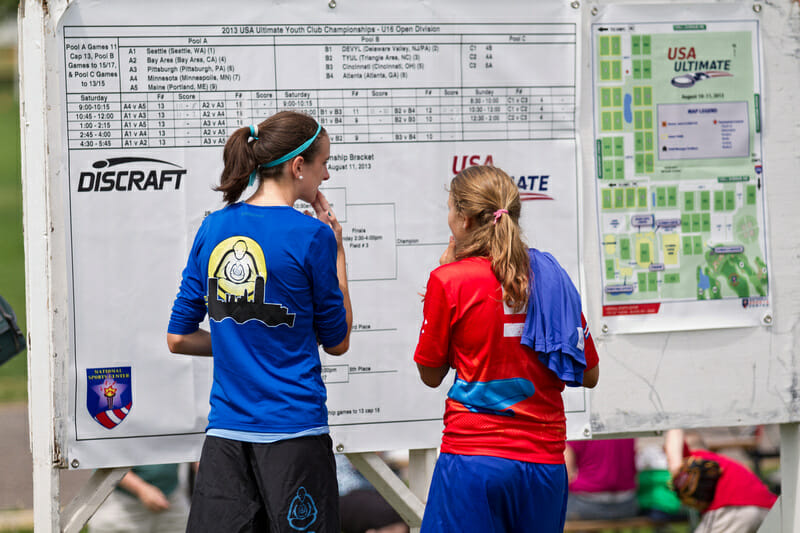 This article is presented by Spin Ultimate; all opinions are those of the author. Please support the brands that make Ultiworld possible and shop at Spin Ultimate!
How to throw, how to cut, how to see the field — the Tuesday Tips column has been used quite a bit to talk about the basic elements of playing ultimate. But in order to do any of those activities, whether in practice or in a game, you need field space and time. Whether you notice or not, it's always someone's job to make sure that ultimate players have an organized place to play.
This week in Tuesday Tips, we'll be talking about the basics of tournament directing. Running a clean and comprehensive weekend of competition takes attention to detail, good delegation skills, and confidence. Here are some big and little pieces of advice to ensure you're putting on a solid event that will send players home happy.
1. Know what you would want as a player.
If you've never put on a tournament before, sit down and walk yourself mentally through your favorite tournament weekend. Do your best to make a list of what you liked and didn't like, from parking and warm ups all the way through your cool down and departure on Sunday.
"Think about what makes a great tournament to you, and try to include those details," advises Dave Branick, 12-year veteran TD for the Chesapeake Open, Invite, and Mid-Atlantic Men's College Regionals. "For me, a well-run tournament is one that goes the extra step to try and anticipate the needs and safety of the players."
You can also approach this exercise by thinking about what's bugged you at past tournaments. How about having to walk all the way across the field complex, or through a parking lot in cleats, to use the bathroom?
A hallmark of the Chesapeake Open are the carefully placed portable bathrooms — no matter where teams are playing on the rather large Capital Polo Grounds in Potomac, Maryland, players are never more than a one or two minute jog to the nearest restroom. This also (albeit anecdotally) spreads out the amount of waste so that three full club divisions don't mob the one convenient bank of spot-a-pots to the point where players are deciding it's a better option to just hold it through the second half of a critical bracket-play game.
Do you hate having plastic knives snapping in the peanut butter while trying to chef-up the world's finest midday bagel PB&J? Potlatch TDs bring handfuls of small, rubber spatulas for players to scoop out JIF and spread it, avoiding those oily fingers and knuckles that will stain your nice new pink Five shorts when you inevitably have nowhere to wipe.
This brainstorming list should serve as an ideal. Strive to have a list of all the items or services, big or small that have made for a nice surprise or been a huge convenience and left you thinking, "Wow, that was really worth the bid fee."
2. Plan for emergencies.
No jokes in this section. Injuries and medical emergencies happen when you welcome a mob of athletes into a wide open field or sports complex; having a clear protocol to handle unfortunate events isn't a merely a suggestion or something you can compromise on, it is a critical necessity.
Know where the nearest hospital is, list the name, address, and estimated distance from the field in your tournament packet, and say it out loud during your first captain's meeting. This is something you can repeat to anyone volunteering with you numerous times over the course of the weekend. Some tournaments also work with local fire departments, since firefighters are also first responders.
If your entire operation is above-board (and it should be in this day and age), then you'll likely be asking participants, teams, and or staff to sign waivers. A lot of big facilities that rent out to outside groups will have their own in-house paperwork, and if you're representing an ultimate organizing group (PADA, WAFC, DiscNW, or USAU), safety waivers will be built into the registration process. Whatever the facility or event calls for, know how to have it passed out and signed by the necessary parties — this protects you, your staff, your participants, and avoids any nasty situations where it isn't clear who holds liability.
3. Have trainers and water readily available.
Even if you are lucky enough to escape without any catastrophic medical emergencies, no tournament can ever completely avoid the knocked knees, twisted ankles, and jammed fingers that inevitably crop up during play. Have trainers on site to handle these minor medical issues so players can get the attention they need without having to travel to the nearest ER.
Even with only eight or ten teams, you can spread the cost of a trainer or two out to a point where it won't jack the bid fee up too much. Pro Tip from Branick: pay your medical staff to arrive an hour or more earlier than the start of play — it'll ease up the lines of people needing to tape their ankles and fingers before getting on the field.
Similarly, having water — either with hoses and pumps that are part of the facility or making sure you have coolers that can refilled frequently at multiple locations throughout the day — keeps players hydrated, happy, and not distracted from play. Especially during the hot summer months, providing an adequate supply of water to players who may not be as prepared as they should be can go a long way to minimizing other, more serious medical issues.
Many TDs probably have a not-so-secret goal of having no one ask questions or complain, which translates to keeping everyone happy and focused on ultimate. Making the effort to refill team water supplies removes what can easily turn into a headache in the midst of a long tourney day or weekend.
4. Note the time.
Ultimate wouldn't be the sport we know and love with an annoying and somehow still-confusing battle of will and wits over how a soft or hard cap should be applied. Top TDs across the country leave their professional mark on the weekend by clearly communicating — be it at a captains' meeting, in the tournament packet, or via loud noise of choice — so that there is nothing to be discussed. Unless you're stocking your tournament full of observing crews for every game (which makes you USA Ultimate's College or Club Championships, so you can stop reading now), your schedule and round times should be written and explained on a second grade reading level.
"I generally have one staff person who is assigned to keep time and blow cap horns. They're responsible for finding another staff person to fill in if they get bogged down or have to help in another capacity," Branick recommends. He also keeps a list of round starts and cap times printed at Frisbee Central (aka wherever you'll be conducting business as a tournament director), so that teams stopping to check in a report scores have a clear view.
Of all the tournaments I've participated in, as player, reporter, and coach, the Best-Kept-Time Award (which I just invented) goes to a tournament that may surprise you: Wildwood Beach Ultimate.1
First off, you can't miss the cap rules. They're printed clearly and are accessed easily through the tournament website and included in the captain's packet that's handed out every year, along with the round schedule. This includes the timing and cap rules.
Second, the Widlwood TDs have done their utmost to avoid that awkward moment when half the people on either sideline suddenly realize the game should have ended three points ago. They use a horn fit for an eighteen-wheeler doing 75 in the left lane, and it's on top of the box truck that carts in tournament supplies. It cuts through the beautiful cacophony of party ultimate and Jersey Shore madness effectively enough so that the majority of the 2,000 people playing in a given round actually stop when they're supposed to.
On a smaller scale, Branick has his volunteers walk to the middle of the complex and blow the horn there — bonus points if your facility allows for you to set up headquarters in the middle of the fields. You don't need a box truck to get the message across, but do make sure that the schedule belongs to someone and that she or he isn't overloaded with too much other work to dutifully fulfill their timekeeper role. Keep the rounds on time, use a phone or watch alarm, and be ready to still resolve disputes.
5. Mind the layout.
Players are thinking about bidding, but TDs should be considering field maps. The measurements of a proper ultimate field — including space on the sidelines to accommodate players, spectators, and gear without endangering the players on the field — are in the rule book. Chances are, whoever is in charge of your facility knows the exact dimensions of the grounds. Plan out the number of fields you'll be able to line if you're working with a big, blank canvas of grass, or take a good look at the way fields are laid out if you're working with at a facility with separate fields.
Pick a consistent, easy-to-understand method to number your fields. If the host venue is an established athletic complex, they may have done the work on the ground for you, and you'll only have to label it somewhere online for teams to access on their phones. If you're slicing and dicing a large wide-open space into ultimate fields, pick a general rule like the snaking pattern below for Potlatch fields — just make it easy to understand. No one wants to solve a puzzle while they figure out where there next game is.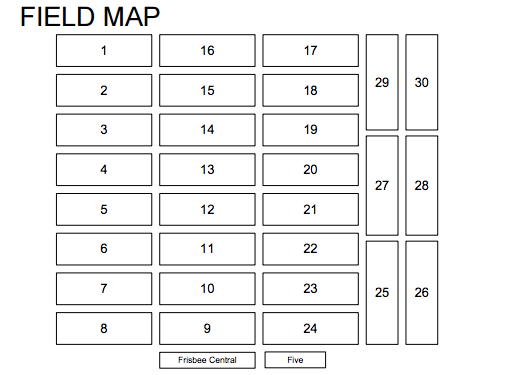 Bonus points: if you're working with pools (and you probably are), keep each group of teams confined to a small area whenever possible, like having four teams in a pool all play on the same two fields all day on Saturday. For the bracket, one method is to have teams play their way towards the fields in front of or nearest to Frisbee Central, with consolation play moving away. Not every field site is shaped in a way that conveniently allows for this, but it's fun to engineer and makes it easy to head to the cars if you win the chip.
6. Line your fields.
The truth is that the lack of lines on your fields won't end your tournament. Heck, it might not even deter people from coming back next year.2 Inclusion of lines, however, will make a huge difference.
Here's quick list of problems that lining your fields will avoid or solve: in/out calls on the sideline, in/out calls for the end zone, offsides (if you have observers in the bracket), setting up your cones on both days consistently, keeping wandering players back from the sideline so you can actually throw that big OI flick, and clearly marking where fields begin and end for easy labeling.
Without observers and coaches with a certain level of experience and professionalism, these problems are bound to crop up. It's worth exploring how much more lining the fields would bump up each team's bid fee. Chances are, if they could choose between a $40 discount or lined fields, they'd take the lack of ambiguity during play over the budget-saver.
Take it from Branick, "I'm a big advocate for painted lines and cones or pylons if you're able to do so. Some venues won't allow you to line fields, in which case I'd go with port-a-fields if you can." He also recommends keeping an extra supply of whatever you're using (line painters or porto-fields), because weather or wear and tear will cause issues over the course of the weekend. Potlatch 2016 went the extra mile: they stapled their portable fields into the grounds.
7. Ask for help.
Great tournament directors might be obsessively organized and always trying to anticipate the next upcoming issue or problem, but they're generally not egomaniacs putting on events just for their own recognition. The people running long-standing and successful ultimate events across the country have been volunteering their time and will continue to do so for a while yet. Chances are, they'd be interested in helping a new tournament director learn the ropes.
"Most TDs are in it because they like to help the community, and they'd be more than happy to give you some advice or help with any planning questions you might need," Branick advises.
Successful tournaments incorporate feedback, operate with confidence, and don't lose track of why they're putting on the event in the first place: for people to have fun playing ultimate and staying safe. Reaching out to people who have done that before will likely help you avoid some mistakes, develop a weather contingency plan more effectively, or even get some clarification on formatting.
—
Running a tournament isn't a casual, easy weekend's work; it often takes weeks or even months of planning before you even get to the event. Good TDs are attentive, organized, and excited about the competition. They stay engaged, prepare plans that will allow them to roll with whatever surprises crop up throughout the weekend, and are honest about what they can and cannot provide up front. Remember, the more you put into it, the more the players will get out of the experience.
While often a thankless job, it is rewarding stuff.  And if you're a player, be sure to thank those who volunteer their time to give you a fun weekend with friends.
---
Again, I'm not counting big postseason events, because time is kept by a combination of observers and USA Ultimate staffers. ↩

Dickinson never did at their Halloween tournament, and my DIII team went every year. But that's because the Jive Turkeys threw a great party, and this isn't the column for the particular set of dubious instructions that brings college kids to tournaments like ants to an open jam jar at a summer picnic. ↩