The Illustrious Partnership of Megan Praz and Meghan Kemp-Gee
The duo behind the long-running Contested Strip comic talk ultimate culture, creative process, and their forthcoming graphic novel One More Year.
By day, one is an editor-for-hire who teaches writing at Chapman University, and one is an animation industry hand with credits on South Park, Bojack Horseman, and Tuca & Bertie. By night, one is an award-winning poet, and one is a longtime independent comics creator. By weekend, one is a club vet with a wicked high-release backhand, and one is the fleet-footed star of an indelible Callahan video despite mostly not playing in college.
Together, they're Meghan "Rho" Kemp-Gee and Megan "Bacon" Praz, the writer and artist behind the long-running ultimate comic Contested Strip. Since 2015, Kemp-Gee and Praz have created dozens of ultimate-themed comics on topics spanning culture, coaching, rule changes, injuries, inclusion, and more.
.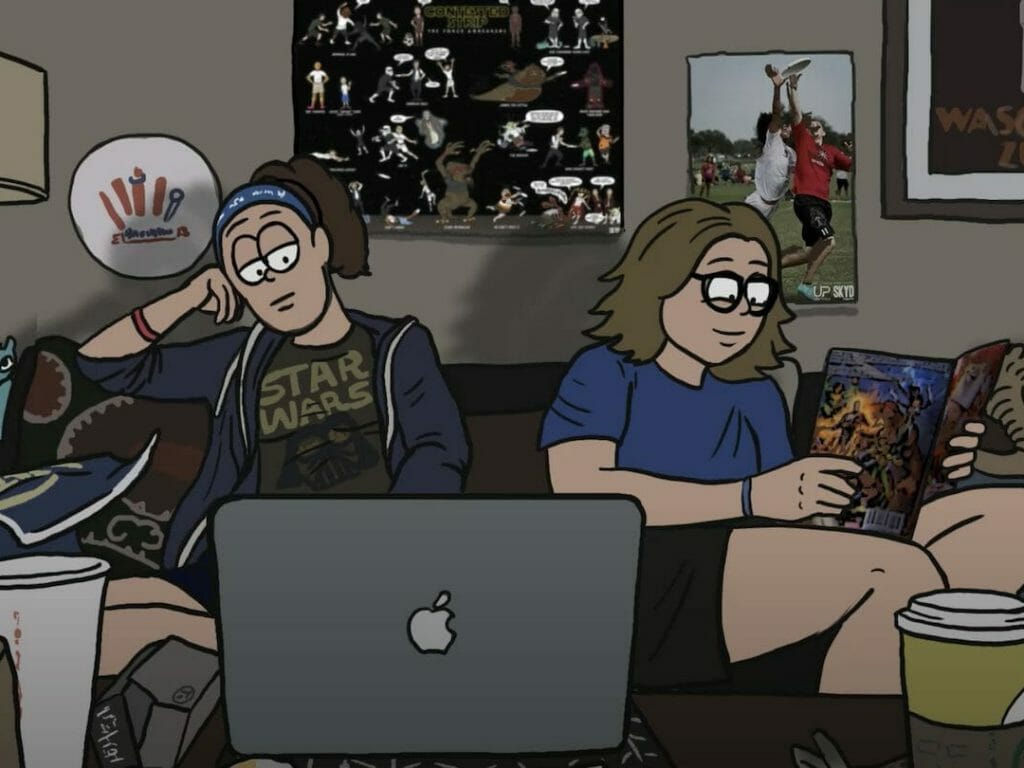 . .

.
Praz (left) and Kemp-Gee, as their cartoon alter egos and in person, in the "Great as Hell" video, a takeoff on the classic "Good as Hell" Jesse Shofner highlight reel.
Originally a regular Skyd Magazine feature, the comic has also appeared in various other places online and in print, including the updated second volume of Ultimate: The First Five Decades. (They've also produced a Star Wars-themed poster for Five Ultimate and partnered with USA Ultimate to publish a mini-comic teaching kids and parents about Spirit of the Game.) Now they're at work on the first-ever major sequential art story about ultimate: a full-length graphic novel entitled One More Year.
One More Year centers on Clint Holder, a luckless ultimate lifer who's never won a tournament — not in college, not in club, not at league, not even Poultry Days. Resigned to fate, he swears he's retired for good when he's drawn back in by an elaborate scheme to win Beach Nationals with a ragtag team of superstars, specialists, misfits, and losers-no-more.

There's Alex "Modulus" Martinez, stats mastermind and speedy deep-cutter with visions of an ultimate moneyball revolution. There's Wanda "Wanders" Anders, the Bay Area legend who retired on her laurels to focus on work, family, and real adulthood in L.A. There's Alice "Cheese" Hsu, the young wildcard who lives for bread and sneaky lefty hammers. There are the visor-sporting great-grandmasters-aged handler and the teen twin prodigies whose game puts grown club stars to shame.
There are, in other words, archetypes a lot of ultimate players will recognize (or recognize in themselves — are you a Kate or a Nadeem?) but also the arc of a combination sports comedy, heist story, and buddy epic that its creators hope will appeal to an audience beyond their fellow disc freaks.
For Praz and Kemp-Gee, the project represents the culmination of years of devotion to the game as well as a friendship and artistic partnership stretching back to when they first met through the SoCal ultimate scene. The two spoke to Ultiworld (Praz from L.A., Kemp-Gee from her current home in British Columbia) about their playing histories, their creative chemistry, the unique culture of the sport, and what it is that keeps so many of us coming back — even when we promise ourselves we won't.
All images from One More Year unless otherwise specified.
"I couldn't catch, I couldn't throw, and I just got so frustrated that I was like, 'nope! Not for me. I'm out. This is stupid.'"
Ultiworld:
So first question is always, how'd you get started in ultimate? What are your respective origin stories?
Meghan "Rho" Kemp-Gee:
I started playing my last year of high school because my then boyfriend, now husband, started a co-ed team at our school, and they needed girls and I was done with all my sports for the year, so they were like, "oh hey, you can run! Come to provincial championships." And then I kept playing in college, at Amherst College. I was going to join the rugby team, but I got recruited away from them by the ultimate team — who I think lied to me and told me the rugby team never won. Which I don't think is true. [Praz laughs] But I chose to play ultimate instead, and I've never really stopped.
Megan "Bacon" Praz:
I first learned about ultimate at Edinboro University,1 which is where I met Ben Benyas and Tad [Wissel]. I went to one practice and just hated it because, I was really fast, I could get open, but I couldn't catch, I couldn't throw, and I just got so frustrated that I was like, "Nope! Not for me. I'm out. This is stupid."
And then, years later, I moved to Los Angeles and had, like, one friend when I moved here, and the one thing I could go out and do with her was that, on Wednesday nights, she and this group of people played ultimate frisbee. It was a 14-on-14, no out-of-bounds, no stall count—
Ultiworld:
No rules, just vibes.
Praz:
No rules, just vibes. No cleats. Just, pure chaos ultimate game. Like, not legitimate. Dirt field. It was a mess. But from there, I got invited to another pickup game, and that was my first taste of seeing what real ultimate looked like. And I remember, I'll never forget — this woman, Nicole Belle Isle, who was in the community for a long time — she was just torching me. She was like ten years older than me, and I was like, "how is this possible? No! I'm fast! I should be able to cover you!" And then afterwards, she went out of her way to ask for my email address.
And she's like, "You're good. You have potential. You should keep coming back." And I really needed that boost. It made such a difference to have a woman be like, hey, you should do this more often, we'd like to see more of you. And she emailed me about women's league, and I was just hooked after that. So I started playing — that women's league was the first league I played in — and I met people who are still my friends today in that very first women's league. I played on Nicole's team, and on this other woman Crissy Vega's team — who ended up speaking at my wedding, that's how good friends we became. And yeah, I've been hooked ever since. And now I primarily play beach ultimate because my body can't handle grass.

Ultiworld:
What's the beach scene out there? Are there leagues throughout the year?
Praz:
Yeah, it's pretty big out here in L.A. Beach league, I would say for a lot of people beach league is their absolute most favorite league of the year. It's a clique league, and it's special because we play four-on-four and it's gender-equal. It's two and two.
And we play with this really fun rule that's, if you throw endzone-to-endzone and cross-gender, it's worth two. A lot of people don't like that rule, but I'd say that's people who have not played it before, because when that's like part of your league rules, you learn to love it.
I feel bad for people who only get to play beach one weekend out of a year, because you hate it the very first time you play it. It's just horrible to run in sand, you can't do anything you can do on grass, but then after a while, you learn it's a different kind of game.
Kemp-Gee:
[confessional] I loved it the first time I played.
Praz:
Really? I did too.
Kemp-Gee:
Well, because I was like, I could lay out as much as I want and not hurt myself. It's really useful for those of us who don't like to run. You can just… fall.
Praz:
[big laugh] And yeah, you can lay out.
Kemp-Gee:
Yeah. I mean, I'm going to say I played more grass than Bacon, because she didn't do as much club as I did, but yeah, particularly the beach women's league and the beach co-ed league are highlights of the year. But the first ultimate I ever played in L.A. was a pickup beach tournament in late August, and I remember loving it instantly.
Praz:
It feels a little bit more like the pace of basketball to me, because the stall count is lower, too — at least when you play fours, you play a stall six, so it feels like the pacing of a basketball game, really quick disc movement.
"[Beach is] a better game than grass ultimate! I'll say it!"
And plus, I don't know about — I mean, I have full-field throws when, when we play on the beach versus, on grass, I don't have a full-field throw. So again, I feel like the equity of the beach game is a little bit higher.
Kemp-Gee:
It's a better game than grass ultimate! I'll say it!
Praz:
[enthusiastic] It's more exciting to watch!
Kemp-Gee:
[emboldened] I'll say it! I'll say it. It is.

"I just remember she was, like, the fast girl in the headband. And also, when you scream 'Bacon,' it sounds a lot like 'Meghan.'"
Ultiworld:
How did you cross paths, and how did you start working on the comic together?
Kemp-Gee:
Um, I remember being aware of Bacon the first time in summer league. Is that right?
Praz:
Probably.
Kemp-Gee:
Playing against you, yeah. I just remember she was, like, the fast girl in the headband — and also, when you scream 'Bacon,' it sounds a lot like 'Meghan,' so, you know, when someone has the same name as you on the field, you have that connection.
Praz:
I'll say what I remember of Rho first is that, playing her, everyone would just be like, "yo, if you're marking her, you've got to stop her high-release backhand," and I'd be like, "oh yeah, no problem, I got this." And then I would get broken, and I'd be like, "okay, that was just one time. It's not gonna happen again."
And I'd be, like, over-defending it, and yet still she'd find a way to throw it. So I remember her being this really amazing thrower who's just… infuriating to try to stop. [Kemp-Gee laughs] Like, she'll just do whatever she wants to, and you can't really stop it. She just gets to throw it anyway.
Ultiworld:
That's the foundation of an unbreakable ultimate connection, right? One person with infuriating throws and one who can run infuriatingly fast. That's all you need.
Praz:
That kinda is what it is! It's a sad thing that we haven't gotten to play together more.
Kemp-Gee:
I know. I always loved playing with Bacon.
Praz:
Me too!
Kemp-Gee:
We play together really, really well, I will say.
But yeah, [at that time] we had some friends in common and become good acquaintances, I would say — like, moved in similar circles. And then at one point, I think Bacon wanted an editor for like, a story project she was working on?
Praz:
Yeah.
Kemp-Gee:
And that's how we got together professionally.
Praz:
Yeah, what really got us together was, I had a couple of different [comics] projects happening, and I didn't know that Rho loved comics so much, but I knew that she was like, a writer and editor. And writing has never really been my strong suit as a comics person when I was doing it independently. I'm more of, like — she doesn't agree.
Kemp-Gee:
[shaking head] She's a really good writer.
Praz:
I'm more of a visual storyteller. Words aren't where my strength is. So I was going to Rho like, hey, will you edit these things, and eventually she was having really good ideas for what I was doing. And I'm like, wait a second. So then I wrote a comic about rainbow shorts for this other webcomic I was doing on [queer women's and trans culture site] Autostraddle, and that kind of blew up in the ultimate community.
And that's when [founding Skyd Magazine editor] Elliot Trotter reached out to me and was like, "hey, do you want to write a regular comic for Skyd?" And I initially told him no — I was like, I don't have time for this, I have a job and I already write this other comic — and he actually pressured me, he's like, "well, think about it. Don't say no just yet." And I did. I thought about it. And then I was like, well, if Rho helps me write it and she can share half of the creative duties, then — yeah, I think I would want to write this comic.
So [she and I] just sat down together and we're like, could this partnership work? And then very quickly we bonded over the stuff we both thought was funny about ultimate and the ultimate community, and immediately came up with a bunch of ideas, so — yeah. Yeah, it was going to work!
Essential Contested Strip
Ultiworld:
What was your process like for the sort of one-off strips that were Contested Strip before you started doing longer projects like One More Year?
Kemp-Gee:
Typically we'd brainstorm a bunch of ideas — just ideas that one of us had had, or that we'd talk about or come up with together— and then after that, we'd do a pretty typical comics collaboration process where I'd write a script and send it to Bacon, and then we'd bounce it back and forth a couple of times during production.
"She's a very enthusiastic, creative person, and I know that […] once [my ideas] bounce of off her, they come back at me better and cooler every single time."
That's typically how we did it — I guess there were exceptions, but that's mostly right, right?
Praz:
Yeah. And then our writing process for other projects has been really different, and it took us years of working together to hone that creative partnership in a way that really worked best for those.
We tried a couple of different things — just organically, not actively like, oh, we need to figure this out. But like, with the Space Heroines project, which was more of a sequential storytelling project where we were writing more like a — what would you call it? Serialized-type stories?
Kemp-Gee:
Yeah, I think it started when Bacon did a comic for Autostraddle about all the Star Wars2 heroines and how they — what was it? I'm going to get the story wrong.
Praz:
I made a wishlist for 2017 of things that I wanted, and one of the things I wanted was a female Star Wars character that talked to another female Star Wars character. Because it was like, you'd have all these male characters in the series and then you'd have, oh, this is the woman for this… trilogy.
Ultiworld:
It's always like, here's one plucky woman and all the dudes.
Praz:
Yeah. So we made this comic called Space Heroines of El Andoo where the idea was that we'd take the archetypes of the Star Wars women and kind of make them our own, and then we were like, "what if… they talked… to each other?" Like, what if they actually interacted with each other and were friends?

And we made this kind of weird [comic] — I mean, I think it's actually a better animated series than it is a comic.
Kemp-Gee:
We eventually do want to sell it as a TV show.
Praz:
We would love to sell it as a TV show.
Kemp-Gee:
But it's a pretty good short comic, too. And I think we actually did take kind of a one-off gimmick about, like, you know, space heroines who don't talk to each other, and turn that into a good comedy-drama about women who don't know how to talk to other women and have to figure it out.
Praz:
[laughing] Yeah, they're all really awkward.
Kemp-Gee:
As you would be! As you would be, if you were a person who'd never talked to another woman.
Praz:
And [for that project] it was very much like, we would brainstorm together, and then Rho would write the script and I would do the art. And I mean, it worked fine, and I really am proud of what we made. It was good.
Kemp-Gee:
And then for One More Year we actually did it pretty differently than that.
"It was a really electric creative process where, literally while she was writing it, I was sketching out thumbnails, and […] it's the best work we've ever produced. Like, I am so excited for people to see this comic."
Praz:
For One More Year what we did was, we kind of outlined what we wanted to do for the story, but then we decided to actually write and draw it in the same room at the same time. So it was a really electric creative process where, literally while she was writing it, I was sketching out thumbnails.
And the reason that it worked so well is, like Rho kind of alluded to, I do like to be part of the writing process — like, I like having input on the dialogue — and it turns out Rho, for someone who's not a draw-er per se, is an amazing visual storyteller. Like, for someone who's like, oh, I'm not a person who can physically draw, she can tell you what she thinks the shot should be, or what this panel should be.
And we found that by having both of our brains in the room during the creative process, it was just — it's the best work we've ever produced. Like, I am so excited for people to see this comic.
Ultiworld:
It sounds like you guys have the kind of creative dynamic where, once you hit on one of these ideas that turn out to be something you can banter about and trade ideas about and really build a world around, they kind of naturally blossom out into these much deeper stories.
Kemp-Gee:
I mean, we're obviously really good at taking a little kernel and, like… blowing it out of control. [Praz laughs] But yeah, no, I really do love working with Bacon because she's like — I'm not saying she never tells me no, but she always has, like, the improv "yes and." And as you can tell, she's a very enthusiastic, creative person, and I know that if I say what my idea is — like, once they bounce of off her, they come back at me better and cooler every single time.
Praz:
[enthusiastic] That's how I feel about you! I'm like, any idea I come up with, you make it a hundred times funnier and weirder and just — yeah. And that's kind of how it works! We're "yes and" people.
THE FIRE

Kate

THE FUN

Cheese

THE BRAINS

Modulus

THE MISCHIEF

Nadeem

THE MUSCLE

Moose

THE LOVEBIRDS

Ben and Becky

THE YOUTHS

The Cousins Twins

THE "SEASONED"

Joffrey

THE LEGEND

Wanders

THE CURSED

Clint

»


scroll horizontally
"Okay, everyone! It's hot as balls and we don't have a lot of subs! Keep up with those electrolytes! You should be monitoring the color of your urine!"
"You see these guns? These guns gotta take some shots, brah. Sasha and Malia here are hungry for some visionary throwshizzles and…"
"No, this is great, actually! 90 degrees and 91% humidity… in weather like this a statistical specimen like Moose can really deliver some numbers."
"So, you're with us? You're signing on? You're gonna give it… one more year?"
"THE SKIES ARE CLOSED as Moose Johnson comes down with another HUGE interception." "It's almost unfair how good this guy is…"
"That throw was so hot, Becky." "I know, Ben."
"They carried the team this weekend, and they're not even halfway playing to their potential yet."
"Gather 'round, young ones." "Shh! He's clearly about to dispense some wisdom."
"I'm retired. I'm 42. I moved to L.A. to focus on my career and start a family. I promised my wife: no more ultimate."
"You don't want me. I'm cursed. You know about the curse, right?"
Ultiworld:
One More Year is a beach story, and that inclusivity of beach you were talking about — the gender stuff, but also that people come to it from different experiences in ultimate, maybe different physical capabilities, or remaining capabilities — opens up some interesting possibilities for the book.
Like, in being centered around mixed beach ultimate, you get to bring in a much less homogenous suite of major players than you might for a college team or a club team. There are characters from different playing generations, there are people who have other things going on in their lives, which is maybe a little different from other ultimate stories that focus more on people who look like the people writing them.
Praz:
I'm so excited about our cast of characters. I love them all. I hope that anyone who reads the book can pick out, like, "okay, here's this character Kate, I know like five people who are exactly like Kate." Or, that's this person in my life. You're going to be able to look at the different people you've played ultimate with over the years and you'll be able to pick out archetypes. I think it'll be fun. People are gonna like it.
And yeah, I think we do have that broader cast, and it is multi-generational — like, from the seasoned veteran who's been around forever to these 18-year-old twins who represent the next generation, who are just going to take the ultimate world by storm in a couple of years. So we have this age range, and also just the different kinds of players: the player with the absolutely goofy throws, the high-intensity defensive player.
Kemp-Gee:
As well as being a good cast of characters and a good story, I think we've created, like… a really good sort of self-help document for your team [Praz laughs] as far as being able to characterize all the different personalities on a team.
Ultiworld:
Like a field guide, a, how to approach this person, what to avoid when dealing with this person.
Praz:
Yep. Yeah. Exactly.

"I think it's a beautiful game, I think it's fun to play, [but] the people are what you keep coming back for — because they're the ones who can kind of bounce your weird enthusiasm back at you, you know?"
Ultiworld:
So, big question — what do you think "ultimate culture" is?
Both:
[reflective pause]
Kemp-Gee:
It's definitely working itself out into something different right now, but I don't know how to predict what that will be. I feel like we're kind of at a fork in the road [where] if ultimate achieves some people's dreams of becoming more mainstream, that could happen one way, and then on the other hand, it could become even more subculture-y, which is a very different path.
I kind of feel like ultimate culture is — it is sort of a culture for the kind of nerds who like something for stupid reasons to get totally into and, you know, put all their time and energy into. I think it's a beautiful game, I think it's fun to play, but a lot of the time, the people are what you keep coming back for — because they're the ones who can kind of bounce your weird enthusiasm back at you, you know?
Praz:
Yeah, yeah. That's good. I could start with what ultimate culture was to me, because I'm a lifelong jock, and yet I felt like I'd never quite fit in with the jocks, for most of my life. And ultimate was the first sport where I felt like I could really be myself — whether that meant being really, really queer, or really, really nerdy, or any combination of those things — while playing a sport. And so I hope ultimate is a sport where maybe the people who don't fit into other sports can find this weird culture where they can find themselves and be themselves.
However ultimate culture ends up evolving — in which of those directions it ends up going — I think is up to the people who play it, and I'm fine with that evolution going whichever way it wants to go. I just hope it's a place where people who historically haven't felt at home in sports can, you know, find friends and culture. And we've got to continue reaching out to a lot of different groups, too, and bringing them into that culture, and let them take it where they want to take it. They can be the drivers of ultimate culture as well.
Ultiworld:
I really feel a lot of that. Part of the reason I ask is that Contested Strip and what I've seen of One More Year both feel like products of that culture, and in some ways both love letters to that culture and commentary on that culture. Though maybe Contested Strip has a little more of a one-off observational quality, whereas something like One More Year is more of a narrative dive into what ultimate is to people, like, in their lives over time.
Kemp-Gee:
[One More Year] kind of surprised us both because Bacon's original idea for it was… much shorter. [laughing] It was like, a 22-page one-off. But as we started talking about the characters and the story, and started realizing how much there was to do, we were surprised by, I guess, the about-ness of it. We were like, oh, there's so much of ourselves in here, but also, as you say — you know, it's hard to put ultimate culture into words, but to me this book feels like all these different facets of that culture. Like, all these interesting dichotomies of how elite ultimate and goofy fun ultimate are often happening on the same field, in the same game, on the same team, at the same time.

And that's so hard to describe to people. To add on to what Bacon was saying about feeling like you could be yourself here, I had played a lot of sports before, but ultimate was my first team sport. And [at first] I was like, oh, is this what team sports have been like all along, and I've just been missing it?
And like, no. No. But I felt like I had found a group of people where you can be all sides of yourself — like, you don't have to be afraid of looking silly, or good at the sport in weird ways. I'd always felt like I had to keep a lot of myself inside to keep up a veneer of being, like, the athlete, and keep my fun side and my creative side away from that.
"Ultimate was the first sport where I felt like I could really be myself — whether that meant being really, really queer, or really, really nerdy, or any combination of those things — while playing a sport."
Ultiworld:
If I can throw a take at you, I think a lot of what you guys have done with the strip and now in the graphic novel is part of a tradition of creative projects that reflect the culture, but also create the framework for what that culture is. You know what I mean? Like, to the extent that there is an idea of "ultimate culture," a lot of it is in these touchstones that people have taken the time to make into a set thing that we can all kind of read together, share together, recognize ourselves in. I think there's value in that, sort of a way of keeping the flame alive.
Kemp-Gee:
Yeah, I think it works as that kind of snapshot. And with the graphic novel, we've also tried really hard from the beginning to, not only hold up a mirror where the ultimate community can see itself and laugh at itself, but make it a product that non-ultimate players can read and enjoy. Even if you've never heard of ultimate, at every page, we've tried to write it so that you can pick it up and be like, these people are doing this [unfamiliar] thing, but that doesn't matter, same thing as if you'd watch a sports comedy for a sport you don't play.
Ultiworld:
Or like that one French football player who had no exposure to American football but read this sports manga about American football and was like, this is my sport now, and then grew up and went to play football at Purdue.
Kemp-Gee:
Exactly like that.
Praz:
That's what would be ideal, if we, like, what, ten years from now? Find out we inspired a bunch of people to play ultimate because of our weird graphic novel.
Kemp-Gee:
I legitimately hope that we can do that. Or at least — you know, it's not just helping more people who don't play ultimate understand what it is, but I hope we can shape the wider culture's perception of ultimate, at least for anyone who reads the book. Because yeah, we think fans of sports manga and sports comedies and comics in general will really like this book when we can get into their hands. It's for that wider audience, too, you know?

"In terms of interrogating ultimate's whiteness and maleness and like, the character who's often at the center of ultimate stories — whether they're real or made up — our story kind of is about that."
Ultiworld:
One thing I think about a lot, as someone whose attachment to ultimate is largely about that culture, is that a lot of the other mirrors that community has held up to itself — memoirs that have been published, writing people have done online, podcasts people have had, all the stuff that sort of purports to define what ultimate in general is as opposed to, like, what happened at this one specific game — that's a canon that, whatever the actual ultimate playing population is, has tended to be driven by a certain kind of straight white cisgender dude.
Is that ever on your minds? Just, what's it mean for us to be making that culture — both for people in the sport and outside it — as not, you know, a party of a bunch of dudes.
Kemp-Gee:
Our book is about that white dude. Like, he's the main character.
Praz:
I think pretty intentionally.
Kemp-Gee:
Yeah. I think we want to be realistic about what that part of the ultimate community is, both in our experience and in general. And for people who aren't dudes, I think we've written a pretty good character study of that. I don't want to say too much—
Praz:
Yeah, we don't want to say too much!
Kemp-Gee:
But in terms of interrogating ultimate's whiteness and maleness and the character who's often at the center of ultimate stories — whether they're real or made up — our story kind of is about that. So, maybe it is about the future of ultimate and where it could go next in that way.

I will say, I know representation is a contentious issue in art, and I'm not sure how I feel about it personally. I actually do kind of want to hear the criticism on this book once people read it. Like, I want to know how well we pulled that off, in the end.
Praz:
Yeah, it'll be interesting. I think there's going to be — I mean, I think it's a valid criticism, honestly, but I think we're doing it in a different way because we are two women who are writing from this male perspective, which I think is always going to put a different spin on it, and an interesting spin on it. And I don't know, I mean, there's so many other characters, too. I don't think you're going to walk away from it being like, oh, Clint is my favorite character.
Kemp-Gee:
[big laugh]
Praz:
That's — most people are going to relate to somebody else, I think, when they read it. But it'll be interesting to see how the community is going to react to it. I mean, I think there is going to be a certain part of the audience that, no matter what we do — and again, it's a valid criticism — they're gonna be like, why did you pick a white guy?
And you know, that's fine. We'll take that. That's fair. But I think that we're doing it in an interesting way, and I think we're aware of how readers will see that. And we're kind of taking that issue head-on.
Kemp-Gee:
There's never been quite this kind of long-form fiction project about ultimate, on this level. And I think that, with our basic white boy protagonist, I feel an immense sense of like… power I'm eager to wield [Praz laughs] in terms of like, being the person who gets to tell that story on my own terms. [laughing] Maybe that's kind of perverse of me. But yeah, I do feel kind of excited to be the one who gets in to tell that story before a guy does.
Praz:
And representation matters. It's so important to me because — again, growing up as a queer woman and not seeing myself reflected in media pretty much my entire life until recently, yeah, representation matters. It's always going to matter, no matter what I make. So even though we do have this white male protagonist, the representation is so incredibly important that it's going to be there — and not just for myself and queer people, but other groups that haven't traditionally had that representation. Or, you know, we're going to do the best we can as white women, and if we don't do it right, we don't do it right, but I'd rather try and fail than not do it at all. So that you can count on from us, I think.
.

Interview edited for length and clarity.
If you enjoyed this article, consider supporting all of Ultiworld's coverage by purchasing a subscription.