A history of the past decade and a half in the sport, this is a coffee table book worth owning.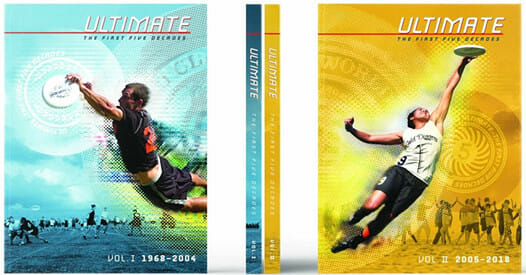 Disclosure: Ultiworld was compensated for this review, though all opinions are those of the author. This post was written by guest author Tyler Kinley.
Some of the best memories of ultimate come not from the game itself, but from the recounting — sharing stories with friends on a beach, by a campfire, in a cramped van, at a chinese buffet, in an overpacked hotel room.
A new book, Ultimate: The First Five Decades (Vol II) — like its predecessor, originally released in 2004— evokes the same joyful nostalgia present in the very best of those recountings. Except instead of your just swapping stories with your teammates, you're sitting with some of the old guard who were around 'back in the day,' narrating the crazy history of this game.
And it's true: this sport's history over the past 15 years really is crazy.
The college division was almost stolen from USA Ultimate by a couple of motivated tournament directors! In a Club National Championship final, a team came back from being down 10-1 to win! A guy sold franchises on Craigslist, only to wind up founding the biggest semi-pro ultimate league of all time!
Ultimate: The First Five Decades (Vol II) covers the evolution of the sport during the thrilling and tumultuous stretch from 2005 through 2018. Over 200+ beautifully written and designed pages, the book captures the most critical high-level developments and on-field results during a period that saw ultimate explode in participation, visibility, and organizational complexity.
The writing in the book does well to be varied, yet unified. Publisher Joe Seidler — who tirelessly maintains an ultimate history website on top of shepherding this book project — has done an excellent job finding knowledgeable and engaging writers, with different styles and strengths. Reading chapters from notable community luminaries Michelle "Chip" Chang, Robert "Nob" Rauch, Dan "Stork" Roddick, and other such informed influencers with nicknames, you can appreciate that their expertise on how things actually happened is not simply the result of scholarly research, but hard-earned by working in the trenches as decisions were made. I also appreciated the chapters from of talented wordsmiths Kevin Cramer and Kyle Weisbrod, who excel in telling the story of the last decade and a half by blending thematic broad strokes with dutifully researched details and anecdotes. Steve Sullivan has edited the book masterfully to unify all of the varied voices to form a cohesive feel. And frankly, given old ultimate players' proclivity to wax nostalgic, I can only imagine editing down a Weisbrod piece to be a herculean task.
The chapter layout is worth noting as well. To tell the history of ultimate requires forethought, planning, and hard decisions about how to organize the entire narrative, and the book does this well, finding themes of eras, dominant conversations, and changes to the sport. Many of the current questions and conversations of our present day — say, discussions of equity or of pro ultimate's place in the sport — are best informed by reading the backstories provided by this book. I can only imagine the elevated dialogue that would come from a thorough reading of this tome.
Diving in a bit further, the book is far more the just the writing. Aesthetically, I was very impressed with the font, design, color, and layout choices. This is a subjective matter, of course, but there are over 200 pages, and each one has clearly received its due attention. Furthermore, it adds to its accessibility to be able to open up to any page and immediately find something to enjoy, be it a highlighted phrase, a series of photos of old ultimate frisbee books, or an impressive layout.
I'm an amateur photographer, as is pretty much anyone with a decent phone these days. One thing that's consistently impressed me is the explosion of outstanding photography coming from amazing ultimate photographers, and this is very much on display throughout this book. Flipping open to any page, and you're gifted with a window into that moment of ultimate. You'll likely recognize faces, often recognize specific plays, and even connect with some of the sport's stylish history. I remember the first time I saw photos from the Rose Bowl performance — how in the hell did I not know that ultimate was played in front of a filled stadium in 1976? Coffee table books are meant to impress for anywhere from a moment to an extended stay — Ultimate: The First Five Decades (Vol II) accomplishes the former with photos, and the latter with prose.
The book really is like kicking back with old buds and reminiscing. And there's a certain holistic feeling that comes with connections to your sport's history; it is similar to attending a collegiate alumni event, and seeing that older players are also just like you — and someday you'll be them, fondly chatting up a younger version of yourself. The importance of the current moment, its frenetic energy and feeling of demanding necessity, can often be better understood and tamed with an eye to history. There have been a lot of champions; they've got stories to tell and, more importantly, lessons to teach.
Buy this book. And it's companion, Ultimate: The First Five Decades (Vol I), which has been reprinted to accompany the sequel. I'm serious. Think of it like buying a lifetime USA Ultimate membership — it may seem expensive at the time, but year after year you end up kicking yourself for not doing so earlier as you keep coming back. With a book like this, you may never get another chance.
You will thank yourself. This book will sit handsomely on your coffee table, and randomly opening it will consistently offer an interesting tidbit about this game you'd never known before. The older you get, the more you realize the importance of history. Think of it as reading the story of those who came before you, and imagine future readers buying Volume III, or Volume IV, and reading your own story.
This is our history, in prose and pictures, both beautifully composed and printed. It's worth owning.
You can purchase a copy of Ultimate: The First Five Decades (both Vol II and the reprinted Vol I) here. There will also be an online only Vol III ebook — with chapters cataloging the history of the disc, rules, and Ultimate Hall of Fame — released this summer.