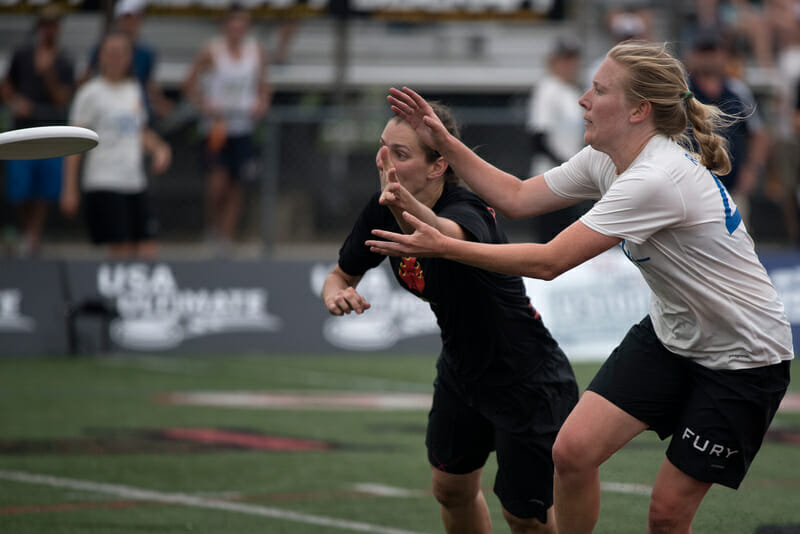 WEST CHESTER, OH — San Francisco Fury avenged a blowout pool play loss with a thrilling 14-13 double game point victory over Seattle Riot to win the Women's Division at the 2015 US Open.
The highly anticipated matchup between the top two ranked teams in the country was as exciting as advertised. Neither team ever led by more than two and the lead changed hands five times as the teams traded back-and-forth blows.
"It easily could have gone either way," said Riot veteran Gwen Ambler.
Unlike in their pool play game in which Riot stormed to a stunning 8-1 halftime lead before watching Fury make a 7-2 run to surge back into the contest, both teams played a complete game. There were four breaks in each half — two by each team — and ultimately it finished on serve.
After some early holds, San Francisco's defense struck first with a huck from Kaela Jorgenson to Sarah Carnahan, who skied a pile of players for her first of four goals to give Fury a two point lead at 3-1.
Riot answered right back with a 3-0 run. Riot rookie and 18 year old rising college freshman Jaclyn Verzuh, who had a very good game, saved possession with a nice layout catch on Riot's offensive hold. Then a Fury turn led to a Lauren Sadler huck to Jillian Goodreau, who bodied out her defender for the break. Another sloppy offensive point from Fury opened the door for Kelly Johnson to hit Rachel Bradshaw for Riot's first lead at 4-3.
Riot had a chance to keep it going after a long, turnover-filled point, but Fiona McKibben picked the wrong throw — an outside-in blade — in the red zone trying to hit a wide open Dominique Fontenette; the throw hung just enough for a Fury defender to catch up and make the block. Fury worked it down and Alex Snyder found Carolyn Finney for the huge hold to tie the game at four.
Fury went back out in front late in the half with some textbook swing-swing-score offense in the red zone after the Riot turnover. They took half 8-7.
Riot scored the first two points out of the break to go back in front. Fury's Cree Howard made a poor throw to an in-cut in her own half; Johnson, who was Riot's most effective handler with five assists, punched in the go-ahead score to Charlie Mercer.
Fury made what would prove to be the decisive 3-0 run two points later. Alden Fletcher bombed a huck to Carnahan just past a diving Mercer. Fontenette threw it away the next point, and Finney launched a huck to Liz Duffy for the break and the 11-10 lead. Diana Charrier got a nice block on an upline cut on the ensuing Riot possession, leading to an Anna Nazarov to Marika Austin connection.
Despite Fury's two goal edge, it felt certain the game was headed for double game point. With Riot down 13-11 and Fury facing three shots at the win, Seattle made it happen.
Johnson found McKibben for her third goal after some excellent offensive flow to get back within one. Then a multi-turn point, sparked by a bad reset pass from Maggie Ruden, ended in Riot's favor after a pretty give-and-go sequence up the right sideline.
Even double game point was more thrilling than most. Riot's defense pulled to midfield and blanketed all cutting options. After a stall nine hammer from Snyder worked, a reset pass from Darragh Clancy did not. Riot took a timeout. They worked to about 15 yards out when McKibben was called out of bounds when her foot was on the line on a routine catch.
Fury took advantage, as Snyder put a backhand into the end zone for Ruden and the win.
"It felt really good to have a little redemption there [after pool play]," said Snyder. "It's not often you get to do that. It was a good win."
It could hardly have been a more balanced game. Ambler, now in her seventh year on Riot after playing eight seasons with Fury, has played in more games in this rivalry than anyone.
"I feel like right now both teams have done a lot of work with each other in mind," she said. "I think that the mental preparation and the physical preparation and strategy is really evenly matched."
It may have been the mental preparation that so separated the two games the teams played this weekend. Fury's new head coach, Kevin Cissna, talked after the game about how the only major adjustment after pool play was in the mentality approaching the game.
"The way we prepared was focusing in on that first game to three, even just the first point of the game," he said. "It was just playing our game and showing that we were gonna battle the whole game."
Both teams come away from the weekend with just one loss — to each other. After two seasons of Washington DC Scandal dominance, could we return to the classic Fury-Riot National final? Maybe, but there are a lot of teams right on their heels.
"I think this season is shaping up to be quite a battle in general," said Snyder. "It was awesome to see a lot of the teams play really close games. We battled against Brute Squad yesterday. [Riot] battled against Traffic. I'm super fired up to see across the board all the teams are bringing it. It's gonna be a great season. I'm super fired up."