You can do more than just watch the games.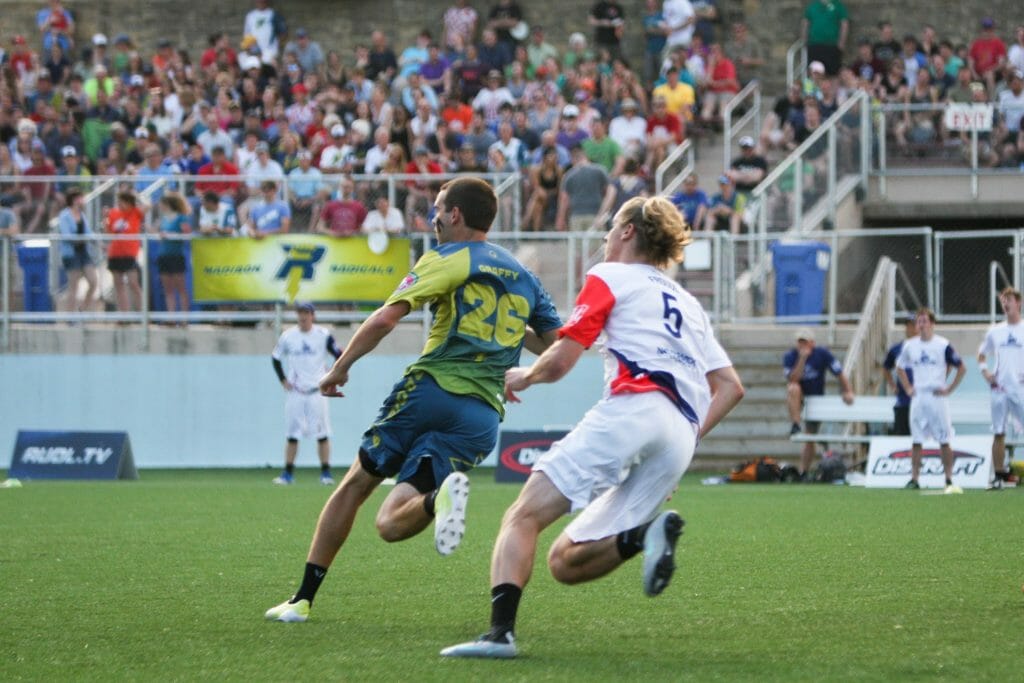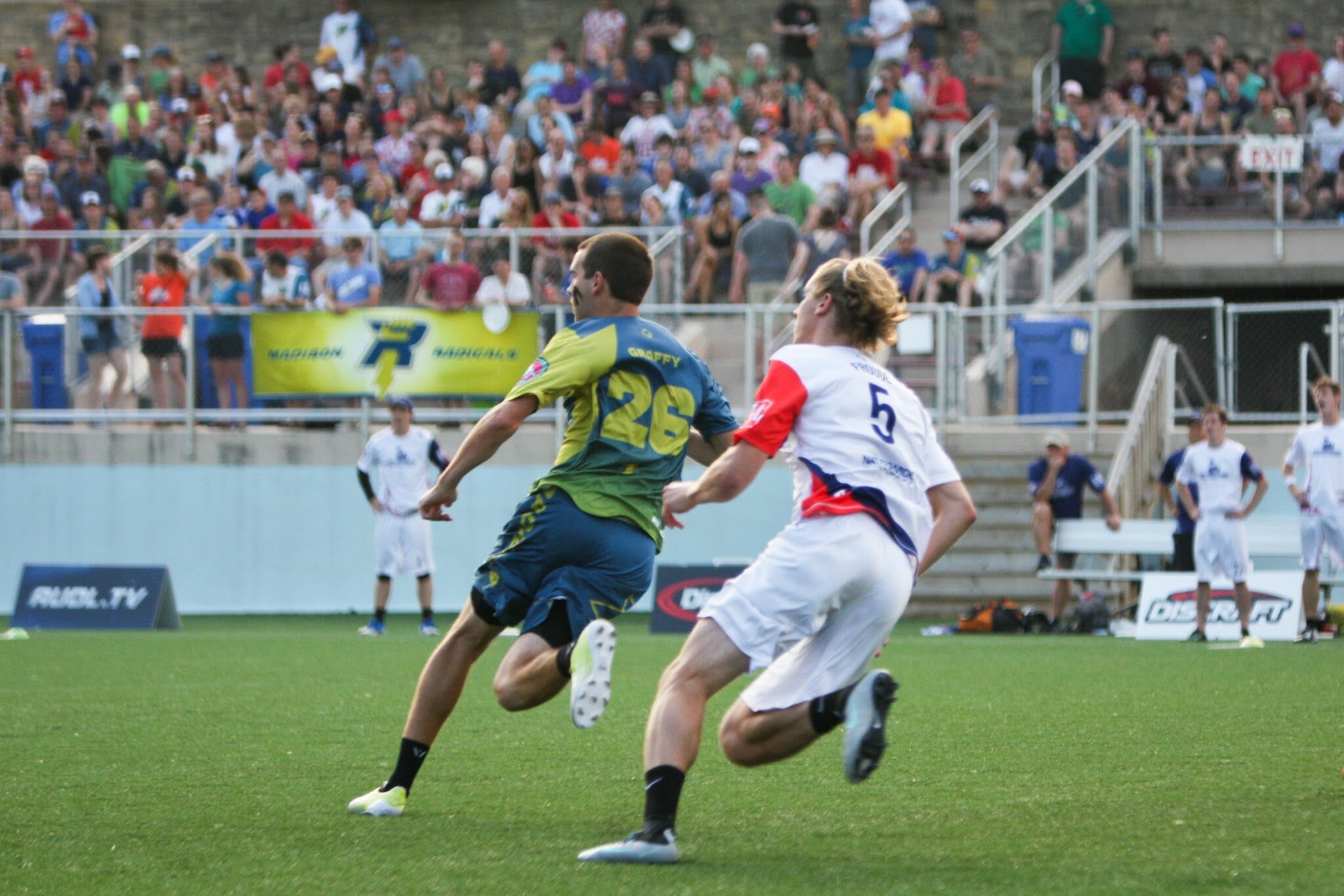 Fantasy sports have long been a pastime of fans looking for a way to get more involved with the sports they love. It gives you a way to compete against friends in a way that also lets you feel like a general manager. They give us a reason to care about games we shouldn't and to never turn off the TV until the final whistle blows.
The AUDL threw its hat in the fantasy ring this season with a new fantasy app that pushed fans to create leagues with friends or strangers, have drafts, and compete for the fantasy title.
I joined a league filled with strangers and was skeptical to start things off. The draft was far from smooth, and I didn't really know what I was doing. As the season went on, I developed strategies, found sleepers, and enjoyed the league just as much as I enjoy my fantasy football ones. Eventually a GroupMe formed and our league of AUDL fans from around the country were talking smack about games every weekend. It's been a truly unique experience that has turned into real life connections, with several players meeting up at various tournaments around the country. The league was also great for learning about players in other communities and made me care about watching games that my local team wasn't involved in.
It's not too late to get in on the action! You can play fantasy ultimate this weekend (iOS only). The AUDL is offering a cash prize to the top three finishers — $250 for 1st, $150 for 2nd, $100 for 3rd.
The Rules
This weekend is a little different than most weekends in the AUDL fantasy season. This weekend, you're given a budget of $100 — each player has a certain credit value and you'll have to craft your team within the budget.
Goals, assists, and blocks are each worth 10 points. Touches are worth a point. Callahans are worth 40 points. Turnovers are -10.
However, those scores can be amplified based on role.
The captain role gets +20 for goals, +40 for blocks, +80 for Callahans, but a brutal -50 for turnovers.
The handler role gets +5 for goals, +20 for assists, +0 for catches, and -20 for throwaways.
The cutter role gets +20 for goals, +5 for assists, +0 for completions, and -20 for drops.
The defender role get +5 for scores, +40 for blocks, +0 for touches, +60 for Callahans, and -5 for turnovers.
The Strategy
Barring some crazy circumstances, the winner of this week's contest will have a roster full of players from both semifinal-winning teams. So if you think you have a handle on who's going to win each game, load up on players from each of those teams and hope you're right. You want as many players playing two games as possible.
Find value. The way players are ranked isn't an exact science, and you will be able to find diamonds in the rough that should score in bunches but also be available at a bargain price. Some very talented players have low prices thanks to the fact that they've played fewer games.
Players To Consider
Los Angeles Aviators
Los Angeles at full strength is a scary team. They have some guys who have only played a few games this year but are rostered. If those guys show up, I love LA's chances and I love their fantasy value.
Sean McDougall ($30) – The most expensive player of the weekend. He's going to get his points. LA is going to have to win for him to be worth the hefty price tag. Pair him with Chris Mazur and watch the scores come in.
Chris Mazur ($12) – Good value here. His stats are a little low due to only playing 11 of 15 games for the Aviators this year, but when he's in, he's easily worth his price tag. I expect him to play and put up numbers for the Aviators.
Tom Doi ($6) – In six games played, he's absolutely racked up the stats. 14 assists, 6 goals, and 10 blocks. He's going to be a risky play. If he plays, he's an absolute steal, but he's only suited up for six AUDL games this season. If LA puts out a roster before the weekend and he's on it, feel very comfortable putting him in; if not, tread lightly.
Eli Friedman ($6) – Like Doi, Friedman hasn't been rostered in most games this year, but at this value, if he plays, he's an absolute steal. If he's on LA's roster, feel very comfortable adding him to yours.
New York Empire
Dallas has the big men to match up with New York, but the Empire have been on a roll of late and I think their stars will put up a lot of points win or lose.
Ben Jagt ($18) – Jagt has been described as a volume shooter. He'll throw a ton of assists and score a ton of goals. If New York beats Dallas, he might be the best value available.
Jeff Babbitt ($16) – Babbitt is going to do a little bit of everything this weekend. Plug him in on defense and he'll get some blocks, but also add in a lot of opportunistic goals.
Beau Kittredge ($15) – Statistically speaking, Beau isn't worth the credits. But Beau doesn't lose in the AUDL playoffs. He's 14-0 in the AUDL playoffs, and if he wants to keep that streak going, he's going to need to have a couple big games. If you believe in Beau, give him a shot.
Harper Garvey ($10) – I don't like Ben Katz's value at $24, especially since you can get Garvey who's only thrown four fewer goals in the last five games for $14 less. Garvey's an interesting sleeper; he had a big weekend at the US Open and will look to have another one in Madison.
Madison Radicals
Peter Graffy at 23 credits is a strong play here. Madison has a few other guys who may work on defense, but I'd shy away from most of the Radicals because they are such a deep, well-rounded team.
Peter Graffy ($23) – He'll do a lot of everything, and if Madison is going to beat LA, he's going to play a big role. The strongest play on Madison in my opinion.
Kevin Brown ($6) – Ridiculous value. Kevin Brown hasn't played in too many games this season, but do not doubt that he will be on the field a ton for the Radicals this weekend. He had three goals and three assists in their playoff win over Indy. If you think Madison will make the final, this is crazy value.
Dallas Roughnecks
Probably the strongest chance of playing two games this weekend. Full of offensive firepower. Expect a lot of teams to be stacked with Dallas players looking to get double points for the weekend.
Jay Froude ($26) – Jay will play a tough New York defense with a lot of athletic defenders, but expect him to get his points, as usual. He's torn it up all season and expect that to continue here.
Dalton Smith ($17) – Fantastic value if you believe Dallas will play two games. He's a flexible start and can fit your roster as a handler or a cutter.
Thomas Slack ($15) – With 24 goals and six assists in the last six games, Thomas Slack is an interesting pickup as a cutter. He'll be valuable if Dallas makes the Championship game.
Brandon Malacek ($10) – Dallas' assist leader at $10 is a steal if you think they'll win both games or not. This is an easy pick for me.