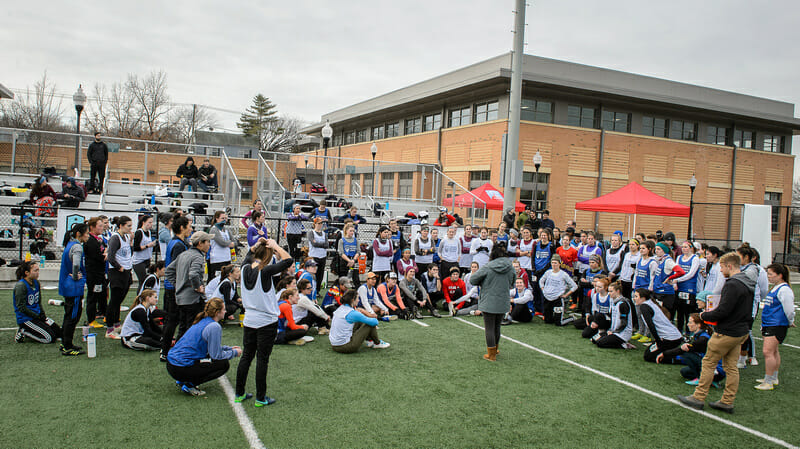 Our 2020 coverage of the Premier Ultimate League and Western Ultimate League is sponsored by Five Ultimate. Find out how you can get $50 full subs this month at FiveUltimate.com, a proud support of womxn in ultimate.
In less than two short months, opening pulls from the Premier Ultimate League (PUL) and Western Ultimate League (WUL) will go up to showcase talented women's and non-binary players from around the country.
This year, the PUL will include the eight original franchises and four new additions, while the WUL will feature six novel teams.
The tryout and selection process is finishing up as each team attempts to put together its best possible roster for the 2020 season. Here is an inside look into the process of creating a professional women's ultimate team.
People came out in droves
The number of people attending tryouts for each team was impressive: many teams had over 100 players show up, including DC Shadow, Indy Red, Milwaukee Monarchs, New York Gridlock, and Portland Rising.
"We were floored by the outpouring of interest," said Monarchs captain Katy Stanton. "It was a huge statement that our communities are ready for the Premier Ultimate League and ready to support womxn's ultimate."
Leadership also noted how happy they were about the geographical diversity of their attendees. Car-fulls of people from out of town and sometimes out of state arrived at the fields eager and ready to compete; Indy Red's tryouts featured players from Chicago, Michigan, St. Louis, Cincinnati, Louisville, and Indiana, while New York Gridlock welcomed five cars worth of players from Philadelphia. Columbus Pride hosted tryouts in Columbus and Cleveland and participants showed up from Pittsburgh, Detroit, and Cincinnati, while Minnesota Strike had people representing 7 different states.
Portland Rising faced a snow and ice storm one night of tryouts and so they cautioned their players about travel and noted that leadership would be understanding if someone couldn't attend, but instead local Maine players hosted the out-of-staters and not a single person missed the tryout. Meanwhile, Utah Wild tallied up the distance their players travelled to attend and it summed to a whopping 15,000 miles. Players came from all over the Mountain West, including from Colorado, Montana, and Idaho.
The energy was electric
Three words have been used frequently to describe the atmosphere of tryouts for PUL and WUL teams: competitive, empowering, and positive.
Players showed up ready to work and impress and did so in a competitive way that was not at the expense of their potential future teammates. Athletes were lifting each other up and cheering each other on. Some players even said that it was the most fun they had playing ultimate in years.
"From the moment everyone stepped on the turf, we tried to set the tone by emphasizing the celebratory nature of the event," said Allison Maddux, head coach of DC Shadow. "We wanted to place the tryouts in the context of the moment for womxn in sports, for DC ultimate, and as a testament to the interest level and commitment to what the Premier Ultimate League stands for."
Teams made sure to set the tone for the season at tryouts and players happily obliged. "One of the core values of Rising is to value every person for what they bring to the team. This starts at tryouts," said Portland Rising co-owner Chloë Rowse. And valuing every player was easy for leadership when every single person was working hard and encouraging each other to succeed. San Diego Superbloom can already see the road to the season being paved with excitement thanks to the foundation laid at tryouts. "We're pumped about the energy and positivity that tryout attendees brought, and are planning to build off of this momentum for the rest of the season," says Corey Atkins, president of the San Diego Superbloom organization.
Exciting (and surprising) attendees
Beyond the geographic diversity of tryouts, there were also some other surprising attendees. Utah Wild hosted people who were pregnant, under 18, and people who were trying out for multiple teams during the same weekend. Meanwhile, over on the east coast, Portland Rising welcomed players who covered a large range of ages, including 17-year-old Emily Pozzy, BE Block of the Year finalist, and 63-year-old Lisa Lane, who learned of the tryouts from a Portland newspaper. "I'm addicted to disc, but I really don't know how to play ultimate," Lane told the Press Herald. "It's totally new to me. And throwing to dogs has made me very one-sided."
Some teams got to enjoy having fans in attendance as a part of their tryout process. DC Shadow enlisted players from men's and mixed club teams to assist with registration and setup, and once tryouts were underway, a couple dozen stayed around to cheer on the players. The Arizona Sidewinders had no shortage of volunteers arrive who assisted with both the logistics and the excitement of the tryouts.
Making cuts
The unfortunate byproduct of amazing tryouts is really difficult decisions. When every player leaves it all on the field, the selection process is all the more challenging. Following their first tryout, Los Angeles Astra sorted their attendees into tiers and during the process were floored by how much talent was present.
Atlanta Soul tryouts consisted of two open tryouts and one invite-only session, but, even still, the choices are not easy.
"There are a lot of very skilled, talented, hard-working athletes who are showing up from all over the Southeast," said Angela Lin, co-owner and co-founder of the Soul. "They're bringing it and making the selection process really challenging."
Rachel Yeager, co-president of Austin Torch, said their coach noted that their tryouts were the most competitive she's ever been a part of, and selecting the roster led to a rough couple of nights of sleep.
Choosing the team is not about talent alone, though. Nashville Nightshade's Colleen Callaghan noted that other aspects have to be considered. "Because the season is so short but demanding, availability ends up playing a huge role," she said. "If someone cannot make 2-3 games, that will hugely factor into their ability to make the roster no matter their talent."
The Los Angeles Astra also recognize that professional ultimate is not the same as college or club. "Unlike club, pro ultimate is a business and relies on the fanbase, marketing, and sponsorships to be financially sustainable," said Astra owner Felicia Yang. "This means that part of the selection criteria for roster spots is to take players who can contribute to the team on the field as well as from a business perspective. We want players who are excited to spread the word about our team and bring friends and family, particularly those unfamiliar to ultimate, to see our games."
2020 is looking bright
This year's PUL and WUL seasons are lining up to be everything you'd hope for in professional leagues. Leadership, players, and fans alike recognize that this year is a momentous occasion for women's ultimate and sports in general. Some WUL teams have already announced their rosters; the PUL is coordinating a full league roster release on Monday, March 2nd, in conjunction with the launch of their player sponsorship program.
Teams noted that if the taste they got from tryouts was any indication of the hype and excitement they would experience in 2020 then the future was looking promising.
Helen Eifert, Arizona Sidewinders co-manager, put it simply: "We left the people wanting more!"