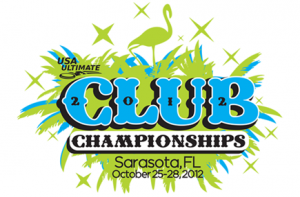 Notable results from today's third round:
Arguably the most anticipated match-up of the first day of pool play, the game between #4 seed Doublewide and #5 Johnny Bravo did not disappoint. In a rematch of the South Central Regional finals, Doublewide came out on fire early, going up a couple of breaks to take an early 6-3 lead. Johnny Bravo wouldn't go down without a fight, though, scoring quickly on their next offensive possession and then following it with two consecutive breaks to take the lead, 7-6.
The game looked like it could go either way as the teams traded points after half time but a huge layout D by Dalton Smith — the 2012 South Central Region Freshman of the Year from Texas A&M — and his subsequent goal turned the momentum clearly in Doublewide's favor.
The team from Austin would go on to win the game 15-12, completing their flawless first day in Sarasota and showing they deserved the one seed in their pool.
---
Although both teams were already facing the bottom power pools tomorrow, the match-up between Washington DC's Truck Stop and New York's PoNY turned out to have bigger implications on the weekend. Already without one of their captain's — Ben van Heuvelen tore his ACL at Regionals — PoNY may have lost another. Jack Marsh, considered among the best players in the country, appears to be out to an apparent calf injury.
That gave Truck Stop the opening they needed to take a game that was tied late at 9-9 and grind out a 15-13 win. While the game ended up giving Truck a slight advantage in seeding tomorrow, it set PoNY back in a big way. For a team that suffered three tough losses — each of which could've easily gone the other way — on the day (reminiscent of their Emerald City Classic performance this season), it will take a big effort from the PoNY depth players for them to survive until Saturday.
---
Portland's Rhino survived a big scare from Palo Alto's Boost Mobile, the last seed at the tournament. Rhino jumped out to an early lead, but Boost closed the gap late and pulled even at 10-10. Boost tacked on two more breaks to go up 12-10. But Rhino battled back to get even at 13s, and, after another break, received at 14-14, universe point. Rhino got the win 15-14, their second of the day on double game point, to advance along with Ironside to power pools.
---
With a 15-12 win over Boston's Slow White, Minneapolis' Drag'N Thrust finished up a great day in Sarasota, winning their very difficult Pool D and heading into tomorrow with a perfect record. Thrust won their three games by a total of 7 points — that's a good indicator of the parity in the group. In the bottom half of that pool, American BBQ cruised past a mentally drained Mental Toss Flycoons team that had just lost on universe to Thrust.
---
Fury, Riot, and Scandal all easily beat the two seeds in their respective pool and looked composed en route to tomorrow power pools. Showdown was the surprise in the women's division, winning their pool from the twelve overall seed with an easy victory over Nightlock in the third round.