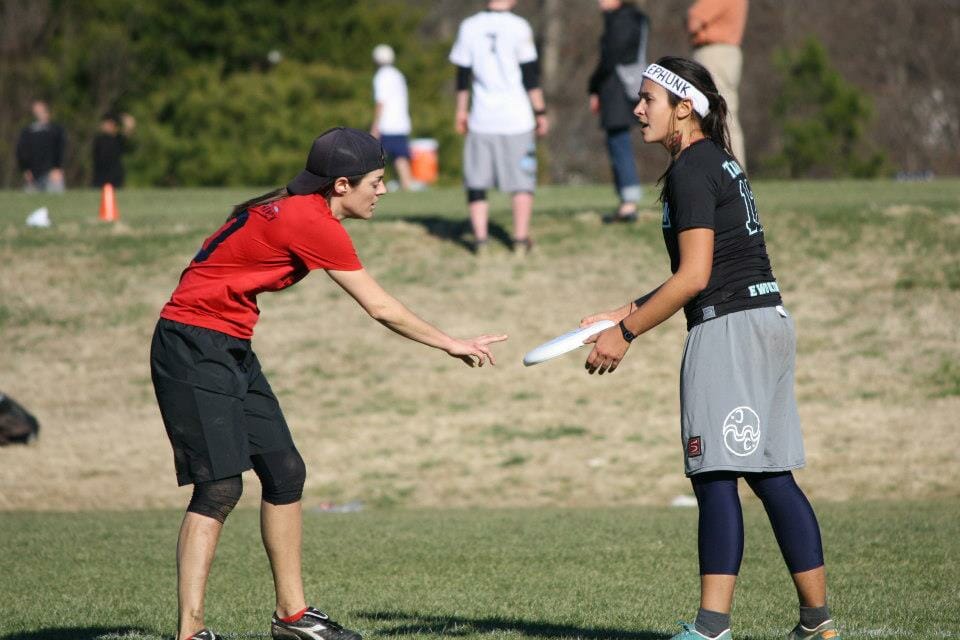 There's a lot to fear in Pool D, which has three legitimate title contenders. Top seeded Iowa is the #4 seed overall, only a spot ahead of Tufts, at #5 overall. The reigning Women's Division Champion, Washington, isn't much further down at the #9 seed overall.
Texas, a team reborn in the postseason with a flush roster, is the #4 seed in the pool. College Championships mainstay Ottawa is a Regional champ that doesn't plan on rolling over as the #5 seed in the pool, and last in the tournament. Tufts is the trendy pick to take the pool, and with good reason after last year's incredible run and a strong 2013 season. The battle between Tufts and Iowa should be exciting as they are arguably the two most complete teams in the field. Predicting this pool is a bit of a crapshoot.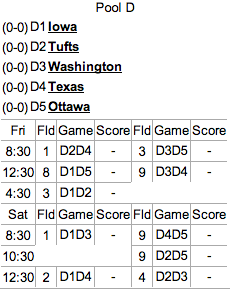 Iowa's Strong Year Has Them Confident In Madison
Stars to Watch: Chelsea Twohig, Liza Minor
X-Factor: Audrey Erickson, Beckah Hickernell
Iowa Saucy Nancy is no stranger to being a top seed. For the past two years, they've begun as a top eight seed and made it to quarterfinals, only to lose to Oregon. Prior to that, they hadn't qualified since 2006. Last season's loss was brutal, coming on double game point. After performing like one of the nation's best all season, just getting close to the title won't be enough.
This season has been Iowa's strongest ever. With the North Central Region stacked with talent, just competing and succeeding in the region would be impressive. At Queen City Tune Up and Women's Centex, however, Saucy Nancy had nice wins. Ohio State, Tufts, and Virginia are among their out of region victims, and they've beaten every top team in their the NC except Iowa State. They've only lost once out of region (to Colorado, and without their star player), and have only lost one game by more than three points (Minnesota). This is a team that is ready for the big time.
At the forefront of Iowa's strength is a duo of versatile playmakers: graduate student Chelsea Twohig and senior Liza Minor. Twohig has a higher profile, an athletic handler that is tough to stop from getting resets, getting off the breaks she wants, and who can be a headache defensively. Minor spends more of her time downfield, often the initial target for Twohig after she picks up the disc. She's a crafty player that has a penchant for taking small windows of opportunity and getting very open. Saucy Nancy has the depth to compete, however. Senior Jen Nowak is an experienced downfield target who is particularly adept in the air, while senior Audrey Erickson is the type of cutter that isn't afraid to make a spectacular grab. Add in senior Beckah Hickernell, a respectable thrower in her right, and you can see what makes this team a challenge. Their roster lacks for weak links.
What also sets them apart is their discipline, strategy, and coaching. Mikey Lun has this team looking very comfortable in a variety of offensive and defensive sets. Whether it is a spread, side, vertical, or horizontal stack, they all seem to know where to be; they also have multiple zone looks. Few teams play the chess game of playcalling better than the Lun-led Saucy Nancy. Combined with their talent, they may be the most versatile squad in Madison.
2012's Cinderella, Tufts, Is A 2013 Contender
Stars to Watch: Claudia Tajima, Hailey Alm
X-Factor: Emily Shields
Tufts Ewo was one of the darlings of the 2012 College Championships, going from the 4th seed in Pool D to a point away from making the Championship game. This was all the more impressive, considering it followed in the footsteps of a 2011 Championships where they managed just one win. After a string of absences from the tournament, they've risen over the past few years, and this season have been considered a contender from beginning to end.
Tufts put together an impressive 12-3 record at Queen City Tune Up and Women's Centex. Along the way, they grabbed wins over Ohio State, Virginia, and two over Wisconsin. The New England Region champions are 11-2 against the field, including their Conference & Regional Finals wins over Northeastern. Coach Sangwha Wong has had time with these players, who've been building a fantastic chemistry and culture that's sparked their resurgence. "I would say that the chemistry and connection between Claudia [Tajima] and Hailey [Alm] is pretty unique," said Wong. "They've been playing together for 4 years and they have something together that you can't teach or coach."
Those two would be a real handful even without years of playing together. Tajima, the team's Callahan nominee and a shortlister for the award, is affectionately known as "Zilla". Opponents probably don't find it as cute when she is wrecking them like a monster trouncing downtown Tokyo. She's a strong handler and the most aggressive element of a potent Ewo offense. Alm's a tall, versatile, and smooth downfield option who could just as easily handle. Few players are as consistent as Alm, who borders on mistake free.
The two don't work alone. Sophomore Qxnha Titcomb has burst onto the scene, a tooth and nail defender and athletic cutter with advanced experience as a juniors player. Junior Emily Shields makes all the grabs you swear she couldn't while freshman Laura Fradin's arrival has given them a fantastic secondary handler option. Players like freshman Jojo Emerson, an offensive cutter, make sure the drop to their depth is small.
In classic Boston fashion, and perhaps from Ironside coach Josh McCarthy's influence, Tufts is a team that relies on strong disc movement and often plays without a static dump. They prefer to bring a downfield player into the backfield later in the stall count to avoid yardage losses. In cases where they do have a static dump, they'll often make earlier yardage gaining upline cuts, leaving the backfield space for a downfield player to fill. Ewo becomes particularly difficult to stop in the red zone with this style of play.
Reigning Champs Washington Rebounding From Tough Regionals
Stars to Watch: Amanda Kostic, Lucy Williams
X-Factor: Barb Hoover
For each of the past five years, Washington Element has qualified for the Championships, but last year marked their first time winning the crown. For a program that has risen through the ranks to one of the game's elite, it isn't expected to be the last. In 2011, they were in this same #3 seed in Pool D and finished where they started in 9th. The standards are higher these days in Seattle.
This season hasn't exactly been a typical prelude to a repeat. Element's 10-4 record doesn't reflect that of the dominant teams competing for this year's title. They've played some tournaments shorthanded, ran some open lines, and ended up taking sizable losses to UC-Santa Barbara and Wisconsin. The talent is there, and it earned them wins over Carleton and British Columbia, and tight games against Oregon. Transitioning to the style of new coach Kyle Weisbrod may have created some challenges early, but is now one of thier biggest strengths. An underwhelming 2-5 Northwest Regionals performance, including a three point loss to Western Washington, creates some concern as to what they'll be able to accomplish.
The Washington roster, however, stacks up with pretty much anyone. Senior handler Amanda Kostic is an offensive maestro, able to the control the field with her throwing prowess. An intense competitor, Kostic is the trigger for the many weapons in their offense. Junior Barb Hoover is one of the country's most instinctual cutters, with a terrific sense of timing and spacing that allows her to take advantage of any window defenders give her and make throwing to her very easy. Shira Stern, a junior who will be on Team USA's U-23 Women's team, along with Kostic, is a great continuation cutter who can make things happen after the catch. 6'1″ freshman Soriya Ton is already making a big impact. They lost senior leader and Callahan nominee Sarah "CO" Davis to a tough and poorly timed injury and need the team role players to bring a new level of play to make up for her absence.
Senior Lucy Williams teams with fellow senior Alysia Letourneau to anchor their defensive line. Williams plays the game with incredible poise, never rattled by a matchup or situation. Letourneau is a great athlete, with explosive acceleration that allows her to beat her offender to discs they were sure were open, only to take them deep before they know what happened. Sophomore Sarah Edwards, the 2012 Northwest FOTY, is a big play machine, liable to leave her feet for anything within her sphere.
Surging Texas Confident They Can Repeat Underdog Success
Stars to Watch: Dianna Charrior, Sharon Taso
X-Factor: Kayla Ramirez
Since their program began in 2000, Texas Melee has made it to the College Championships more often than not, for a total of nine trips. But most of the history you need to know about Texas goes back only a year. At last year's national tournament, Texas scored multiple upsets from the #4 seed in their pool, including over the top-seeded Oregon. They'd win their pool and make it all the way to quarters. You can bet that being the #4 seed this year will not intimidate Melee.
Last year's Nationals isn't the only time they've succeeded in an underdog role. It was only a few weeks ago they were headed to South Central Regionals, not even at the top of their pool. They would roll through their competition, finishing with a 15-9 win over Colorado to take the region's only bid.
That was quite a surprise, considering how much they had struggled in the regular season. Melee's first two forays into high level competition left them battered and bruised: 5-5 at Pres Day Invite and a brutal 2-5 at Music City Mash-Up. "We had a lot of injuries early in the season so we weren't able to play to our full potential," explained senior captain Kayla Ramirez. "During Music City we were down to 11 players so that was rough. We haven't really put much of an emphasis on results prior to the series." They rebounded later in the year, with a decent Women's Centex and strong Regionals performance.
Melee is a team built around chemistry, speed, and aggressiveness. "Our team chemistry just came together at the end and has only improved as we go in to nationals," said Ramirez.
They play a hard style of defense and their offense is one that attacks defenses. They lost few players from last year's squad and have a bevy of veterans who play without fear. Texas doesn't win games pretty, and if they force teams to play their ugly game, they can beat more skilled teams.
Ramirez epitomizes their style of play, as a very quick player happy to grind her matchups into the ground and throw her body around. Senior Diana Charrior, a U-23 Women's team member, is a strong cutter that dictates the field spacing were her movement. Seniors Sharon Tsao and Captain Shereen Rabie are the primary throwing elements. Tsao will join Charrior on the U-23 Women's team and will play both in the backfield and as the initiating cutter. Rabie is a handler with the full compliment of hucks and around breaks. Grad student handler Brady Stoll may have even bigger throws than Rabie.
Ottawa Gets Their First Look At Elite Competition
Stars to Watch: Vivianne Fortin, Kaylee Sparks
X-Factor: Romy Proulx, Pascale Charette
A Metro East dynasty, the Ottawa Lady Gee Gees have become another staple of the College Championships, in both the US and their native Canada. They've only missed the US Championships once in the past six seasons and have won the Canadian title three times. They're coming off their third straight Metro East Championship — they haven't lost a game at Regionals in that span — and finished 5th at the national Championships in 2009. However, they finished tied for last at the 2012 Championships and are USAU's lowest ranked team coming into this year's.
The Gee Gee's low ranking is not the result of losing games. They've lost just a single game this year (12-4 to Pacific Luthern at Trouble in Vegas) and have played only a handful of close games. The issue comes from not having played against a single team in the Championships field. When they played solid teams in the Series, like Cornell and NYU, they had fights on their hands. Their familiarity with the pressure situations of Nationals doesn't outweigh their lack of competition this season. Coach Kathryn Pohran, who was on a number of those strong Ottawa teams herself, will need to mold a confident team coming into Madison. If they can't, they could end up looking at another last place finish.
Ottawa will need to use the element of surprise to their advantage as well. Their schemes and sets are mostly unknown to the country. Their stars, however, are not. Senior Captain Kaylee Sparks and junior Vivianne Fortin kickstart things for a strong defensive team. Both will be on Canada's U-23 team. They'll rally around those two players, who have the experience and talent to compete with against the types of opponents they'll be matched up with. Up and coming youngsters Hannah Dawson and Romy Proulx, who were the 1st and 2nd team Metro East FOTY last year, will need to step up as impact players to take advantage of the attention placed on Sparks and Fortin. Proulx,  6'0″ and athletic, is a very difficult weapon to stop when she goes deep. The bulk of the handling will fall to the shoulders of senior Captain Pascale Charette and junior Captain Jahleel Bonaobra. If those two can play well, allowing Ottawa to keep the studs downfield, the Gee Gees will stand a much better chance of running with the big dogs.