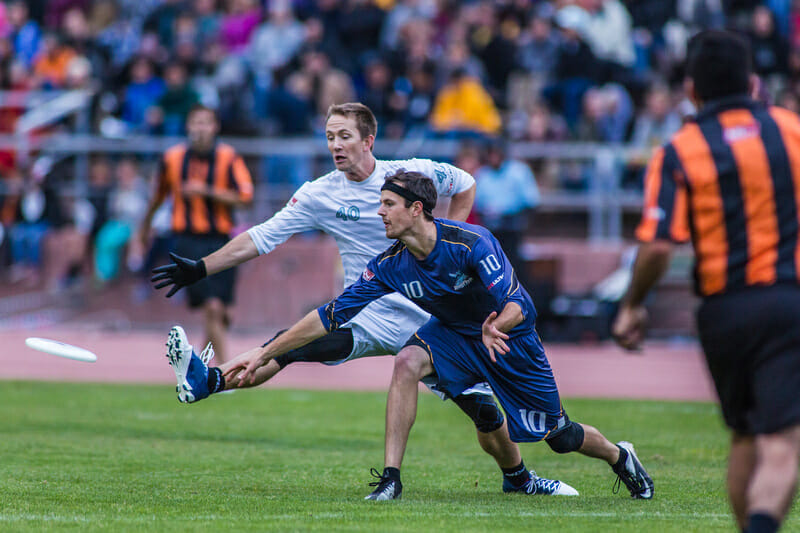 You could say that the Seattle Rainmakers and San Francisco Dogfish have been preparing for today's game all season. The two cities have been at the top of the sport not just on the West Coast but across the country for years. Few would have predicted a different outcome than these two teams meeting in the Major League Ultimate Western Conference finals.
The Rainmakers and Dogfish played three times during the course of the regular season, including twice in the last two weeks. The Dogfish won the season series 2-1 on the strength of halftime adjustments and some thrilling late comebacks. Last week, Seattle avoided the sweep by doing the same thing to the Dogfish — rallying in the second half to get the win.
"I think the two teams, in each of the three games we've played, have been pretty evenly matched," said Rainmakers captain Moses Rifkin.
It's hard to argue with that: both teams have held substantial leads in each of their games.
Unfortunately for the Rainmakers, critical injuries may prevent them from being able to get another win against San Francisco, who has been undefeated at home.
Last week, Seattle's Matt Rehder, one of the team's top offensive cutters, went down with an arm injury, later discovered to be a broken forearm. He is one of five different Rainmakers who are out with a season-ending injury, including Mario O'Brien, Seth Wiggins, and Matty Zemel. They will also be without Skip Sewell, Danny Karlinsky, and Adam Holt.
"It's a mixed blessing," said Dogfish coach Justin Safdie. "It's a big blow to their offense to not have those guys there, but it's a lot more difficult for me to game plan for them…I almost wish they had some of those big guys out there."
"You do what you have to, you do what you can," said Rifkin. "The only advantage to the rash of injuries we've had is that the challenge of adapting, of people having to play new and unfamiliar roles, is one that we've faced over and over this season…We won last weekend with a small, depleted roster, and plan to do it again."
Largely, Seattle will stick to the same game plan. Their goal, said Rifkin, is to "try to dictate the pace of the game."
"They are a really tough matchup, both in terms of the top end of their roster and [the fact that] they are also an unusually deep team," said Rifkin, adding later, "We just want them to think about the defense, and not what they are trying to do on offense."
That means the Rainmakers will try a lot of different defensive looks to force the Dogfish to make a lot of adjustments. Seattle knows they need to slow down Beau Kittredge and the other big downfield threats to stay in control of the game.
"If we don't stop Beau, I can't imagine any scenario we can win this game…," said Rifkin. "Well, we need to limit Beau because I don't think we can really take him out of the game."
Safdie said that he is eager to see how Cassidy Rasmussen and Evan Boucher perform after some injuries kept them out the past few weeks.
"Both of those guys are going to need to have quality games, but I might have to go away from them early and go to the guys that have been carrying us the past few weeks," he said.
Given that both teams have beaten the other, each is feeling confident about their chances this week.
"We left the first two games not feeling like we were beaten, but like we had beaten ourselves," said Rifkin.
For the Dogfish, they aren't worried about their loss last week. "Winning that game was not our top priority," said Safdie, explaining that they kept their cards close to their chest in advance of this week's game. He feels good about the team's strategy, even if he's a little uncertain about who will be playing in place of the injured starters.
"Their offense is very structured," he said. "They have very specific movements that they work off of and they key off of. I'm going to look to disrupt that."
He's also happy that they earned the right to play at home, where they've never lost. "Home field advantage is a big part of the season, a lot more than I thought it would be coming into the season," he said. "We've definitely been a much different team on the road than at home."
Teams are discovering that the travel can be, as Rifkin put it, "brutal." The Rainmakers have already run into some problems this weekend, as their flight was delayed out of Seattle.
That all gets put aside this afternoon at 1:30 PM PCT when the teams take the field for a win-or-go-home game.
"If I were a gambling person, I would call them the favorite," said Rifkin. "But I don't think it matters who the better team is; I think it matters who plays better in this one game."
KEYS TO THE GAME
Seattle: First and foremost, the bench players have to be prepared to step up into bigger roles with the loss of Rehder, Karlinsky, and Holt. That's a lot of missing offensive firepower. As Rifkin pointed out, they have experience with putting players into these positions, but against the top-end strength and depth of the Dogfish, there will be room for mistakes…Defensively, they need to encourage the Dogfish to try to put up a lot of hucks, something that hurt San Francisco in the second half last week. Junky zones and containment on the under throws could encourage more risk-taking…Take advantage of the smaller roster by getting into the groove of the game from the start. Lots of absences and injuries makes for tight rotations. That can give them an edge early in the game. A big first half lead could be enough if they stay smart on offense in the second half…Ben Wiggins?
San Francisco: Punish the mismatches. With players like Boucher returning from injury, the short-handed Rainmakers won't be able to match up across the line. Get the disc into the hands of your playmakers…Play like you're the favorite. Get the home crowd fired up. Don't give Seattle room to breathe. A strong first half will leave the Rainmakers reeling. They won't have the firepower to mount a second half comeback…Pressure the handlers. With Karlinsky and Holt missing from the O line, there will be players unaccustomed to the primary handler roles in the game. Make them beat you — they're more likely to make mistakes.
BETTING LINE
Seattle Rainmakers (+4.5) @ San Francisco Dogfish (-4.5) \\ O/U: 35