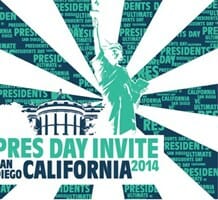 It was a big West Coast weekend in La Jolla, California, at the President's Day Invitational. The three day tournament gave us plenty of excitement, upsets, and fat to chew moving forward. While the final result — another Oregon Fugue crown — was more or less expected, the road to the result was dotted with surprises.
#1 Oregon Fugue Defends Their Spot, But Not Without Blemishes
Oregon won't go undefeated this season, but they could still win every tournament and remain the favorite to take the crown after compiling an 8-1 record on their way to winning Pres Day. It is the 5th straight time they've won the tournament.
"It's pretty great every time, but this time was especially great because I feel like we improved so much over the course of the weekend," said senior star handler Sophie Darch.
Fugue's lone loss came on Sunday in power pools — the same spot they took their only loss of the season last year — to UC-Santa Barbara, 15-14. Oregon is at their best when dictate the game's pace, which they failed to do in the matchup.
"We stuck to the same man defense the entire time. Santa Barbara is a very good team," said Darch, "We ended up playing the game they wanted to play, which was very possession based."
Oregon would get their revenge – again, just like last year, when they beat UBC – in the final on Monday, and left no doubts this time, winning 14-8. The top seed mixed up defenses, ground out points, and used their depth to pull away after taking an 8-6 halftime lead. Fitness has been a major focus this season so far for Oregon and it showed. They also had the advantage of destroying rival #5 Washington in the semifinals, while UC-Santa Barbara had a little more on their hands.
"We were able to play 20 deep consistently all weekend, so come Monday we had the legs," said Darch.
Statement Win Punctuates #2 UC-Santa Barbara's 2nd Place Finish
Like Oregon (and Washington), UCSB went 8-1 at Pres Day. They finished 2nd at the tournament and took home wins over Whitman, North Carolina, and Texas.
But all people will think of when they look back the Burning Skirt's President's Day Invitational is their 15-14 triumph over Oregon. It was a close and dramatic back and forth win that proves there is no team beyond the reach of UCSB's explosive ability to find the end zone.
Santa Barbara did have some nervous moments. Early on Saturday, they were tied at 10-10 with the 5th seed in their pool, Cal-Poly, before turning it on to win 15-10. Their game against Texas in power pools also went to double game point.
Lisa Pitcaithley is everything you've heard, but she isn't alone.
"You can't over look Noelle though," said Darch, referring to the consistent cutting and defensive prowess of Noelle Neason. Kelly Gross and Joy Kang also deliver a lot of production for the Burning Skirts. This team isn't a one hit wonder.
Still, the question is about their depth and that is unlikely to change. They'll need to be more efficient in their wins to preserve the energy they need to beat the best if they want to deliver results this good come season's end.
Challenge of the Back to Back Proves Too Much for #16 North Carolina and #21 Michigan
This just in: playing highly competitive tournaments two weekends in a row, including a lot of mileage to travel, is hard.
It was an obstacle North Carolina and Michigan both hoped to overcome, and which they nearly did. Eventually, though, they succumbed. Saturday went well enough, with both teams going 3-1 and holding their pool seed. However, they combined for just one win in power pools and both lost in the prequarters on Sunday; UNC fell to UCLA 13-11, while a hobbled Michigan was soundly beaten 15-7 by UC-San Diego.
While it is true the tournament's eastern-most teams failed to hold seed, it wasn't all doom and gloom. Like at Queen City Tune Up, North Carolina's losses were generally very close, impressive for a team adjusting to the loss of one of the country's best players in Lisa Couper. Michigan, for its part, actually took home some wins, beating Whitman and, eventually, UNC.
Both of these teams are clearly talented and could still be highly competitive over the rest of the year. Unfortunately for them – and their regions – their disappointing performances and risky decision to schedule their season in this manner could cost them strength bids at the end of the year.
#5 Washington Element Goes 8-1, But The Lone Loss Looms Large
Washington garnered an unsurprisingly impressive record in La Jolla, tallying eight wins and making a run to a 3rd place finish. It was an impressive forest of a weekend, but in the midst is one horrifying tree: a 15-4 faceplant against rival Oregon in the semifinals.
Considering Element has been focused on building their depth of both roster and strategy, the results of the weekend make more sense. Their path included a never-in-doubt win over Whitman and a game against Victoria that Element accepted as a challenge and won on double game point; Michigan and UCLA were dispatched without too much trouble.
Element's top six is well known (although grad student and former Whitman handler Kelley Hall might make that a full line), but they also bring in a well stocked bench that has been given ample opportunity to grow. 
What happened next in their semifinal with Oregon, however, was the first real surprise for Element on the weekend. Fugue brought an immediate intensity, ramping up far faster than Washington was prepared to match. Soon, Oregon was up 5-0, then 8-2, and finally, 15-4.
"We didn't play our top game. We didn't bring it," said Element senior Shira Stern, "I don't think that was us."
The team refused to let that game overshadow or define the weekend, relegating it to an arboreal aberration. In their third place game, a rematch against Victoria, the Seattle group asserted themselves, winning comfortable.
"It was a good challenge to come back from our loss against Oregon," said Stern, "We're excited to put in more work. We know what we can do and we know what happens when we don't bring our A game. It is an exciting place to be this early in the season."
#13 Victoria Makes Run to Semifinals
Looking at the weekend the University of Victoria Vixens put together is all about perspective.
Obviously, the team is strong and capable of taking victories against good competition. The evidence is there, with a 14-9 victory over Michigan and a 14-11 one over Texas in the quarterfinals; both margins are solid. They also took Washington to double game point and cruised through their Saturday pool.
On the other side, however, is their winless Sunday, only their standing margin over Michigan helping them land a bye into quarters. UVic blew a halftime lead against Santa Barbara in the semifinal and couldn't keep up with Washington in their subsequent consolation game. A 5-4 weekend, on its face, is not great.
For those keeping track at home, their four losses: #2 UCSB, #5 Washington (DGP), #5 Washington, and #15 Whitman (DGP).
The signs point to a team on the cusp. The question is if they can reach their potential in a dangerously stacked region this season.
#14 Texas Ready to Run In South Central
In our Pres Day Preview, it was noted that the South Central delivered solidly at Queen City Tune Up, and Texas's performance in California would be worth watching. The Austin women delivered, making quarterfinals and finishing 6th. They take home victories over UCLA & North Carolina, as well as a double game point loss to UC-Santa Barbara.
Senior captain Kayla Ramirez played very well in leading an athletic and experienced Melee defense. She and the team leadership kept the focus on the team's development and each game in front of them.
"We try not focus on other teams and how they are doing throughout the season," said Ramirez, "We have a saying, 'It's all about Melee.'"
Texas's weekend wasn't perfect – they were blown out by Oregon and lost their closing rematch against UCLA – but they did enough to prove they will be competitive all season.
Along with #10 Colorado and #22 Kansas, Melee should be able to ensure that the South Central region isn't handcuffed with a lone bid to Natonals this year.
#19 UCLA and #23 UC-San Diego Giving Credence To #SWStrong
Over the past two seasons, numerous regions have taken to using regional hashtags to strengthen their regional relationships; it is a fun side effect of the regional unity created by the bid allocation system. The Southwest's #SWStrong hashtag was out in force at President's Day.
As the season has advanced, the Southwest has shown us more and more strength. UC-Santa Barbara has been a known commodity, but Stanford has shot up the rankings, UCLA broke in recently and is trending upward, and UC-San Diego now makes their way into the top 25.
For UCLA BLU, an 8-10 loss to Texas on Saturday changed their fortunes, pushing them into lower pools. While that did hurt their strength of schedule, UCLA was able to turn around and upset North Carolina to fight their way back into the Monday bracket. In consolation play, they'd get sweet vengeance against Melee.
Meanwhile, the UC-San Diego Psychos came into the weekend with something to prove. They were coming off an appearance in the final of Stanford Open, preceded by a semifinal showing at the Santa Barbara Invite. What they lacked was wins over ranked teams. The Psychos finally got their chance and took advantage, wrecking a depleted Michigan team. They'd also add a consolation win over Whitman, as well.
The question for UCLA and UCSD is what they can do when matched up with the Southwest's elite, Santa Barbara and #12 Stanford. The upstarts are a combined 0-3 so far against the favorites, with their closest attempt being UCLA's four point loss to UCSB. The Southwest will certainly be interesting this season.