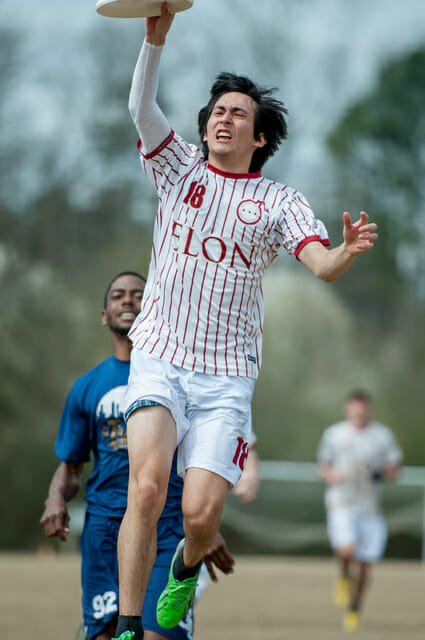 Since the inception of DIII Ultimate, the Atlantic Coast has been generally overlooked. Every year, multiple teams that could contend at the national level were left to fight for just one bid. After an impressive spring season, this shortage of bids is no longer the case. Elon and Richmond were able to secure two bids for the Atlantic Coast this Spring while UNC-Asheville played their way into the top 20 in the rankings.
The strength of this region became apparent when the Atlantic Coast took home the top three spots at the inaugural DIII Easterns. With Wake Forest as strong as usual and Davidson an underrated group, a second bid may not be enough to exemplify just how strong this region is this year.
This season, these five teams have shown that they have what it takes to make a run at Nationals. While the pools have not been finalized, earning a top spot in bracket play will be extremely important. A tough matchup in the bracket rounds can and will knock down a Nationals contender and make their road much tougher. 
Favorites
Elon
After an impressive season, it is hard to look at Big Fat Bomb and not see them as the tournament favorite. Last year they were one win away from making it to Nationals and this season they have stormed back even stronger, finishing the season 7th in the USA Ultimate rankings. After going 2-3 and facing tough competition at Terminus, Elon finished the season on a 12-1 hot streak and will be coming into Regionals on an eight-game tear. Elon has not lost to an Atlantic Coast team, either.
However, Captain Andrew Manca knows they cannot get ahead of themselves and understands that there are areas in which the team can improve. Manca attributes Elon's success to their up-and-down skill and trust in one another.
"Our greatest strength is probably our team's depth," Manca said. "Everyone on our team has developed a specific role, and the guys know that role and how it best benefits the team."
Elon's depth gives them the ability to run their offense through any of their players if necessary. They spread out the field and run a smooth, efficient offense. While they like to work the unders, they certainly aren't afraid to push teams deep. Their handlers are more than capable of working through any zone they face and, without wind, it is going to be tough for teams to generate turns against this well-rounded team. Running open lines will really help Elon stay rested on Saturday and outlast teams late in games when opponents are tightening their lines.
While Elon likes to run an offense that showcases their depth, Matt Cameron has shown that he has the ability to take over points. Often drawing the best defender, Cameron is able to use his speed to create space and run down deep discs.
On the other side of the disc, Andrew Gruninger has showcased his defensive abilities throughout the year. His capability of generating turns and taking control of the offense once they have the disc has really helped Elon in big games.
Big Fat Bomb will look for these two seniors to lead them if things start to get tough. Manca noted that these two always seem to step up when the stakes are high.
Coming into Regionals, Elon will be no stranger to most of the teams there. During their championship run at Easterns they had to go through both Davidson and Richmond twice and faced Wake Forest, North Greenville, UNC-Ashville and Davidson at Carolina Conference Championships.
Wake Forest
Wake has been the perennial powerhouse in the Atlantic Coast region for the past few seasons. Since 2011, Wake has won Regionals and taken the single bid to Nationals.
A first glance at the rankings may cause you to think that this might be the year that they are dethroned. However, if you know anything about Wake Forest, you know that their M.O. has always been to play at the highest level of competition possible no matter the results in order to prepare for the college series. Captain Tim Kreutzfeldt firmly believes in this philosophy.
"We've been faulted for it quite a bit in the online media this year, but we don't have any regrets about our tournament scheduling," Kreutzfeldt said. "Playing against teams like Pittsburgh, Florida and Virginia in the first tournament of the year was eye-opening for us to realize the level of athleticism and ultimate IQ necessary to keep up with teams at the highest level."
Their recent performance at Conferences shows that their system has once again created a team poised for success.
For Wake Forest, it has always been about the development throughout the season. This year they were able to showcase their improvement with a big win at Southerns over Carleton-GOP and close games against Appalachian State and St Olaf.
Two players that have helped lead the way this year have been Patrick McKendry and Jesse Hynes. McKendry is a captain who has really stepped up his game this year and become one of the most complete players in the region. With his ability to come up with huge layouts, McKendry is a threat on both sides of the disc.
Hynes anchors the O-line after two years of playing D-line. He is a reliable player who looks to make the smart play and help his team remain efficient on offense. These two, along with returning First Team All-Region player Tim Kreutzfeldt, will look to lead Wake Forest to another strong performance at Regionals.
Wake Forest finished second at Conferences, losing only to Elon on double game point.  With the way this spring has played out, people may look at the Atlantic Coast and think that Wake Forest may finally be challenged for a spot at nationals. However, Kreutzfeldt says that they have always been challenged and the Atlantic Coast is finally receiving the attention they have deserved all along.
"Last year at regionals, the main talking points were that Wake Forest lost to Elon on Saturday and then got revenge in a close game in the finals on Sunday," Kreutzfeldt said. "However, a fact that was neglected was that nearly all of our games were decided by two points. Many of the teams we played at Nationals were decidedly worse than our regional competition."
While Elon may be the favorite, Wake Forest, honed by high-level experience, may still be the most feared team in the region.
Richmond
While Richmond has enjoyed a successful season with a strong finish at DIII Easterns and a convincing victory at Conferences, captain Alex Lichtenstein believes that the results aren't what define Richmond Ultimate.
"One of our goals was to improve throughout the season. We cared less about the results and more about growing as a team," Lichtenstein said. "Our talent resides in our youth and our goal was to develop that youth in order to develop into a program for years to come."
This selfless mentality is part of the reason Richmond has seen a major improvement this spring. While the seniors provide the leadership and a lot of the talent, the junior class has helped anchor this team.
Probably the biggest threat in the junior class is defensive player Brian Dwyer. His commitment to the game has turned him into one of the best shut-down defenders in the region. Along with fellow defenders Nick Spurlock and Corey Decato, the Richmond defense attempts to smother teams and generate turnovers.
While their ability to capitalize on the turnovers and generate breaks may be tough for Richmond, returning First Team All-Region player Lichtenstein has been able to teach his D-Line discipline and patience. His talent and ability to lead should be more than enough to help the D-line step up when it matters.
Luckily for the defense, the offense hasn't needed many breaks to win games. Freshman talent Henry Babcock has changed the entire dynamic of the Richmond offense. His ability to huck the disc and make tough throws has opened up the field for arguably the most dominant player in the region, James Robb.
Robb was the MVP at Easterns for his ability to take over games and stretch the field. Watch out for the big cutter to make a serious bid for Player of the Region. When these two are working in sync, it is tough to generate turns against Richmond's offense.
Although they finished 8th in the rankings, Lichtenstein knows that anything can happen at Regionals. He believes that as long as the Spidermonkeys take it one point at a time, they have the potential to beat anyone they face.
Contenders
Davidson
Davidson is coming into Regionals with perhaps the most experience this year out of any team in the Atlantic Coast. Harsh conditions this spring caused a multitude of tournaments to be canceled and many teams were left with only one tournament before entering the postseason. Davidson has played five.
With the exception of Mardi Gras, Davidson performed well at all five tournaments and has steadily improved throughout the season. While Captain Rob Stevens admits they could have taken Mardi Gras (spring break) a little more seriously, he has no regrets with how the season went. More than anything, Stevens loves to see his team improve and have fun. For this reason, he says the best tournament for them was Conferences.
"We're getting better every tournament and this was absolutely the case at Conferences," Stevens said. "Easterns was probably our best on paper and for our RRI, but the one I'm most proud of is seeing what we're capable of at our maximum talent level — that's got to be the most recent one."
Despite not coming out on top, Stevens saw conferences as a success. Davidson is spending the two weeks in between conferences and regionals to once again improve their play and get ready to play in some close games at regionals.
The reason Davidson has been able to improve throughout the year is due to their strong group of leaders. Seniors Graham Whittington, Josh Hengen, Sam Gray, and Stevens have led the team to success over their four years and certainly do not want to see it end without a Nationals appearance. Each of the seniors brings a different skill set to the table, providing leadership in many different aspects of the game.
In order to extend their college careers, these four will rely on some of the underclassmen to showcase their talent. Look for first year Chris Johnson and junior Mikeie Reiland to make some big plays for Davidson.
Outside of their individual players, Davidson relies on their high Ultimate IQ and teamwork to win games. Their small roster has not hindered them too much up until this point, and it shouldn't be too big of a factor at Regionals.
"There are five teams in our region that I think are easily in contention for the two bids, if not more," Stevens said. "It'll be a really fun weekend in Richmond to determine who gets there. The thing that we like best about our region is that, so far, every team we've played has been really well-spirited and fun to play with. We aren't asking for a lot more than that."
UNC-Asheville
Finishing just a few spots out of receiving a third bid for the Atlantic Coast, UNC-Ashville has shown that they have the potential to take down top competition. They began their season with a second place finish at Emory Invite with a few big wins against Clemson and Georgia College. Two universe wins against rival Davidson show that they can come away with close games and that they are extremely competitive within the region.
Asheville is a talented team that often looks for their skilled handlers to run their offense. Sam Fontaine and Clint McSherry are both capable of making defenders look foolish with experienced handler movement. With his dominant performances at Easterns and conferences, Fontaine has proven to be one of the best players in the region.
On the other side of the field, Charles Bridger leads the defensive attack with his impressive layouts and athleticism. Even during close and gritty games, look for Asheville to remain calm and collected. Built from top YCC talent, they enjoy working hard and using their talent to outlast teams.
Closing out those games will be imperative when a single close loss can mean the end of their season.
After their impressive season, Asheville will be looking to close in on that bid come Sunday. They are as capable as any other team at this tournament. Their impressive talent up front may be enough to give them a high seed going into bracket play. Once Sunday begins, they could be in a prime position to make a run.
Wild Cards
St. Mary's
Finishing second at conferences may have surprised everyone but them. St. Mary's finished fourth at conferences last year and, subsequently, their First Team All-Region player Brian Clark graduated. Yet they have come back better than ever. Captain Mike Schmidt believes this is a result of his team's dedication during the offseason and the return of a strong group of handlers.
"I believe that our team has a 'kill mentality' this year that we didn't have last year, with all of our starters having an 'over my dead body attitude,'" Schmidt said. "That has allowed us to compete with many DI schools that we have never before been able to compete against and allowed us to dominate teams that in the past that had been close games."
SMUT will finally enjoy the luxury of having their full team in attendance and healthy for regionals. Their biggest strength heading into the tournament is going to be their depth and their ability to work together after watching the film from conferences.
One thing they have really worked on in the past is their ability to work through a zone. Schmidt believes that his team has developed the ability to beat any zone they may face with their talented handling core, led by Patrick Montague and Schmidt. Both of these handlers will also rely on their athletic group of cutters led by Ben Eicher, Kyle Blackiston, and Ryan Mahoney. Using their athleticism, these cutters like to stretch the field and play in the air.
SMUT knows what they are up against at Regionals. When asked about the performance of the DIII teams they have played this year, Schmidt had this to say: "I think this is the first year also that we have seen offenses really come into their own. [College teams are] showing that it isn't only club teams that can create offenses that are nearly impossible to stop."
SMUT has shown that they can no longer be overlooked. If they are able to bring their entire roster down to Regionals and play to their maximum potential, the rest of the region should be prepared for a tough game.
Navy
Like many other teams this spring, Navy's playing time was crippled by the weather. Besides the four games they played at Garden State, Navy wasn't able to gain too much experience before going into conferences.
While a lack of experience may hurt most teams, Navy's athleticism and perseverance once again showed that they are prepared to fight through obstacles They came out firing at conferences, ending Saturday 3-0 with an early morning game against Richmond on Sunday to determine first place and a spot at regionals. A hard fought 15-10 loss showed they could at least keep up with the number one seed.
Navy is a tough team to face at any point in a tournament. They rely on physicality and an aggressive style of ultimate to grind teams down and force them into making mistakes. They also like to run a cup that can shut down opponents' top handlers.
On offense, they use their speed and endurance to get open downfield and tire out defenses. Their two returning All-Region players Matt Silberberg and Nicholas Moilanen lead this team and will keep up with the most skilled players at the tournament.
Navy cannot be counted out as a team that can surprise at regionals. Their legs will allow them to win games on Sunday and if they can hang around long enough they should have the advantage late in contests. The simple fact that Navy is considered an underdog shows the overall strength of this region this year.
North Greenville
North Greenville is coming into regionals as a relatively unknown team. Their captain, Willy Swan, wouldn't have it any other way.
"I think the Ninja Geese have a shot at stealing the second bid from one of the teams at the tournament," said Swan. "We are the underdog and we hope to use that to our advantage."
However, after losing all their games at conferences, it may be difficult for Greenville to come back at regionals and contend for either of the bids. Luckily, their captain will be rested coming off of a serious deltoid injury. Swan believes that his team's seasoned veterans will be able to help this team make their first ever run at nationals.
The amazing thing about North Greenville is how they have progressed over the years. This is the first year they have ever attended regionals.  Swan has worked hard to make sure his team sets goals and works hard to achieve them. From the beginning of the season, he says he has emphasized the fundamentals.
"I'd say that almost every one of my players fully understands ultimate and can effectively throw a flick and a back-hand now," Swan said. "Goals were set at the beginning of the season and solidified through one practice every week."
Greenville epitomizes what it means to be a small, DIII program that works hard to make it to the next level. They try every day to be the best that they can be and their dedication has paid off. Players such as Relly Moore and John Bonas have worked hard for four years to develop into the skilled players they are today.
Moore has the ability to climb the ladder and really showcase his athleticism while Bonas has shown his skill as a handler. Probably the most impressive player on the team is Swan. He is one of the most dedicated players you will find. He has played for seven years and has been the coach and captain of the Ninja Geese for three.  He really wants to cap off his college career with a trip to nationals, and will be doing whatever he can to get his team there.
Anyone who plays North Greenville quickly realizes they are a spirited bunch of guys to play against. They like to play loose and push the disc deep with their talented handlers and crafty O-line cutters.