A recap of the action on Tuesday at the World Ultimate Club Championships.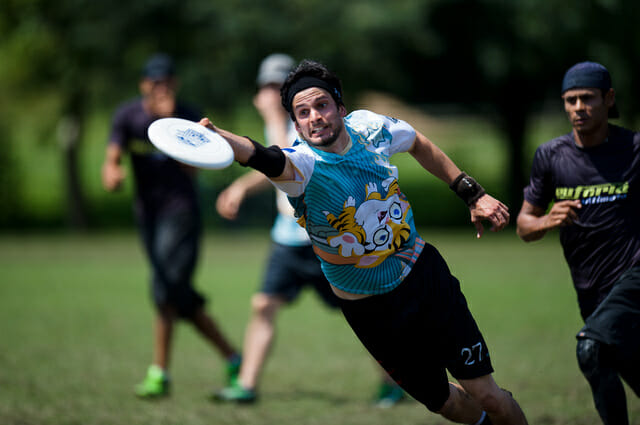 LECCO — What a difference 48 hours of dry weather can make.
With significantly less sloshing around the fields today and continuing beautiful weather, day two of competition was a step up across the board. It certainly didn't hurt that spots in power pools were on the line.
The top two teams from each pool advanced to the top power pools, remaining in contention for a world title. Major changes were implemented to the original schedule, with Open and Mixed Divisions moving to three-team pools (two advance to round of 16) and Women's moving to four-team pools (two advance to quarterfinals).
Here's a look at today's action, and what's coming tomorrow!
OPEN DIVISION
After an only mildly interesting day one with nearly every game going to seed, day two was filled with upsets, drama, and stories.
Early in the day, Iznogood (FRA), the top French team this year, took on Buzz Bullets (JPN) in what turned out to be one of the best games of the day.
Both teams' offenses came out of the gate looking in top form, attacking both deep with three throw points and underneath with 25 throws. Defensive adjustments did little to slow down either team and spectators were treated to a high-flying, efficient first half.
The teams traded to 2-2 when a layout D from Buzz Bullets notched the first turnover of the game. A beautiful break side flick put Buzz ahead 3-2. It seemed that might foreshadow another runaway Japanese victory, but Iznogood withstood a tricky Japanese junk zone for nearly the rest of the half.
After back to back great hucks, Iznogood got their break back after Buzz's only first half turnover, making it 5-4. It was more super patient offense, with the handlers working it back and forth, opening small windows in the Japanese zone.
The teams traded to 7-7 with some spectacular plays from both sides, including a perfect blading flick to the back cone from Iznogood's Christophe Laurino, who was Izno's MVP on the day. The Buzz Bullets also ran an amazing four throw give-and-go sequence that moved the disc 25 yards and into the endzone. On one throw, the Buzz receiver caught the disc high and to his right, then did what looked like a basketball layup move, sweeping the disc up and around the defender to a low release righty backhand while on the move.
Buzz Bullets got a break and took a lead into halftime after a deep turnover from Izno.
Coming out of half, Buzz turned deep as well, giving Izno a break chance. On the first throw, Jérémy Aubert made an under cut and had to layout, appearing to catch the disc. But Buzz called it down. After some discussion, Aubert agreed and gave the disc up in a great show of spirit (to the dismay of some of his teammates).
Buzz would hold to take the first two point lead of the game, 9-7. From there, Iznogood still hung around, staying within two to 12-10, when finally Buzz was able to pull away.
"It was a great game," said Iznogood's François Zoubir, "but it was not our goal in the pool. We want to beat emo."
That was not to be. Iznogood faced EMO (UK) in the afternoon, but never had the same precision that they showed, playing more loose, against Buzz Bullets.
They stayed even in the first half, but again gave up a break right before halftime, as EMO went ahead 8-6. After trading points to 10-8, the game started to get a bit call-heavy and increasingly chippy. Iznogood had an endzone drop on a sure score that opened the door for emo to take control. After getting to near the endzone with a huck, they took a timeout, then converted with a pretty inside backhand to go up three.
Both teams started playing a bit more tired, and at times desperate, with big hucks to covered receivers.
EMO's Christian Zamore made a poor foul call after missing on a sky, and the contest began to devolve a bit. Iznogood eventually scored, but as teams headed back to the line, an Iznogood player appeared to intentionally bump an EMO player as they walked past one another, causing him to react and get in the face of the Iznogood player. It was quickly broken up, but tensions were heightened.
Iznogood made some poor calls down the stretch, but EMO continued to put it in on offense and finished up with a break and a 14-10 victory to advance to power pools. It was a solid win for emo, who were always in control, adjusting nicely defensively.
The teams resolved their issues after the game in the spirit circle, but it was not a shining example of spirit during the contest.
[A side note: the game, to me, showed just how much a neutral third-party is critical in such situations. Observers have all but eliminated these kinds of "spirals," where bad calls lead to worse calls and bitterness between the teams, in the US. It's good that game advisers are being tested out this week, and I suspect that many teams will feel either neutral or positively to their presence. 
There have been a lot of discussions here about third-parties on the field — whether advisers, observers, or referees. Generally, the international view towards observers is much, much cooler than in North America. Some are outspoken in their anti-adviser/observer stance.
While there have been many well spirited games (they vastly outnumber the poorly spirited ones), there are still enough unpleasant games happening that getting more advisers involved has to be a priority. 
I urge skeptics to reserve judgment until they actually play a game with advisers (or observers) and can discover how much better ultimate can be when you're focusing less on the calls in a close, hard-fought game.]
The day's big surprises: Bad Skid (GER), coming into the tournament's with big ambitions, lost in stunning fashion to Comunidad del Oso (COL) to miss out on power pools on point differential. At one point holding an 8-4 lead, Bad Skid melted down late, managing just three more points to El Oso's nine to fall 13-11. A one point loss would still have been enough to send Bad Skid through.
The game was quite a result, but was packed with calls — fouls and travels — late in the game, even with game advisers on hand. Regardless, it was a brilliant comeback by the Colombians, who stay in contention for the Championship bracket.
Flying Angels Bern (SWI) also missed out on a spot in power pools after, like Bad Skid, they lost by just enough to fail the point differential test. General Strike (CAN) got the 12-10 win to stay in contention and send another top seed packing.
Lucky Grass (RUS) made it to power pools with a very solid win over Otso (FIN) in the final round of the day. Lucky Grass took an early lead and never looked back. Anatoly Vasilyev was a workhorse for the Lucky Grass offense, and Otso made a few too many mistakes, falling 15-10.
Many other games today decided spots in the power pools, but I couldn't see them all. Let's take a look at who is still in contention:


Looking Ahead
Lots of interesting games coming up. Colony v. Ragnarok should be a treat. Furious George v. Freespeed will be exciting as well. Almost all of the double two seed pools should have some fireworks to make the round of 16.
Really, though, we're still a couple days away from the real battles — let's see which teams can reach their goal of just making it to the bracket.
WOMEN'S DIVISION
We have to begin by noting the wild results from Pool C, which sent #2 overall seed MUD (JPN) to the bottom pools after two losses in pool play to Revolution (COL) and Sporting Team Box Athletico United (AUS). Really, it was an unfortunate result for a very good MUD team to land in such a challenging pool against teams that were surely underseeded.
Revolution and STBAU faced off this afternoon in a wildly exciting game (Revolution has a knack for that) for first in the pool. Both teams were showcasing their impressive athleticism; Revolution had a couple of bids for blocks that, had they connected, would have been the best play I had seen at the tournament. Revolution was up 9-5 at one point, but STBAU brought it all the to within one at 12-11 as Revo's Yina Cartagena — who finished with at least four assists and three goals — played nearly every point.
STBAU could never find another break, though they were given many opportunities in the huck-heavy, highlight reel game. Revolution closed it out 14-12 to take the #1 seed.
Elsewhere in the Women's Division, there were few surprises. All of the top contenders advanced. There are some very interesting matchups ahead in power pools. Take a look:

Looking Ahead
The top two teams from each power pool will advance into quarterfinals. Pool J looks very tough — Iceni (UK), Showdown (USA), and Cosmic Girls (RUS) will all feel they have a realistic shot at the spot behind Scandal, and rightfully so. All are capable of stepping up with a big performance. Don't overlook Cosmic Girls, who have serious height and gave Riot (USA) a tough game in pool play.
Also very curious to watch UNO (JPN) vs. STBAU — two strong teams so far in the tournament with nicely contrasting styles. The Australians did a number on MUD in pool play; can they repeat that against another Japanese team?
MIXED DIVISION
No big surprises in the top-heavy Mixed Division. I didn't get a chance to see any Mixed games today, so let's jump straight to the power pools:


Looking Ahead
Lots of variance in the Mixed Division means that it will be a fun ride tomorrow. Things get started at 9 AM with a game between two strong US teams, Wild Card and Polar Bears.