A rematch of the US Open final between Riot and Brute Squad resulted in vicious revenge for Boston, who crushed the #1 ranked Seattle team 15-7. It was Boston's first win over Seattle in team history and shows they're a real title contender.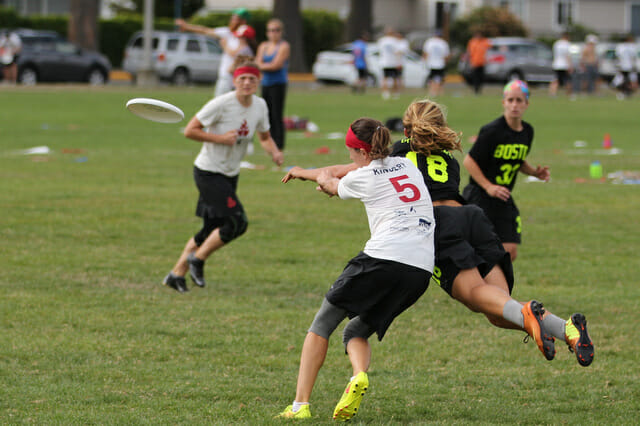 For most of 2014, Seattle Riot dominated their competition in the women's division. They've been hot for the balance of the season, enforcing their style of play upon opponents with relentless vigor. They were without a doubt the favorite to take home a national title.
Squad turned the tables with an incredible and unquestionable dismantling of the #1 ranked Riot in the Pro Flight Finale final, 15-7.
The game – a rematch of the US Open final that Riot won – was Brute Squad's from early on. The Boston defense got things started quickly, taking a break on the third point after Chelsea Witte-Garcia won both a defensive and offensive jump ball. It wasn't clear at the time, but the play foreshadowed many uncharacteristic Riot mistakes that would lead to Brute Squad goals.
After scoring on a high stall blade, Riot made three consecutive execution errors that their opponent capitalized on: a blown coverage off the pull, a turfed flick, and a rushed end zone turn all gave way to the Boston offense. Throughout the game, Brute Squad did a good job of limiting Seattle break side options; their zone looks were highly effective at wrenching Seattle out of their typical flow.
"Our pressure D is what puts us ahead of teams," said Boston captain Emily Baecher after the game. "When we put it on point after point, it puts a string of breaks together."
But Riot's mistakes were often just misses. When Sara Jacobi got a run through poach D and streaked past a couple of Riot handlers to the end zone to catch an uncovered goal that made it 7-3, it was clear Riot was not in the right state; Boston had been there to push them into the wrong one. After Seattle played two very close games, beating Fury 11-9 and Scandal on double game point, the team looked fatigued. They were also without the services of Sarah Griffith, who went down with an ankle injury Saturday.
"It was execution. We weren't doing that much differently from them other than completing our passes," said Baecher, who suited up with Riot just weeks ago for WUCCs.
The 8-4 half time break did not give way to a cleaner Riot team or less aggressive Brute Squad attack. Leila Tunnell got back a turn with an impressive layout D and punched in a goal to extend the lead to five. Despite a couple of more typical points for the #1 seed, where their movement and spacing let them eat up break side yardage, Boston remained confident and patient offensively. Brute Squad closed out the victory with some work up the open side and a connection from Becky Malinowski to Laura Bitterman.
The loss capped off a strange weekend for the World Champions. They lost more games on Saturday than they had all year prior. More importantly, Surge's injury put one of the world's most elite players on the sideline. Riot has a lot of experience dealing with injuries to key players, but her absence was felt. The team will undoubtedly bounce back from a weekend that was in no way crucial for them, having already tested their mettle at Worlds.
Brute Squad had been putting together a strong resume going into the Pro Flight Finale and a showdown with Riot seemed inevitable. They delivered on a big stage by showing what they can do in their first midseason opportunity to do so. It was the first time Boston beat Riot in team history. Their roster is talented and deep, and right now they're confident.
"We're really well coached and we have a good game plan," said Baecher. "I definitely attribute our success to just executing; when we catch and throw, the games are like this."
Games like this are what landed Scandal on the gold medal podium at nationals last year and could lead Brute Squad to the same destination.
***To purchase video on demand footage of the finals or the entire Pro Flight Finale, visit NGNUltimate.com***