Southeast Women's Regionals featured a first time champion and the women's division's only true underdog story come true. It was a dramatic weekend filled with losses and late game excitement.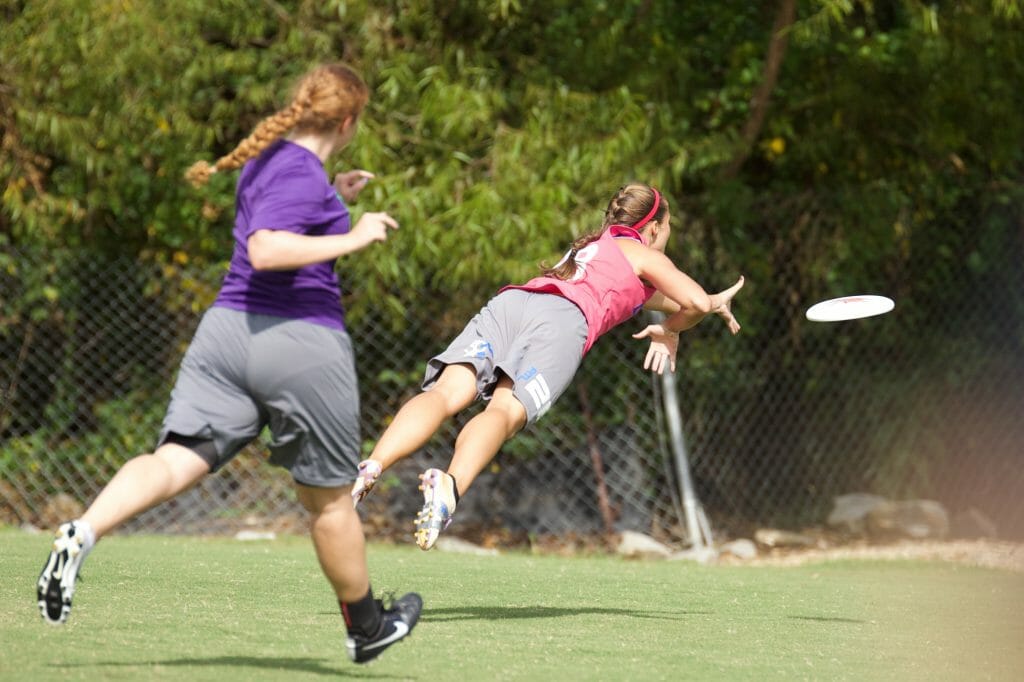 ATLANTA — There are typically few surprises in the club women's division prior to Nationals, but Southeast Regionals was not your typical tournament. Six teams came to Atlanta and five of them inserted themselves into the mix through a series of round robin upsets and exciting finishes. In the end, top seeded Atlanta Ozone defended their hometown turf on their way to their first ever Southeast Regional Championship. Not long after, Florida Tabby Rosa finished off a dramatic upset over Raleigh Phoenix to clinch their first-ever nationals berth.
Ozone's Talent Overcomes Miscues
At first glance, Atlanta's victory is par for the course. They had entrenched themselves as the favorite, making mincemeat of rivals and second seed Raleigh Phoenix during the regular season. Their talent level and experience filled a volume no other team in the region could match. But that was all mostly true last year, and still they let first place slip from their grasp.
When they tangled with Phoenix in pool play, and struggled in their battle, it was cause for concern. Phoenix had been less than dominating up to this point, going down 5-2 early on against fifth seeded Atlanta Outbreak before rallying to win. Ozone controlled the first half with stifling defense, but red zone turnovers prevented them from extending their lead beyond reach of a comeback. Raleigh opened up the deep game in the second, pouncing on fronting and face guarding defense from Ozone to hit late stall cuts going away. Inefficiencies caught up with Ozone and they took their only loss of the weekend, 12-11.
The inevitable rematch in the final was almost dodged, with Phoenix needing a second half comeback against Nashville Encore just to make it to the 1-2 game. But once there, Raleigh showed resilience that has characterized them for these past two seasons. Despite an early 5-2 lead for Ozone, Phoenix plowed through Ozone's defense and capitalized on their missteps to forge a 6-5 advantage. They'd take their one point lead all the way into half, led by strong play from Jessi Jones and Christine Bookhout.
Ozone's defense clamped down in the second half and Phoenix's control of the game was squelched. Mira Walker, Angela Lin, Annie Newton, and Allison Douglas all had crucial blocks that kept the Carolinians from gaining any ground while Atlanta cutters churned out under yardage. Their red zone woes were shoved aside and they closed out a regional victory with a 6-0 run.
Young Tabby Rosa Crashes the Party
It's a futile exercise trying to create expectations for a team like Florida Tabby Rosa. They saw fairly weak competition throughout the season, bringing various skeleton crews to tournaments. Full roster practices were a rarity. The true identity of Tabby would not be revealed until tried in the crucibles of regionals.
"A lot of pieces came together that hadn't this season," said captain Jenna Dahl. "We hadn't had more than 13 at a tournament."
Saturday was filled with ups and downs for the Floridians, reasonable based on how few reps their core had together. In pool play, they were brutally dispatched by Ozone in the first round, squeaked past Encore, failed to contain the top heavy attack of Outbreak, and dominated Phoenix in a way they had never done before. Going into Sunday, they had nearly secured a spot in the elimination bracket, and could potentially make it to the final.
"We kind of knew we had to do everything we could to beat Phoenix on Saturday, or we'd be out of it. After the Phoenix game, we had a lot of confidence, but we also knew we'd have to fight for everything," said Dahl. "But it felt like anyone could do it."
After fending off Encore in the 3/4 game, Tabby found themselves facing a favored Raleigh team and a 2-0 hole. Their zone generated some close plays, but their offense failed to find a rhythm. Jones dropped in two hammer scores past bidding defenders and Diana Lam's speed netted her a pair of goals. Phoenix held a 5-2 lead when Tabby's offense finally settled in, and some strong red zone play shrank the deficit. They finally tied the game up after captain Kate Cobelens got an aerial red zone D and the offense launched a huck that would direct the game to 6-6. A huge Cobelens layout D on Jinny Eun set up the score that would send the upstarts into half with an 8-7 lead.
It took another break out of half from their opponents for Phoenix to find some fire. Shannon Matzinger snagged a monstrous contested two handed layout score to inject energy into her teammates and added a second goal on the ensuing point. A few points later, she'd be on the receiving end of another goal, this time a break set up by a picturesque backhand bomb launched by Heather Zimmerman to Lam, giving Phoenix their first lead of the second half, 11-10. Phoenix got the disc on the next point as well, but an emphatic handblock by Michelle Fusting helped even it up at 11s with the soft cap on.
Phoenix punched in a short field goal to bring it to game point, but Fusting responded with a gorgeous flick huck to Dahl to bring it to double game point. Shortly thereafter, Jones's swing pass to Zimmerman would catch some wind and sail over her head. Tabby worked the width of the field in the red zone before punching in the score that would certify the division's biggest upset.
"I'm reflecting on the last three years of this team," said Dahl. "Only a few of us have been here since we started. This is a dream for us, to have a Florida women's team that was competitive."
A Fiery Swan Song
Obviously, the weekend was not what Phoenix hoped or worked for and excuses are only worth so much. Phoenix's namesake resilience had them, in some ways, overperforming for the past two seasons. Few teams could lose the likes of Leila Tunnell, Cate Yackey, Sharon Tucker, Shellie Cohen, Lisa Couper, Julie Eagle, Lindsey Hack, and Claire Chastain and put up their results. They've had to take on a lot of less experienced players than they had in the past and asked role players to shoulder the heavier burdens of being Phoenix's top options.
Their program has strong leadership and core central values they lean on. The community is strong and their recruiting pipeline is formidable. There is some very serious talent in the area that could be recruited to give them the playmaking starpower they've been losing these past seasons. Do not expect the Phoenix to lay long in the ashes.