A look back at this weekend's Steel City Showdown and some of the top Great Lakes and Ohio Valley Men's teams.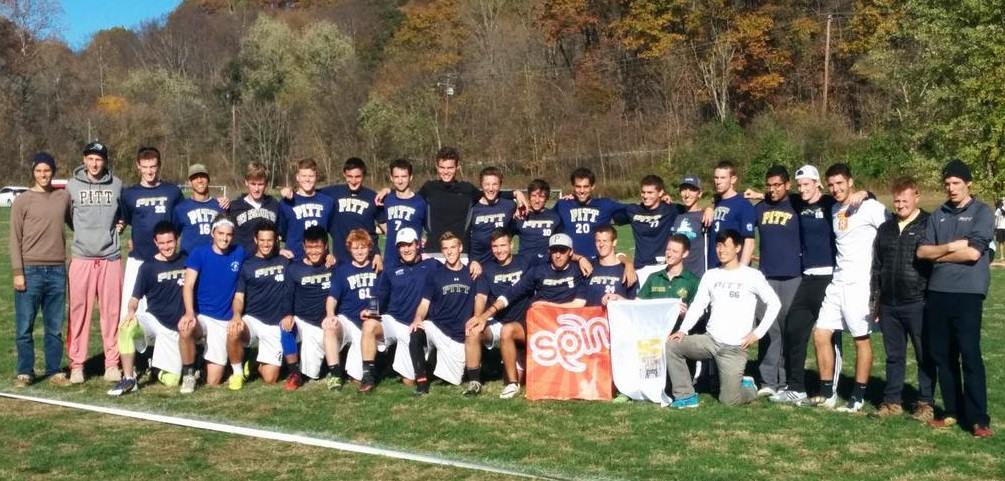 PITTSBURGH — It was chilly, but sunny in Pittsburgh this weekend at the Steel City Showdown, where sixteen college teams faced off in a mid-fall battle to tune up rookies, practice defenses, and get ready for some big upcoming tournaments like CCC.
Pittsburgh Overcomes Ugly Saturday To Take Title
If you had come to Pittsburgh on Saturday to watch Pitt, one of the most dominant college programs of the last five years, take on pool play at Steel City Showdown, you would be forgiven for thinking they were a team that struggles to make Sunday at Regionals.
After failing to bring the intensity against a Delaware team that started playing clean and scoring effectively in the first round, Pitt was downright bad against Eastern Michigan — turfing the disc, throwing into coverage, and failing to make adjustments. And it wasn't just their rookies struggling. Big names like Pat Earles and Trent Dillon had poor games and the whole team looked out of sync.
They finished Saturday 1-2. Cut to Sunday. It was like watching an entirely different team.
After comfortable wins over Shippensburg and Case Western Reserve, Pitt faced off against EMU once again in the finals. With the wind dying down, both teams' offenses were impressive at the start. A tighter offensive line that often featured Earles, Dillon, and Max Thorne was clicking all game for Pitt as they largely dominated a fading EMU defense.
The teams traded to start, with EMU's Johnny Bansfield and Pitt's Earles trading big huck blows. Bansfield, who was by far the most impressive thrower at the tournament, was bombing forehands all weekend and kept EMU out in front of Pitt early in the final. Earles, a dangerous lefty, continues to wreak havoc against a flick force in the new college season, firing big blading forehands right down the sideline on a line.
Pitt was very comfortable on offense to start the game and finally broke through on defense when Sam Van Dusen got an enormous layout block on EMU's first in cut off the pull at 6-6. Pitt scored easily to take their first lead of the game and secure the first break.
"That's something I feel like has been missing from Pitt's defense for a while: huge plays," said Pitt coach Nick Kaczmarek, discussing Van Dusen's block. "And that's not to say that we don't love winning points by just grinding them out, but we're now finishing plays too. We're not giving up when we're beat."
That point opened the flood gates. An EMU turn on the following point gave Pitt a chance to take half. Sophomore Jonah Wisch, a standout rookie last year, ripped a forehand to Christian Pitts for the 8-6 lead.
EMU looked like they might have a chance to get back into it when they broke out of half to make it 8-7 after a Pitt drop, but they just couldn't sustain any defensive pressure. Pitt rattled off three straight thanks to better, no-around marks and a backhand force that limited the damage that Bansfield and the EMU handlers could inflict.
"Their backhand force changed a lot [compared to Saturday's game]," said Bansfield.
Van Dusen had a nice assist to make it 11-8, and then Carl Morgenstern hit Pitts for the four point advantage. EMU did get one back when Dillon threw too high for his receiver and EMU's Austin Engel took over to punch in the break, but Pitt cruised to a 15-11 win from there.
"We were just exhausted," said Bansfield. "[My teammates] came up to me at the end of the game and said, 'We can't run anymore.'"
Pitt did have the advantage of playing very close to home, whereas EMU was traveling with about 18 players, half of which were rookies. EMU ran extremely tight lines against Pitt in both games, mostly keeping their fourth and fifth year returners on the field. Bansfield took just a few points off all weekend.
But credit to Pitt for an excellent game plan and good adjustments. After struggling to contain EMU hucks in the first game, they effectively slowed down the around throws that were setting them up for the deep shots and did a much better job of helping over the top to create double and triple coverage situations.
***
The first thing Kaczmarek wanted to talk about after the team's win this weekend was their mentality. On Saturday against Delaware, he said, "We were way too loose. We expected it to come to us, we expected the Ds to be given to us the way they were the first couple points. And they weren't."
Then they swung the other way against EMU. "We got super tight," he said. "We went to the whole other end of the spectrum."
Finally, they found their "sweet spot" against Penn State and carried that momentum into Sunday.
"We've never done a great job with sideline, full team inclusion," he said. "And we've been working on that. And I think we did that today." He emphasized how important it is that they train their mental game early in the season.
Surely the skill is there for this team to be outstanding again this season. When they all played together on offense on Sunday, Earles, Thorne, and Dillon were excellent; they had great support from Joe Bender and a mix of others.
Standout rookies Kyle Hartley, Matt Hanna, and Andrew Lehmberg — who have already made the team (others are still trying out) — combined on the last point of the finals for a 1,2,3 punch up the sideline and into the endzone for a break score. Lehmberg, out of New Jersey, was particularly impressive on the weekend.
With the rumored return of Marcus Ranii-Dropcho and Aaron Watson (who both have fifth year eligibility) floating in the background, Pitt looks poised to, once again, be a force come Spring.
Eastern Michigan Is No Fluke
The EMU Hellfish made their first Nationals last year on the backs of handler Johnny Bansfield and cutter James Highsmith, defeating Northwestern in the Great Lakes game-to-go to make it to Cincinnati. There's no reason they couldn't make another run this year.
Highsmith was out this weekend, but Bansfield and fellow handler Austin Engel threw the team into finals. Yes, the team was running very tight lines in their tougher games against Pitt and Michigan. Yes, they ran a lot of zone (which can give you quite an advantage against rookies in the fall). But they also looked deeply skilled on offense and capable of being more than a flash in the pan.
"We did a lot better than I thought we were going to do," said Bansfield.
EMU hasn't played a lot of high profile games at big tournaments; there's not a lot of game tape (yet) or a lot of coverage of their small squad. But let me be clear: Johnny Bansfield is, no doubt, one of the top three throwers in the College Division right now. He has limitless range, especially with his forehand. For someone who can throw as far as he can, he has a lightning quick release with minimal arm windup. Combine his power with his break throw talent (he routinely threw crossfield inside flicks on a dime) and you have one of the country's elite handlers.
Engel is not far behind him. He's more of a pure handler than Bansfield, who prefers to start downfield and get open as a release valve, but he is also very talented with a wide range of throws. The competent cutting corps — led by Josh Osinski this weekend — knows just how versatile their handlers are and get open accordingly.
"They understand how to play together at a really elite level," said Pitt coach Nick Kaczmarek. "They have a lot to be proud of as a program; I expect to see them back at Nationals."
The team obviously lacks depth — they ran out of steam in the finals for a reason — but they will beat you if you don't take care of the disc against them.
The team will have to develop their cutters if they want to become a top 15 team; they won't be able to beat elite defenses later in the year without a way to really work the unders and get cutter to cutter flow. But with their outstanding handler set, they should expect to get back to Nationals this season.
"It's gonna be another big year," said Bansfield. "I think we can get two, maybe three bids out of Northwestern. If we can get these [rookies] in shape, that's the key — get these guys in shape."
Michigan Looks Polished
Though Michigan would fall to EMU in the semifinals, Big Blue still looks like they will be the team to beat in the Great Lakes this year. With a heavy dose of rookies and second year players, Michigan swept their pool and eased past Lehigh to reach the semis.
Sam Greenwood was an enthusiastic and strong leader all weekend and the team looked far sharper — even in the wind — than they did a year ago.
"Our rookies from last year bought in so well and put in the time over the summer to get better," said Greenwood.
It shows. Disc skills looked substantially better up and down the roster, even as the team played without some of their key returners like Eli Leonard, Jesse Buchsbaum, and Zach Goulson. Last year, Michigan was athletic and talented, but really lacked the throwing ability to go deep at Nationals. They are off to a good start.
"We came out really strong yesterday and had a ton of improvement throughout the day, skillwise and growing as a team," said Greenwood.
Michigan was playing some sophisticated ultimate, showing bracketing on defense and flashing some well-practiced plays on offense. They beat a good Northwestern team on Saturday on double game point in one of the cleaner and more exciting games of the weekend.
Krishna Mahajan was a steady presence on offense, making good decisions and quality throws throughout the weekend. Greenwood didn't play that many points early in the weekend, but is an obvious talent that already excelled last year. Expect to see him all over the field for Michigan at CCC and again in the Spring.
They caught a relatively rested EMU in semis and didn't do much to stop the lethal handler duo. Michigan ran their diamond zone that worked so well for them at Easterns last year, but Engel and Bansfield carved it up and didn't make mistakes. Greenwood commented that the field seemed oddly larger — they had difficulty closing down the space with their zone.
But with many of their top players out, Michigan still looked like a quality team all weekend and was easily the most impressive side at the fields on Saturday. It won't be a surprise to see them play strong ultimate at major tournaments this year.
Quick Hits
– Northwestern still has lots of quality talent this year, but may have lost a few too many playmakers to really make a dent. Handler Alex Champe was playing great, especially in the wind, and Nathan Yeazel was a strong deep cutter. But with many of the fifth years that took this team to a bid-earning season last year now departed, it could be a tough road. They look like the third team in the Great Lakes; they might need to land that third bid if they want to get to Nationals.
– Indiana Wesleyan's Travis Carpenter is the real deal and really does make the kinds of plays in his Callahan video from last year look routine. But he takes unnecessary risks with his throws and will need to do more to make his teammates better if IWU is to break through on the DIII scene. If his game matures this season, he is definitely talented enough to carry that team in the DIII division.
– Lehigh was no pushover and remains a DIII powerhouse. They broke through to take 7th with Sunday wins over Penn State and Delaware and close games against Michigan and Northwestern. Nick 'Falcore' Mathison is poised for another big year.
– Case Western Reserve did well at Steel City last year and followed it up with a fourth place finish this year. I didn't get to see much of them this weekend, but they are very solid and athletic. They have a couple of big playmakers, but will need to expand their depth to get past the teams ahead of them in the Ohio Valley.
– Virginia Tech has a lot of rookies this year, but they remain one of the programs lurking quietly in the Atlantic Coast. After a disastrous Regionals last year, they'll be looking to climb back towards contention. Antoine Davis, their premier deep cutter, will be in the mix for a top All-Region selection this year.
Outlook
It's obviously early in the year to say much, but, more and more, the fall means more than you might think. I can say that we won't make the mistake of saying the Great Lakes will have a down year like we did last year.
Pittsburgh should have won this tournament and they did. But the way they won — from being terrible to being quite strong — has to be encouraging for Pitt fans. They lacked spark last year; their energy was vastly better this weekend. Pat Earles is going to be a killer for them all season, and if they do end up getting Watson and Ranii-Dropcho back….look out.