Tally Classic is coming back for its 10th year.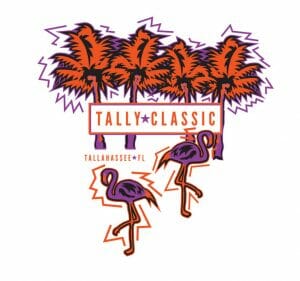 This post is brought to you by Florida State and the Tally Classic.
2015 marks the 10th anniversary for the Tally Classic tournament, set for March 14-15th in sunny Tallahassee, Florida. There are three divisions available: D1 Men's, D1 Women's, and D2 Men's.
The tournament has grown in recent years thanks to great fields, great weather, and great ultimate. You can always expect lined fields, tons of food all day, high-quality facilities, medical personnel on site, and prizes for the winners. It's a great option for Spring Break or a midseason challenge.
Spin is offering $300 in credit to the 1st place team in each Division, $150 to the 2nd place team, 10% team uniforms for any team in attendance, and a free trucker hat for every captain.
There are 24 teams in D1 Men's. A $475 team entry fee includes the chance at a $1000 cash prize for winning the tournament. A $75 discount off the fee is available to any team that competed at the 2014 College Championships. Teams committed include Florida State, Brown, Alabama, Ohio State, and Auburn.
The Women's Division holds 16 teams. It's just $350 to play and your team has a chance at a $500 cash prize. $50 off to 2014 College Championship qualifiers. Teams committed include FSU, Auburn, and Notre Dame.
There is also a Division 2 Men's, which will play host to 20 teams. It's perfect for smaller teams or B teams. It's just $300 to play. Teams committed include FSU's B team, Georgia's B team, and Notre Dame.
To learn more, email the tournament directors at [email protected] or go to the tournament website.