Four bids doesn't guarantee anything for a deep slate of New England teams.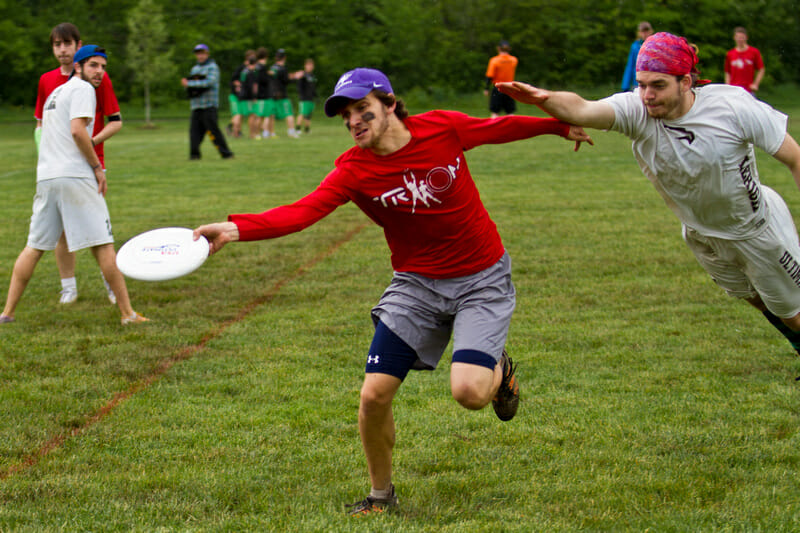 Disclosure: The author is a player for Brandeis.
For most regions, four bids to the DIII Men's College Championships would feature a relatively stress-free Regional tournament for the top teams. That is not the case, however, for the deep Men's DIII New England region. Almost every team in the region is either a threat to qualify for Nationals or a threat to upset a top team.
While many teams in the region will have the physical capabilities to defeat any given team this weekend, it will be the teams that have the mental focus as well that advance.
Here is a look at the field.
Amherst
Amherst comes in as the number one seed in the tournament, and rightfully so. Army of Darkness went 12-1 in the regular season, with their lone loss being a double game point defeat at the hands of eventual tournament winner Elon at DIII Easterns. Amherst notched victories over a number of quality teams this season, such as their 13-8 win over North Park and their 14-10 win over SUNY-Geneseo, both at DIII Easterns.
"Going into this weekend the team is just focusing on having fun together," captain Juleon Robinson said. "It's easy to turn Regionals into a big stressful ordeal, but really it's just another chance to play our favorite game with our best friends. As long as we keep that in mind, we'll have a great time."
Robinson, as well as seniors Andrew Edelman and Giaco Corsiglia lead Amherst on both offense and defense. With Regionals being hosted at Amherst again this year, AoD will have a home-field advantage. In years past many Amherst fans have come to the fields and helped Amherst push through difficult stretches during games.
Brandeis
Though Brandeis finished the regular season with a tough showing at Garden State, they come into regionals boasting a 19-3 overall record. TRON has relied upon its depth to be successful this season and that should again be the case this weekend. Captains Noah Newberger, Hansen Yang, and Clarence Lee, as well as graduate student Stephen Gross and senior Sam Zuckernik, will lead the team on both sides of the disc this weekend, and other players like sophomores Mike Humbert and Brian Gzemski provide Brandeis with the depth necessary to succeed late in the tournament.
Yang emphasized that the team's depth as well as its mental focus would be key to having a successful tournament. "We did well last year because we put in a lot of effort in the fall and the winter," Yang said. "This year we've worked even harder, especially to improve our depth. Coming into this weekend, expect a lot of well-rounded system-based play driven by a strong team mentality. If we can maintain this, I don't think any team is out of reach for us."
Bowdoin
Clown lost offensive standout Zach Morrison from last year's roster, but junior Alex Roche and senior Josh Imhoff will look to pick up where Morrison left off. Sophomore handler Aidan Penn and senior handler Denis Maguire will also look to provide offensive firepower. Senior Evan Hoyt and junior Tim Boit highlight the team's defensive lineup.
Though Bowdoin has been knocked out in the game-to-go the past two years, this year it seems they have the pieces to take the next step and qualify for Nationals. They stormed through Garden State, finishing the tournament with an 8-0 record, and went 3-0 at Conferences, defeating fellow regional opponents Bates, Colby, and Middlebury.
Bowdoin pride themselves on their fitness, a tribute Maquire believes will help them win the high-pressure games. "The determining factor in who wins in a game-to-go will be execution during that single game. Execution in those games will be heavily dependent on how well-conditioned a team is," Maquire said.
Middlebury
After winning the 2013 DIII College Championships, the Pranksters failed to qualify for Nationals in 2014. This year Middlebury seems primed to make another Nationals run. They had some impressive victories at DIII Easterns over SUNY-Geneseo and Cedarville, and with Asa Julien as their go-to guy, Middlebury will have the opportunity to prove once again that they are National contenders.
One question mark will be how Middlebury performs late in the tournament. They lost to Bowdoin 15-10 at the end of their conference tournament, and could not maintain consistency late at DIII Easterns either. If they can shore up their late weekend execution, they will be a force this weekend.
Bryant
Craze qualified for the DIII College Championships last year for the first time in their program's history. Can they repeat that success this year? The team lost all-region player Joe Scully and defensive player Jim Rubino from last year's team, but sophomore Jacob Garfunkel and senior Tyler Pardee return this year. Sophomore transfer Kendrik Lechner and freshmen Alex Kenworthy and Cam Jack have all made positive impacts this season as well.
Pardee is confident that Bryant has put in the work to succeed this weekend, so it all comes down to execution. "Bryant has put in the necessary legwork in preparation for this weekend. We need to play a smart and consistent game and utilize the gains we have made throughout the year," Pardee said.
Bryant lost to Amherst in a close 12-10 game at conferences, but had impressive wins over Worcester Polytech 13-6 and 9-8.
Bates
Bates comes into Regionals ready to prove to the region that they are a threat. Seniors and captains Dylan Lopez and Spencer Goosens as well as junior and captain Chris Fox lead the squad that experienced mixed results this spring. They defeated Bowdoin 10-6 and Bentley 12-9 at Spring Awakening III, but lost to Bowdoin 13-12 and Middlebury 12-11 at conferences.
Orange Whip plays well when they play with high energy and they will need that energy throughout this weekend. Fox said he is confident in the team because "we know how to play Frisbee, we are a deep team, [and] we have a chip on our shoulders. [We] just need to play our game and stay mentally strong."
Bates' program has been growing nicely in the past few years – can they punch their ticket to Nationals this year?
Bentley
You know it's a deep region when the defending champions are not even mentioned until mid-way through the article. As mentioned in their season preview, Icehouse lost 13 players from last year's championship team. While this is not last year's team by any means, Bentley has shown in years past their ability to peak during the series.
Alec Parzych and Andrew Zaccardi highlight a Bentley team that also experienced mixed results during the regular season. They come into regionals with an 8-7 overall record, having lost to WPI, Bryant, and Brandeis. Bentley did have a nice win over WPI at the small New England Open, however, and their well-coached players give them nice depth.
Worcester Polytech
WPI lost Louie Mistretta from last year's team, but returns nine seniors this year including Tim DeFreitas, Pat Kane and Ryan Turner. Freshman Jared Perkins has also come in and displayed impressive athleticism this season.
WPI's biggest strength is their deep game, especially with Turner. While defensively the Bullets will show a variety of sets, Turner admitted that their man-defense could use some work. Their success this weekend will come down to their "ability to play up to our opponents and dial in," Turner said.
WPI had a couple nice wins this season – one over Bowdoin and another over Bentley at Spring Awakening III – but also struggled against some teams, specifically Bryant. WPI is 0-3 against Bryant this season, a team Turner refers to as their "bugaboo."
Williams
This will be the first time in Williams' ultimate program history that they will compete on the DIII level. Captain Jacob Blau acknowledged that this would have both benefits and drawbacks for Williams. "On the one hand, that could prove advantageous since our players are used to competing against stronger, more developed teams with better athletes and generally a higher level of play," Blau said. "On the other hand, we're fairly unfamiliar with the landscape of our DIII region, which can make it more difficult to prepare for the specific competition we'll face this weekend."
Blau, his brother Emmett Blau and Llewellyn Smith captain the team, and freshman Noah Betz-Richman comes to the team with previous YCC ultimate experience. Williams' play this season "was characterized by near misses and a failure to play up to our full potential in key moments," Blau said.
With many teams in the region are unfamiliar with Williams, they could surprise some teams this weekend, and are a clear "dark horse" team.

The Rest
Colby did not play any sanctioned regular season games, but played Middlebury, Bowdoin and Bates close at conferences. They will be a tough matchup for any team.
Stonehill's youthful team gained a lot of experience this season, and has shown the ability to play well against tough opponents, coach Craig Bunce said. Bunce said that the key to the team getting in a position to qualify to Nationals would come down to "consistency and focus. If everyone's hands and heads are in it, we have just as good a shot as anyone."
Like Colby, Merrimack also did not play any sanctioned regular season games. They will look to play spoiler against other teams with their zone defensive schemes.