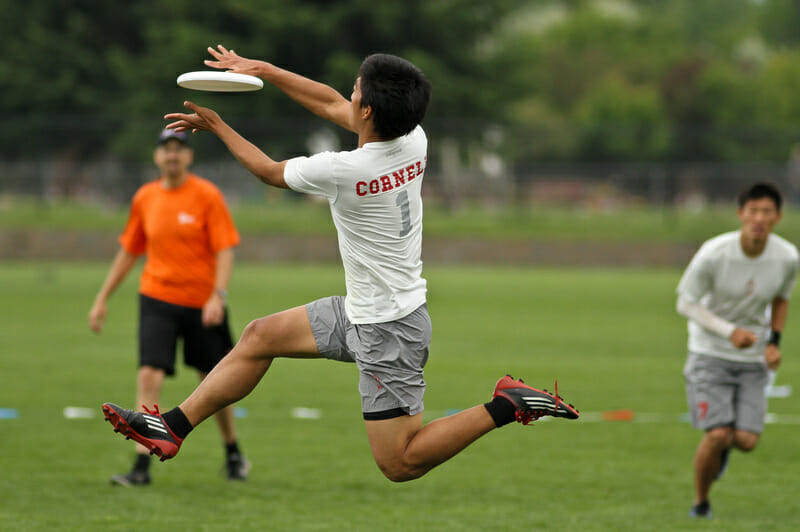 Let's get this out of the way early: none of these teams are going to affect the national title picture. In fact, none of them are probably even going to seriously contend for pre-quarters at Nationals. From a region that has been disparaged since the redraw, whoever emerges as this season's Metro East champ may be the weakest team to play at Nationals in recent memory. And that is totally okay. In fact, in many ways it makes this weekend's tournament more exciting than several of the others happening across the country in higher quality regions.
Allow me to illustrate this point with a comparison. Before the NCAA basketball tournament in March that we all know and love, there are a couple weekends of conference tournaments, the equivalent of regionals, that determine which teams will lock up bids to the big dance. For the elite conferences, the ACC or the Big 10, these tournaments are mostly about bragging rights. The top teams are all secure in their place at the national tournament, and their seasons aren't on the line.
But for the majority of conferences, the small and obscure ones like the Sun Belt and the Patriot League, only the team that wins its conference tournament continues its season in the NCAA tournament. For these teams, the national tournament is not the focus of their season, it is the conference tournament that they stake their hopes and dreams on. Their whole season comes down to something that is not in the national spotlight, and definitely not the platonic ideal of how the sport can be played. And as you can see from this video, it is unquestionably awesome.
That was some ugly basketball being played at the end of the game, but for everyone in the building it didn't matter, because the euphoria was real. Albany ended up losing in the first round of the NCAA tournament, but that shot and their run to the conference title will live forever in the minds of those players and fans.
We should look at the Metro East the same way. These teams aren't the crème de la crème, they are mid-majors, and just because they don't have a realistic shot at toppling the best teams in the country, their drive and ambition, their agony and ecstasy resonate with us just as with any team in any sport. So while Pitt, Wilmington, and Oregon are sleepwalking their way into Nationals, the Metro East will be a shootout where dreams will live and die, hearts will break, and some very exciting ultimate will happen.
And hey, who knows? Maybe the team that emerges as the champ will win a couple games at Nationals and add to the Cinderella story they started at Regionals. Even if they don't, it is enough to know that for these teams the tournament this weekend is every bit as important to them as Nationals will be for the big boys in May.
The Evil Empire
Considering the relatively even level of talent in the Metro East over the past half a decade, Cornell's run of five tournament titles in a row was definitely impressive. Last year's defeat in the finals at the hands of Rutgers ended their streak, but going into this weekend Cornell still has to be considered at least the nominal favorite.
While losing last year proved once and for all that the Buds could be beaten at Regionals, in the years preceding their defeat the program had been showing signs of decline. They simply were not at the same comparative level as the 2010 Cornell team that reached the semifinals of Nationals. The Cornell teams of the past few years had been dominating the region less with overwhelming skill and talent, but with superior preparation and an undeniable mental edge over every other team in the region.
For a program that preaches building for the series, Cornell had a typically bumpy regular season. In February at Florida Warm Up they looked completely out of their league in several games, the biggest positives from the weekend were a 13-11 win over Northwestern and a semi-competitive game against a Texas A&M team that was still in its nascent stages.
With that dismal weekend as a starting point there was almost nowhere to go but up. Still, it was encouraging to see some improvement from the team at Easterns in late March, as they were able to give competitive games to both UNC-Wilmington and Wisconsin in pool play, in addition to notching a win over Colorado College. While Cornell is known for developing their depth in the regular season, they played their studs a lot on those Saturday Easterns games, and it showed. On Sunday they got their doors blown off by the competition, and the team's lack of depth became apparent.
While the Buds showed during the regular season that they are not at a level to seriously compete nationally, they played well enough at Easterns to suggest that they should be the favorite this weekend. Their top flight players — Franklin Li, Joe Thompson and Dan Wekstein — are all good enough to win games on their own against weaker competition, even if Cornell might prefer a system win to one reliant on individual brilliance.
What will be put to the test this year will be their depth. Usually a hallmark of Cornell at Regionals was the bottom half of their roster running other team's studs into the ground, and if the Buds can get good performances from players like promising freshman Pablo Avila and Josh Klein, then they could be in good shape to retake the Metro East title.
It is hard to not look at Cornell as the evil empire of the Metro East, from their historical dominance to their play style (physical, systematic, and punishing) to even things like their jerseys. Part of the fun of this region is the target that Cornell has long had on their back, and that in fact they generally invite it upon themselves as part of a mental edge they have cultivated over the years.
Is that edge still there after Rutgers dethroned them last season? In previous years, teams would wilt against Cornell and, once the Buds went up a few breaks, the game was all but over. Last year, Rutgers came back from a 5-1 deficit and become the team that finally slayed the beast of the east. We will see this weekend if Cornell's mental edge still holds sway over the rest of the region, or if last year's defeat has unmasked them as mortal once and for all.
Reigning Champs In The Hunt
Rutgers have been able to bask in the glow of their regional title for a year, but now they must defend it. They will attempt to do so without several key pieces from last year's squad, most notably Scottie Xu, Matt Weintraub, and Josue Alorro (U23 Open). The Weintraub loss might hurt the most, as he has transferred to Columbia and will lead their squad against Machine at Regionals. Any team losing top end talent like that is going to suffer, but Rutgers still has two gems in Albert Alarcon of PoNY and Jibran Mieser of the New York Rumble. Those two might be the best one-two punch in the region, and they will need to play like it if Rutgers hopes to repeat as champs.
This weekend could play a big role in how Machine's run to Nationals last year is remembered. If they are able to repeat as champions, it will indicate that their program is here to stay and is capable of weathering some serious personnel losses. If the team struggles and flames out early in bracket play, 2014 will be remembered more as the year Cornell lost than the year Rutgers won.
Based on their regular season results, you would have to say that the latter looks more likely. Due to weather related cancellations that plagued the whole East Coast, the only regular season tournament that Rutgers was able to attend was Stanford Invite in sunny California. While the team must have been glad to escape the East Coast weather, once the games were played it may have felt like a frying pan-to-fryer situation. Rutger's results on the weekend were an absolute disaster, as they never scored more than six points in a game against the top tier competition present that weekend.
With just Stanford as an indicator, it would be hard to give Machine much of a shot this weekend, but one thing they have going for them is a coach, Ari Weitzman, who is well aware of the potential hangover effect facing the team and has built his season plan around combating it.
Weitzman recognized that the team needed to struggle and learn to become this team this year, not an an imitation of their 2014 team. "Our mindset has been to put our team is a position where we might fail early in the year, so long as we learn and respond to succeed at the end," said Weitzman.
Rutgers seems to have learned something along the way this season, as they had a successful, if not rapturous performance at Conferences. After dropping their first game to Columbia they won the rest of their games on the weekend, including a 14-11 win over Columbia in the 2/3 game that Weitzman believes showed the team's ability to learn from their struggles and emerge as a superior team.
They have certainly failed at points this year, and this weekend we will see if they have learned enough from their regular season frustrations to earn postseason success.
Challengers and Contenders
Just below Rutgers and Cornell are two teams that must be thinking 2015 just might be their year. The champs of the Metro NY section, NYU enter Regionals with momentum on their side. Another casualty of the prolific winter of 2015, NYU wasn't able to see any action outdoors until Conferences, but they demonstrated there that they have to be considered a real threat to make it to the regional final, if not win the whole thing.
Because of their meager regular season, NYU entered Conferences as the sixth seed, but quickly upset second seeded Princeton and never looked back from there, going 4-0 on the weekend after handily beating Columbia in the finals. The team's depth was apparent throughout the weekend, as teams that relied on a few studs were frustrated by the fresh legs Purple Haze was able to throw at them. Unfortunately for prognosticators, they didn't cross paths with Rutgers, which would have been the best barometer for the team's chances this weekend.
The case for NYU making a deep run at Regionals involves their depth and their fitness. Unable to get outside for most of the season, NYU's players dedicated themselves to their fitness program and have emerged from the winter looking strong and fast. Four games at Conferences doesn't necessarily showcase it, but the team's depth and durability will potentially put them in a good spot on Sunday at regionals when other teams start to falter. If NYU can navigate pool play and get rolling in the bracket, they may well have something to say about who emerges from the region.
The team that had the most successful sectionals of any Metro East squad was Connecticut Grind, who absolutely obliterated their competition at Hudson Valley sectionals. Their closest game was a pool play victory over second place finisher SUNY Albany by the score of 10-5, but that makes things seem even closer than they were, and to prove that point UConn demolished UAlbany 13-3 in the championship game.
Two years ago Grind came up one game short of Nationals, falling hard against Cornell in the regional final 15-6. That team was centered around two stars, Kamil Skwarek and Matt Baum, who needed to do everything for the team to succeed. When they were stymied by Cornell, the team imploded.
It seems that this year's UConn squad has taken the lessons of 2013 to heart, as the team is deep across the board. Tall, athletic, and precise, Grind's offensive line simply did not give the disc away at sectionals, as they were able to make good on their name and wear teams down on in cuts. Once defenses adjusted, UConn's athletic cutters streaked past them deep for easy scores. Grind's team is so well disciplined and effective that the coach of an opposing team called them "clonelike" which is an adjective far removed from the 2013 team.
UConn's regular season showings at Queen City Tune Up and Easters Qualifier show that this team isn't ready to make a splash on the national level. But their performance at Conferences demonstrates that they could be in a good position to make some serious noise in the Metro East, and based on their play this weekend look like the best candidate to disrupt a potential Cornell-Rutgers rematch on Sunday. After coming so close two years ago and drastically underperforming, UConn's players will be prepared to play their game this time around, and this year their game might be good enough to take them to Nationals.
Columbia finished third at Metro New York sectionals, which isn't a great sign for a team trying to finish first at Regionals, but they could get hot and knock off some teams above them. They are a top heavy team that relies on their best players to do a lot, which is dangerous when you need to win four elimination games in a row, but can be equally dangerous if you are on the other side in one of the those games.
Former first team All-Region Rutgers handler Matt Weintruab has been a revelation this year for Columbia, and he could potentially spur the team to a big upset if he has a good day. The drama writes itself if he and Columbia face off against his former teammates on Rutgers in an elimination game Sunday.
There are a few other teams that could throw a scare into one of the favorites under the right conditions. Syracuse played very well to finish in second place at Western New York Conferences on the back of some tenacious defense from Nick Plummer and Charlie Reiff. From going 1-6 at Conferences last year to 6-1 this year, the program is definitely moving in the right direction, but they will need to show offensive stability if they want to get into bracket play and give themselves a shot at an upset.
Of course, if people are looking for a team that can beat Cornell, there is one that has already done so this year in SUNY Albany SCAM. They managed to take down Cornell 10-9 in a pool play game at a regular season tournament in March. Pretty much every indicator in that sentence should be a good sign that the win might have been a fluke, but it shows that on the right day they can beat Cornell and potentially anyone else in the region.
The "right day" for SCAM would likely mean that their captain and best player Sean "Doc" Fagan goes supernova. He has been the heartbeat of SCAM this year, leading them on offense and defense, and he needs to play well for them to have any kind of a shot at making a deep run.  Part of what makes the Metro East so fun is that a player having a career day can really make a difference, and while Fagan and SUNY-Albany might not have the dream run that their basketball counterparts did, just the potential is enough to make this weekend worth it for them, and us.