Can Neuqua Valley defend their top seed? Can Hopkins repeat? Lots of questions will be answered this weekend in Iowa.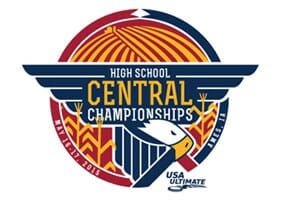 Disclosure: The author is a player for Neuqua Valley.
The USA Ultimate High School Central Championships returns to Ames, Iowa, once again in 2015. Weather reports indicate that it will be a rainy and windy weekend, which will could prove to be the making, or undoing, of many of the teams in attendance. The conditions will offer a plethora of zone defenses, and will test the central region's reputation for having teams that pride themselves on playing well in adverse conditions against a zone. The field in the Open Division is as strong as ever with the potential for a very exciting Sunday.
Pool A
Neuqua Valley (1) – Neuqua comes into Centrals as the top seed with some strong performances under their belts. They won Rivertown Throwdown, took 4th place at Neuqua Knockout and, most recently, took 3rd at Paideia Cup. Their comparatively small roster has performed well consistently, owing to their strong chemistry and good fundamentals. Neuqua has played and beaten Holy Family and Center Grove. Llike many of the teams in attendance, Neuqua has built their season towards this weekend's competition, and will look to finish strong.
Armstrong (8) – Falcon Punch have played in two tournaments coming into this weekend: Hopkins Hustle and Granite City Classic. At Granite City, they lost to Edina in semifinals, while they were defeated at Hopkins Hustle in pre-quarters. The Minnesota team will look to use their regular season experience playing regional teams to make it to the bracket this weekend.
James Madison Memorial (11) – The Wisconsin team enters as the third seed in Pool A having some quality performances already this year. They made it to quarterfinals of the very competitive Neuqua Knockout before losing to Black Ice (Massachusetts). In that tournament, they also had both a win and a loss against Monarch High School. If they can replicate that form this weekend, they have a solid chance of making it to quarterfinals.
Pool B
Hopkins (2) – The long Minnesota winter limited Hopkins' outdoor opportunities early this spring, but since then, the reigning Central champions have had plenty of outdoor action. Taking fifth at Paideia Cup against stiff competition and 2nd at their own Hopkins Hustle (losing on double game point to Jacobs), shows that they've been progressively improving. Sam Kaminsky and a strong senior class will lead this perennially excellent team far into the bracket on Sunday. Of the teams in attendance, HURT has played St. Paul and Cathedral, beating both.
St. Paul Charter (7) – This conglomeration of small Minnesota schools fields a small but well developed and certainly capable team once again. The Stars have had a strong season so far and come in seeded seventh. At Hopkins Hustle, they played Hopkins in quarters, losing 8-11. A quarterfinals appearance is within reach for this Minnesota team.
Naperville Central (12) – Relatively untested up to this point, the Redhawks are one of three Naperville teams that will be in attendance in Ames. They have notched a win over pool-mate Neuqua B in league play.
Neuqua Valley B (13) – Neuqua's B team fields one of its strongest ever teams this year. They finished fifth at Madison Mudbath, making it the team's best ever performance at the tournament. They also have a win against Geneva in league play. Some players to watch will be cutter Alex Diener and handler Joey Kennedy. This is the team's last tournament with coach Rob Gross.
Pool C
Holy Family Catholic (3) – Revolution has had a strong year despite the relative youth of their squad. A team with only two seniors, HFC has a good group of underclassmen that have stepped into big roles, none more so than Jordan Monnin, who is not only athletically dominant, but also a talented thrower. Their quick handler movement is still the cornerstone of their offense, and their tricky zone will serve them well this weekend given the expected weather conditions. Revolution took second at Rivertown, fifth at Neuqua Knockout, and recently won their state championship. The continued strength of Holy Family's program means that they are a strong semifinals or even finals contenders.
Ames (6) – This year, Parallel fields the strongest team in their team's brief history. Their small roster contains mostly seniors and a few juniors. They won the Old Capitol Open and placed third at Madison Mudbath. Playing once again on their home turf, they will look to make it out of quarters for the first time. Vincent Montabon is a key player to watch.
South (9) – Squall, a team from Minneapolis, return to Centrals once more. Their season has been a bit underwhelming up to this point, losing to Madison West in pre quarters at Hopkins Hustle. They will look to make a strong run at quarters this weekend. Cole Wallin, a strong player with great athleticism, will be the key to South's success this weekend; Oscar "Neymar" Leinbach will also be a player to watch.
Pool D
Center Grove (4) – Holy Mackerel has had some strong performances so far this year, beating Jacobs to make it to semis of Rivertown Throwdown, and beating Memorial to make it to the finals of Madison Mudbath. Though they haven't yet taken the final step, they could very well peak this weekend and make a strong case for semifinals or finals contention. Connor Halloran captains the team and leads them with great intensity and spectacular layouts; Zach Padgett is also a force to be reckoned with in the air.
Edina (5) – Edina, who experienced high roster turnover after last year's state championship, has made this a rebuilding year. At Neuqua Knockout, Edina took 10th, but then bounced back to win the Granite City Classic against many local teams. At Hopkins Hustle, they surprisingly lost in prequarters to Cooper High School. That considered, Edina is an athletic team that will have a strong showing this weekend, potentially making quarterfinals. Their game against Holy Mackerel will likely be one of the most exciting pool play matchups on Saturday.
Cathedral (10) –  Cathedral Griffin has had a solid regular season. Making the semifinals at Granite City and taking 16th at the Hopkins Hustle after failing to make prequarters, this young team has had some success this spring. A strong crossover game against what will likely be St. Paul Charter will be their most important game of the weekend.
Geneva (14) – The Vikings, last year's Chicago High School League winners, have lost key players and don't look as strong coming into this weekend's competition in Ames. This is the first year they've lost to Neuqua Valley's B team, but their proficiency with zone could come in handy in this weekend's conditions, and lead them to a surprise pre quarters berth.