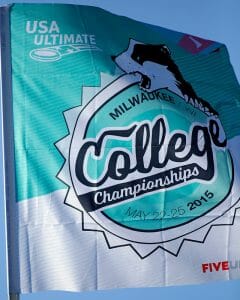 Ultiworld's College Championships reporting crew each picked a topic and ran with it for this College Championships wrap up feature.
Emotional Hangovers

It seemed like every time a team had a lights out performance this weekend, they immediately fell flat on their face in the next game. We would see the tantalizing potential of a roster, the ceiling that team was capable of, and almost invariably they would come crashing back to earth the next game.
The examples are numerous, but a particular string of games stands out.
Texas threw everything they had at the top seeded Pittsburgh, and pulled off the biggest upset of pool play. They were hitting on almost everything offensively, and when they did turn the team played with such intensity off the turn that they limited Pittsburgh to only two breaks on 11 chances. The next morning they came out so flat in their loss to Oregon it looked like they had forgotten to put the cap back on whatever bottle of liquid insanity had been fueling them against Pittsburgh.
After falling to Texas, Pitt had to play against their nemesis UNC Wilmington in prequarters. That game was an emotional rollercoaster for En Sabah Nur, if rollercoasters didn't have any safety features and were operated by Loki. They were emotionally spent after that game: the look on their player's faces told the whole story, and they got rocked by UCF the next day.
When UCF stomped Pittsburgh, the team that had unceremoniously pulverized them in the 2013 title game, it was abundantly clear they had a mental and emotional edge. They found the perfect between confidence and recklessness and were able to goad Pittsburgh into playing a chippy, frantic game that suited Central Florida perfectly and caused Pittsburgh's composure to vanish. Tyler Kunsa's ejection shows how UCF was able to get under Pitt's skin, in their heads, and (because of those advantages) into the endzone over and over again.
But when it came time for UCF to take on UNC in the semifinals, the raw emotion and bravado that they had in their game against Pitt was unfocused. While in the quarterfinal they were using their vigor to undermine their opponent, in the semis they only undermined themselves, resulting in UCF becoming the mean mugging head cases they had been able to force Pitt into.
Talent goes a long way in ultimate, but at Nationals when every game means so much and there is so much pressure, having the right mental state means everything. The emotional food chain that started with Texas's defeat of Pitt and ended with UNC putting down UCF like a rabid animal showed how dangerous it can be to ride the ups and downs of emotion at a tournament.
UNC played consistently all weekend long, and they acted consistent, too, regardless of opponents or outcomes. They never had to push all their emotional chips in for one game the way other teams did, and as a result they never had a hangover game either. UNC didn't have a singular incredible game this weekend, but they avoided having any bad ones, and sometimes that is all it takes.
– Patrick Stegemoeller
Jeff Babbitt v. Chris LaRocque
We were talking before Nationals about how seeing Jeff Babbitt and Stanley Peterson mark each other during Pool D play might send us all spiraling into some sort of Fringe-ian dimensional collapse Well, Saturday arrived and Massachusetts met Colorado, Zoodisc whipped out their 1-3-3 zone and suffocated the Mamabird vertical stack flow, depriving us of the clash of titans we had hoped to see. Oh well, guess the Massachusetts coaching staff was more interested in winning the game than providing entertainment — weird, right?
Luckily, we got our popcorn-worthy Babbitt matchup in quarterfinals when he was marked by Florida State's Chris LaRocque. In an interview before the series, LaRocque said that he always looked forward to lining up downfield on the D-line and taking on the opposing team's #1 threat. Well, Sunday morning, he got what we wanted and I spent half of the game with my jaw on the ground watching them go at it.
This was a real highlight moment where everyone in attendance got to see how much Larocque deserved to be a Callahan finalist. For those that only knew of him and had yet to see his full game on display, LaRocque was a tactical ace of a thrower — the kind of guy with a huck on tap for just about any situation and a knack for putting it in the breadbasket of his top cutters. While he did do that (he had 6 assists in the game and mind-bending 40 on the weekend, second only to Nethercutt at the tournament), LaRocque went pound for pound with UMass' bulldozing cutter and captain, and won the dang match-up.
At one point in the second half, Babbitt went charging down the open side lane for a under, a situation in which he is unstoppable 99% of the time. Put yourself in the thrower's position. If you've got a sure-handed 6'1″ brick wall of a cutter with even half a step in the lane, you give it to him, right? Not when LaRocque is nearby. He had already bid on an under to Babbitt earlier in the half and just missed, and this time he wasn't going to. LaRocque went horizontal at hip-height and snuck his hand in for the tip block. Any other time the two matched up, Larocque matched physicality in the stack with Babbitt and really limited his impact.
Babbitt walked away from his team's 12-10 loss with 3 goals and 1 assist. Not bad for most, but weird considering that against Colorado, this Defensive Player of the Year candidate racked up 4 goals and 4 assists, and a whopping 7 goals and 1 assist against Wilmington. That means that of the 30 points scored by UMass in the games previous, their star captain was involved in just over half of them.
Advantage LaRocque.
– Simon Pollock
No More Drama
We wait all year for the College Championships, for the truly elite to go toe to toe and when every result truly and utterly matters. They say regular season results matter1 but they only do in the context of how they set up the postseason. With all that on the line, we expect some incredibly excitement.
Honestly, I was a bit disappointed.
In the women's division, the tournament was littered with blowouts. Perhaps I was spoiled by 2014, when we had four games decided by one point, eight decided by three or less, and five games in the bracket decide by three or less. This year, we got a meager two games decided by one goal in pool play. The men's side of the bracket also dipped pretty heavily, expected after an insane weekend last year: there were a whopping ten games decided by just one goal in 2014's pools, with only four such scores this season.
Worse yet was a snoozefest top 12 bracket. The women's bracket had one game decided by fewer than five goals – the 13-11 Oregon/Stanford final – compared to five games with margins of three or less in 2014. The men's side also had just one close game — Florida State vs. UMass in quarters — compared to three games that went to the wire last season. So from 28 bracket games, we got four2 great games. I'd trade them all for another Oregon vs. Central Florida.
It isn't just because 2014 was super exciting. Those numbers are mostly down from 2013, when we had six 1-point women's games in pool play and four good women's bracket games, and four bracket games in men's decided by 3 or less.
That's not the say there wasn't some zaniness to pair with the pomp. We got the first ever women's fifth-over-first upset since the pool expanded to 20 teams when Texas women took down UCLA; that game played a major factor in #3 UCLA missing the bracket altogether. They must put something in the water down in Austin, because the men toppled the heavy favorite Pitt in their pool, launching Pitt into a downward spiral. Who read the tea leaves on UNC-Wilmington men going out before the quarterfinals or saw the Washington women going down in pool play in their crystal ball?
The drama was still there, just in a different form. There was drama in watching the Oregon men fall of a cliff, only to grab the ledge and pull themselves up at the last instant like the classic movie trope. As much as it really and truly sucked to see Mira Donaldson go down, watching UBC rebound (and the accelerated emergence of Ellen Au-Yeung) was still intriguing.
Plus, there was the "Will he or won't he?" of the handsome and debonair @FullFieldHammer trying to track down a Texas A&M black jersey.3
But all in all, even with more skill than ever before, there was just a little less thrill in Milwaukee than what I had come to expect.
– Keith Raynor
You Have To Get There First
Virginia Hydra. Ohio State Fever. British Columbia. Each of these teams have established themselves as programs over the past four to five years, but each one began their climb the same way: by bombing at nationals. In their first appearances between 2010 and 2011, all of these teams lost all their games or won just one game. They were tiny dots on the horizon. But they all got a lot better.
After Saturday of the College Championships, 4/5 of the teams present in Milwaukee dropped off the national radar. It happens every year, and it's tragic. Most people in the country couldn't tell you that Princeton upset Notre Dame, or that Central Florida beat Kansas. These teams had the dubious honor of tying for 17th or 13th4.
But for most of the teams in the placement bracket on Sunday, attending Nationals at all was a victory. To play at Nationals meant competing against the best talent in the country, an opportunity that teams like Princeton or Notre Dame don't often enjoy. Their season won't be defined by their win-loss record this past weekend, it will be defined by the fact they were there at all. And the next few seasons will be defined by the appearance, too.
A team may make it to the College Championships for the first time because of a strong senior class, one superstar, or even a fluke. But they come back because the freshmen and sophomores get a taste for the lights, and they get hungry. They will come back in the fall ready to work, and they'll build bricks on the foundation of this weekend.
Here's to you, Pittsburgh, Notre Dame, Middlebury, and Princeton. Here's to the unpublished and the under-celebrated. Welcome to the big show. Start working now, and stay hungry. See you next year.
– Katie Raynolds
Face Masks
Anyone on the fields watching the Men's Division this weekend, especially in Pool B, noted an increasingly interesting fashion trend that seems to be catching fire with college kids.
As I walked over to my first game (Texas A&M v. Cincinnati) I spotted what looked like Skeletor on the fields in the form of Dalton Smith (). Other A&M players had similar masks displayed on and off throughout the weekend, but it was Smith's trademark.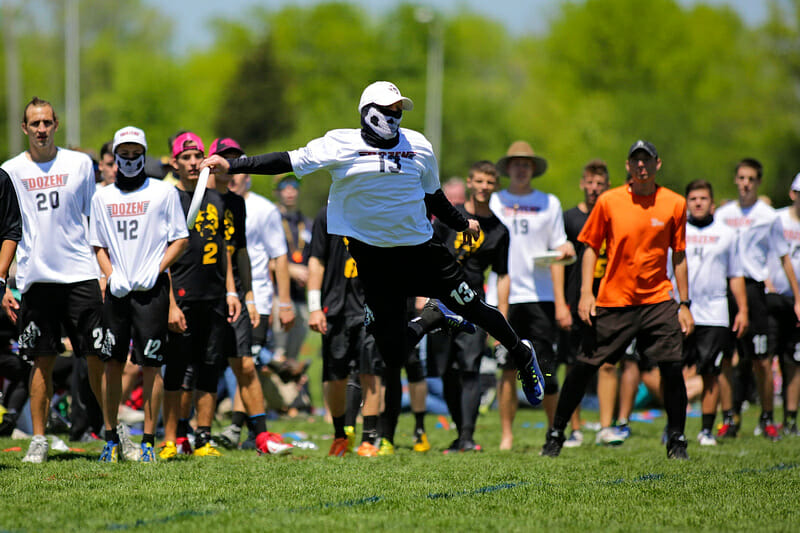 He was playing the beast, as per usual, but one couldn't wonder if the facial choice was for style or intimidation.
It certainly didn't seem to have any physical benefit or application, as I saw him whip it off during a few of the game's longer points; talking to guys on the sideline briefly, his teammates muttered that it was obviously harder to breathe in the thing.
I caught sight of a few other mouth covers throughout the weekend (which while a tad chilly the first day, was beautiful and warm throughout), most notably an American flag mask and a couple of snowboarder/outlaw bandanas from Central Florida on the sidelines (I'm not sure anyone actually played with one) and a couple of other teams.
Part of me rolled my eyes as a new, yet harmless, ultimate fashion trend seemed to be budding to fruition (after all, if college ultimate kids can't look weird while balling out, who can?) but another part of me wondered about the implications for the sport.
I heard several "adults" (read: muggles) on the sidelines, including people working the tournament, saying they were "surprised" that the observers and/or USAU officials were letting the players wear them in games.
I had to agree, although I questioned my own bias. The face covers gave no strategic advantage (if anything limiting the physical breathing of a player) although it could be argued that wearing the same style mask (as A&M players did occasionally) could confuse opponents who tried to set matchups.
So, if it did no harm besides letting kids look a little different, no problem, right?
On the other hand, looks, perceptions, and most importantly first impressions matter. If we are worried about team names and the need for jerseys, how long before we start keying on these pieces of flair?
Should facemasks be outlawed?! If so, what goes next? Dare I say trucker hats?  Or hats in general?
Undoubtedly, this is not the issue that should be sticking in one's head after the recent conclusion of an exciting and interesting National Championships. Doesn't mean it won't pop up in next year's USAU regulations, though.
– Alex Rummelhart
The ESPNU Broadcast

Of course I was covering Nationals on site, so I was unable to watch most of the stream. What I heard about the broadcast mostly came from the fine folks on Twitter.
To be fair, poor Jim was just trying to show a little trivia knowledge about baseball with that 9/11 reference, so he gets a pass. But with all the complaints, you have to ask: Would we rather have ultimate players announce, or find announcers who can learn ultimate?
At the tent before the tournament started, USA Ultimate was giving out free copies of the 2009 UPA Club Nationals on DVD. I've watched it this week in order to contrast the production with the one of ESPNU. The 2009 UPA event was filmed by UltiVillage, who pioneered ultimate media back in their glory days. The announcing isn't near professional, and is presumably two players. But they get the job done. The Ultimate community got lucky recently to have a talented announcer who two-time captained his college team: Evan Lepler.
For the most part, Lepler performed well, and often carried his play-by-play man, Jim Barbar.
Barbar had not seen ultimate until recently, which was obvious. So which was better: the two players or the one player and a play-by-play man? Well the answer becomes a bit more complicated when you consider that Jim Barber wasn't even a fantastic commentator, let alone a frisbee guru. Ideally what we need for good broadcasts is a color man who knows frisbee, and a play-by-play man who knows it too. It's difficult to blame ESPN for not having another Lepler in their arsenal.
Probably the more important issue was the camera angle. In the 2009 UPA Event, the camera angle is endzone to endzone, as opposed to the more commonly used horizontal view. The endzone view's main advantage is that the viewer gets to see all of the movement downfield at most different levels of zoom. The downside is that you lose most of the concept of depth, and for ESPN, they want to be able to really tell how far Jon Nethercutt can throw it. So to improve the camera angle there are two options: switch to an endzone view or zoom out the camera. Personally, I'd rather them zoom out with the view they have now. The current frame only includes the thrower and the dump, where as in sports like soccer, a viewer can watch the offense develop downfield.  On top of that, there were moments when the camera people were in the wrong sport entirely. In the media tent, one of us Ultiworld writers was watching the broadcast as the game was live when he said: "They're following the disc like they would in golf." And after watching the ESPNU replay, that's exactly what happened. 
That said, the broadcast did do some things really well. The replay quality was fantastic. It was immediate, and multi-angled. The pregame rolls were wonderful, giving viewers an opportunity to follow around Dylan Freechild and Nethercutt during warmups. However, all these things were lost when the film was cut down to fit on ESPNU on Wednesday night. The replay broadcast is easily the best way for the average TV channel scrollers to come across our sport, but the editing that brought the games down to an hour each was sloppy. Their were multiple commercial breaks that interrupted the game mid-point, only to come back on a different point. Sometimes it was even so bad as to interrupt Evan or Jim mid-phrase.
It was a huge move for the sport to have ESPN sign a contract with USA Ultimate (and subsequently the AUDL). But its clear what the fans are saying. If we're going to do this, we need to do it right.
– Preston Thompson
Jon NetherClone
As UNC was walking onto the field to warm up before finals, I walked past Jon Nethercutt in the downwind endzone, outside the fence in the spectator area. He was wearing his black #24 jersey and a floppy hat. So I go grab some water at the media tent. 10 minutes later I walk past Nethercutt in the same spot and he's texting. That's…odd. Everyone else is on the field getting acclimated to the wind. He should probably be out there. Something's not right. Eventually I find Nethercutt on the field and put together that this must be his brother.
This causes me to go down the long rabbit hole of body double strategy in Ultimate.
From 70 yards away there's no way the other team could tell you apart… they'd have to send some rookies down to your line to spot you by your numbers… maybe you could both wear 11 and 71, and purposely use a crappy font that makes 7s really thin and look like ones… you could get your teammates to screw around and call you different names… one of you could wear the same trucker hat for three tournaments so everyone thinks they know the secret then in an elimination game BAM! you switch… Nethercutt should have sent his brother up there to accept the Callahan… what a missed opportunity to mess with people…
I'm snapped back to reality by the motorcycle cavalcade that brought the American flag in and imagining USA Ultimate signing over my personal dues check to a biker gang.
After finals I see Netherbro by the USAU backdrop. He confirms that he is Jon's older brother. Cool. Nethercutt and his brother don't actually look that alike, I decide. What a ridiculous thought.
As people are taking down banners and cleaning up, some Ultiworld reporters are throwing on the showcase field. There are about 30 people left at the facility. I'm laying down on the turf. A disc must have gotten away from one of the someone because I hear Katie Raynolds half whisper, "Be careful. You almost hit Jon Nethercutt in the head." I turn and see a Netherperson wearing a floppy hat. Must be the brother…right?
Side note: It's impossible to please everyone with an in-stadium music choice but USA Ultimate hit a consensus home run when they played the Ghostbusters theme right before the second half of Men's finals. You kind of forget how sweet that song really is. Treat yourself. It's Friday.
– Tad Wissel
---