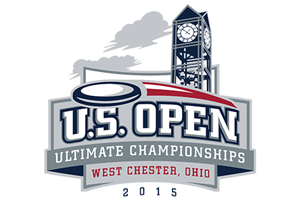 The club season begins in earnest with the first games of the US Open in Cincinnati, OH. The first leg of the Triple Crown Tour sets the stage for the season, introducing most of its major players and revealing what they are bringing to this season's story. While the tournament is often punctured by early season foibles, it is punctuated by the big time talent in the field. With so much changing in the women's division, there's plenty to look for in Cinci.
But the more things change, the more they stay the same. While seeds are decided by last year's finish – meaning the same faces at the top – the favorites are not dissimilar from the US Open's 2014 tournament. Seattle Riot, San Francisco Fury, and Boston Brute squad are all favorites to find their way back to the semifinals.
Tournament Profile
Date: July 2-5
Location: West Chester, OH
Top 10 Teams: 9
Bad Seeds Plant Ugly Brackets
The first reaction when the seeding and schedule was released: what's going on with these pools? How can Fury and Riot – who have to be the consensus #1 and #2 teams in the country – be in the same pool? And at the bottom, up and comers Schwa and Phoenix look like stronger seeds.
Is this what's best for the US Open? With precious little results for USAU to judge on, their choice to seed by last year's results isn't unreasonable. But according to USAU, the US Open is a major event and the results matter. Additionally, teams move from their six-team pools straight to a four-team semifinals bracket. This puts increasing importance on seeding and pool play; there's no crossover play to allow teams to prove their worth against the seeds. Last year was a round robin event, mitigating the impact of seedings.
It is unlikely someone will end pool play without feeling slighted by the format.
What's New, Scandal?
If only there were an easy answer. Playing without Opi Payne and Alicia White will be new. Coming in the returning champion won't be. Nine rookies and two players returning from years off will be new, as will playing with the 13 outgoing players. Being understimated won't.
Few times in their storied back to back National title run has Scandal positioned themselves as the big favorites. Coming in expected to give up their top spot is well tread territory for a DC team with strong leadership and a healthy veteran presence. And returners will recognize the US Open as a place they fell short last season, tumbling to fifth and missing the semifinals.
The talent level is obviously still high and the experience gained in the past few seasons has been invaluable. It looks like Scandal will be short both Allison Maddux and Alika Johnston, two of the team's most productive throwers. Having also lost handlers Anne Mercier, Amy Hudson, Sasha Bugler, and the aforementioned Payne in the offseason, expect their backfield to be in transition, reintegrating Kath Ratcliff and Jenny Fey, while their rookies' roles begin to be defined. They'll have all of Thursday to work out the kinks against the lower seeded teams in Pool A before Traffic and Brute Squad come knocking to end pool play.
Obviously, early season struggles didn't doom a Scandal squad that knows about how to peak. Don't expect them to red line too early in the race.
Which Top 3 Team Will Become the Favorite?
Riot, Fury, and Brute Squad each believe they have the claim to the throne should Scandal be stepping down from the crown. Big offseason acquisitions join powerful and experienced cores on each of these rosters. It's hard not to feel like the rich got richer here, widening the gap between them and the next tier. This is the first time the teams will begin to sort out the top contenders.
Seattle Riot comes into the weekend at the top of the Ultiworld Power Rankings, but seeded the lowest of the three teams. They've also already taken a loss at the hands of rival Fury at Solstice. Riot fell into an early hole and struggled offensively in the final and we can expect an improved effort in Ohio. Their star studded roster comes in with such a well established identity that they could functionally pick up from where they left off last season, a huge advantage over nearly every team in the division.
It is hard to imagine that a team that went into the final few days of the postseason the favorite to bring home the trophy somehow got better in the offseason, but that seems to be the case. Are Fiona McKibben and Angelica Boyden poised to take further steps forward as potential stars? Will they return to last season's big horizontal space offense paced by yardage-gaining open side cuts and position-gaining break side throws? Their incredible recruiting class has been hyped appropriately and they bring a very complete package to the game.
Reigning runner-up San Francisco Fury is off to a nice start this season. They won Solstice over Riot in a 16-14 final where they never trailed. Their roster blends experience and leadership with rising young talent and stars in their prime. But this will be our first look at a Matty Tsang-less Fury, as well as Sarah Carnahan on the women's circuit.
It's unlikely Tsang's absence will have big game to game impact, but other missing personnel may. The experience of their veterans and their new coaching staff of Samantha Salvia and Kevin Cissna should be able to bring enough X's and O's to the table. But playing sans Claire Desmond – fresh off an All-Club selection in 2014 – and consistently productive Lakshmi Narayan will mean a little more is asked of their fantastic rookie class.
Boston, for their part, is eyeing a return to the US Open final. They were strong from the beginning of last season to almost the end and are probably coming off a motivated offseason, looking to wash that sour taste out of their mouths. They probably lost more than their top tier counterparts with Qxhna Titcomb, Chelsea Witte-Garcia, Vicky Chang, Blake Spitz, and Kirsten Unfried. But their rookie class is also very strong.
Expect Brute Squad to be able to apply a lot of defensive pressure early, potentially rattling teams still working out the offensive kinks. Their rookie class features some strong defenders like Cassie Wong and Sydney Dobkin to add to Kami Groom, Becca Ludford, Emily Baecher and company. With a few rookies coming from outside elite women's – McArdle and Magon Liu in particular – there's some intrigue to satisfy for spectators. Most of their offensive unit returns, but expect them to shift some roles around while remaining contender.
Next Up: Early Season Upsets
After the favorites, a few teams are hoping they can establish themselves as potential threats by upsetting someone.
Ozone has made a few roster moves since their initial announcement – bringing back Anna Hammond and adding Scandal's Leah Tsinajinnie – and will be interesting to see. While they finished fifth last year, they rarely threatened the teams they finished behind. Adding a deep thrower like Sophie Darch to a roster featuring Katherine Wooten and Kate Wilson – notorious bombers with huge throws – should make their offense exciting to watch. They have plenty of strong targets, so their weekend will be about consistency, on both sides of the disc.
Nightlock hasn't exploded out of the gates, going 5-3 at Solstice, but has a chance to make a statement now they are finally in the Pro Flight. They'll be without Marisa Rafter and Abby VanMuijen's services, taking away a bit of playmaking ability on each side of the disc. But seeing what newcomers Natasha Won, Adrienne Lemberger, and Loryn Kanemaru bring to their performance will be interesting. The ceiling for this team looks very high in the long term, but they face a pretty tough schedule in Pool B.
Traffic has been here before, and a return to the semifinals is well within reach. They travel to Cincinnati missing some of their veteran throwing talent, including Kira Frew; perhaps Katie Berezan or rookie Danie Proby can step up with veterans Eva Cham and Candice Chan. Where this team's defense is – likely led by Laura Mason and Terri Whitehead – this early in the season will likely define their performance at the Open.
Schwa looks like the most likely low seed to surprise people with how strong they've gotten. They gave Molly Brown a real scare at Nationals last year, and get more talented and more experienced each season. There isn't enough talk about what picking up Julia Sherwood could mean, and her impressive midfield play should combine with the Fugue combo of Jesse Shofner and Beth Kaylor to create lots of matchup issues. They play fast and hard, and could punish teams who start slow.
Heist and Winnipeg squad Fusion are not going to be easy outs and could certainly notch some wins. Georgia Bosscher's production could be replaced by the continued emergence of Liza Minor for Madison, while All-Star Ultimate's newest recruit, Kate Scarth, will be cleating up with Winnipeg. Meanwhile, in another year of heavy turnover, Showdown is bringing a skeleton crew. Without Bex Forth, Sarah Levinn, and Tina Woodings, it is probable they'll be heaping playing opportunities on their large batch of newcomers. All three teams travel to Cincinnati missing some big pieces. This tournament likely represents a better opportunity for them to build than to destroy.
The Phoenix Revenge Tour Begins
It is going to be almost impossible not to make references to Phoenix's season and their legendary namesake. But no need to give in that easily.
The Raleigh women have the opportunity to put the division on alert from the get go. They're the lone US Select Flight team in the field. The chance to battle it out with Pro Flight teams – including rival Ozone, who they saw six times in 2014 – will be key in their development. They missed out on that by missing Nationals in 2014, and looked ineffective in most elite competition during their mediocre regular season, but now have both this and the Pro-Elite Challenge to regain that before their potential return.
Their returner heavy roster and big time offseason pickups have generated a lot of excitement. There are a lot of young players ready to march towards their primes on their roster, like rookies Cassie Swafford, Mariel Hammond, and the veteran leadership of Michelle Ng, Shannon Matzinger, and Jinny Eun should help them achieve more than they did their last time out.
Watch Ultiworld's free live video coverage of the US Open on Thursday, July 3rd and Friday, July 4th!