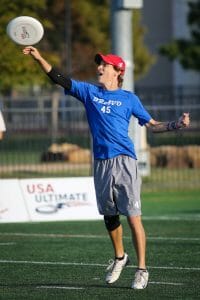 Mini is one of the most enjoyably beneficial activities a team can participate in. Here's why setting aside time for mini (either in or out of practice, or both) is a must if you want to reach your team's full potential.
1. You only need 4 players. 
Whether for your club or college team, numbers can be an issue when scheduling out-of-practice activities. Mini is among the easiest activities to get started, outside of throwing or a similar workout that only needs 2-3 people. While more players tend to make the game more enjoyable, 2v2 or 3v3 are the toughest types of games where the most improvement occurs. Make-it-take-it for 60-90 second periods is a great way to play with lower numbers.
2. It forces everyone to be constantly involved.
On the full field, especially in college, it's easy for certain players to just hang out in the stack and let anywhere from 2-5 other players facilitate the offense. This is especially true of younger, less experienced players who may not feel comfortable cutting at 100% due to hesitancy, or lack of field awareness and vision. While sometimes susceptible to poaches by smart players, most of these players who just hide in the stack can get away with it without doing too much damage to the offense.
That's impossible in mini. When you only have 1-4 other teammates on the field, anyone not cutting and clearing at full speed becomes not only a dead weight, but an active liability. The smaller field and lower stall means that intelligent poaches can be both more dangerous and effective. That leads to a directly related benefit of mini; you learn to read and punish poaches more effectively. Whether via an immediate break, blade, or just a quick dump swing, poaches can be attacked swiftly and ruthlessly.
3. It teaches the importance of spacing/timing significantly better than 7v7. 
If two cutters are entering the same space on a large field, it's sometimes possible that a skilled thrower will still be able to hit one of them. With mini, that becomes much more difficult. Cutters are forced to recognize and attack spaces quickly, and the offense will break down if they don't. It's incredibly difficult to isolate cutters in lanes/spaces if not everyone understands the field composition simultaneously.
4. You develop more difficult throws into tighter spaces. 
If you can hit a tight inside break in mini, it makes that same throw much easier when you have 2-3x the space to work with on the bigger field. Brett Matzuka is an excellent example of a player whose time playing mini has paid off with both his on-field movement and arsenal of throws. Very rarely hucking the disc, he instead relies on a variety of unorthodox release points and break throws to advance quickly down the field. Additionally, quick blades and over-the-tops develop into consistent options, especially at high stalls.
5. The faster stall count and smaller field encourages quick disc movement. 
It's very easy to guard someone when the stall is to 5 or 7, you're playing on a relatively tiny field, and the disc is stagnant. It becomes much more difficult when the disc is in constant motion, and players only need a step of separation because they're receiving the throw only a few yards from the thrower.
Seattle Sockeye has developed a team offensive style and reputation that frequently appears as mini being played on a larger field. In the following clip, they score in four quick passes, with no one holding the disc for more than a few stalls.
http://gfycat.com/PlayfulFrankAmericanwirehair

6. If you do it properly, mini doubles as a throwing and agility workout. 
You might think that the smaller field makes mini less intensive. Wrong. Being forced to be involved means that you're constantly sprinting to both clear and attack space. You can either play a normal game to a certain score, or make-it-take-it with hockey subs for timed periods. Regardless, you will be gassed by the end of a good mini session. It's a great option for those of you who want to condition during practice, but don't like sacrificing team time for something that can be completed independently. Enhancing fitness as well as disc skills simultaneously is one of the top reasons mini is a fantastic use of practice time.
7. A mini offense opens up the deep space as defenses adapt to the small-ball style. 
Sockeye is very efficient on their hucks when they do take them, and that's a direct result of their deadliness on quick disc movement under and to the break side. On their first offensive point against Revolver in the WUCC 2014 final, Sockeye take instant advantage of Revolver's defensive positioning to easily hit Matt Rehder deep.
http://gfycat.com/SillyAgreeableDore
The zip on that lasery huck is no coincidence either. Floaty discs in mini will quickly be eaten up by a defensive pile, so any deep shots tend toward direct, accurate shots instead of floating a disc out to space. Regardless of your team's personnel, minimizing hospital piles is an added benefit to any squad.
8. There's no better way to develop trust and chemistry between teammates.
Just a couple weeks ago, the New York Empire posted this video to their Facebook page. The benefits of mini are magnified even more on the larger AUDL field, with larger amounts of space to exploit. Give-go moves become second nature to the frequent mini player, and competing with the same 2-4 teammates again and again develops the type of on-field communication and comfort that most teams strive to achieve. Errors are quickly corrected; players effectively relate what cuts they're looking for, and the team that is lethal at mini is more than likely to be lethal on the full field (looking at you, O-lines).
If you're still unconvinced, just give it a shot. You'll become addicted rather quickly.