With perhaps the deepest pool of talent to ever compete in the Mixed division at YCC, there are plenty of contenders to emerge victorious.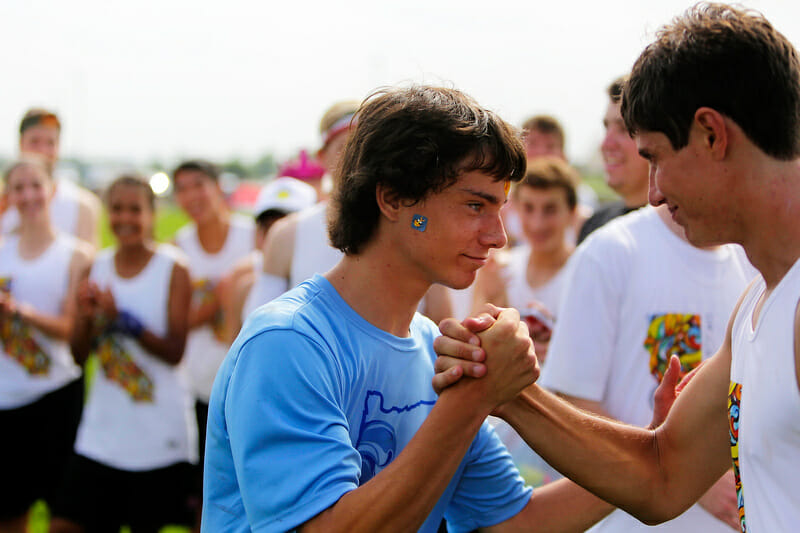 USA Ultimate's Youth Club Championships in Blaine, Minnesota gets better every year. This year, 13 mixed teams from across the nation will be competing to take home gold in the division where no team has won more than twice. Last year, Oregon burst onto the scene to capture their first YCC title after defeating a strong Bay Area team in the finals. To defend their crown, they will have to work hard to fend off the sheer talent of their competition, especially the Bay Area, Seattle, Washington DC, and Madison.
The teams are separated into pools of 6 and 7 teams, with pool play happening over Friday and Saturday. With only the top two teams in each pool qualifying for Sunday's Championship bracket, every point matters and could be the difference between having the chance to win some hardware or going home empty-handed.
Pool A1

Oregon Flood (1)
Oregon Flood, the 2014 YCC Champions, are looking to secure their second consecutive title. The team is coached by Andrew Buermeyer, and assisted by his siblings, Patrick and Molly. Despite returning two of their standouts from last year, Nicholas Hartwig and Taya Norris, this is going to be a whole new year for Flood. Oregon is one of the few programs competing in the Mixed division that is not also bringing a U19 Boys team, meaning they are going to be loaded with some of the most talented boys in the division. Flood plays with grit and ruthless determination and can be expected to make a strong showing again this year.
DiscNW Royale (3)
Despite returning just four players, Seattle aims to improve on their third place finish at last year's Championships. Coached by the famed Frank Nam and assisted by Taylor Kanemori, DiscNW cannot be written off. With the most expansive youth ultimate program in the country, DiscNW has a wide talent pool from which to select its players. On the roster this year are Justin Ting and Roosevelt HS captain Noah Kregenow. In a scrimmage last week, DiscNW lost to #1-ranked Mixed club team Seattle Mixtape 10-13. These players are some of the most experienced in the tournament and this team has a good chance of reaching at least the semifinals.
Boston BUDA (6)
Boston is a wildcard this year. They have an entirely new roster—outside of David Odea, who will be attending Carleton in the fall and is currently also playing for Garuda—and a new coaching staff in Colin Maneval, Caitlin Go, and Geoa Geer. They struggled last year, despite bringing one of the most athletic rosters to the tournament. This year, with fresh faces and lots of height, they look to return to their glory days of consecutive gold medals in 2012 and 2013.
Maine Rising Tide (8)
This tournament marks the first time Maine is bringing a mixed team to YCC and Rising Tide is looking to let their presence be known. This team is very much an unknown in terms of… everything. Coached by Andrew Applegate, Rising Tide has everything to prove and nothing to lose.
Minnesota Superior (9)
The locals at the tournament and the spirit winners2 last year, Minnesota is looking to improve on their 8th place finish in 2014. Coached by John Groess, Minnesota has a large roster and a lot of returners, including Emma Jaschke and Dom Fulk. Last year they had patience and execution, but could not match up with the more athletic teams. With another year of experience, Superior have the potential to notch a win or two during the weekend.
Atlanta flATLine (11)
flATLine is Atlanta's first foray into the mixed division in Blaine, though they have plenty of prior YCC experience on the roster. With his combination of throws and athleticism, Catholic High School stud and LSU commit Johnny Sims will be a handful for any team to cover. At 15, Marie Perivier is already making waves at Lakeside High. Led by coach Josh Feng, don't be surprised to see this team cause trouble for the higher-seeded teams in this pool.
Pool B
Bay Area Happy Cows (2)
The Bay Area Happy Cows had an excellent tournament last year, beating Oregon Flood in pool play, only to lose to them in the finals. With 13 returners, this team is stacked. Aaron Hom just finished an excellent freshman year at UC Santa Cruz, beating out Happy Cows teammate Ian Sweeny to win the Southwest Freshman of the Year Award. At age 17, Colby Chuck had to settle for being a practice player on MLU's San Francisco Dogfish because he was too young to play. Chloe Carothers-Liske and Hannah Wells have put in a lot of work in the off-season, starting the first girls ultimate team from the Bay Area, receiving recognition from Without Limits for their efforts. The Happy Cows have four consecutive games on Friday followed by a first found bye on Saturday, one of the most difficult schedules in the tournament. Last year they were a second-half team and faced some trouble running into hard cap. But the Happy Cows, coached by Geoff Rexroth and assisted by Rio Chuck, are thirsty for redemption and expect nothing less than a return to the finals.
Washington DC Swing Vote (4)
Bursting onto the scene last year with a fourth place finish and a double game point loss to Oregon in the semifinals, Swing Vote wants to solidify their place as one of the top teams in the country. Coached by Ben Feng, this team is not going to be easy to beat. Joe Freund, a rookie on Truck Stop, and William Xu made the jump from the Open division. Freund will be one of the most talented players in the tournament in any division. Standouts from last year — including Kristin Herbert, Ted Sither and Maddy Boyle — also return. DC wowed other teams with their crafty poach defense and patient zone offense a year ago. They struggled during semifinals and the third place game, but if they hold their focus all weekend, they could absolutely walk away with a medal this time around.
Madison MUFAbots (5)
Finishing fifth last year after handily beating Vermont GMX in the consolation game, the Madison MUFAbots are a talented team who will need a pool play upset if they want to make the Championship bracket. This mixed team is the only team representing Wisconsin at YCCs, so they have the finest youth talent in the state. They are coached by the team of Robyn Wiseman, Kayla Emrick, and James Kersten, and have no shortage of legs with a roster of 25. Alex Cotter will be a big asset for the MUFAbots, as will Seth Weaver, a rookie for Madison Club. Brittney Kokinos, who plays for Heist, will be one of the best women in the mixed division.
Philadelphia Forge (7)
Philadelphia returns to YCCs after a few years away and will compete solely in the Mixed Division. 12 different high schools are represented on a team that truly represents all of Philly. Look out for the 6'7″ Grant Kelly. The team's ability to draw all the talent in the city onto one team could make them a darkhorse threat to break seed.
Colorado Cutthroat (10)
Colorado Cutthroat had a very difficult tournament last year, losing every game at YCC by wide margins. The team had solid throws, but lacked the athleticism to compete on defense and retain the disc on offense. This year, with almost an entirely new roster, Colorado is looking to improve on their standings. But with the lack of star power and experience, this might prove a difficult feat.
Vermont Green Mountain Mixed (12)
Seeded last at the 2014 YCCs, Vermont GMX (pronounced gim-X) were a huge surprise and ended up making it to the quarterfinals after finishing second in their pool. They were athletic, had huge throws, and demonstrated a lot of spirit. But this year it's going to look very different, and their seeding reflects that. Despite being the only team representing Vermont, they have only 13 players on their roster, three of which are returners. Coached by Syrus Amedore, GMX might have the talent to pull off an upset, but their lack of depth might hurt them in the long run.
South Dakota (13)
Last year South Dakota brought U19 teams in both the Girls and Boys divisions, but this year they are consolidating and participating in the Mixed division for the first time. Coached by Dennis Servaty, they bring back nine players with YCC experience and a deep roster. Seeded last in large part due to their lack of experience in the division, South Dakota has a solid chance to break seed.
Championship Bracket Predictions
There are plenty of talented teams at YCC this year, but too much separates the good from the great. With no chance of backdoor entry to the championship bracket, teams will live and die by their pool play standing. Look for Oregon and the Bay Area to hold their seeds with Seattle and Washington, DC, the most likely to claim the other two semifinals bids.
In the semifinals, DC will get their revenge on Oregon and the Bay Area will hold off Seattle. In the finals, the Bay Area will take down DC to get their first gold medal since 2011.
---
Pool A has the luxury of one fewer pool play game and no byes. It will be interesting to see if longer days and an additional game has any effect on the Pool B winners on Championship Sunday. ↩

At times last year, play was less than spirited at YCC, yet there are no observers at this level of the sport. Spirit scores were all over the place and, depending on how things go this year, further discussions about the use of observers at the youth level might need to be considered. ↩