The last major event of the regular season before Nationals features the top four ranked teams at the same tournament for the first time this season.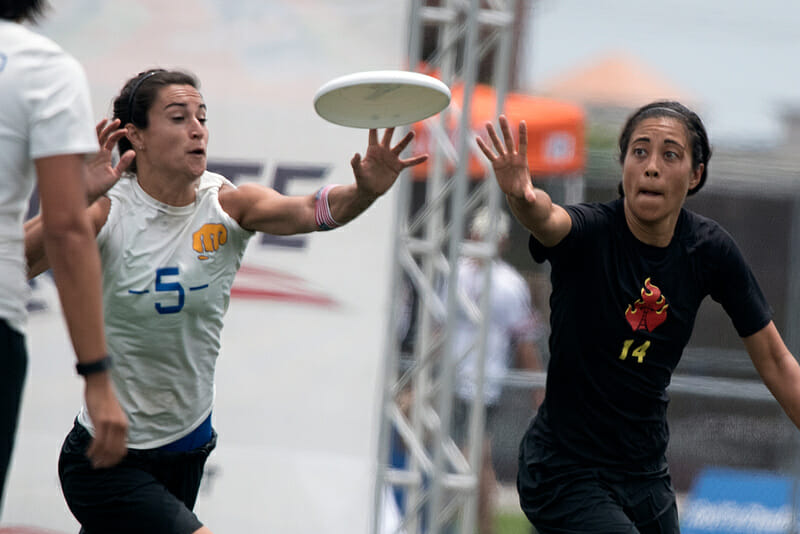 It's difficult to discern what exactly the Pro Flight Finale means. To USAU, this is a marquee event that seeks to pit the best teams in the country against one another. To the top teams, however, it is mostly a tune-up. What does that leave for the spectators? The extension of the field to invite teams from beyond the Pro Flight — this year, it is #3 Denver Molly Brown, #23 Chicago Nemesis, and #18 Los Angeles Viva — may add some spice to the weekend after a lackluster 2014 edition that may have been adversely impacted by the World Championships.
Looking back at the previous two Pro Flight Finales, there's #2 Seattle Riot in both finals. Few would be surprised by a repeat. However, the eventual winner of this tournament has never advanced past the semifinals of nationals; the success has yet to translate.
For the lower seeded teams, there's something to prove. Chicago has made the semifinals in both of the past two years, but #10 Nightlock and Viva are making their first appearances. The team with the most on the line is #15 Showdown, who could potentially lose their second bid out of the South Central if they can't outdo Viva and Nemesis. The Pro Flight Finale has not been friendly to Showdown, who carries a 3-10 record at the tournament into the Minnesota.
All in all, the matchups look good and teams should be developed enough to make for compelling action. Winning pool play provides a huge boost to your odds of winning the tournament, lending some weight to Saturday's games.
Tournament Profile
Date: August 22-23
Location: Blaine, MN
Top 10 Teams: 7
Fresh Off Pro-Elite Challenge Win, Molly Brown Looks Ready
Molly Brown is the talk of the town after their impressive run at the Pro-Elite Challenge. They are undefeated in 2015, playing only a few close games as they've torn through their competition. But they have yet to do battle with the #1 and #2 teams, so the test is still in front of them. Getting a crack at #1 Fury in Saturday's livestreamed showcase game is the kind of opportunity that's mostly eluded them the past two regular seasons.
"This is a great opportunity for us to practice what we preach about continuous improvement," said captain Maggie Chen. She added that their game against the top seed "is a perfect opportunity for us to test our systems that we have had in place this season against a great opponent."
It is clear that this season is one Molly Brown believes they can compete for a Club Championship. An influx of talent to an already rising core has given them a lot of depth and explosiveness, rivaling the elite teams in the division. While Claire Chastain and Opi Payne headline, they've gotten exceptional play from Sally Lambert, Lauren Boyle, and rookies Becca Miller, Kirsten Johnson, and Tania Reitz. It is what has powered the Denver women, who have burst out of the gates in 2015.
"We used our depth," agreed captain Chastain on the team's recent success, "and we stayed aggressive."
There has been a trend in Molly's play to really pick it up on Sundays. That's intentional, according to the team's leadership.
"Molly Brown takes pride in improving and winning out our Sunday games no matter what the placement in the end is," said Chen. But Saturday's opponents include Fury and Ozone, hardly the type of competition you can afford too many mistakes against. With the advantages afforded to the pool winners, perhaps Denver will try to turn their game up a notch a little earlier.
Coming Off Long Break, Is Fury Still the Favorite?
#1 ranked San Francisco Fury hasn't seen top competition since July. A lengthy break fell between the first competitive event of their season and this weekend. They'll have to knock off the rust for their second round opener against a confident #7 Ozone team.
"The break has been a fortunate opportunity to retool our offensive and defensive concepts," said Fury vet Manisha Daryani, adding that the team is also refining chemistry. "Obviously we're eager to get on the field and see if and how that work pays off."
The team's versatile roster is organized into pods of handlers and pods of cutters. That refined chemistry is both a goal and product of the substitution strategy, but is a hallmark of the well rounded type of player that populates the Fury roster. Each group will be focused on how they can better their production and understand one another in the context of the team concept.
Whether Fury can walk away with the tournament win is separate altogether. They've never made it to the final. But it also isn't really the focus.
"This tournament is a great opportunity to test ourselves against some of the best teams in the country – to see where we are in our development of our offense and defense as compared to everyone else," said Daryani. The San Francisco powerhouse is looking forward, treating the coming weekend in Minnesota more like their second tournament of the year than their last competitive opportunity prior to Nationals.
Reigning Champs Face Pool Play Tests
There were a lot of questions about #5 Scandal's 2015 outlook after many of their top players departed. Going 3-3 at the US Open didn't provide many answers. But a win over #6 Traffic to earn a berth into the Pro-Elite Challenge final and an eventual second place finish served to demonstrate that Scandal has no intentions of falling off.
But now they'll face off with stiff tests in fellow 2014 semifinalists Seattle Riot and #4 Boston Brute Squad. That's a heck of a way to kick off your weekend! Surprisingly, Scandal has only played one game against either team, a 13-12 loss to Boston at the US Open.
Honestly, it wouldn't be a huge surprise to see Scandal struggle this weekend. It wouldn't be out of character for them to stumble during the regular season before coming to life in the postseason. Then again, they nearly made it to the final of this tournament last year. Jenny Fey and Sandy Jorgensen key their attack and have been dynamite this season. If opponents can't answer that duo, they may find themselves in the familiar position of watching Scandal make a deep run.
Riot Could Extend Finals Streak
There's still a solid argument Riot is the best team in the country. Their #2 ranking is nitpicking, only their season series against Fury going against them. For most the rest of the season, they been ripping through their schedule, particularly in pool play competition. Seattle's only given up double digit points against Fury and Northwest rival Vancouver. If they keep it up, they'll land in their third straight Pro Flight Finale championship game.
Like San Francisco, this is Riot's second tournament of the regular season. While that shouldn't be much of a hindrance for a team that experienced almost no turnover, their lack of competitive reps this year could rear its head as they face the likes of Brute Squad (who beat them in the final in 2014) and Scandal in pool play. Last year's 3-3 effort included a shocking round two loss to Nemesis, so if Riot doesn't bring it from the get go, they might not keep up their impressive run through the regular season.
What the lengthy break might have provided is a chance for their stars to heal up. A number of players have missed time on the field, including primary cutting targets Sarah Griffith and Calise Cardenas. Seeing how players have settled into roles – how they utilize Paige Soper, if Shira Stern's explosive turn at the U23 World Championships carries over – is also worth keeping an eye on.
Nightlock Whistling a Redemption Song
Anyone watching Nightlock in Denver wouldn't be confident they could lead a revolution to overcome superior forces.
"There were a million little things that weren't clicking," said the captains. "We're just at that point in our season where playing frisbee together feels hard. It happens to every team, every season— usually a few times."
The captains say the team is "hungry" to respond with a strong showing at the Pro Flight Finale, their first trip to the tournament. Upsetting any of the teams above them would be a good start. While they've beaten Ozone, they have lost their last matchup with each of the teams above them in Pool A. Both Fury and Molly Brown cruised past Nightlock the last time they matched up. The challenge is daunting.
There are plenty of weapons on the roster. One they are without is captain Abby VanMuijen, who is taking the season off after repeated injuries. But even without her backfield prowess, there's no shortage of ability. Nightlock's struggles appear mostly mental, and they'll need to shore that up if they want to bounce back. Team leadership does have the right attitude.
"We do our best to take what we've learned and use it to play better in our next half of ultimate," added the captains. "We are always going up and up in our own little world."
What Else to Watch For
Brute Squad looked a little out of tune in their Pro-Elite Challenge semifinal loss to Molly Brown. Leila Tunnell will get a little more rhythm going and there's no reason they couldn't win the weekend. Rookie Cassie Wong has been a defensive firecracker and is a playmaker to watch.
This is a big chance for Atlanta Ozone to prove what we can expect from them moving forward. They looked a lot better at the Pro-Elite Challenge than they did at the US Open, but they are 1-4 against the field at the Pro Flight Finale. Losing Ali Stargel – who has been playing very well this season – to injury is tough, but getting back Sophie Darch should provide a big offensive boost.
There's a lot on the line for Showdown. Playing against such high ranking teams is good, but Viva and Nemesis are both ranked below them and are threats to their good standing. Some close games would be very helpful.
Tough challenge for Viva, who is hoping to potentially knock off Nightlock at Regionals this year. Their resume features wins over Nemesis and #16 Green Means Go, but they've also lost to #17 Hot Metal, #14 Underground, and #13 Schwa. Their pool is not likely to give them much margin for error.
After going winless at the Pro-Elite Challenge, Nemesis picked up some momentum by performing well at Heavyweights. Last year's scrappy team found ways to outgrind their opponents, and this year's Chicago team has the potential to do the same.
PSA: The Chipotle Cultivate festival is visiting Minneapolis this weekend.