What will Jeff Snader's legacy be?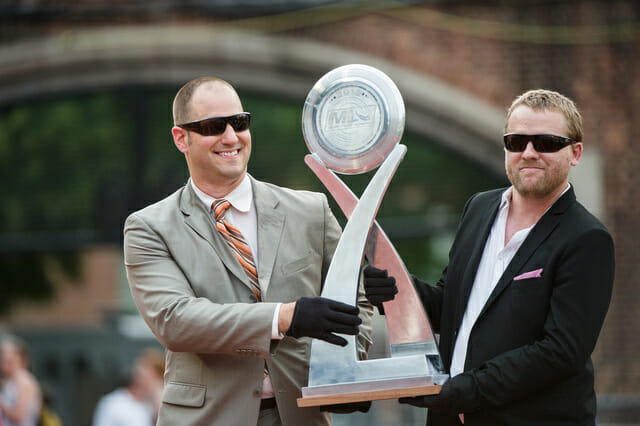 It's a little bit difficult to imagine Major League Ultimate without Jeff Snader at the helm.
Yesterday's announced departure of the outspoken MLU founder shouldn't be as surprising as it feels. The league struggled in its third season to fill seats, broadcast games, and keep up with a growing AUDL pouring money into an ESPN3 deal. Reports of internal conflict between Snader and other MLU staff have bubbled up in recent months. Something had to give.
But the fact that it's Snader giving up the ghost, and not just riding it out as Commissioner in a fiery blaze of glory, is surprising because of how he has acted since he created the league back in late 2012.
He has always done things his way, damn the consequences. A former Marine, he ran the league with a tight fist. He had a vision for a professional ultimate league that exuded professionalism, from consistent branding to carefully crafted messaging. PR was everything: attendance numbers were massaged and news was handled in house. The financial structure of the league offered heavy control to the league's front office in Philadelphia rather than relying on teams to operate independently.
Yet the tight ship of the league wasn't always matched by his public persona. He said in a podcast that USA Ultimate was doing a "horrific job" and was outright hostile towards both USAU and the AUDL for years. He has a vibrant Twitter account and isn't afraid to speak his mind. He alienated many, including a large number of influential players that have trickled to the AUDL.
Ultimately, those chickens came home to roost. When I spoke to him yesterday about stepping down, his most uttered word was 'positivity,' something he felt he lacked and that the league needs going forward.
It seems clear: the combination of a struggling company and a brash CEO doesn't lead to happy meetings and employee satisfaction.
Regardless of what comes next for Major League Ultimate, Jeff Snader has left his imprint. He was the first person to suggest the viability of a professional ultimate operation when his Philadelphia Spinners team stunned everyone with a 1000+ person draw at game one in the inaugural AUDL season.
His Spinners were the obvious (and perhaps only?) success story of the AUDL's first season, so he jumped ship with his team to create his own league, one formed in the mold of his franchise in Philadelphia as he left behind what, at the time, looked like wreckage in the AUDL.
He put immense pressure on the AUDL, which responded aggressively with a major ownership change and years of trying to catch the MLU in fan experience, professionalism, and organizational focus.
He also inspired many to join him in his vision for a truly great professional ultimate league. Dozens of people have poured their time and energy into making the league run. He is probably the most important individual figure in the early years of semi-pro ultimate.
The MLU brass says that the league is coming back for another season in 2016 and that the funding is there to do it. Can they make it work? It feels like a long shot, but it did for the AUDL, too, back in the grim winter of 2012.
The league has grown bigger than Snader now (even he recognizes that) just as the AUDL quickly outgrew its founder, Josh Moore. Installing a new executive is the right move, even if it doesn't work out.
Professionalized ultimate remains in its infancy and what exists today may not look much like what is in place five years from now. Whatever that is, you can be sure that Jeff Snader will have something to say about it.