48 games of pool play yielded a few key storylines heading into Friday's elimination rounds.
October 2, 2015 by in News, Recap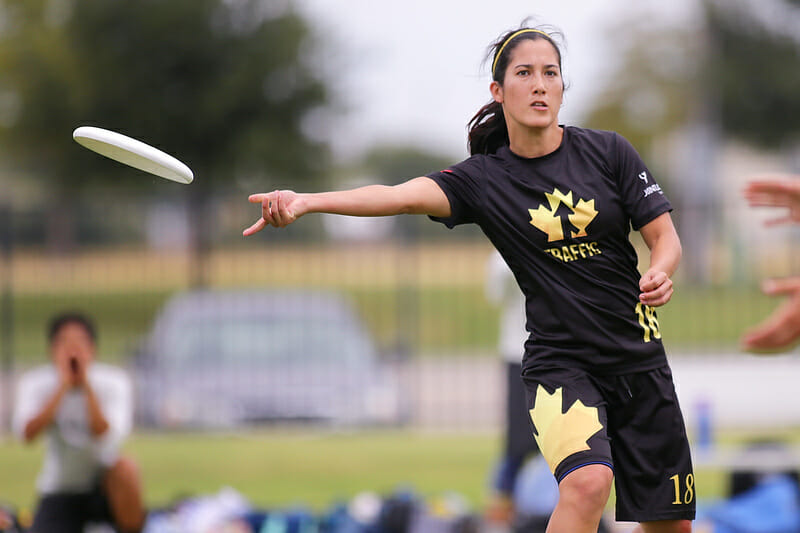 With pool play concluded, let's take a look at what Thursday's results yielded before Friday's elimination rounds.
Molly Brown Stepping Up
Going into the weekend, there were questions about whether the top tier was three teams or four. Molly Brown had clearly claimed the fourth spot and seed, but their 1-3 record against the other one seeds put them at the back of the class. Even worse, they were crushed by Brute Squad, the team they narrowly overcame for their lone top tier victory. Would the likes of Traffic and Scandal be nipping at their heels?
Perhaps those doubts should be laid to rest. Denver won 30-7 through their first two rounds against Iris and Nemesis. In what was supposed to be a true test of their worth, Molly Brown faced off with Vancouver Traffic, the fifth overall seed. And from the first point, they controlled the pace, dictated the game, and made it look easy. They demonstrated both stifling defense and efficient offense, with some flare as the cherry on top. There may not have been a more impressive team in the field.
The personnel on Molly Brown stacks up. Claire Chastain and Jana Krutsinger provide a rock solid centerpiece for their offensive unit, which uses quick decisive attacking cuts to find yardage and disc movement when options aren't available. Alicia White was everywhere, displaying timing belying her lack of experience with her new teammates, and Paige Applegate has grown into a force of her own. And the defense, led by Opi Payne, Becca Miller, and Lisi Lohre, goes for the throat after pressuring the opposition into mistakes.
Based on today, the ceiling looks high.
Scandal Ramping It Up (Again)
DC Scandal had one of the stronger showings in the division on Thursday, despite not winning their pool. Starting the day off against North Carolina Phoenix, Scandal looked sloppy. The first five points were riddled with turnovers, the majority unforced. Scandal fairly quickly made Phoenix to rue their missed chances to take an early lead as its offense tightened in the second half. Scandal also mixed in multiple defensive looks, including a couple of different zones, and Phoenix struggled to be patient enough to hang with Scandal's scoring ability.
In Round 2, Scandal skipped the slow start and got out to a commanding lead right from the off over Portland Schwa, grabbing four early breaks en route to a 5-1 lead. DC went through the entire game without getting broken and eased to a 15-10 final score to set up a winner-take-pool matchup with overall three seed Riot in the day's final round.
Easily the most intensely contested game of the day, Riot and Fury played with an intensity that was not seen in most of the other games played in pool play. Both played clean ultimate and what turns there were were generally created by good defensive play. Riot was just a bit better throughout the game, but Scandal still appeared to experiment with a few different defensive looks and DC head coach Alex Ghesquiere described the game "as a really good dry run" for the games ahead and said that the outcome of the game against Riot was not nearly as important as the opportunity for "mental positioning" that the game represented.
While Ghesquiere was rightfully pleased with the whole team's performance, one player in particular stood out for Scandal. Jenny Fey lit up the stat sheet in each game and was the best player in each of Scandal's games. Finishing the day tied for second in goals with seven and leading the division with 11 assists, three better than any other player. Add a pair of D's and Fey has to go down as MVP of day one. If Fey continues to play as she did on Thursday, and the team continues improve as they did all day during pool play, Scandal has to like its chances of pushing for a semis birth.
The Big Three With Big Days
The top three seeds all played like it on opening day, going a combined 9-0 on the day, outscoring their opponents by a combined score of 135-78. Along with Denver Molly Brown, Brute Squad, Fury, and Riot the top seeds claimed 16 of the 20 games in which teams scored 15 points on the day. Apart from Riot's game against Scandal, Brute, Fury and Riot all hardly left cruise control on the way to sweeping their pools and made it clear they deserved the top three seeds for the tournament.
Realistically, Boston, San Francisco, and Seattle should all reach semifinals with relative ease. There were good matchups between lower seeded teams, but the day made it clear that apart from Scandal, Denver Molly Brown, and perhaps Vancouver Traffic, no one else in the field is capable of hanging with the tournament favorites.
Ozone, Nightlock, Traffic In Their Own Category
So if five of the top six have indicated they are the cream rising to the top, what does that mean for the next cohort of teams? The remaining of the top 8 seeds looked pretty far ahead the bottom 16 finishers, meaning Traffic, Nightlock, and Ozone have built a tier of their own. When faced with the packleaders, each one failed to put up much of a fight: Fury rolled Ozone 15-8, Brute Squad recovered from an early deficit to dominate Nightlock 15-8, and Traffic's defense was shredded by Molly Brown. But only one team came within three goals of upsetting any of the trio.
Now they have to survive their prequarter only to line up against another tier one juggernaut. Nightlock will need to solidify their red zone sets. Ozone's handlers will have to fight through pressuring handler defense. Traffic will need to spread the field to get the disc in different zones. But ultimately, it is the mental game that has been there undoing, and that they'll need to overcome. Finding confidence to beat these teams is so difficult, especially after swinging and missing so many times before.
Impressive Performers On The Big Stage
These six players came through big for their teams, and turned in the types of impressive performances that could mark them as potential All-Club candidates.
Jessi Jones (Phoenix) stood out on a Raleigh Phoenix team that struggled on day one. Clearly the focal point of the offense, Jones got the disc on virtually every other throw and made numerous athletic plays on both offense and was solid on defense.
Jenny Fey (Scandal), with 11 goals, led the division. No other player scored more than eight, and her seven assists were good for tied for second best on the day. Easily the points leader, Fey has to be considered MVP of pool play, continuing from one of the women's games best seasons.
Lien Hoffmann (Brute Squad) may be the best cutter in the women's game right now. It felt like the only time she wasn't open was when she wasn't cutting. Hoffmann's smarts, range, and hands make her a nearly unrivaled target.
Dena Slattery (Molly Brown) is having another banner Nationals. She's an aggressive thrower with the skill to back it up, with exceptional understanding of when to attack from the backfield or as a thrower. Its her instincts that make her so effective.
Alyssa Weatherford (Riot) played her best when it mattered most, scoring or assisting on three of Seattle's final four points against Scandal. Making the performance all the more impressive was that it came after Weatherford was knocked out of game for a few plays on a nasty collision with a Scandal defender.
Loryn Kanemaru (Nightlock) has been huge for Nightlock, despite them already having a veteran group of throwers. She's shouldering a heavy throwing load, but handled the wind adeptly and has superior touch, and is the best deep thrower on the Nightlock roster.
Bethany Kaylor (Schwa) is a dynamic threat from behind, in front of, or with the disc. She regularly found unders and sized up valuable continuation throws shortly thereafter, and is an ideal dependable initiating cutter. Kaylor's well roundend abilities make her a matchup issue even for elite teams.