What can a look back at the last ten years tell us about what's next for youth ultimate?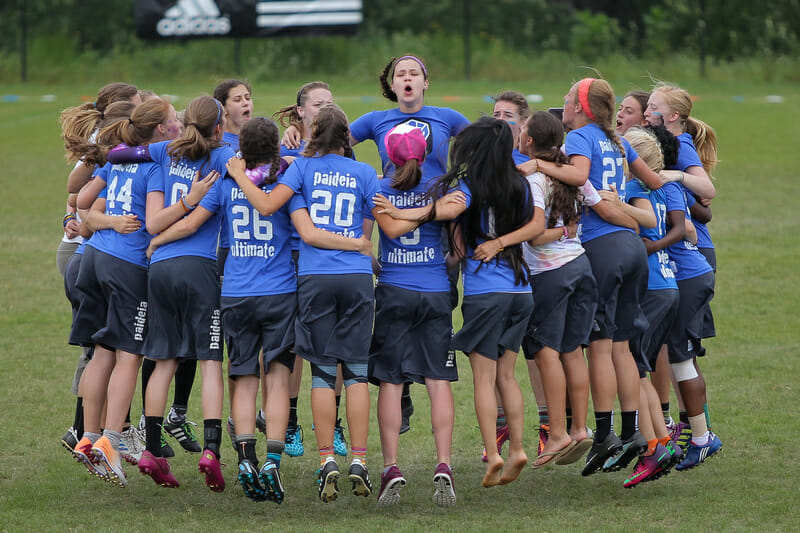 At the turn of every new year, the popular conversations in everything from sports to music to pop culture tend to analyze and critique the past calendar year. Last month, Ultiworld itself produced a series of articles showcasing the best-of-the-best in ultimate in 2015, from games to photos to reporting.
This year's highlights included news, images, and coverage from an incredible year for youth ultimate. Between another year of growth at the high school level, one of the games of the year in the mixed final at YCCs, and a summer dominated by the U23 World Championships, youth ultimate was never far from the news. But to put that in context and give us a sense of how far the youth division has come, let us take a step further back — ten years back, to be precise.
2005 saw a sea change for the youth division. As USA Ultimate — or, at the time, the Ultimate Players Association (UPA) — sought ways to increase youth participation, they moved from hosting a single Junior Invitational Championship (as it had done since 1998) to adding both regional High School Championships events and a national Youth Club Championships.
That year, 13 states hosted UPA High School State Championship tournaments, centered in large part around existing hotbeds for the sport. The inaugural High School Easterns Tournament saw 26 teams across boys and girls divisions competing in Pittsburgh. On the other side of the country in Seattle, the first High School Westerns tournament had 24 teams. That summer, 17 club level youth teams traveled to Blaine, MN to compete in the inaugural YCC event, which included not just a boys and girls division, but a mixed division as well.
In the decade since, the youth division has seen plenty of evolution as the UPA — and now USAU — has continued to invest in expanded youth playing opportunities. High School competitions were further regionalized, splitting again from two to four geographically bounded championship tournaments. At the turn of the decade in 2011, USAU expanded YCC's to host a U16 Boys Division on top of the original U19 tournament; a corresponding second Girls Division was then added in 2014.
While these changes have come with a slight rise in membership and tournament costs — as well as stricter requirements for becoming an official coach — they have produced one positive constant: growth in participation. The total number of USAU youth members has increased every year since 2005 and the division has seen membership grow by more than 250% during the past decade1:

This growth is due, in large part, to the additional opportunities for sanctioned, competitive play. That can be seen clearly by comparing the scale of high school and youth club participation in 2005 (described above) with what transpired this past calendar year.
In 2015, there were 56 separate USAU High School State Championship events held across 28 states in different divisions of skill, gender, and age. USAU also facilitated four regional high school Championships, showcasing the impressive growth in the Central and Southern regions of country over the past few years. In Ames, Iowa, 25 teams competed for High School Centrals. Winston-Salem, North Carolina hosted the largest talent pool High School Southerns has seen to date with 28 teams. High School Westerns, which took place in Corvallis, OR, also had 28 teams. Despite being the smallest region geographically, Northeasterns in Portland, ME hosted the largest field for a regional high school event last year with a total of 29 teams. Numbers were also up at the youth club level; last August, Blaine, MN hosted a record 72 teams at YCC across five divisions.
From a competition standpoint, despite the explosion of growth since 2005, many of the older, more established high school programs and youth communities have continued to dominate the division. These teams have thrived during the past decade, being held in high regard as youth talent pipelines and serving as standard-bearers for the division. The numbers back it up. Both in the girls and boys divisions, HS Regional Championships have been concentrated in just a handful of schools:
Girls:
Amherst Regional: 9 ('05,'06,'07,'10,'11,'12,'13,'14,'15)
Northwest School: 4 ('08,'10,'11,'14)
Holy Family Catholic: 3 ('12,'13,'14)
Nathan Hale: 3 ('05,'06,'09)
Paideia: 3 ('08,'09,'15)
Boys:
Amherst Regional: 5 ('05,'06,'10,'11,'12)
Northwest School: 5 ('05,'06,'07,'11,'14)
Hopkins: 4 ('09,'12,'14,'15)
Pennsbury: 3 ('07,'09,'15)
Carolina Friends School: 2 ('14,'15)
South Eugene: 2 ('10,'13)
University School of Nashville: 2 ('12,'13)
Some interesting historical notes about the High School Regional tournaments during this period:
Amherst Regional girls have a current streak of 11 straight finals appearances while the boys made 8 straight finals appearances, before their streak ended at HS Easterns 2013.
There was no girls division at 2012 HS Westerns, based on insufficient interest.
Amherst Regional, Northwest School, and Holy Family Catholic are the only schools to win titles in both boys and girls division.
A similar, if not even more pronounced, story has played out in the Youth Club Championships. DiscNW, with 22 YCC titles across all boys and girls divisions, have won more than all other cities or disc organizations combined! Boston Ultimate Disc Alliance is second, with only three titles, and four other local orgs have captured two such titles in the past decade.2
Additional notes about the Youth Club Championships:
Seattle/DiscNW U19 Girls have won 11 straight titles; their U16 teams have won both of the first two championships in that division.
Manitoba, a mixed team from Winnipeg, Canada, became the first — and still only — Canadian team to win a gold in 2006.
Blaine, Minnesota has hosted every YCC event, which has always been during the first or second weekend of August.
Despite placing first multiple times in both the boys and girls divisions, Seattle/DiscNW has never won a U19 Mixed Title.
What can this look back tell us about what the next ten years may have in store for youth ultimate? Could there be an expansion of regional qualifying tournaments for YCC? Could High School Regionals turn into qualifiers for a new national high school championship? Will there be a push for more mixed competition in sanctioned high school play?
The answers to these questions — and many others — currently lie in the hands of USAU's Youth Task Force, but should be debated widely.  Additional USAU efforts — such as the  Learn To Play and GUM programs, the partnership with Boy Scouts and hopefully soon the Girl Scouts as well — speak to the huge potential for youth ultimate in 2020 and beyond. What else should we push for or expect in the future of the youth division?
In the meantime, a heartfelt thank you to all the coaches, tournament directors, youth coordinators, and volunteers who have all given their time and effort for the kids and the sport. Here is to another great ten years of growth!
---
Year-end membership stats courtesy of Josh Murphy, Director of Member Services and Community Development at USAU ↩

North Carolina Triangle Area, Minneapolis, San Francisco Bay Area, and Atlanta. ↩