Get ready for wall-to-wall coverage of College Nationals!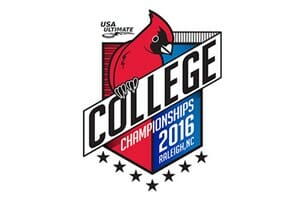 Ultiworld is thrilled to announce that, in partnership with USA Ultimate, we will be streaming eight games LIVE from the 2016 Division I College Championships in Raleigh, NC, on Friday, May 27; Saturday, May 28, and Sunday, May 29. We will have coverage of six pool play games, a prequarter matchup on Saturday afternoon, and a quarterfinals matchup on Sunday morning. ESPN3 will take over coverage for the semifinals beginning on Sunday afternoon.
Here is the livestreaming schedule. All games will be available for free on our YouTube channel and easily accessed on our Live page along side our extensive reporting from the tournament. Replays will be available in our archives to Ultiworld Video Subscribers.
All times Eastern.
Friday, May 27
10:30 AM: California Pie Queens v. Virginia Hydra (Women's Pool Play)
12:30 PM: UBC Thunderbirds v. UCLA BLU (Women's Pool Play)
2:30 PM: Wisconsin Hodags v. UNC Wilmington Seamen (Men's Pool Play)
4:30 PM: Pittsburgh En Sabah Nur v. Minnesota Grey Duck (Men's Pool Play)
Saturday, May 28
10:30 AM: Oregon Ego v. Colorado Mamabird (Men's Pool Play)
12:30 PM: Whitman Lady Sweets v. Texas Melee (Women's Pool Play)
5:00 PM: Prequarter (TBD)
Sunday, May 29
8:30 AM: Quarterfinal (TBD)