Who makes the starting lineup when the entire world athletic pool is available?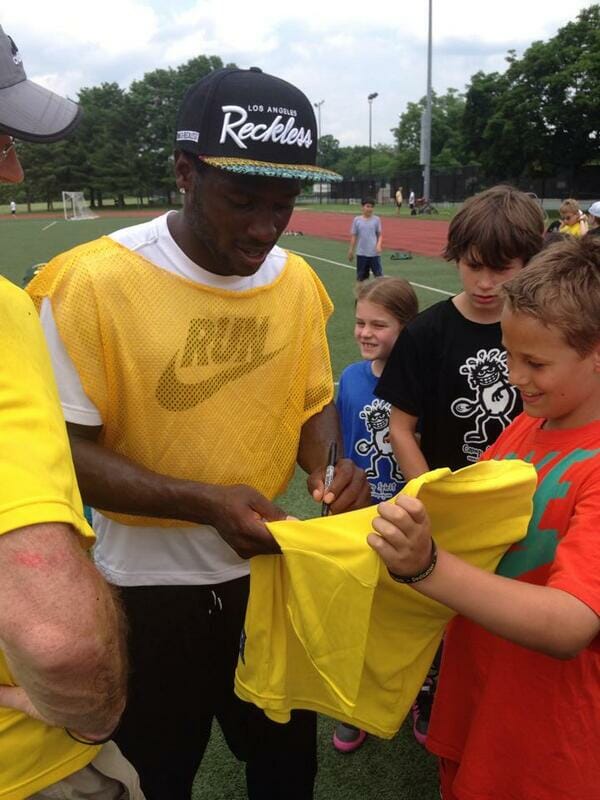 With many of the world's best ultimate players having convened earlier this summer at WUGC in London and now many of the world's best athletes headed to Rio for the Olympics, it got us thinking — what if those two worlds collided? No, I'm not talking about ultimate becoming an Olympic sport — we're still a ways off from that. But what if the best athletes in the world played ultimate?
It's a debate many of us have had. Who would make the starting lineup when the world athletic pool is available? Well, we finally decided to put our answer on paper. Without further ado, here is what an All-World team would look like if every athlete on the planet played ultimate.
Offense (Men's)
Handler – Novak Djokovic (Tennis)
The most dominant tennis player in the world since 2011 — yes, including Serena — would bring a multitude of attributes to the ultimate field. Many casual sports fans may not consider tennis players to be in the upper echelon of athletic prowess, but Novak's agility, balance, flexibility, and explosiveness over short distances are among the very best the world has ever seen in any sport.
He is the most accomplished athlete with a forehand, overhand, and backhand in sports; there is no throw he would not have in his arsenal. He is equally adept at making the impossible look easy as he is at consistently performing the routine. He has the perfect blend of consistency and audacity to be the base of the offense.
Handler – Stephen Curry (Basketball)
What is there to really say about Steph? He's just had two of the best seasons in NBA history, and his style of play is so entertaining that he has transcended his sport. It's easy to forget that he's 6'3" and 190 pounds and not the tiny, too skinny guy he appears to be amongst his NBA peers. Curry's ridiculous passing and vision would wreak havoc on the ultimate field and his agility would make him uncoverable on handler cuts. Just ask Kawhi Leonard, one of the best on-ball defenders in all of the basketball.
Curry's laid back attitude would also be an important attribute on a team with plenty of egos. The only question about Curry is how would his range as a shooter translate into ultimate. Is the equivalent of swishing a 30 foot jump shot ripping a pinpoint huck from the back of his own endzone for a score? I'm not really sure, but I know I would like to find out.
Handler – Lionel Messi (Soccer)
Lio is admittedly undersized at 5'7" and 148 pounds, but that has not held him back in any way in the beautiful game. Arguably the greatest soccer player ever, Messi has absurd vision, creative passing ability, and a quickness and shiftiness to elude defenders that separate him as perhaps the world's very best play-maker. He would be like a fully-realized, Super Saiyan combination of Brett Matzuka and Dylan Freechild on the ultimate field. The give-and-go's he'd pull off in the littlest of spaces would be orgasmic.
And he's certainly no stranger to sharing the stage with the world's biggest stars. He shares a front line at Barcelona with Luis Suarez and Neymar and somehow the three all manage to stay happy with the amount of time they get on the ball. He would be a liability on defense, I will admit, but if his play at Barcelona is any indication, a Messi-led offense would maintain such a chokehold on possession of the disc, he wouldn't really have to play any defense at all anyway.
Cutter – Odell Beckham Jr. (Football)
The most entertaining man in football. In less than two full seasons in the NFL, he has become an icon for catches like this and this. The coordination, body control, grip strength, and absurd level of athleticism might make him the athlete I would most like to see as an ultimate player. He's only 5'11", but has a 38.5 inch vertical jump and ran a 4.43 40 at the NFL combine in 2014. He also posted the best numbers of anyone at the combine in the 20 and 60 yard shuttle runs, which demonstrate his freakish agility and explosiveness.
Something tells me that he would fit right in with the ultimate community as well. I think he would really appreciate not having to wear a helmet while playing, thus allowing his ultimate-ready haircut to really flourish. That he already has a go-to score celebration proves he would be right at home on a field with slightly larger end zones than he's accustomed to.
Cutter – Antonio Brown (Football)
Though not as flashy or the same type of highlight reel deep threat as Odell, Antonio is the kind of player who would be the team's go-to under cutter point-in and point-out. He's the guy who churns out cut after cut, is constantly open, and gets your team into the red zone. Brown has been the most consistent receiver in the NFL over the last three years — he's had over 100 catches in each of those seasons and led the league in that statistic in each of the last two. In that span he's hauled in a total of 375 catches for 5,031 yards, and 31 touchdowns. And it's not as if he's been the only talented receiver on his team. He played with Emmanuel Sanders three seasons ago and Martavis Bryant for each of the last two, so while he's unquestionably the go-to guy on any team, he also understands that the disc needs to be spread around a bit.
What separates Brown on the football field is what would make him such an unreal ultimate player. Despite being small for a modern receiver, he's one of the best players in the league at reeling in contested catches. His ability to plant, change direction, and regain full speed is unlike any I've ever seen. He routinely makes NFL corners look silly, and to see that ability on an ultimate field would be incredible. The fact that he is willing to sacrifice his body celebrating a score is an absolute plus as well. Not to mention that he's already experimented with ultimate in real life.
Cutter – Usain Bolt (Track & Field)
He's the fastest human being to ever live. By a lot. And he's 6'5" and 207 pounds. It doesn't really make any sense. You could argue that a zone defense would render him relatively useless, but it's not as if he is only capable of running in a straight line for 100 meters at a time. And even still, I'm not sure that there is a zone defense that he could not immediately take the top off of anyway.
Bolt wouldn't be the guy that the offense is built around, but would be a freak among freaks and the kind of guy that completely ruins any sort of realistic game plan for slowing down this offense.
Cutter – Rob Gronkowski (Football)
Gronk is the perfect downfield complement to Bolt. The big, hulking caveman will probably go down as the best and most dominant tight end in the history of football. He, along with pre-terrible Jimmy Graham, redefined the position and has been a pass-catching monster for years. Gronkowski won't be the speediest guy on the team, but he still runs a 4.68 40, impressive for his 6'6", 265 pound frame.
He uses his size masterfully well (and also has a knack for getting away with push-offs) to get open at any level of the field. On an ultimate field, he would be an unstoppable deep target, using his huge frame to box out and high point the disc in traffic. Gronk perfectly completes the team's corps of all-world cutters.
Offense (Women's)
Handler – Maria Sharapova (Tennis)
Guys, she was made to be an ultimate player. Now that she's banned from tennis she has a lot more free time, and we already know she's cool with drugs.
On a more serious note, Sharapova is a force on the court. She's one of only ten women to hold the career Grand Slam — winning all four major championships — and before being disqualified, she was ranked No. 7 in the world. Sharapova plays aggressively, and she's one of the few players who uses the "reverse forehand" in women's tennis: it looks awesome, and could translate into great trick shots.
Known for her power and mental toughness, Sharapova is the perfect O-line handler. Not only would she have the necessary range of throws, but she would play kickass recovery defense if her team had a turn.
Handler – Monica Abbott (Softball)
Monica Abbott is a professional softball pitcher who currently pitches for the Chicago Bandits. In college, she became the division all-time leader in career wins, strikeouts, shutouts, innings pitched, games started, and games pitched. She specializes in perfect games and throwing hard. She has the fastest pitch in the NPF, holding the record at 77 mph. Plus, she's accurate.
Not only does softball translate well to handling in ultimate — some softball pitchers can throw full-field hammers before they throw a flick — but at 6'3", Abbott would have a considerable advantage in the backfield and on offensive turns.
Handler – Lindsay Whalen (Basketball)
With two WNBA Championships to her name and an Olympic gold on her shelf, Lindsay Whalen knows how to win games. She's the star point guard for the Minnesota Lynx, and her play has packed their arena since she joined in 2010. She's only the second player in WNBA history to record 4,000 points, 1,500 assists, and 1,000 rebounds.
Point guards are basically the handlers of basketball, and Whalen is the best. She's tall, physical, and famous for her fiery playing style. She could muscle through a long, turnover-riddled point and still have the energy and confidence to sling up a visionary deep shot.
Cutter – Abby Wambach (Soccer)
I know, I know — she just retired. But she's the best, so she's making the list. Wambach is a two-time Olympic gold medalist who holds the world record for goals scored in soccer — for both men and women. She played forward, and her signature move was a diving header, a move that would translate perfectly for ultimate.
As a cutter, Wambach would be an unguardable work horse. She's not the quickest on the field, but she'd grind on unders forever and she'd win physical match ups. Wambach was also famous for dropping into the midfield to help her team with defense, which means she'd be the perfect player to put on a universe point line.
Cutter – Alyson Felix (Track & Field)
Alyson Felix is a 3-time World champion sprinter in the 200-meter dash, and the 2015 World champion at 400 meters. She's broken records for the 150 meter sprint, and during the 2015 World Championship 4×400 relay she ran the fastest split ever recorded by an American woman.
What all these numbers mean is she's just fast. While she may not have experience with skills like throwing or catching, Felix is quick enough that it may not matter. Have her tire out the other team's best defenders, or have her literally run circles on the field. Chances are she's open and ready at the end of a long point.
Cutter – Maya Moore (Basketball)
Yet another Minnesota Lynx player making the short list! Unsurprising, since they're the best team in the WNBA. And on the best team, Maya Moore stands apart as the Lynx forward. Not only does she consistently deliver on the scoreboard, but she works hard on defense and makes the rest of her team better on every point.
If she played ultimate, Moore could take over an endzone. Not only will she win most of her matchups, but on a turn she'll help her team regain the disc every time.
Cutter – Lolo Jones (Track & Field)
Lolo Jones is both an Olympic hurdler and the brakewoman for the U.S. national bobsled team. While Olympic hardware still eludes her, she's a rare elite multi-sport athlete who has experienced both the Summer and the Winter Olympic villages.
Lolo's talent on the 60m and the 100m hurdles makes her a perfect cutter, able to beat a defender to a disc no matter what obstacles are in her way.
Defense (Women's)
Handler – Serena Williams (Tennis)
There's no question Serena Williams would be a terrifyingly great ultimate player. And there's no question she would be on the D-line. Not only is she currently ranked as the No. 1 women's player in tennis, but she's been one of the top players for more than a decade. She and Venus broke the game when they began playing pro in the mid 90s, and they've been remaking the rules ever since.
Serena has the best and most accurate serve in women's tennis history, and she has the most powerful forehand in the women's game today. Add all that firepower to her "shooters gonna shoot" attitude, and she would be the perfect handler to launch full-field flicks.
Normally I'd put a player like her on the O-line, but Serena is also one of the fiercest female athletes competing today: she's powerful, aggressive, and not afraid of anyone. I want that fire on my D-line.
Handler – Kerri Walsh Jennings (Volleyball)
Kerri Walsh Jennings is half of a duo that's been called the greatest beach volleyball team of all time. She has won gold medals at three separate Olympics, which means she's been at the top of her game for nearly a decade.
And she's 6'3". In the women's game, she's breathing air the rest of us rarely touch. She would be game-ending in the deep deep position in a zone, and any air ball is hers. She's been named the Best Blocker four times and the Best Hitter three times, which means her full field hammer would be game ready. And she would be joined by…
Handler – Misty May Treanor (Volleyball)
You don't separate a dream team. Misty and Kerri have been filling trophy shelves together since 2001: every team wants this level of chemistry and rapport between their handlers. These athletes know each other better than anyone when competing.
One of the most painful turnovers in ultimate is the handler-to-handler miscue. One handler cuts strike while their teammate confidently dumps the disc back. It hurts to watch. Imagine two athletes who will not only never hit a miscue, but who can also send the disc 70 yards.
Cutter – Elena Delle Donne (Basketball)
This Chicago Sky forward was the 2015 WNBA MVP, and at 6'5" she's a terrifying reality on a basketball court, nevermind an ultimate field. She shot 95% from the free throw line in 2015, putting her in the history books alongside only three other players with this completion rate, in the ABA, NBA, and WNBA. She had a 40.9 Player Efficiency Rating in the first ten games of the 2015 season; LeBron has never passed 32.
Delle Donne's ball-handling skills coupled with her height make her a menacing presence downfield; you know she could catch a long bomb outside the endzone and throw the assist, too. Her basketball IQ is unreal, so any team could throw her in a zone and she would make plays. Also, again, she's 6'5".
Cutter – Hope Solo (Soccer)
She scares the shit out of me, and that's what you want for your D-line.
Once you get past the intimidation factor, she's also a phenomenal goalkeeper who has helped the USWNT win two gold medals. Her transferable skills are obvious: anyone with .71 second reaction time, elite hand-eye coordination, and a willingness to dive headfirst is welcome on the ultimate field.
She's won two Golden Glove awards, and she holds the record for shutouts (96) and for longest undefeated streak (55 games). She's also from Washington, so you know she's seen a disc before.
Hope would be a nightmare to guard downfield after the turn. She's explosive, quick, and would be unafraid of sacrificing her body for the disc. Sometimes you need a little crazy on your D-line.
Cutter – Lindsey Vonn (Skiing)
Elite skiiers have masterful balance, insane core strength, and mountain-trained lungs. It takes a special flavor of fearless to be a competitive downhill skiier, and Vonn is one of the best.
Vonn is one of only two women to win four World Cup Championships, and she's one of six women to win World Cup races in all five skiing disciplines: downhill, super-G, giant slalom, slalom, and super combined. She's diverse, powerful, and tall on the field and the slopes at 5'10".
Cutter – Julie Johnston (Soccer)
Sometimes your D-line needs somebody young and fast who's willing to play the rabbit position for the weekend. As the National Women's Soccer League 2014 Rookie of the Year and a member of the 2016 U.S. Women's Olympic Team, Julie Johnston is the woman for the job. She played every minute of every game last summer when the USWNT won gold. Every minute.
Usually, players in ultimate only play every point if their team sucks or they have a God complex. But you want Johnston on every line, no matter what. She plays fast and physical, and is good in the air.
Soccer's pace mirrors the pace in ultimate better than most sports, making Johnston better prepared for ultimate than most of the pro athletes on this roster. Johnston could run with a cup, or she could match against the other team's fastest player and shut her down. Just put her on the field and watch her put everyone to shame.
Defense (Men's)
Handler – Kawhi Leonard (Basketball)
Yes, Curry did make him look worse than Darren Rovell trying to guard Kristaps Porzingis. But he's still one of the best defenders in the league and Curry is on his team now. Kawhi is a lean and nimble 6'7" (WITH A 7'3" WINGSPAN) and guards players of all sizes on the court. He pretty much single-handedly slowed down in-his-prime LeBron in back-to-back NBA Finals and has since become a superstar and MVP candidate for the San Antonio Spurs.
Leonard as a handler defender would be devastating. He plays with such tenacity on defense and, with that ridiculous wingspan, if he ever does allow his man to touch the disc, there is no way anyone is getting a decent throw off on him. His famously enormous hands would lead to innumerable block opportunities and make him a weapon as a receiver going the other way off a turn. He's also demonstrated an ability and willingness to tack a back seat to other players when it suits the team and he is probably the least camera-centric player of this group, so his ego should not be a problem. Kawhi Leonard is Kawhi Leonard, and he'd be a hell of a lock down defender on an ultimate team.
Handler – LeBron James (Basketball)
He's simply the best athlete I have ever seen. The 6'8" human Monstar has a 7' wing span, weighs nearly 250 pounds, and reportedly ran a 4.6 40 back in the day. He may not be quite at the same level athletically that he was a few years ago, but he is still arguably the best athlete in the NBA and one of the most special athletes in sports history. And he is, at the very least, still capable of doing things like this. When he's on his game defensively he is one of the best defenders in the league and can match up with players at virtually every position on the floor. If Kawhi is taking the other team's main handler and LeBron gets to take the number two option, well, good luck.
LeBron is also a unique offensive talent on the NBA court, with exceptional vision and passing ability, he would be equally as devastating on offense after forcing a turn. As we saw in the NBA Finals, he is still capable of mind-shattering moments of explosiveness, and his lightning strike runs down the floor would devastate on the ultimate field. His deep cuts out of the handler spot would simply obliterate the spirit and innocence of his opponents.
Handler – Russell Westbrook (Basketball)
Russ is the guy to build a defense around. He is probably the most explosive athlete in the NBA right now, maybe in the world, and he is certainly one of the most entertaining. Imagining him as an ultimate player is almost too much to bear. There is such ferocity in his dunks that have to imagine that the rim once said something unrepeatable about his mother.
He is also a tenacious defender, and with his athleticism and size he could match up with handlers as well as he could shut down cutters downfield. Westbrook is also a great passer and scorer and would likely lead the D-line offense to break after break. I said that Odell Beckham Jr. was the athlete I probably would most like to see as an ultimate player; Russell Westbrook is the only other player in consideration.
Cutter – Paul Pogba (Soccer)
The best athletes in soccer are generally the goal keepers. Modern soccer emphasizes technical ability, passing, and vision far more than pure athleticism, and while there are players with blazing speed, those players are generally smaller and not the most well-rounded athletes. Paul Pogba is an otherworldly blend of it all, though. At 6'3" he's a giant on the football pitch and an ideal size for ultimate. He's definitely a bit slender, due to the nature of his real-life sport, but don't be deceived — he's one of the strongest players on the planet and would not be pushed around physically.
He also has a propensity for the audacious, which would make him a crowd favorite with the disc in his hand, boosting deep shots he probably shouldn't and capitalizing on more than anyone should be able to. Plus, can you imagine the insane IOs and OIs he'd try to pull off. Just look at what he does with a soccer ball. With a disc, he would break physics. He would be perfect on the D-line, where he would have a bit more leeway to try ridiculous throws, and as a soccer player, he already demonstrates the tremendous work rate and stamina to be a top defensive player.
Cutter – Josh Norman (Football)
You might say it would be a problem having Norman and OBJ on the same team together, but they won't ever have to be on the field together on this team. And what is a team of superstars without a little bit of drama anyway? Norman has been arguably the best corner in the league for the last two seasons, and last year got the mainstream recognition he deserves for it. He also was dangerous going the other way when he had the chance, tying for the league lead in defensive touchdowns.
At 6' he's taller than your average corner. He's aggressive, physical, irritating, and everything else you want in a lockdown defender. He also pretends to be a different bad ass movie character week, which is one of the most insane/awesome things I have ever heard. I have no idea how that translates into something ultimate related, but I don't really care. Maybe he could supply the movies on the long road trips to tournaments. Either way, I want the dude who thinks he's Batman on my team.
Cutter – Mike Trout (Baseball)
He's been labeled as a modern Bo Jackson. The hyper realization of a five-tool player, Trout has it all. His layout form is impeccable, his acceleration and top end speed are world class, and he's adept at reading and quickly reacting to objects flying through the air. Trout is also built like a brick house, so trying to get past him on unders would be a fool's errand.
Trout is the kind of player who would be great at every facet of the game. He's a thrower, a cutter, a defender. Playing in a sport that takes a lot of flak for having a lot of non-athletes in it — I'm looking at you, Bartolo and Pablo — Trout is the kind of athlete that could play any sport he wanted to. This time around, we are going to imagine that it's ultimate.
Cutter – Jalen Ramsey (Football)
This was the hardest spot for me to fill, the final spot on defense. With the other six on the line, the only thing missing is a player to cap the defense and take away the deep space. The other player I most considered for this spot was the Seattle Seahawks' Earl Thomas, but I went with Ramsey for his length (6'2" vs 5'10") and his versatility as a corner-safety hybrid.
Ramsey may not be proven as an elite professional performer yet, but he is unquestionably proven as an elite athlete and competitor. In addition the unreal athleticism and playing making ability he displayed on the football field in college, Ramsey also competed at a national level in track and field, winning the ACC title in the long jump in 2015. Ramsey poses a unique blend of size, strength, mobility, and relentless intensity that made him one of the most coveted DB's out of college since Deion Sanders. He is the perfect player to finish off this defensive line.
—
So how'd we do? Can you come up with a starting lineup that beats these squads?