180 men and women invited to compete for a chance to represent the country at the 2018 Under-24 World Championships.
January 31, 2017 by in News with

0

comments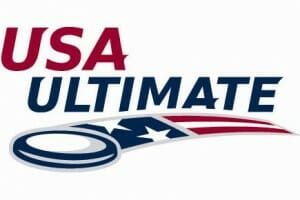 USA Ultimate announced today the list of players selected to tryout for the US National teams that will compete at the 2018 Under-24 World Championships in Perth, Australia next January. In 2015, the US delegation won two gold medals in Men's and Mixed, but suffered a surprise upset at the hands of Japan in the Women's division.
It's worth noting that the list is for 180 invitees — 90 men, 90 women — but that the coaching staff has room to invite roughly 10 additional players of each gender during the coming college season. They'll be looking at the rest of the 550 applicants in addition to other eligible players.
See the full tryout lists below.
Note: Tables are sortable and searchable. Use the boxes at the top right of each table to search.
Men's Tryout Invite List
| Name | College | Tryout location |
| --- | --- | --- |
| Timothy Anders Olsen | Emory | East |
| Joel Anton | Cal Poly - SLO | West |
| Norman Archer | North Carolina | East |
| Jeffrey Babbitt | Massachusetts | East |
| Henry Babcock | Richmond | East |
| Ross Barker | Wisconsin | West |
| Steven Benaloh | Washington | West |
| Dylan Best | Pittsburgh | East |
| Jesse Bolton | Carleton College | West |
| Parker Bray | Georgia | East |
| Elliott Chartock | Stanford | West |
| Joel Clutton | Texas | West |
| Jackson Cochran | Tulane | West |
| Alexander Cuizon Tice | Oregon | West |
| Michael Dillard | Tufts | East |
| Thomas Edmonds | New Hampshire, Pittsburgh | East |
| Jacob Fairfax | North Carolina-Charlotte | East |
| Michael Fairley | Central Florida | East |
| Robbie Farwell | Whitman | West |
| Joseph Freund | Virginia Tech | East |
| Lior Givol | California-Santa Cruz | West |
| Matthew Gouchoe-Hanas | North Carolina | East |
| Brett Gramann | Massachusetts | West |
| Jake Hansen | Connecticut | East |
| Nathan Haskell | Georgia | East |
| JD Hastings | North Carolina, North Carolina-Wilmington | East |
| Mac Hecht | Brown | East |
| Erik Hotaling | Colorado | West |
| Michael Ing | Pittsburgh | East |
| Tannor Johnson | Massachusetts | East |
| Logan Kinney | Texas | West |
| Conor Kline | Massachusetts | East |
| Benjamin Lamport | Tulane | West |
| Dillon Lanier | Carleton College | East |
| Dillon Larberg | Texas | West |
| Andrew Lehmberg | Pittsburgh | East |
| Will Lohre | Oregon | West |
| Kai Marshall | Oklahoma | West |
| Walker Matthews | North Carolina | East |
| Connor Matthews | Oregon | West |
| Kaplan Maurer | Arkansas | West |
| Alexander Max | California | West |
| Timothy McAllister | North Carolina | East |
| Charles McCutcheon | Delaware, Minnesota | East |
| Jacob McGoogan | North Carolina StateÊ | East |
| Wyatt Mekler | Minnesota | West |
| Griffin Miller | Spring Hill College | West |
| Daniel Moder | Dartmouth | East |
| Tyler Monroe | George Washington | West |
| Carl Morgenstern | Pittsburgh | East |
| Eli Motycka | Brown | East |
| Oak Nelson | Colorado, Princeton | West |
| Zachary Norrbom | Mary Washington | East |
| Keegan North | Cincinnati | East |
| William O'Bryan | Florida | East |
| Alexander Olson | Carleton College | West |
| Ethan Penner | John Brown | West |
| Henry Phan | N/A | West |
| Anthony Poletto | Minnesota | West |
| Milan Ravenell | Harvard | West |
| Adam Rees | Oregon | West |
| Robert Rickert | Cornell | East |
| Benjamin Sadok | Massachusetts | East |
| Dylan Salzman | Middlebury | West |
| Charles Schuweiler | Saint John's | West |
| Liam Searles-Bohs | Carolina Friends School | East |
| Max Sheppard | Edinboro University | East |
| Eric Sjostrom | Auburn | East |
| Benjamin Spielman | Northwestern | East |
| John Stubbs | Harvard | East |
| Ian Sweeney | Cal Poly - SLO | West |
| Ryan Takayama | Nevada | West |
| Alexander Taylor | Elon | East |
| Eric Taylor | Carleton College | West |
| Sawyer Thompson | Brown | West |
| Scott Trimble | N/A | East |
| Tristan Van de Moortele | Minnesota | West |
| Samuel VanDusen | Pittsburgh | East |
| Nathan Vickroy | Georgia College & State | East |
| Nicholas Vogt | Wisconsin | West |
| Cole Wallin | Minnesota | West |
| Cameron Wariner | Cal Poly - SLO | West |
| Jesse White | Missouri | East |
| Ben Whiteman | Ohio State | East |
| Jack Williams | North Carolina-Wilmington | East |
| Jonah Wisch | Pittsburgh | East |
| Timothy Wolverton Schoch | Carleton College | West |
| Codi Wood | Penn State | East |
| David Yu | Wisconsin | West |
| Joshua Zdrodowski | Utah | West |
Women's Tryout Invite List
| Name | College | Tryout location |
| --- | --- | --- |
| Abbie Abramovich | Western Washington | West  |
| Kelsey Akin  | Kansas  | West  |
| Amel Awadelkarim  | Penn State  | East  |
| Mia Bladin  | Harvard  | East  |
| Shayna Brock  | Central Florida  | East  |
| Nicola Bruce  | Seattle University  | West  |
| Julia Butterfield  | Notre Dame  | West  |
| Joline Chang  | Illinois  | East  |
| Joanna Chen  | Brenau  | East  |
| Katie Ciaglo  | Carleton College  | East  |
| Nicole Cramer  | Washington  | West  |
| Veronica Cruz  | Stanford  | West  |
| Katie Cubrilovic  | North Carolina State  | East  |
| Piper Curtis  | Dartmouth  | East  |
| Makella Daley  | Minnesota  | West  |
| Elizabeth Diffey | Nebraska | West |
| Tulsa Douglas | St. Olaf | East |
| Hallie Dunham  | Stanford  | West  |
| Annie Edna Chen | Princeton | West |
| Dena Elimelech  | California-San Diego  | West  |
| Rachel Enyeart  | Indiana  | East   |
| Andrea Esparza  | Texas  | East  |
| Nina Finley  | Whitman  | West  |
| Janina Freystaetter  | Central Florida  | East  |
| Emma Gautier  | Carleton College  | West  |
| Madeline Gilbert  | Western Washington  | West  |
| Josie Gillett  | Bates College  | West  |
| Caitlin Go  | Stanford  | East  |
| Olivia Hampton  | Boston College  | East  |
| Ella Hansen  | Oregon  | West  |
| Alexandra Hardesty  | Whitman  | West  |
| Shayla Harris  | Stanford  | West  |
| Alexandra Hasan  | California  | West  |
| Margo Heffron  | Whitman  | West  |
| Megan Henderson  | Colorado  | West  |
| Hannah Henkin  | Michigan  | East  |
| Anna Hrovat-Staedter  | Wisconsin  | East  |
| Alexandra Hu  | Northwestern  | East  |
| Sophia Hulbert  | Barnard College, Columbia   | East  |
| Megan Ives  | Colorado  | West  |
| Sadie Jezierski  | Ohio State   | East  |
| Kirstin Johnson  | Colorado  | West  |
| Sophia Knowles  | Case Western  | East  |
| Brittney Kokinos  | Wisconsin  | East  |
| Lisa Kowalski  | George Washington  | East  |
| Rachel Kramer  | Tufts  | East  |
| Marissa Land  | Texas  | East  |
| Laura Landis  | Virginia  | East  |
| Nora Landri  | Washington  | West  |
| Tracey Lo  | Michigan  | East  |
| Arianne Lozano  | Whitman  | West  |
| Jin-Mi Matsunaga  | Vanderbilt  | East  |
| Michelle McGhee  | Stanford  | West  |
| Rebecca Meeker  | Virginia  | East  |
| Linda Morse  | Pittsburgh  | East  |
| Luisa Neves  | Rochester  | East  |
| Jackelyne Nguyen  | California  | West  |
| Lani Nguyen  | Seattle University  | West   |
| Nhi Nguyen  | Colorado  | West   |
| Grace Noah | Washington | West  |
| Carolyn Normile | Pittsburgh | East |
| Alyssa Perez | Southern California | West |
| Kristen Pojunis | UCLA | West |
| Clea Poklemba | Portland Community College | West |
| Ashley Powell | North Carolina State | East |
| Claire Revere | Whitman | West |
| Sierra Rimmer | Tennessee | East |
| Grace Roth | Kansas | East |
| Danielle Runzo | Case Western | East |
| Madison Samson | Cincinnati | East |
| Nariah-Belle Sims | Lakeside School | West |
| Lindsay Soo | Wake Forest, North Carolina | East |
| Alissa Soo | Whitman | West |
| Linnea Soo | Whitman | West |
| Keila Strick | Virginia | East |
| Claire Thallon | Carleton College | West |
| Anna Thompson | Pennsylvania | East |
| Julia Ting | Georgia Tech | West |
| Danielle Tran | Cal Poly - SLO | West |
| Claire Trop | Lakeside School | West |
| Jane Urheim | Princeton | East |
| Anneke Vermaak | Wisconsin | East |
| Jaclyn Verzuh | Dartmouth | West |
| Hayley Wahlroos | Oregon | West |
| Kyle Weatherhogg | Vermont | East |
| Jenny Wei | North Carolina | East |
| Patricia Weicht | Colorado College | West |
| Julianna Werffeli | Dartmouth | East |
| Monisha White | Stanford | West |
| Angela Zhu | Dartmouth | West  |