Carleton's depth of talent shone through on Sunday.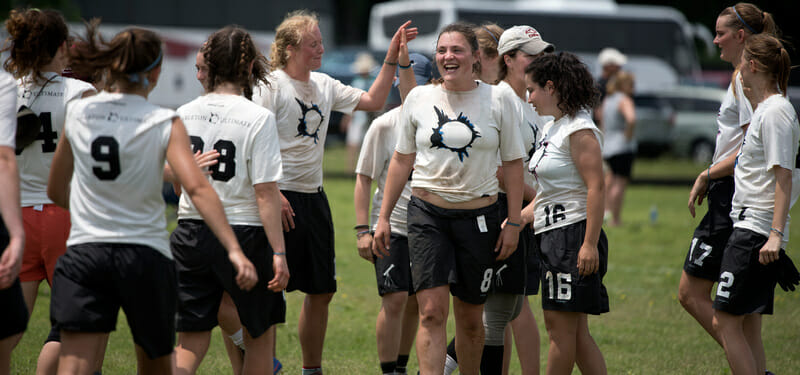 Ultiworld's reporting on the Women's 2017 D-III College Championships is presented by VC Ultimate as part of their season-long support of our women's coverage. All opinions are those of the author. Please support the brands that make Ultiworld possible and shop at VC Ultimate!
Carleton College captured their second straight D-III College Championship in a wire-to-wire 13-10 victory over surprise finalist Wesleyan.
Both teams were deep with reliable legs and endurance, but the team's best players came to play. For the first ten points of the game, Weslyean's Luci Salwen and Carleton's Leah Roche were the only players to throw assists. In the end, the game had a bookended start and finish with Carleton's Roche finding roommate and co-captain Haley Olson for the score. These two would prove to be a tremendous threat the entire game: the one point they rested at the same time lasted 25 minutes as Carleton struggled without their offensive output.
As the game got underway, Carleton threw the zone defense that gave Puget Sound so much trouble in their semifinal match. But while Puget Sound would give up three early points trying to figure the zone out, Wesleyan came prepared and traded points with the defending champions. Wesleyan did try to throw a zone of their own but after Roche scored twice with easy, over the top backhands, they went back to the tight person defense that had delivered results all weekend.
Carleton refused to be slowed down. Roche and Olson passed the disc back and forth up the line knowing exactly where to find each other. While Roche was the mainstay of Carleton's offense, making very few mistakes and putting up dime flick huck after dime flick, it was the Carleton defense that would win them the game.
They set up a cup with 5'11 Nora Mertz on the mark and 5'10 Abby Polk at the top. In between them was another freshman soccer recruit, Laura Kiernan, who was the speediest player in the game. This cup intimidated many a handler, and they often were able to corner Wesleyan on the sideline and force them to throw a high-stall prayer to the middle of the field where Olson was ready to pounce for the block.
Luci Salwen's persistent flick hucks kept Wesleyan in the game. Salwen was able to find cutters in traffic on the endzone line and also send them deep the next point. Cutters Claire LeGardeur and Lily Gould, in particular, scored several points off of Salwen's assists. Tessa Hill was found all over on Wesleyan's offense, handling against the zone and then coming down with some huge endzone skies.
In the end, the words of Puget Sound's coach Spencer Sheridan reflecting on their semifinal loss to Carleton rang true. Sheridan said, "Carleton was different because they do not drop frisbees. Every time we got the disc it was because we forced the D. They did not give us the disc once." Wesleyan had to face the same battle. Carleton brought nineteen players to Nationals and relied on every one to win the game.
Wesleyan entered the tournament seeded eighth by USAU and ranked twelfth by Ultiworld. They themselves were not even looking to a finals appearance. "This team has been such a ragtag team," said captain Luci Salwen. "Finals wouldn't have even been a small dream my freshman and sophomore year."
"We're so happy to be here," said senior captain Oona Wallace. "Our goal all tournament has been to work hard and play our best." Instead of committing themselves to an end goal, Wesleyan focused on playing every point as a point they could be proud of.
In addition, the Wesleyan captains maintained that "the team plays for each other" and that "before ultimate, we created an encouraging, positive environment that provided a supportive network for women." They made it a priority to "make sure people absolutely feel they deserve to be on the field when they're playing." Each player on Wesleyan played her heart out because she knew giving her best to her pumped up teammates was exactly what the team needed, and was simply enough. That's something many women — athletes and nonathletes alike — struggle with.
A similar strength for Carleton was encouraging each player and giving her the freedom to confidently play her best. Potentially this is what you get when you have an entirely player-run program, as both Wesleyan and Carleton have. Carleton's captain Haley Olson shared that, "our refrain all spring has been, 'we show up when we need to show up'." For them, this meant "when we know we can show up, then we trust ourselves and we don't play scared."
This was evident in the way that every player knew their role and played them fully. In fact, each player excelled in their role and never anxiously tried to cut off a teammate or be the all-star throwing to deeps they couldn't hit. Carleton saw Jillian Banner bring fierce pressure underneath and making well-timed cuts for the team. Senior handler Meg Crenshaw's throw and go worked perfectly with Carleton's system. Mary Kate Hall had some key skies on both sides of the disc, while Maya Banks had one of the most energetic marks of the tournament. By themselves, many of these players would go unnoticed, but Carleton was a full team that won because of their incredible on-field chemistry and their trust in each other.
Overall it was a fantastically spirited final with both teams passionately giving it their all, but then remaining calm and open after any foul call. Both teams captains echoed this. "This was definitely the most spirited game we played all weekend," said Roche.
At the end of the game, both teams gathered in a spirit circle to share what they appreciated about and learned from each other.
Ultiworld Full and Plus subscribers will get access to video footage from the final. Subscribe to Ultiworld today and help us reach our goal in our subscription drive! Your subscriptions directly support our independent journalism and reporting.